Foreword
With the mobile app economy reaching $188.9 billion in 2020, the rising popularity of mHealth apps comes as no surprise given that healthcare application development services respond to the trend for support and promotion of public health on the global level.
According to the WHO Report, mHealth initiatives are the important means facilitating communication between individuals and healthcare services and ensuring a higher quality of medical care.
mHealth: Definition and Facts
mHealth implies the usage of mobile gadgets and wearables assisting in health management and monitoring the individual's well-being. Implementing such apps on the daily basis helps leverage technologies in enhancing patient experience and providing health information instantly for transparency in the treatment process and improving treatment outcomes.
Overall, healthcare mobile app development brings effective solutions in two fields:
Fitness and well-being. In this case, apps are built around the concept of healthy lifestyle.
Medical care. This case is more complex because the application performs functions of a full-fledged medium between the patient and healthcare provider (hospital, physician, etc.).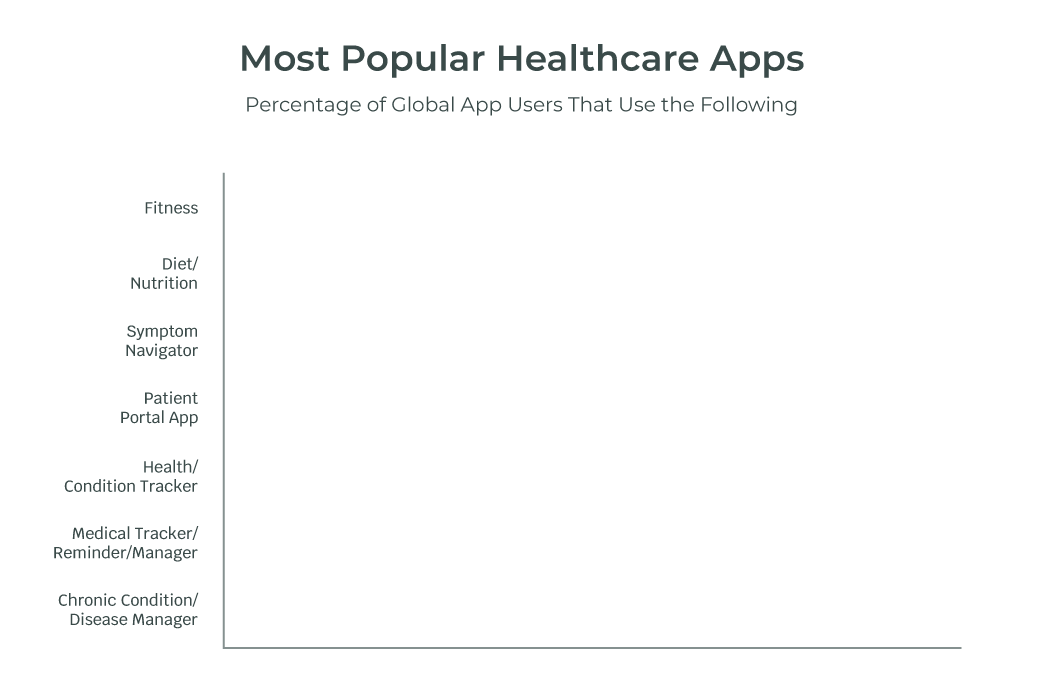 Indeed, healthcare customers show the growing tendency to rely on technologies in managing their health that explains why the most popular use cases for mHealth apps fall into segment of medical care apps associated with such categories as connection to doctors, medical conditions management for patients with diabetes, hypertension, and intake of medications.
Types of Healthcare Apps
Despite the fact that mHealth apps market has plenty of offers with more apps designed every day, essentially, healthcare apps belong to either of two categories:
professional healthcare
healthcare apps for individuals.
While doctor apps are aimed at providing medical instruction, giving access to healthcare records and diagnoses, medical apps for patients are designed to maintain wellness and assist in meditation practices, monitoring health conditions, tracking, exercising, or helping with weight loss.
Apps for Healthcare Professionals
EHR and EMR apps
Not to make errors in diagnosis, treatment or med prescription, doctors accumulate information in electronic health/medical records (EHR, EMR).
For ensuring secure access to patient health sensitive information including lab results, scans and images, there are EHR and EMR apps that provide full support for medical professionals' work. With multiple options available in setting of these apps, it is easy to get access to patient medical history and details on discharge directly from a phone or a tablet.
One of the examples of such an app is PrognoCIS consisting of Electronic Medical Record (EMR), billing and patient portal making it an indispensable tool in building the unbroken physician's workflow.
Appointment apps
Appointment apps are vital time management assistants for hospital personnel in designing schedules, fixing appointments and managing meeting flows. The app functionality usually covers automated alerts that remove any scheduling overlaps and synchronize medical calendars.
Communications Apps
Mobile health apps are ideal solutions for providing communication and consultancy services, and professional networking that may bring valuable insights in diagnosis and treatment.
Such mobile applications help doctors reach audience fast, and include multiple options for booking, video conferencing and payment gateways.
Check our case study: Australia's leading peer-to-peer platform that allows independent care workers to connect directly with aged community
Reference apps
With mHealth reference apps, practitioners have all the necessary guides available on the go. Clinical reference apps have a wide range of offers for accessing ICD-9 and ICD-10, E&M coding materials.
In particular, Epocrates app providing drug information, interaction check, pill identification, clinical practice guidelines, and formulary, works true magic for busy healthcare professionals.
Clinical decision-making apps
These apps allow practitioners to gather data about their patients for evaluation of symptoms and diagnosing illnesses or injuries error-free. Such apps perform as clinical decision support systems available on mobiles for facilitation of daily clinical decisions made by medical professionals.
For example, Calculate by QxMD provides a clinical calculator and decision support options for comprehensive and insightful results in clinical decision making.

Patient tracking apps
When the medical condition of the patient does not necessarily require clinical settings, remote tracking apps can come handy. They allow doctors to track their patient's heart rate, oxygen level, blood glucose level or blood pressure out of hospital. One of the apps that can illustrate the functionality of this type is Blue Star Diabetes. This app works by collecting blood-glucose information and transmitting it in real-time. The supporting system then analyzes the data and offers personalized treatment to help patients manage their medication and treatment.
Risk assessment apps
Apps that assess health risks are top recommendations in case doctors work with patients having chronic conditions that demand ongoing monitoring.
For example, Evicardio allows entrance of new trials in the database with using two calculators for evaluating diagnostic methods including sensitivity, specificity, positive and negative predictive value, likelihood ratio, etc., and assists in assessment of the probability of risk conditions with the additional option of saving data in personal database.
Healthcare Apps for Patients
Telemedicine apps
The idea behind this type of app is to provide remote medical consultation to patients via telecommunication technology that comes as a game-changer under the necessity of social distancing. The telemedicine toolkit includes various communication options for enhanced user experience.
In particular, the Doctor-on-demand app can connect in minutes with board-certified physicians while avoiding the hassle of the waiting room. Patients get in touch with therapists over live video calls resembling an in-person visit when a doctor records individual's history, checks symptoms and performs an exam.

Healthy living apps
This is the biggest cluster of apps built around improving fitness, reaching weight loss goals, management of sleep cycle, stress level and reducing anxiety, cultivating mindfulness and addressing women's health issues.
Besides, these apps promote the concept of building healthy habits through meditation, yoga and tracking health progress.
For example, Sobriety Tracker assists individuals in building life-changing habits and helps maintain motivation by connecting with other users sharing similar goals.
Check our guide on
Symptom checker apps
Symptom checker apps are self-explanatory as they enable patients and individuals to check their symptoms for medical conditions of correspondence. Most popular health monitoring apps are based on functionality of symptoms checkers. For example, its basic version can be found on Samsung Health app.
Emergency apps
In addition to sending alerts and assisting in potentially dangerous situations, the emergency apps for patients usually contain rich content on respective topics covering toxic reactions, trauma, effects of medications with imaging, and essential guidelines in cases of emergency.
The example of an emergency app is Medical ID that enables user to create a medical profile accessible directly from the lock screen with unlocking the vital information on allergies, blood type, medical contacts.
Patient portal
Patient portal and forum apps create a shortcut in getting improved healthcare for patients.
Oladoc is the example of forum app where you can search, select and book specialist doctors in vicinity in a convenient manner to get instant doctor appointment confirmations as well as notifications on updates.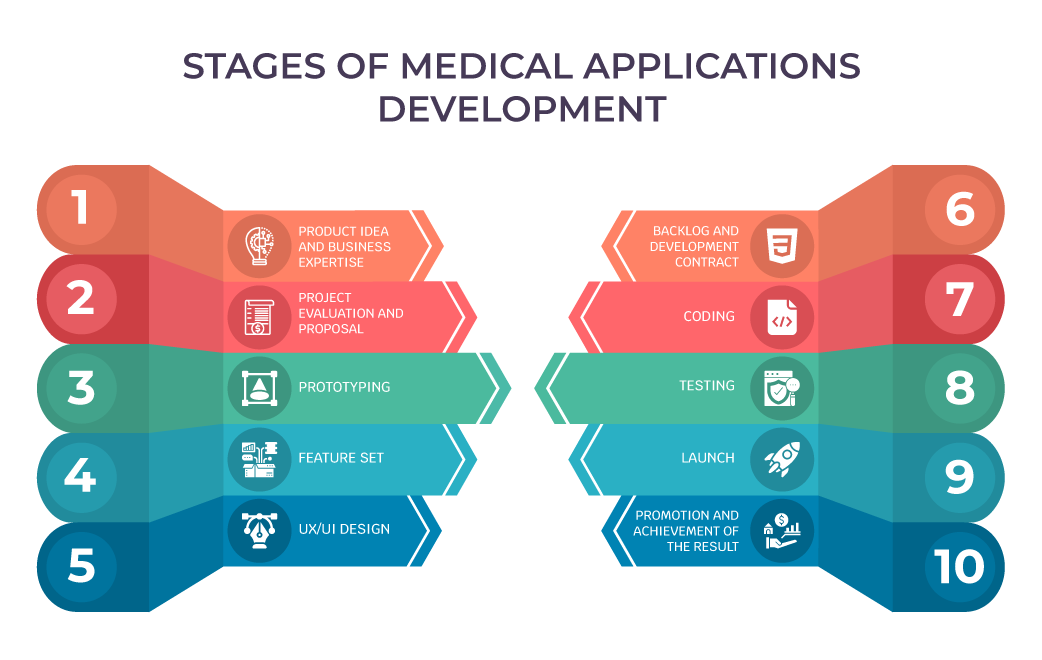 Feature List for a Medical App
The must-have features of a medical app include:
Social sign-in
Enabling customers to enter information from social media accounts translates into a one-click sign-in. Note on EHR apps: they can ask users for more information to secure the health and finance sensitive data.
Tracking
Being a core function of health apps, tracking helps streamline user activity and record frequency of app usage that is important for monitoring in wellness apps and rehabilitation-related apps.
Check our case study: Healthcare app for medication management, doctor appointments and symptoms tracking
Appointments and Scheduling
This feature enables users to get reminders on drug intake and booked appointments. In particular, booking has lots of built-in options to assist users in flexible scheduling and facilitate communication between users and healthcare providers.
Payment
Given that users appreciate features that save time, the presence of payment feature is essential as it means that users expecting the instant delivery of service can easily purchase it.
Real-time chat
This feature enables users to get access to exchanges of text and foster real-time communication with patients. Besides, it provides rich data collection allowing for improved updates.
Related:
Ratings and reviews
Search for reputable doctors or clinics for modern users is strongly associated with evaluation visible in ratings and reading reviews from real co-users, which makes this feature a must-have on the list.
Geolocation
Integrating your app with Google Maps or other third-party map services, apart from improving the user experience, can save user's life as it enables a healthcare provider to identify a location of a patient under conditions of emergency.
Push notifications
Options for getting notified run a wide range starting from a reminder on a booked hospital appointment, taking a pill or doing the exercises to virtually anything within a medical app.
Additionally, there is a choice of optional features that can be included in a healthcare product:
Photo gallery
Analytics
Social integration
Chatbot
Prescriptions
Access to EHR/EMR.
Tell us about your project idea and get a detailed consultation at no charge.
Factors of Importance in Mobile Health App Development
While developing the medical mobile apps, it is crucial to consider the following aspects.
Healthcare mobile app design
In creating mobile apps design for healthcare clients, the color component, navigation and accessibility come to the forefront and demand your close attention.
Color perception analysis demonstrates that blue comes as the most welcomed choice in healthcare: being associated with calmness and security, it sends the right signal to healthcare consumers.
Accessibility achieved frequently through simple and minimalistic design in healthcare is a must, which means that patients with impairments are to be regarded as the important group of the target audience not to feel prohibited from implementing the app in their day to day life.
Enabling an easy accessibility reflects on design of navigation that is advisable to be made customer-centric, specific and purpose-driven.
Data Security and Regulatory Compliance
mHealth apps collect and process health data of the users. The large chronological database of health conditions containing the sensitive information requires the strict regulation and compliance to standards.
Being applications that prevent, diagnose or treat a medical condition, they are subjected to FDA and HIPAA requirements. Hence, choosing the mobile healthcare app development companies that can ensure standards approval and provide access to a compliance-focused data environment save clients time and money.
Healthcare Trends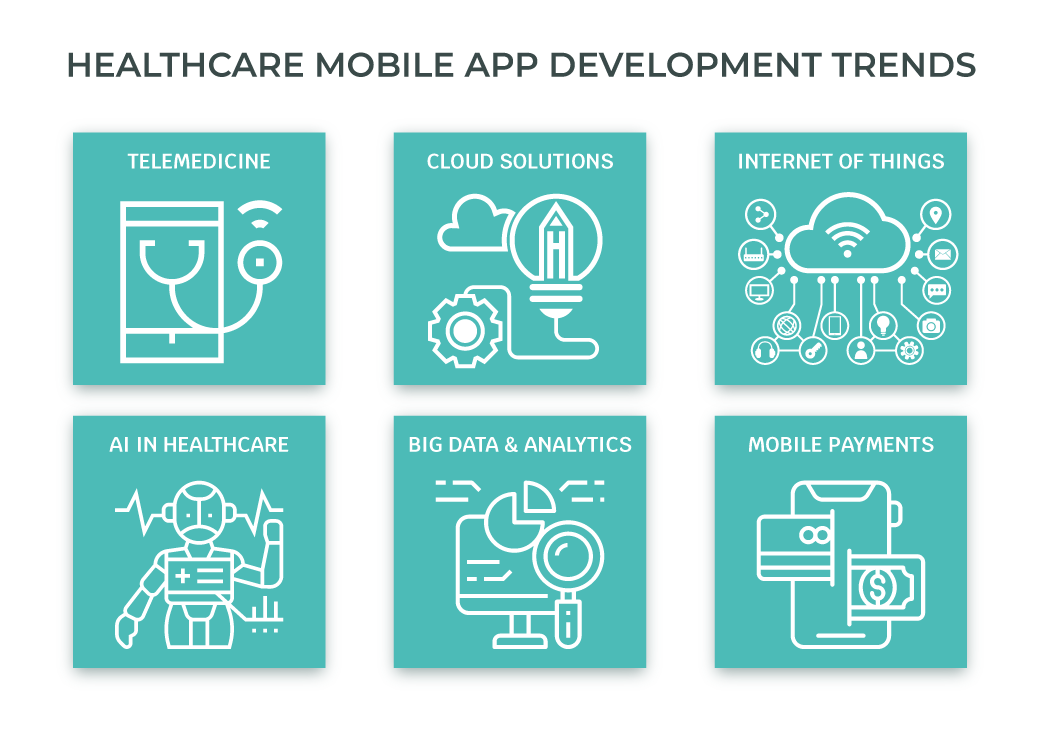 Due to the big potential of mHealth apps usage and wide capability of medical apps functionality, the major healthcare mobile app development trends embrace diverse areas including:
Further exploration of telemedicine capabilities
Creation of cloud solutions
Implementation of Internet of Things in healthcare
Empowering healthcare with AI-based solution
Processing big data and analytics
Developing solutions for mobile payments.
How much does your health app cost? Describe your product, and we'll estimate it for free.
The Bottom Line
The expanding market of healthcare mobile apps is demonstrating the steady growth that lets consumers choose among a number of reliable mobile healthcare app development providers.
CodeIT is one of the best choices: being a company with properly built strategies, it has a clear understanding of clients' requirements and provides high-quality custom services in medical software development.