The mobile app development industry has been growing fast for many years. According to Statista, the estimated revenue of mobile apps will reach $935.2 billion in 2023. Mobile applications set new app industry trends and promote new experiences. Therefore, mobile app development can help companies gain profits and promote their products in the digital era.
However, since the niche is highly-competitive, it might be challenging to create a popular mobile application that millions of users will install on their smartphones. According to the report prepared by Statistic Brain Research Institute, roughly 63% of mobile app startups fail.
Keeping up with the modern trends in the industry is one of the most reliable ways to create an app and succeed.
What are the top prevailing trends in mobile app development?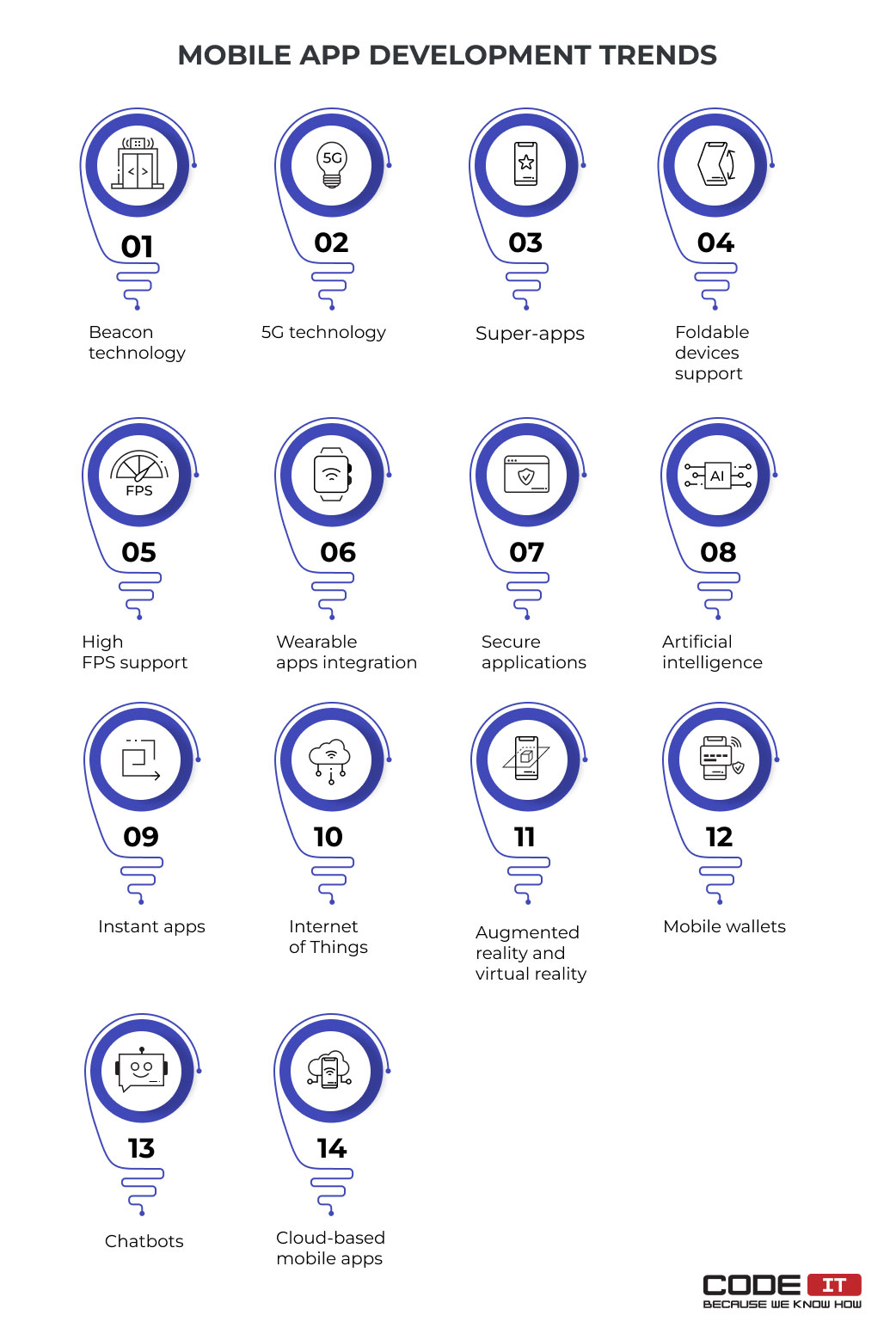 BEACON TECHNOLOGY
Most popular in the museum, hotel, healthcare, and retail industries, the beacon technology is the future of apps and one of the emerging mobile app trends. This technology consists of small Bluetooth chips and sensors integrated into small devices with Bluetooth Low-Energy (BLE) wireless technology aiding in the communication of information and accurate location detection of devices.
Eventually, it can swiftly and flawlessly deliver a message in real time to consumers when they reach the communication range of a device. Let's explore how the beacon technology works in more detail.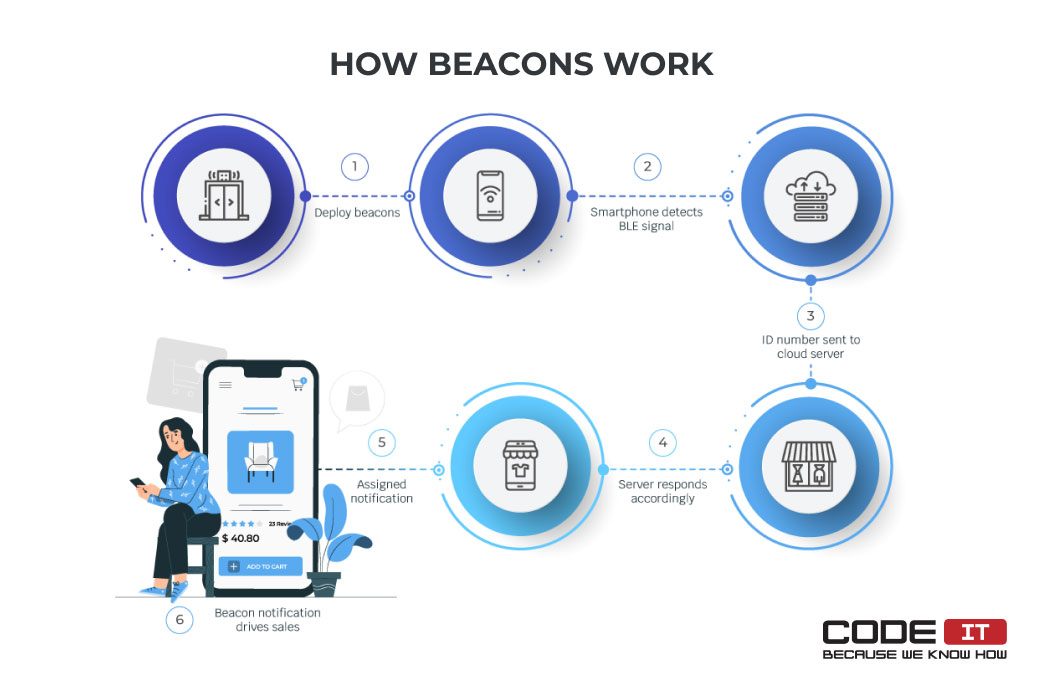 The beacon technology continues to generate a great deal of profit, especially in the retail business and is predicted to generate billions of US dollars in 2026.
Mainly, this technology helps various companies interact with customers using beacons installed in physical locations. It helps enrich the customer experience through the application and increase sales.
The most popular mobile applications that use the beacon technology to enhance user experience are:
5G TECHNOLOGY
It is one of the latest mobile app trends. The 5th generation of wireless data transfer technology has the maximum speed of up to 100Gbps.
The significant increase will make it 10 (or even 100) times faster than the LTE standard that is widely used for cellular data transfer. For instance, using 5G, users can download an album of 10 songs using cellular data in a second or two.
This technology will have a significant impact on the future of apps. 1.4 billion devices are expected to connect in the 5G technology in the next 5 years, which means that this technology will hold a leading position in standard data transmission worldwide.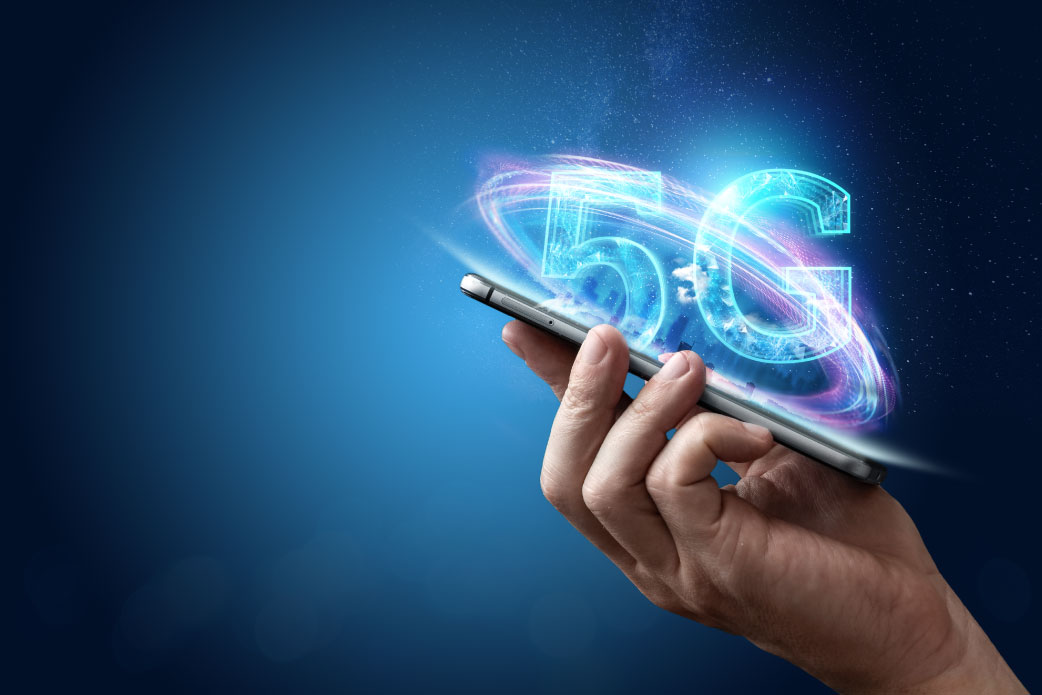 The 5G technology can help develop top-tier applications that need to send and receive large amounts of data fast. The critical functionality that the technology can help improve are:
virtual reality
augmented reality
high-resolution video streaming
online smartphone games
360 degrees video streaming
online payments
With its reliability and speed, app developers can create more avenues for different designs and innovative mobile app features in the future, providing enhanced performance to businesses in different industries.
SUPER-APPS
Striving to enlarge the customer base and number of services offered, many companies started developing super-apps. They are applications with rich functionality that serve several purposes. Hence, super-apps became a new trend that shapes the future of mobile app development.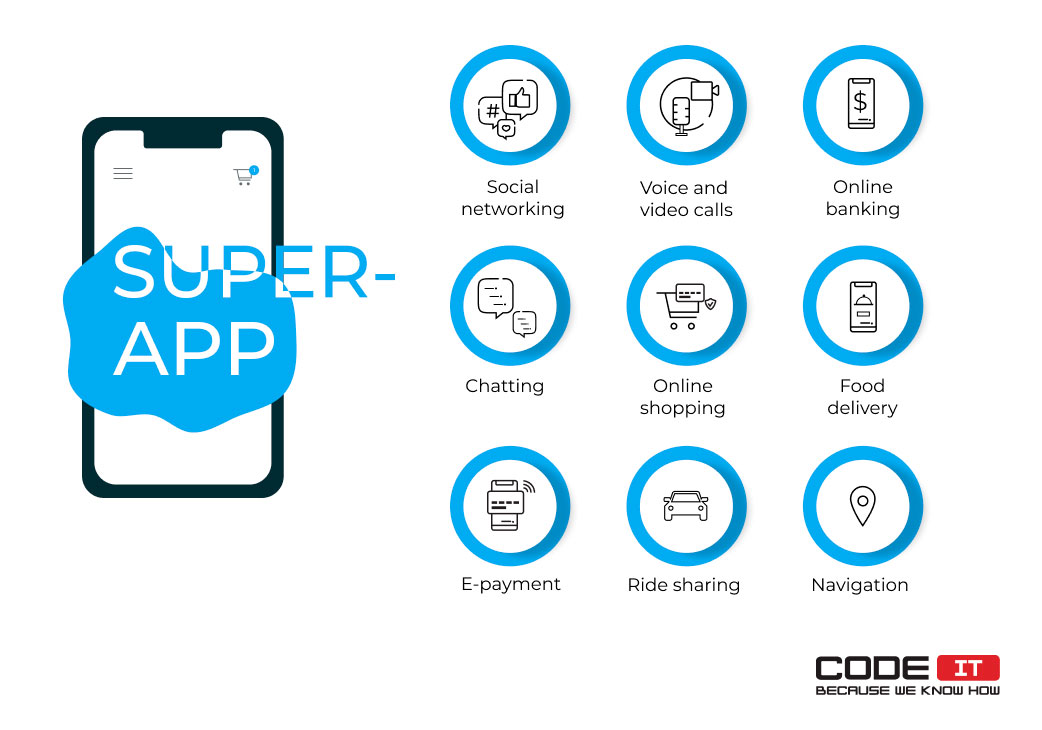 One of the leading future apps that will change the world is WeChat, an app that originated in China. It is the most popular super-app in the region, with roughly 1.25 billion registered users. The super-app's features list is enormous, and it is constantly growing with new updates. WeChat's success in the Asian market impacts the future of application development.
The most popular WeChat features are:
social networking
direct messaging and video calls
search engine
access to the official accounts of authorities
online shopping
food ordering
online payments
news feed
navigation and location sharing
The top super-apps other than WeChat are:
Super-apps have become extremely popular in Asia, Latin America, and the Middle East. Hence, many US-based companies vigorously extend their applications' functionality, trying to develop super-apps with rich functionality.
For instance, after acquiring Twitter, Elon Musk announced that he would turn it into a super-app. Since the US niche of super-apps isn't occupied yet, Elon wants to develop a pioneer "everything app" on the North American continent to keep up with the modern app industry trends.
HIGH FPS SUPPORT
These days, the screen refresh rate supported by mobile devices increases constantly. It is measured in hertz (Hz). This metric is directly compared with frames per second (FPS).
The typical standard for mobile smartphones ranges from 30Hz to 60Hz. However, the displays of some high-end models can support up to 120Hz refresh rate. High FPS support is vital for mobile games because the higher the number of frames per second, the smoother the animation.
The most popular applications that support more than the 90 FPS refresh rate are:
To deliver outstanding user experience on devices with screens with that support high refresh rates, developers need to build applications that support high FPS rates. Otherwise, users may notice the lower refresh rate of an app.
For instance, an application that supports the maximum number of 60 FPS can only deliver 60 frames per second, even if a screen supports the 120Hz refresh rate. Therefore, choosing the right technology when building mobile apps is vital to keep up with the latest trends in mobile app development.
Here are the examples of the maximum FPS support of the three popular tools for building cross-platform mobile applications:
Read also:
WEARABLE APPS INTEGRATION
Wearable devices are a vast niche that offers plenty of business opportunities. Indeed, the Apple Watch is the pioneer device that forces the industry to grow rapidly. However, many other brands also put a lot of effort into developing smartwatches, fitness bands, and smart wearable trackers.
Most applications installed on smartwatches are simplified versions of full-scale mobile apps.
Users get access to crucial functionality by using a device on their wrist. A large assortment of sensors used for activity tracking enables developers to create feature-rich health and sports applications.
The wearables support increases a user's involvement, improves user experience, and offers the opportunity to attract more users.
ARTIFICIAL INTELLIGENCE AND MACHINE LEARNING
Artificial intelligence (AI) and machine learning (ML) are technologies that have been introduced previously in the mobile application development market. Artificial intelligence is expected to be a driving force of innovations in different industries, especially in healthcare, agriculture, and banking.
Learn more about:

The AI/ML technologies development will create a great perspective in terms of income. The artificial intelligence industry's revenue is expected to reach 118.6 billion by 2025.
The enhancement of already existing AI-based tools such as cameras, voice translations, user behavior predictions, and virtual assistants will keep developing rapidly. Aside from that, it will speed up the development process of data processing, problem detection, and real-time solutions generation, which will be implemented widely in the healthcare and banking industries.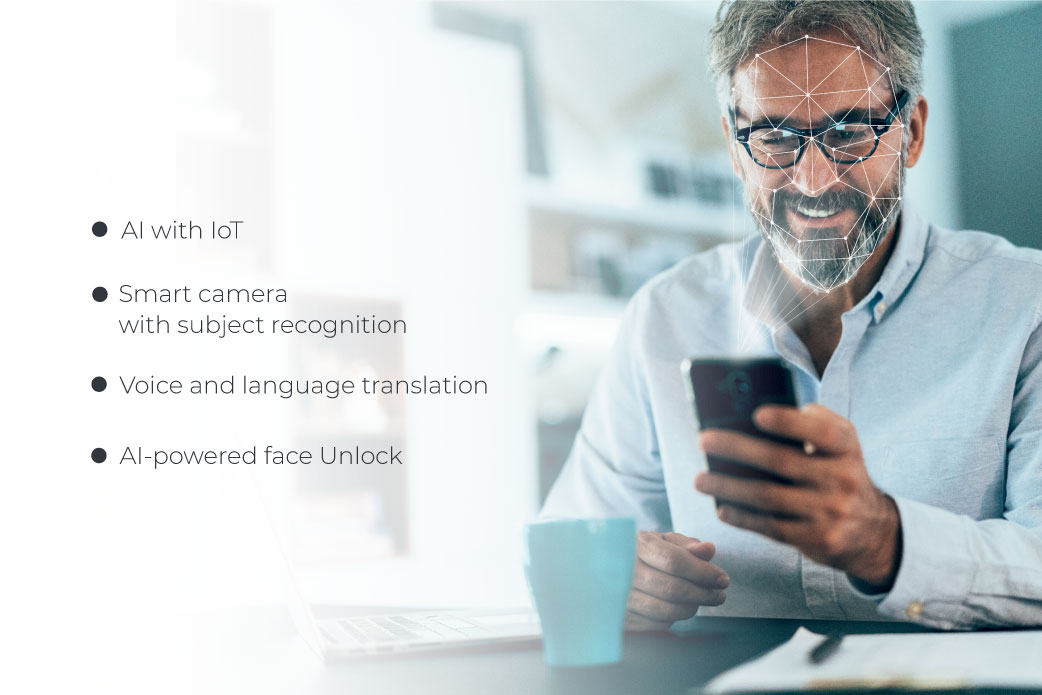 Though artificial intelligence technology has been introduced and used for years now, such features are expected to emerge:
Smart cameras with item recognition
Voice assistance
Printed and handwritten text detection
Live voice and text translation
AI-powered face unlocking
The top AI-powered applications are:
INSTANT APPS
In 2016, Google launched instant apps, making them available on Android smartphones. In 2020, Apple introduced App Clips, an instant app solution for iPhone and iPad.
Both solutions work similarly. Instant apps deliver an app's functionality without the need to install a dedicated application on a device. It allows for running an app using the Internet connection only, requiring zero load time and preventing cluttering device storage.
With the help of instant apps, only the required functionality of an application is delivered to users. It helps opt for services faster, improving the user experience. For instance, using an instant app, users can scan a QR code or an NFC tag and rent an eclectic scooter in a few taps. The integration with App Store/Play Market and Apple Pay/Google Pay foresees the opportunity to use the required functionality of an app without installing it and make payments seamlessly.
Some of the popular applications that support instant functionality delivery are:
IOT
The Internet of Things (IoT) is one of the leading mobile app trends. More than 30 billion devices are expected to be connected in 2023. The Internet of things (IoT) is a concept of combining a large number of smart devices into one system. All smart devices can receive commands and send messages using the Internet. The most popular IoT devices are:
Home voice assistant
Smart doorbell
Robotic vacuum cleaner
Smart thermostat
Smart TV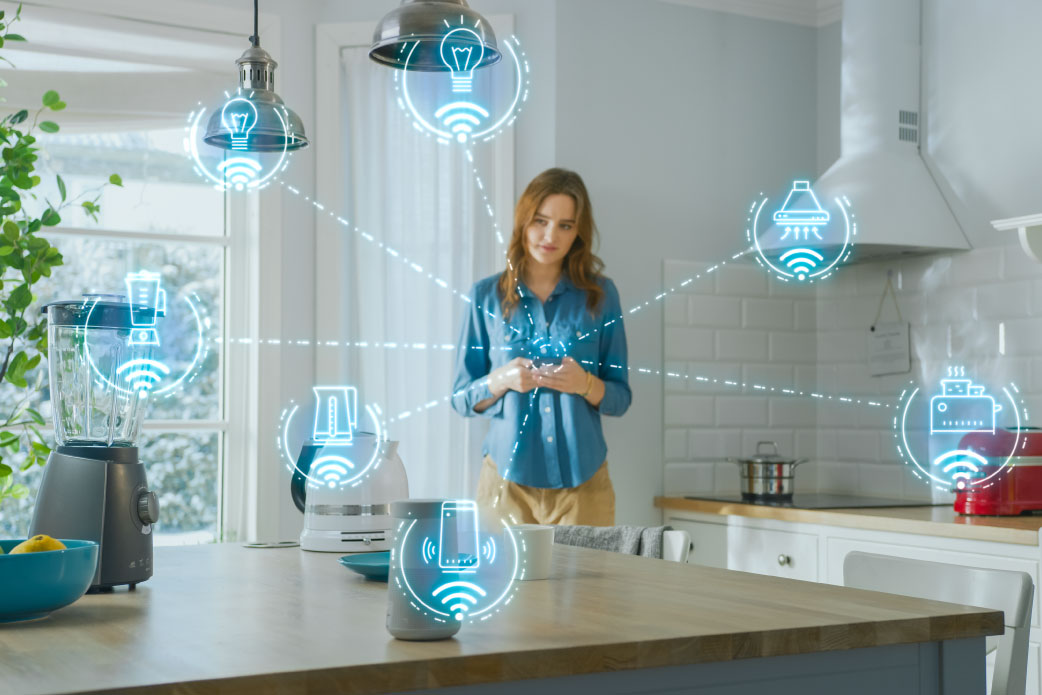 IoT is developed and used through IoT software apps, gadgets, and sensors that allow for the usage of this technology via voice recognition and remote controls.
According to Statista, the IoT's total annual revenue is expected to reach 545.8 billion US dollars in 2023, making it a smart choice for developers to keep their IoT-friendly applications.
With IoT, smart homes are the next best thing due to activating an IoT-powered lock system, light system, cameras, and even doorbells connected to one network.
Some of the top applications that help manage IoT devices are:
SECURE APPLICATIONS
Data privacy is one of the significant concerns of mobile app users. Mobile applications can collect tons of data about users. Since the collected data is misused or even shared with third parties without users' consent, they switch to more secure solutions.
For instance, according to the information specified in App Store, the Facebook app can collect and process the following data about its users:
contact information
identical information
health and fitness data
financial info
user content
browsing history
sensitive information
data usage
location
purchases
Also, the Facebook company states it collects other data. According to the App Store privacy details, any data types not mentioned by the company but still collected and processed fall into this category. Hence, the actual amount and types of data companies collect about users are undefined.
Applications that don't collect users' data and keep their messages secure become viral because top data privacy and security are the latest trends in mobile app development. Users don't want third parties to know everything about them and access their messages, content, etc.
The most popular apps that keep user data safe are:
Build a secure mobile application with CodeIT!
AUGMENTED REALITY AND VIRTUAL REALITY
The technology of augmented reality and virtual reality is, in fact, continuously conquering different technologies connected to our daily lives, causing a massive impact on the future of mobile apps.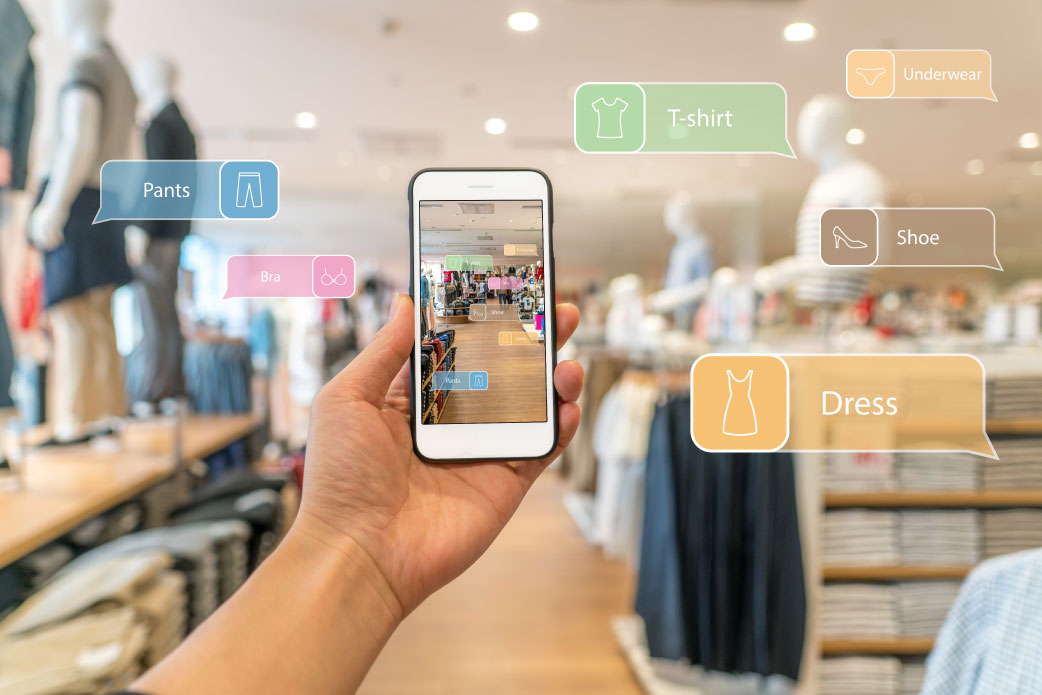 AR and VR technologies are already popular in the gaming and video industry. The healthcare, tourism, education, retail, marketing, architecture, and real estate industries adopt the technology somewhat slower. However, they also realize the benefits of both AR and VR technologies being applied in their businesses.
From 2.45 billion US dollars in 2016, AR is projected to reach 136.55 billion US dollars by 2025, with a compound annual growth rate (CAGR) of 56.32% from 2017 to 2025. This year and onwards, AR and VR are some of the main trends in the mobile app development industry.
The most popular mobile applications that use augmented reality are:
Read also:
MOBILE WALLETS
The number of mobile wallet users is expected to increase by 74% from 2020 to 2025, making this matter one of the current trends in mobile app development.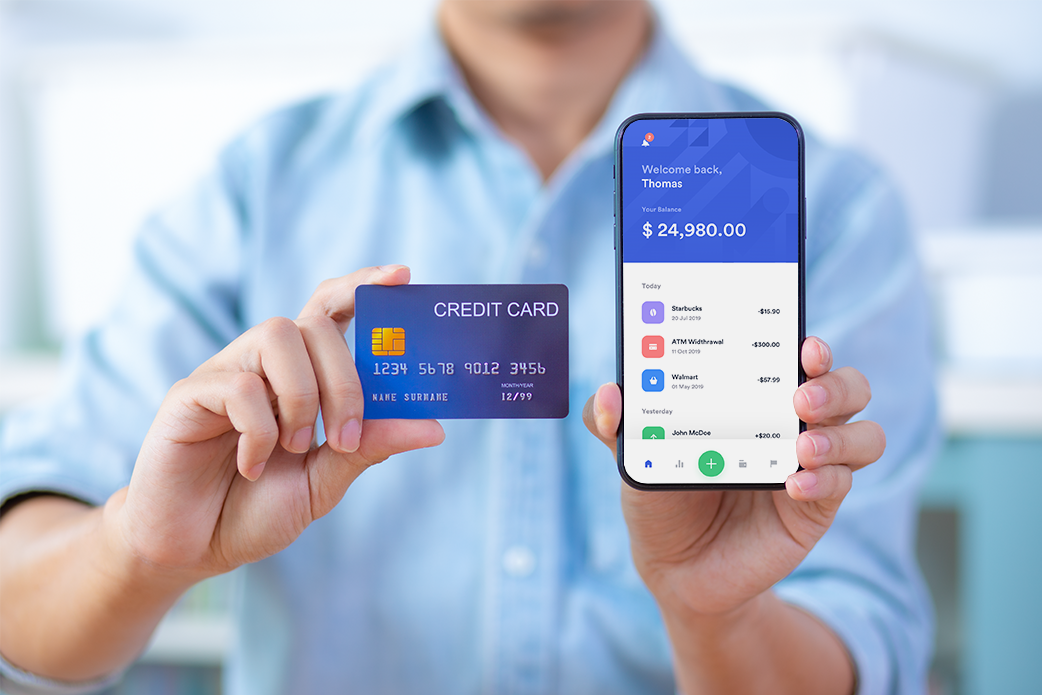 Using mobile wallets, users can pay for goods, send and receive money, and buy/sell/send cryptocurrency in a few taps. The most popular mobile wallets are:
Apple Pay and Google Pay are two of the most commonly used mobile payment gateways. Users can make payments or subscribe to different services in one tap using these solutions. The ability to make payments online is vital for mobile-based eCommerce applications. Besides, it offers an opportunity for businesses to boost revenues by providing a large number of in-app purchases.
Read also:
FOLDABLE DEVICES SUPPORT
According to the report prepared by The International Data Corporation (IDC), the market share of foldable smartphones is expected to grow from 1.1% in 2022 to 2.8% in 2026, with 38.7% of CAGR.
The number of foldable devices shipped is expected to grow from 13.5 million units in 2022 to 41.5 million in 2026. Hence, they impact the future of application development significantly.
The key peculiarity of foldable devices is two displays of different sizes that are installed in one device. Usually, the first screen has the portrait orientation, while the second one is foldable and has the landscape orientation.
The smaller screen in foldable devices is used for routine tasks like chatting, news feed exploring, and interaction with applications that support the portrait mode only. The larger screen is widely used for entertainment or document processing.
The foldable-screen support is a crucial feature for entertainment and business apps. Users can switch between different screens fast. Hence, apps installed on foldable devices should be capable of changing the layout simultaneously when a user switches to another screen.
These days, many top-tier applications are optimized to work on foldable devices. The most popular ones are:
CHATBOTS
Customer care and acquisition are vital for almost every business. With chatbots, customers can find fast resolutions to their problems and quick answers to their inquiries without communicating with a real customer support representative.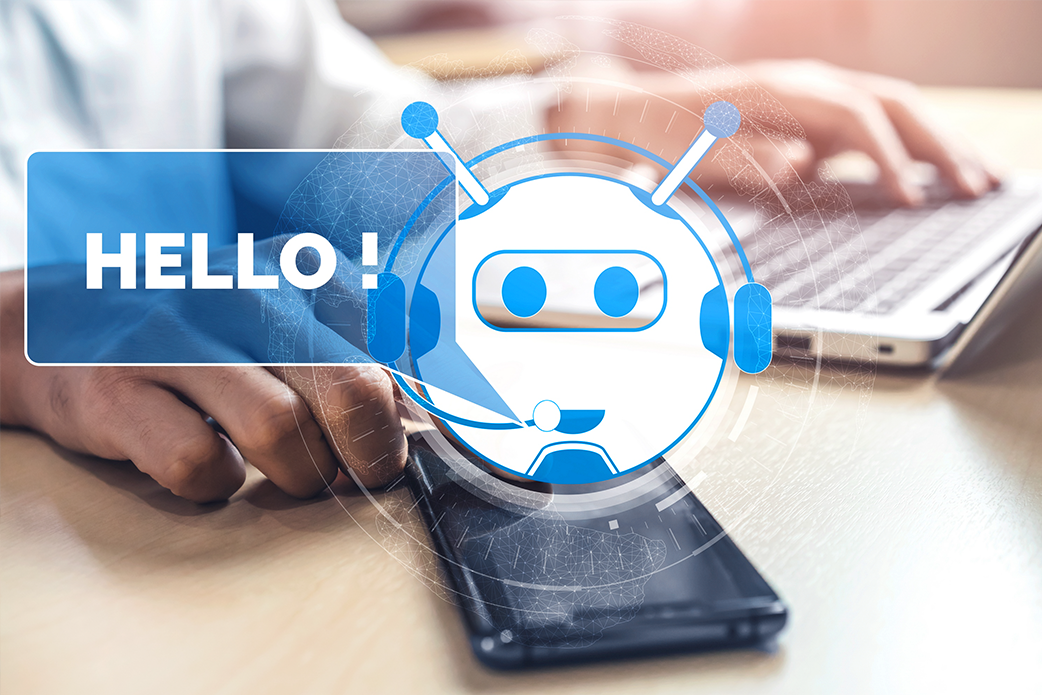 The chatbot industry is expected to reach at least 5.63 billion US dollars in 2023 as business owners realize the amount of help they get with chatbots and reduced labor costs.
Chatbots can have a limitless number of live conversations simultaneously. On the other hand, a real customer care representative can only maintain a few live chats at once. Moreover, chatbots can work 24/7, so clients can get their questions answered without delays.
The usage of chatbots in different industries, such as transportation, retail, food delivery, and even online shopping, is about to improve further in 2022. Aside from that, assistance from chatbots like Siri and Google Assistant will become smarter by receiving innovative mobile app features to enhance user experience.
The real-world mobile applications that use chatbots are:
Read also:
CLOUD-BASED MOBILE APPS
The integration of cloud-based technologies is one of the top trends in mobile app development. Different industries take notice of the benefits of this trend for their business.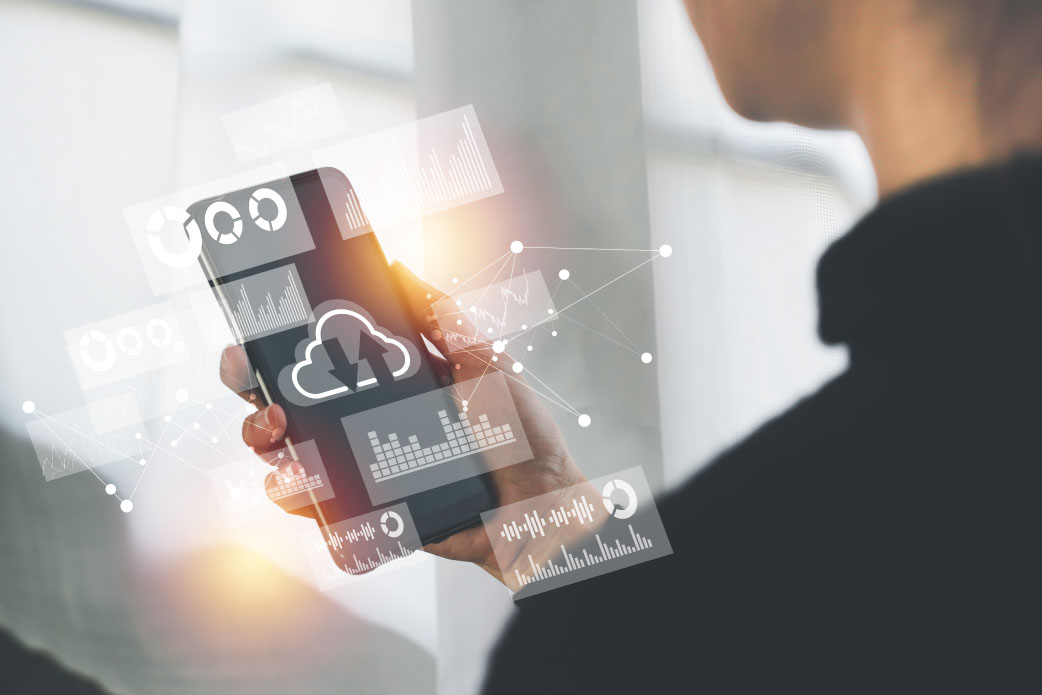 Cloud technology allows for a secured storage system and access to data in a quicker way. Users opt for this technology to avoid the smartphone's internal memory overload and ensure that critical information is still accessible.
The most popular cloud-based applications are:
Having cloud integration technology makes application development easier. It also provides a better customer experience to application users worldwide in different industries.
In 2022, the cloud services market is expected to grow with a total of 397.4 billion US dollars.
Read also:
TO SUM UP — IS THE FUTURE OF MOBILE APPS BRIGHT?
The top mobile development trends are:
1. Beacon technology
2. 5G technology
3. Super-apps
4. Foldable devices support
5. High FPS support
6. Wearable apps integration
7. Secure applications
8. Artificial intelligence
9. Instant apps
10. Internet of Things
11. Augmented reality and virtual reality
12. Mobile wallets
13. Chatbots
14. Cloud-based mobile apps
It's advisable to keep up with the current trends in mobile app development if you want to build an application that will become popular among users and hit the top installation charts. Also, the top trends can be useful if you're looking for some app ideas in 2023.
Contact Us To Estimate Your Mobile App Idea

In most cases, if you are thinking of developing an app, you will need a mobile solution that a reliable software development company with a strong project background and portfolio can implement.
The experts in our company will be happy to assist with any requests you may have. The same goes for the consultations on your project regarding the time of its implementation and pricing information.
What kind of apps are in demand?
The most popular areas for mobile app development in 2023 are healthcare, taxi, delivery, and remote communications.
What are the top mobile app development trends in 2023?
In addition to the involvement of high technologies, the main trends in the industry are chatbot development, cloud technology improvement, super-apps, and foldable device support. The complete list looks like this:
1. Beacon technology
2. 5G technology
3. Super-apps
4. Foldable devices support
5. High FPS support
6. Wearable apps integration
7. Secure applications
8. Artificial intelligence
9. Instant apps
10. Internet of Things
11. Augmented reality and virtual reality
12. Mobile wallets
13. Chatbots
14. Cloud-based mobile apps
What is the future of Android app development?
The future of apps that run on Android is bright. The development of Android applications will attract more and more investments and high technologies, and they will remain popular in a variety of industries, from education to entertainment.
Are app developers in demand in 2023?
Yes. The market and the future of mobile apps are entirely related to how extensively young professionals will enter the industry. One of the latest mobile app development trends is Python development. As you can see, there is room for improvement here.
Is Python good for mobile apps?
Python mobile development is one of the current trends in mobile app development. The top mobile apps built using this programming language are:
Nevertheless, Python is qualitatively inferior to Java & Kotlin for Android or Swift for iOS.