The authoritative Stat Poll in 2018 showed 90% adoption of patient portal apps in healthcare as the major means of health metrics storage and a powerful patient engagement software.
What is a Patient Portal
According to the primary definition, a patient portal is a website providing 24/7 access service to patients' personal health information across any device. With a username and password, it enables patients to see the history of visits, test results, immunizations, make payments.
In addition, patients' presence on patient portals unlocks for them the opportunities to:
schedule appointments hassle-free

improve their health awareness with a wide range of educational resources

communicate with healthcare professionals directly

get valuable insights in their health history with a variety of data.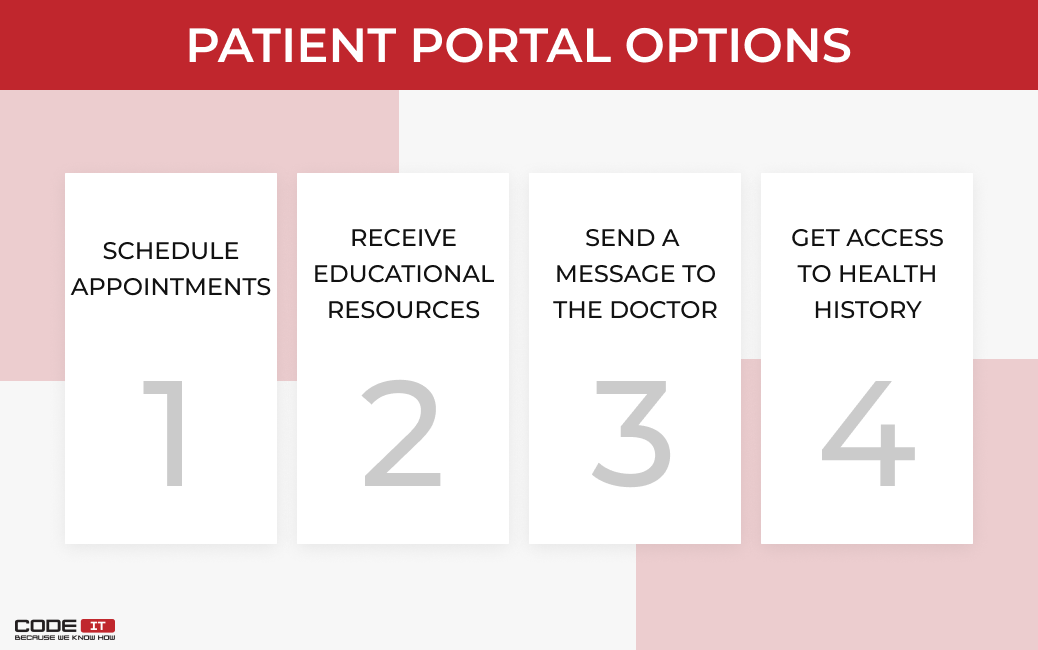 Benefits and Challenges of Patient Portal Usage
Apparently, patient portals as software providing easily accessible information to users can bring considerable benefits both to physicians and patients. One of the top benefits of patient portal usage is dramatic increase of patient engagement due to opening various possibilities of involvement for patients in their healthcare upon patient portal activation and utilization.
The flip side of the coin though is the challenge of implementation of patient engagement software. Regarding the complexity of healthcare-related activities and the number of participants providing the successful outcomes of the medical care process, it comes as no surprise that patient portal software must meet the highest technological requirements.
The strict professional and legal standards set in the medical industry are also important to regard as ignoring them may disrupt software usage or restrict patient portal capabilities in addressing numerous patient engagement issues.
Importance of Patient Engagement
In lots of cases, the degree of patient engagement in healthcare determines the medical outcome as well as creates grounds for the positive patient experience that, in its turn, helps build up the positive image of medical service providers.
According to the World Health Organization Report, patient engagement became an integral component of healthcare as patients once involved in the process are more capable of taking informed decisions in favor of healthcare awareness.
In particular, patient engagement through customized patient portals makes medical service providers' businesses more sustainable.
Patients anticipate that the health practitioners engage them in healthcare activities.
The active digital transformation of the medical industry dictates for health services to be increasingly more responsive and transparent in catering to patients' needs.
Nowadays, providers of medical services offer various options to improve patient engagement on online portals. For example, among those customers that implemented patient portals in their healthcare systems, 73% providers offer secure messaging, 36% included a personal health tracker into their service package, and 66% enabled the option of prescription renewal.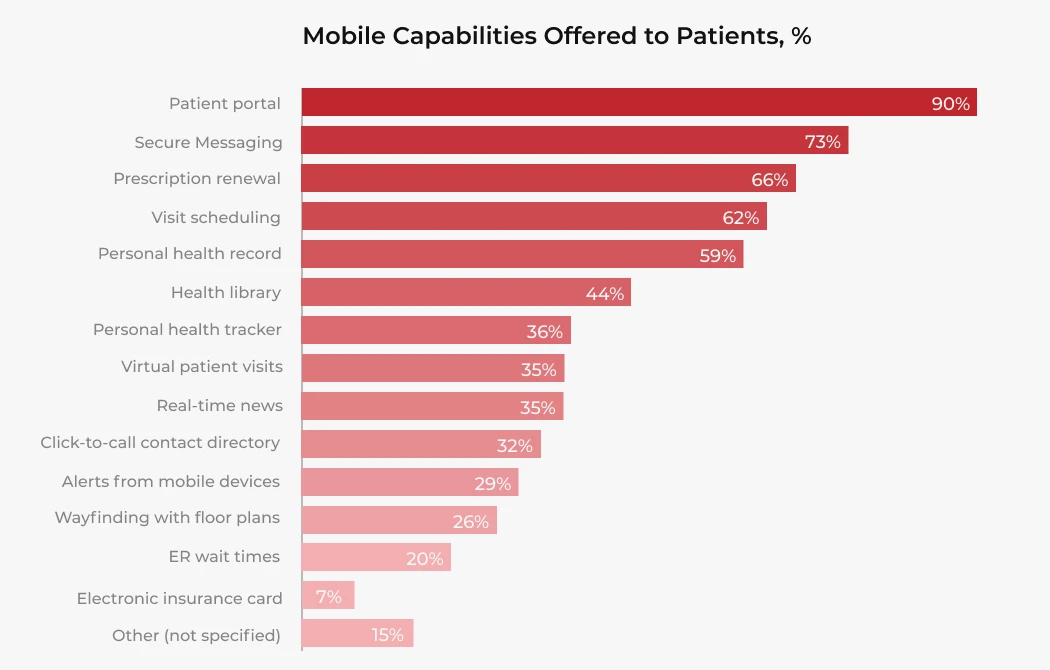 Furthermore, medical organizations adopt portal software as the primary clinical-communication channel that helps:
facilitate the process of billing staff

increase accuracy and exclude overlapping in schedule appointments

improve accountability in providing medical services for the patients.
Statistical data confirm the rising popularity of portals among consumers of healthcare services: patient portal usage was recently experienced by 52% compared to lower percentage in the previous years. It is important to note that patients refraining from applying patient portal option admit privacy concerns as a reason. It means that, provided they could feel reassured of the mentioned concerns, they would be willing to apply patient portal access more often.
Key Players in Patient Portal Sector
Due consumers' supportive response to evolving digital trends in the medical industry, the market responses with numerous offers of patient portals.
The key players in this sector are mostly American and British-based EHR (electronic health records) companies that keep leadership positions with providing high quality certified technology for healthcare.
For instance, Allscripts Healthcare Solutions, Inc. (U.S.) caters its services to more than 2000 hospitals and claims connecting over 18 million (!) consumers. Their patient engagement solutions aim at satisfying the needs of healthcare providers, hospitals and health systems.
McKesson Corporation (U.S.) belongs to the veterans of the industry and serves more than 50% of U.S. hospitals and 20% of physicians promoting the patients' access to EHR for improved patient engagement.
Medfusion based in North Carolina is the leading development company that focuses on perfecting patient-provider communications with digital means and offers health IT-solutions for various medical practices.
Key Features to Consider When Developing a Patient Portal
It should be noted that the ultimate requirement for compliance with HIPAA regulations demands that all patient portal vendors ensure the restricted access to protected health information by enabling the usage of a secure username and the strong password for each individual user.
Upon providing the compliance, patient portal developers should certainly pay attention to including the following features into the functionality package of their product to achieve the patient engagement improvement:
Secure Messaging
Healthcare providers expect Secure Messaging in the primary stack of software features in 87% as this option enables both patients and healthcare practitioners to engage in the secure communication.
Besides, secure messaging features that can be implemented through a variety of flexible deployment options have good prospects for application in chronic disease management within telehealth systems.
Patient Registration
Portals are beneficial in terms of managing the process of patient registration with ease. Patient portals enable easy-to-perform sign in to get access to the records or complete patient forms for having a test, getting insights with health history data, tapping in immunization records, or lists of prescribed medication lists.
Once the registration is designed with patients' convenience in mind, it is highly likely that patient engagement will improve.
Patient Scheduling
Online Appointment Scheduling is one of the most important features on patient portal as it enables patients, regardless of their actual location, to make an appointment on a certain date or on those time slots that suit patients best.
With the system settings tuned to users' needs, this feature will surely make patients more inclined to involve in medical service practices so developers should be aware of providing efficient solutions in case making or confirming the appointment would be required.
Appointment Reminders
Medical organizations make consumers' comfort their top priority. Being the effective communication solution, Appointment Reminders are crucial for improving patient engagement.
Developing this feature results in activating multiple channels for creating fail-proof appointment reminders by delivering text messages about the scheduled meetings, sending patients emails, or recorded messages. By utilizing this option, receptionists and administrators will be able to address issues at hand rather than spend tons of time making calls.
Prescription Refills
The ongoing treatment, repeated medical procedures often require that the patient has access to Prescription Refills. By facilitating this process, healthcare professionals can expect improvement of patient engagement.
Besides, this solution can be a game-changer in terms of optimized time utilization as it automatically eliminates unnecessary appointments off the schedule.
Online Bill Payment / Statements (Online payment options)
Implementation of patient portals demonstrated, among other positive changes within healthcare tech environment, the raise of patient payments by 4% to 8%. Including this feature into portal function set allows physicians to track down customers for unsettled bills.
Furthermore, adoption of online payments increases the number of options for self-pay patients. This option is crucial not only for increasing the revenue cycle but also for saving time of all the participants involved.
Patient Education
Patient portals can provide rich resources for increasing the patients' awareness in terms of shaping the healthy habits.
Enabling patients' instant access to educational health-related information can be viewed as one of the powerful patient engagement solutions. Patients can receive the content tailored to their conditions and delivered directly to their account.
Proxy Access
Healthcare consumers often need quick access to the information pertaining to prescribed medications and medical conditions of their dependents (for example, children, elderly parents).
The access can be enabled by creating unified personal health record with registering as a proxy. As it usually requires several steps authentication, it is important that this feature was designed and developed by a professional team. Information uploaded once the proxy registration is successful, will be accessible from any computer, tablet or smartphone.
Evidently, with the total number of mobile phone users reaching at present 2.7 billion people, patient portal software developers are to provide the impeccable adaptability of these features in patient portal mobile apps along with the data security observation for creating the optimal patient experience and, thus, improving users' engagement.
Ready to design your own patient portal?
Concluding Remarks
With the advent of online platforms, patient portals showed great results in healthcare due to their wide capabilities in creating value for patients, and demonstrated positive dynamics in terms of scope of provided options for users and active involvement of participants.
When the core functionality of patient portal is designed and created by the expert healthcare IT company specializing in offering customized software solutions with consideration of specific needs of the medical service provider, the patient engagement software becomes the major tool of care management.
In case of a positive impact on patients' involvement, patient portals greatly attribute to streamlining the service, generating a bigger revenue for medical establishments and medical service providers and ensuring a higher level of medical care for patients.