Chronic conditions drive considerable growth of spending in healthcare sector. It is where a diversity of chronic care management apps for monitoring and assisting in the treatment of chronic illnesses come as a solution.
Why implementing chronic disease management software is important
With about 133 million Americans having at least one chronic illness including diabetes, heart, lung, and kidney conditions, chronic disease management has become one of the focal points of healthcare.
According to Medical Economics, healthcare prices for out-patient hospital service recently increased by 21%. And from an economic perspective, the impact of chronic disease translates into an estimated health spending of $5,300 per person in the U.S. each year. The numbers in total cost for particular conditions are even more staggering.
Moreover, chronic illness studies show that medical costs are likely to grow further because of increasing risk factors: in particular, 'cost of cancer care continues to rise and is expected to reach almost $174 billion by 2020' while heart condition at present causes $131 billion in lost productivity on the job.
Chronic disease management differs from infectious disease management as it implies providing long-term systematic care, and, thus, requires powerful supporting software.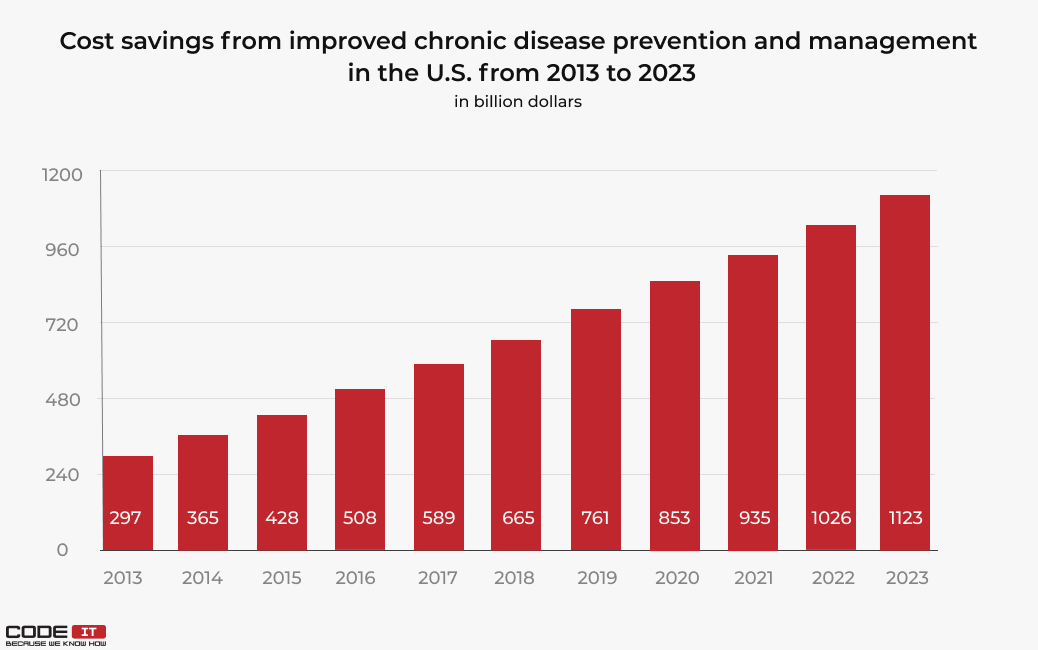 Source: Statista
Chronic disease management apps address numerous issues related to chronic illnesses and facilitate care processes by providing connection on tech level for effective management of ongoing health conditions.
How Chronic Disease Management Systems work
In general, Chronic Disease Management System (CDMS) is to suppose to link clinical data of chronic condition patients across all the administrative database that hospitals or other medical care providers maintain on an ongoing basis.
With CDMS, medical practitioners get instant access to each patient's chronic disease records, syndicated physical characteristics charts, test results or history of any clinical decisions previously taken while delivering medical care service to the patient.
Thus, the CDMS introduces systematic summaries and reports related to communication content, updates on treatment plans and treatment process itself that improves the medical care quality significantly.
The chronic disease management technology offers:
Merging

electronic health record (EHR)

data and data aggregated from out-record sources (for instance, lab test results) to fill the patient health chart with complete and relevant information

Patient data coordination that results in increasing patient engagement

Leverage with various patient engagement software for enhancing the patient experience

Integrating with remote care software for managing a schedule of online appointments and follow-ups

More positive health outcomes and fewer readmissions that result from a highly systemized treatment process

Ongoing health data transfer to increase the effectiveness of patients and healthcare providers communication.
Benefits of CDMS for patients and physicians
For the sake of providing the adequate chronic health management to patients cost-effectively, hospitals focus on creating the systems that can supply the coordinated care.
Chronic disease management apps help both patients and physicians get more empowered in terms of knowledge and treatment of health conditions once any abnormal symptoms are identified.
In the model of application of chronic ailments management software, health-care providers are more likely to deliver timely medical service to patients, which also means lessening the burdens associated with healthcare costs.
Apparently, chronic disease management software bring healthcare solutions to all the parties that ensure provision of the medical care including administrators, staff, doctors and patients alike.
In particular, medical care administration get access to:
tracking improvements in treatment

updates of treatment plans

generating reports on staff performance based on data analysis

pre-set protocols that allow to optimize staff-patient interaction.
As a result, it saves time and costs and, thus, creates grounds for increasing revenues.
Upon applying chronic disease management systems, physicians get access to :
automated reports on pay-for-performance basis

remote access to patient's clinic data relevant to the actual stage of treatment

tracking non-compliant patients for addressing the cases of missed appointments

managing the follow-ups schedules with built-in alerts, reminders and notifications

templates for creating risk profiles by diagnosis, medication, and condition categories

treatment plan protocols for chronic disease optimized management.
Check our case study: Medical app for elderly people or users with chronic medical conditions
Benefits for patients that opt for chronic illness management apps include:
optimization of self-care segment pertaining to their chronic condition management

reduction of healthcare expenditures associated with chronic disease treatment

improving life with chronic condition by getting more knowledgeable about opportunities to manage the disease

schedule for appointments and follow-up visits

systematic reminders

on taking prescribed medications, medical procedures, blood draws, etc.

efficient management of health behavior in regard to food-related choices

instant access to healthcare consulting.
For patients' convenience as well as facilitating the search process, chronic illness management apps are usually categorized by disease types according to certain chronic conditions like high blood pressure, Alzheimer's disease, asthma, diabetes, chronic kidney disease, arthritis, cancer, atrial fibrillation, etc.
Using mobile health applications for chronic disease management
It turns out that CDMS is most effective as a mobile application, and the reason behind it is quite obvious due to the expanding mobile networks coverage and the growing number of smartphone users.
The mobile app on the patient's phone provides linkage to the extensive chronic illness care system, which means that a patient gets the updated details of their treatment plan and corresponding instructions.
The patients can easily track their food choices, sleep habits, and medication intake. CDMS apps collect the data and transfer it to doctors.
Need a patient app? Learn everything about
Among the mobile apps delivering the chronic disease management solutions on the tech market, the most popular software are:
Medisafe. It is a medication reminder app with a scope of functions enabling patients to get personalized alerts on intake of the prescribed medications as well as drug interaction warnings. Additionally, it allows to list a caregiver within the option of family scheduling for reserving the capability of reminders in case of missed medicine intake.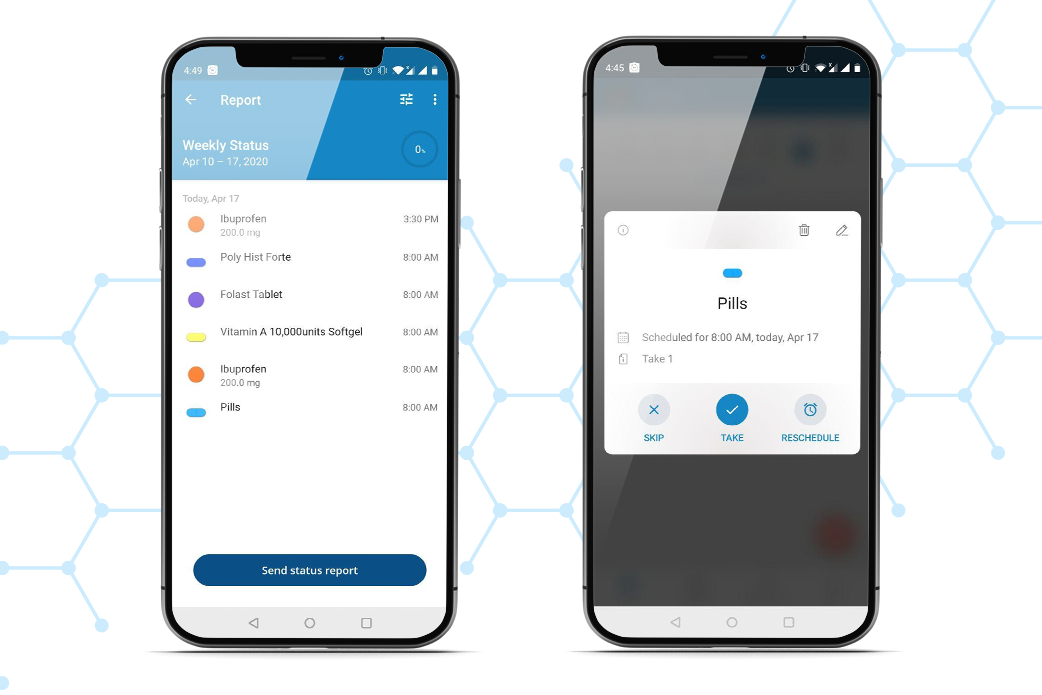 Fooducate. It is a perfect solution for those whose chronic conditions require observing the food choices with extra care. This health tracker will let users monitor what they eat and what activities they engage in to track treatment progress and achieve health-related goals.
Zocdoc. This is one of a kind app that will save tons of time on search for the medical specialist you specifically need. Now, to find doctors in the network will turn from a challenge to a mission accomplished. Doctors are reviewed by real patients, which means that medical service clients will not have to lose time on energy consuming search. Appointments with physicians can be booked and made with a click.
Sleep Cycle. This app acts as the full-fledged sleep management assistant as it can track your sleep and identify when it is best to wake you up so that sleep cycle was not broken. The accelerometer can analyze users' movements during the sleep and create sleep graphs for shaping the list of individual sleep recommendations.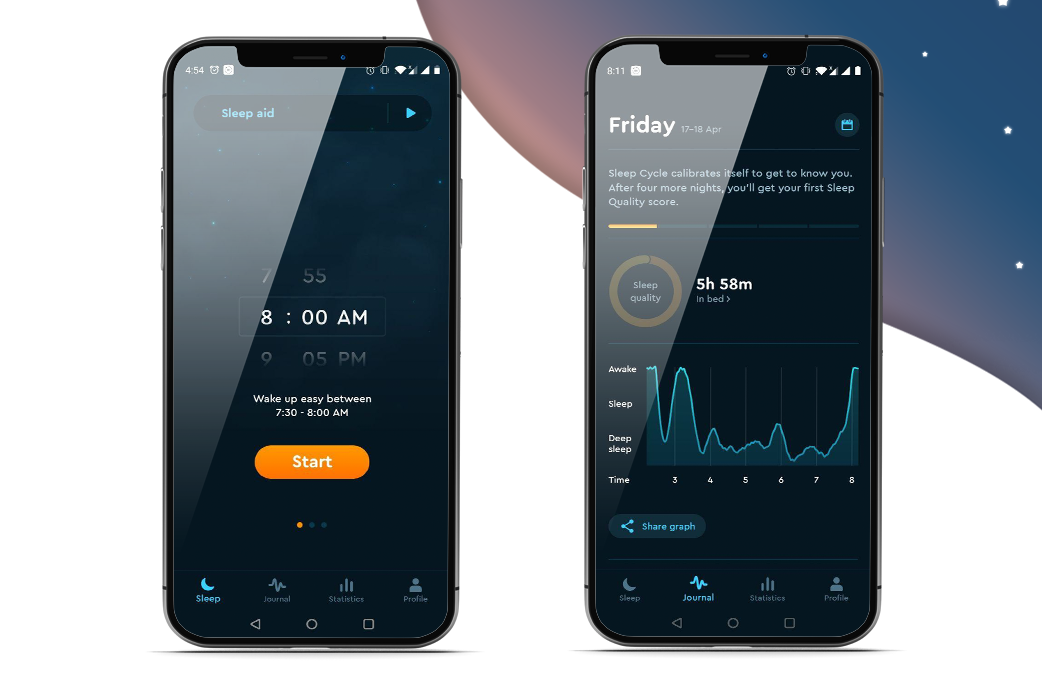 Key features of chronic disease management software
There cannot be a single software that would pack the universal solution. Hence, different diseases have to be addressed with different approaches to shaping the list of key features but, overall, they cover the following two major areas:
Caregiver-to-Patient Data Flow for

designing the schedule of medication intake, sending recommendations pertaining to health behavior for managing certain chronic conditions, getting alerts on lab results, and additional options of social media sharing.

Patient-to-Caregiver Data Flow for

sending updates pertaining to current physical characteristics and reactions to medication intake, or any relevant clinical data.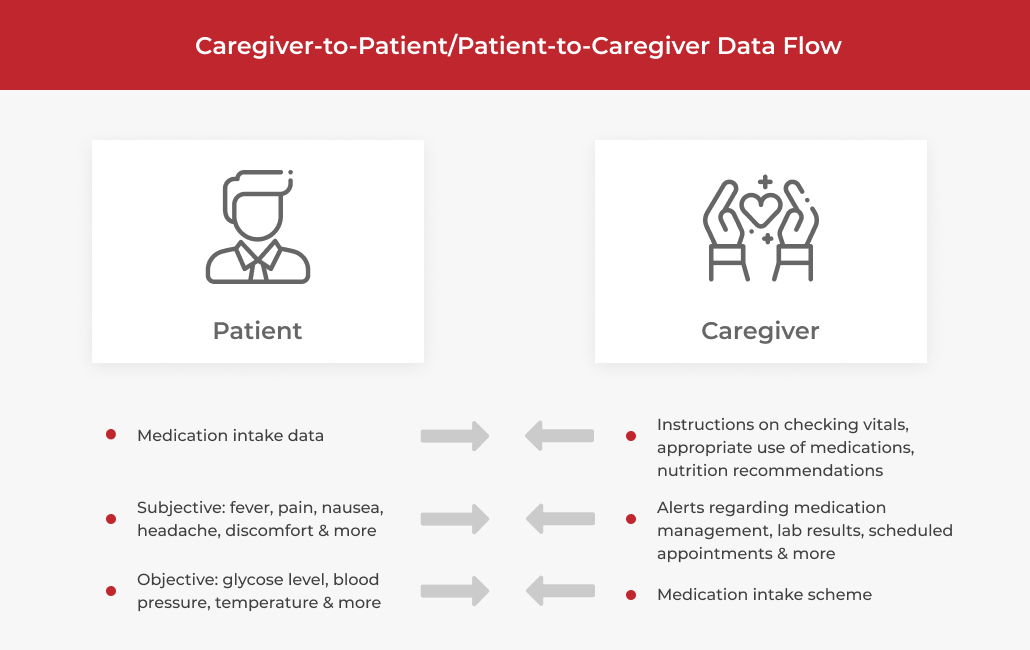 Chronic disease management software development stages
To ensure the successful delivery of chronic illness management solutions, healthcare providers are to keep in mind the following key factors:
Upon choosing the niche of creating an app, the specific

requirements to software development

are to be strategically planned, listed and discussed.

Treatment plan for the chronic condition is to be the 'guideline' of development strategy to avoid a risk of digressing from creation of a niche product tailored to the needs of your target audience.

Compliance with HIPAA

, HITECH, and FDA policies are to be observed to address the issue of data storage and security.

Due to the complexity of the project, medical service providers need a full-cycle development team or

custom software company

with relevant experience.

Maintenance, support and update of the chronic illness management software might be costly but ignoring this factor could come with a higher price.
Speaking of the financial aspect of chronic disease management software development, we should remember that the major influences determine the price cover such areas as:
Proportion of basic and advanced functionalities introduced by the app

Availability on various platforms (Android/iOS)

Development team size that will be engaged in a project

Certifications and Compliances that are to be issued and observed

Regard of API Integrations and defining their number.
Looking for a tech partner? We're here to help!
Conclusion
Chronic disease management helps in promoting the idea of preventive health care coordination and can be regarded as the long-term trend in delivery medical service worldwide.
Apps for chronic illness management encourage patients to take more responsible health-related decisions and enable them to control their condition with the assistance of health providers' teams.
Once developed and implemented by professionals, chronic disease management software turns out to be not only cost effective health management solution for providers, patients, and hospital systems but a game-changer in terms of bringing significant improvement of health outcomes in efficient handling of chronic illness progression.
Further Reading: