Healthcare CRM software is integral in healthcare companies regardless of the scale of their business operations due to having a proven positive impact on improvement of rate of health outcomes and facilitation of patient relationship management.
CRM and Its Benefits for Healthcare Industry
Though HIPAA compliant CRM appeared a decade ago, healthcare providers instantly recognized its value for healthcare industry. Since then, the implementation of medical CRM has been fast evolving with further massive introduction of both off-shelf and custom options.
Contrary to the common belief that CRM is just a database of names, HCRM performs equally well in the role of both technological and strategic advancement tool for healthcare providers. HCRM as a management system with extensive capabilities can easily address the needs of the healthcare providers to enhance patient experience as a consumer of medical service. It also enables healthcare marketing to be more efficient by targeting with utmost precision those clients in a market that require attention at a particular procedure level.
Moreover, healthcare CRMs can be indispensable in collecting the health-related data for creating the predictive models on the population's health issues and, thus, assist healthcare providers in building proper strategies.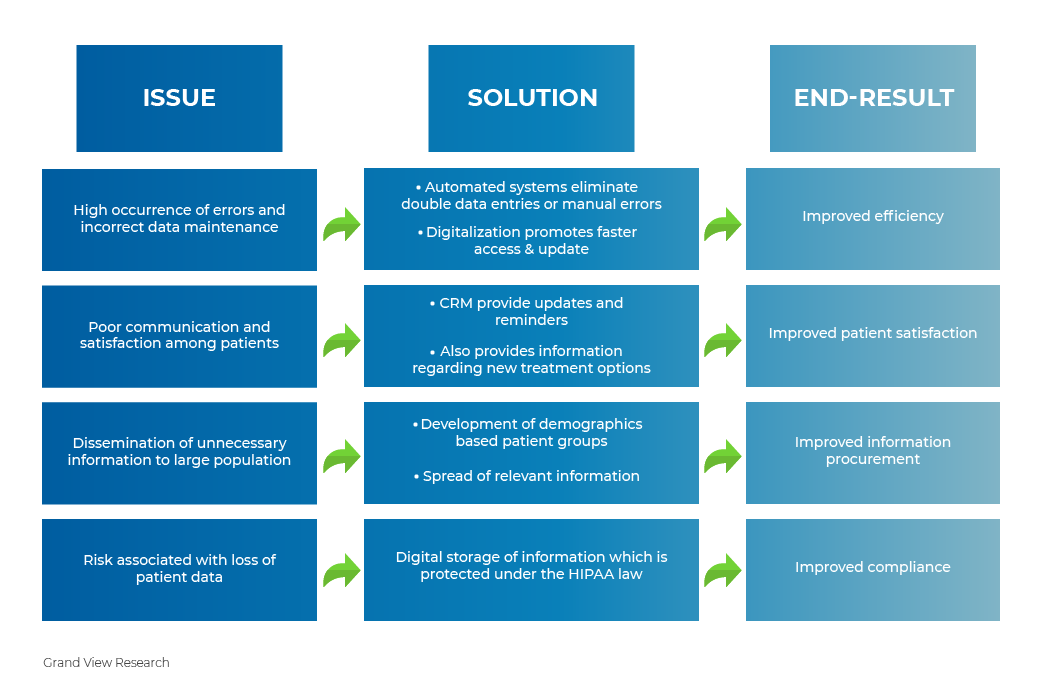 How higher adoption of CRM may benefits the healthcare fraternity and patients
Ultimately, healthcare CRM has a number of benefits that are worth taking into consideration when making a decision on implementation:
CRM systems reinforce hospital capability in terms of upscaling the speed of business operations (for example, by automating linkage to payments, improving the quality of accounting management, etc.)
CRM empowers medical providers by simplifying the administrative routine in general and facilitating management of information and resources for medical practices, pharmacies and healthcare marketing departments in particular.
With CRM, diagnosis and associated medical processes get advancement with technologies delivering integrations of clinical diagnosis, emergencies and general therapy.
CRM has a direct positive impact on internal and external communication by enabling medical professionals to be responsive within all work processes including treatment, service and information management.
Healthcare CRM Market: Facts and Numbers
Stratistics Market Research Consulting announced the results of healthcare CRM market analysis that demonstrates the tendency for the steady growth of medical CRM market sector expecting to reach the worth of $29 billion by 2026. The increasing needs of healthcare providers to obtain the structured data for better management and fostering better patient outcomes overrun restricting factors pertaining to high cost of CRM implementation in healthcare industry compared to other business enterprises and force the healthcare providers to search for optimized custom development solutions.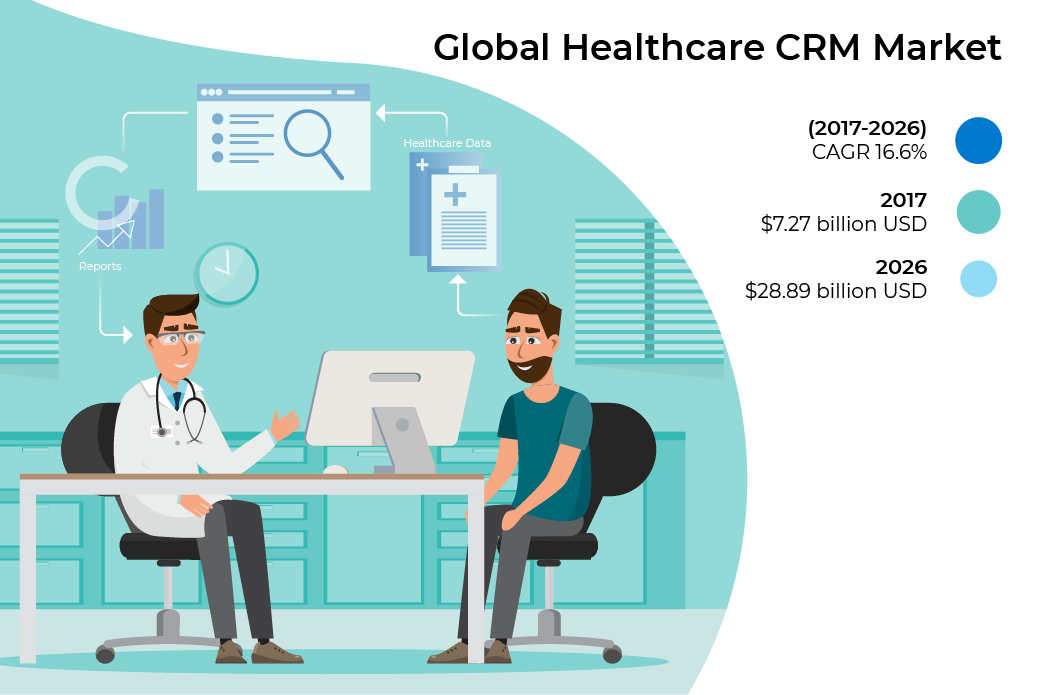 By categories, the healthcare provider market distinguishes the analytical, operational collaborative types of CRM. The reason for the operational CRM to hold the lion's share of 56.4% is its functionality that enables sales and marketing to streamline and automate most of the processes.
The leaders of the off-shelf healthcare CRM solutions are Salesforce (US), SAP SE (Germany), Oracle (US), Microsoft (US), IBM (US), Influence Health (US), SugarCRM (US), Accenture (Ireland), Healthgrades (US), and Infor (US).
Salesforce as the key player in the healthcare CRM sector, holds a share of 22% of the global healthcare CRM market.
However, small and medium-sized healthcare providers favor custom healthcare CRM software as it pinpoints the areas for optimal connection with the targeted audience and helps in delivery the personalized care for each individual with higher precision.
Trends in Healthcare CRM Market
Building foundations for better patient-doctor interaction, hospitals now aim at proactive approach to patients with offer of medical service at optimized cost. The dominance of the observed approach may be attributed to diversification of medical service consumer preferences as well as their strong wish to feel better-informed and more engaged in healthcare service.
Another trend determining the growth of healthcare CRM market is linked to employment of third-parties as the outsourcing agents within healthcare service provision. In its turn, it boosts the sale of the collaborative and operational CRM software as the means of gaining the competitive advantage for keeping the beneficial position of healthcare industry comprehensive player.
Additionally, the vast majority of hospitals and healthcare systems have recently invested in remote patient monitoring technologies to transit to a new care model implying social distancing and increased role of effective and speedy communication.
The growing demand for remote patient monitoring especially at times of pandemic supports expansion of healthcare CRM industry sector and promotes the active search for advanced healthcare CRM solutions.
With smartphones as the primary communication and engagement tools in focus, the trend for providing telehealth video conferencing, combining existing software to healthcare wearables and consolidating and managing data through healthcare CRM will prevail.
See how CodeIT successfully created a telemedicine platform for online meetings between doctors and patients
Healthcare CRM Major Users
CRM working on the principle of 'doing more at less cost', aims at facilitation of customer relationship, and benefits the following categories of end-users:
Providers of medical service
Consumers of medical service
Pharmaceutical organizations
Medical devices sellers.
In particular, customers demand that the service is delivered faster and at a higher level of quality so providers of medical service utilize the functionality of CRM allowing the fundamental breakdown in healthcare by bringing together coordination and collaboration efforts. For them, CRM is an ideal solution to optimize case management, organize care team communication, improve appointments, and monitor medical equipment.
Consumers use capabilities of CRM for improved communication with medical staff, updates on appropriate medical information and reduction of waiting time, and, overall, for getting the enhanced patient experience.
Pharmaceutical companies apply CRM for guaranteed customer satisfaction by centralizing the data storage and integrating all the communication channels. Now, at any time the staff of pharma organization login to CRM, they are capable of accessing accurate information on the products provided to the customers. With healthcare CRM for pharmaceutical companies, providers make the newest medications available to their clients while empowering their staff for maximum productivity.
You may also like:
With implementing CRM in their business operations, medical device sellers can reach their potential consumers much faster and establish relationship by creating seamless and well-crafted marketing campaigns based on CRM data consolidation and management capabilities.
Applications of Healthcare CRM
The healthcare CRM market, based on healthcare CRM application, is segmented into the following categories:
patient management
task management
communication module
report module.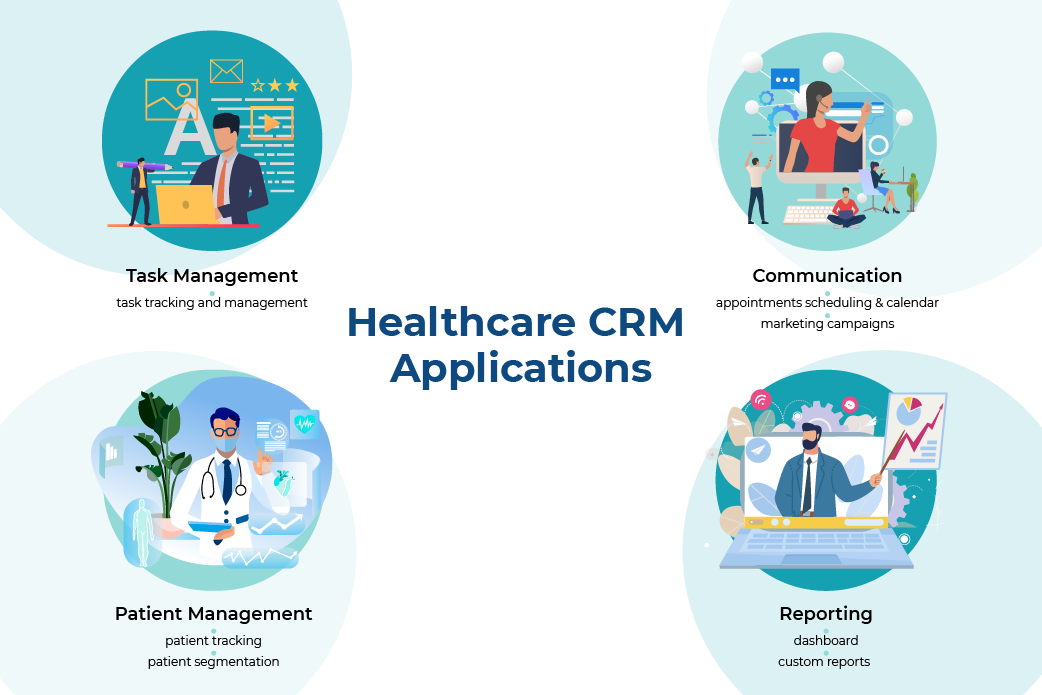 The segment growth within the market is conditioned by a feature set typical of each category, as listed below.
Healthcare CRM Features
Patient Management
To help patients and medical professionals navigate complex health systems, it is important that CRM functionality included Patient Information Management capabilities. The core components of the system are:
keeping the record of patient information
updating the information in real time
having instant access to the clinical record
matching records with corresponding lab tests results.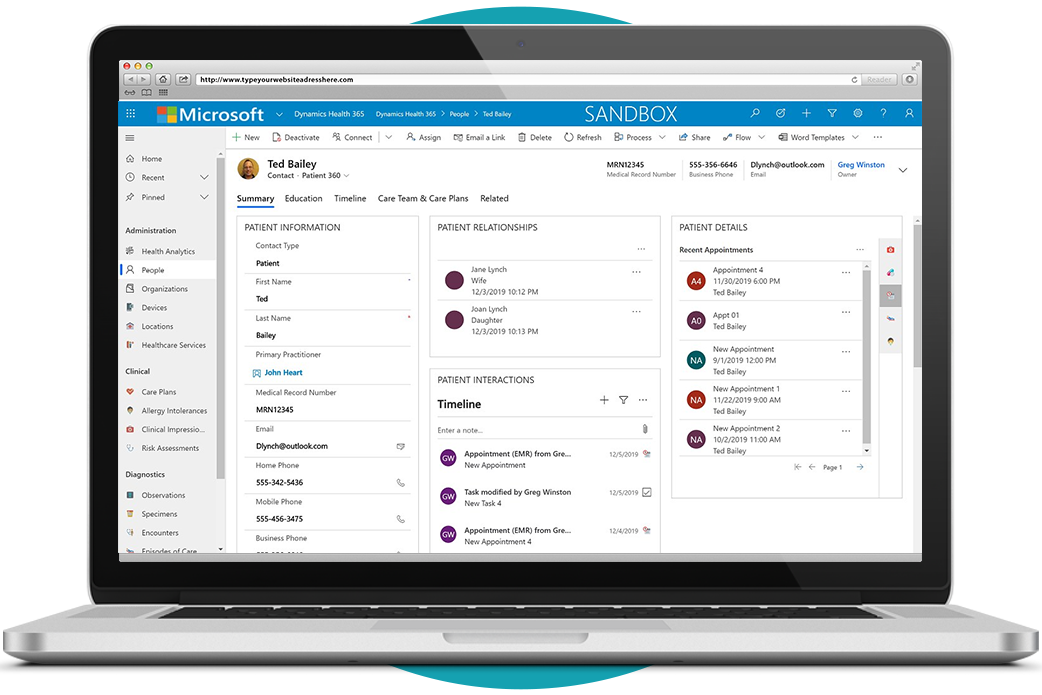 Patient data (Dynamics 365 Health Accelerator)
The more detailed the patient profile is, the more precisely the diagnosis and further medical service can be provided. It is also crucial for prescribing the most proper medication.
For enabling this feature, healthcare CRM has multiple options partially mentioned above. Overall, this feature implies creation of patient module for managing customer information and patient tracking for drug prescriptions, etc.
In addition, patient management performs patient segmentation functions. A segmentation analysis of patient data allows you to focus on questions related to patient behavior and choices of service, which offer healthcare providers a deep understanding of consumers. In long-term perspective, it enables healthcare provider businesses to deliver white-glove service and concierge experience tailored to the needs of the specific patient groups.
NEED CONSULTATION? WE'D LOVE TO DISCUSS YOUR IDEA AND PROVIDE A FREE OF CHARGE CONSULTATION.
Communication module
The functions of Appointments Scheduling ensure that all the participants are on the same page when it comes to:
Visibility of timetables
Availability of medical professionals
Organization of the meeting
Management in case any alterations are required.
The Communication module usually includes functions for enabling Marketing campaigns.
While using the existing email system, CRM functionality enables healthcare marketers to provide an automated email distribution including tracking emails to customers, and delivering information on special offers, promotions, and bonus and reward programs.
Calendar, Alerts and Reminders that are included in Communication module create the extensive system of notifications via SMS text messages, real-time group and individual calendar events, screen pop ups that greatly improve the communication.
Call capabilities that let consumers schedule calls directly in the CRM empower the medical professional teams with means of entirely automated system of tracking the communication for the easier communication and bettering the medical outcomes.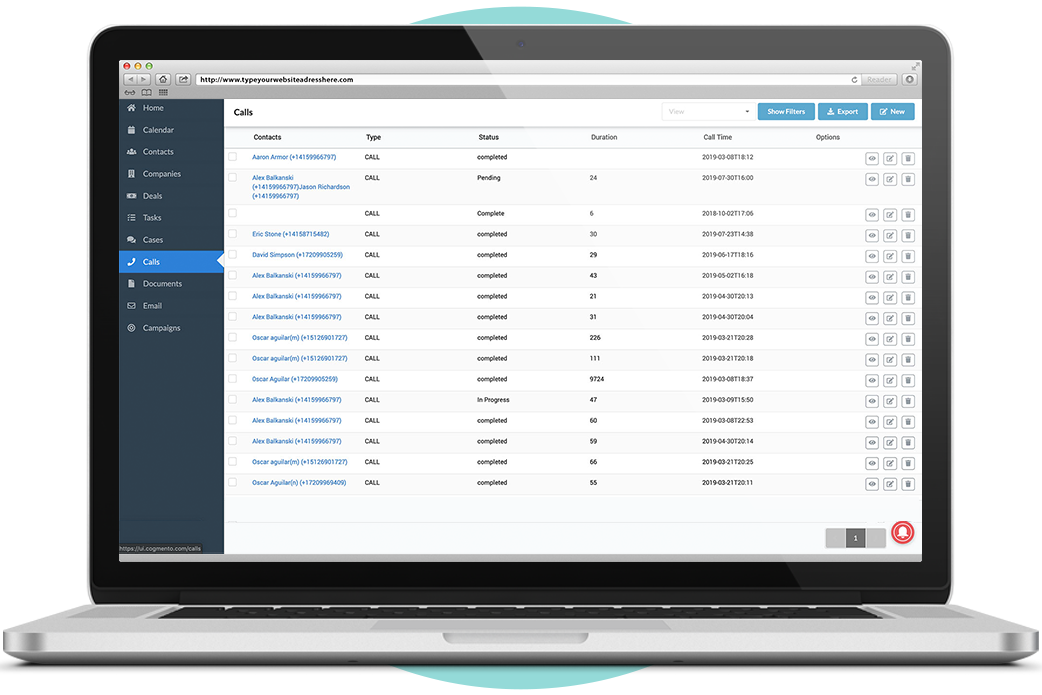 Call Scheduling (HIPAACRM)
Customer support consolidating sales and post-sales stages is aimed at instant addressing customer issues, and thus, at increasing customer satisfaction.
Task management
Task tracking and management refers to tracking tasks, issues, and sales for creating the complete visibility of the medical processes. Using capabilities of CRM, the medical sales and marketing teams easily deal with:
Assigning tasks for better accountability
Delegating the urgent tasks
Delivering results in time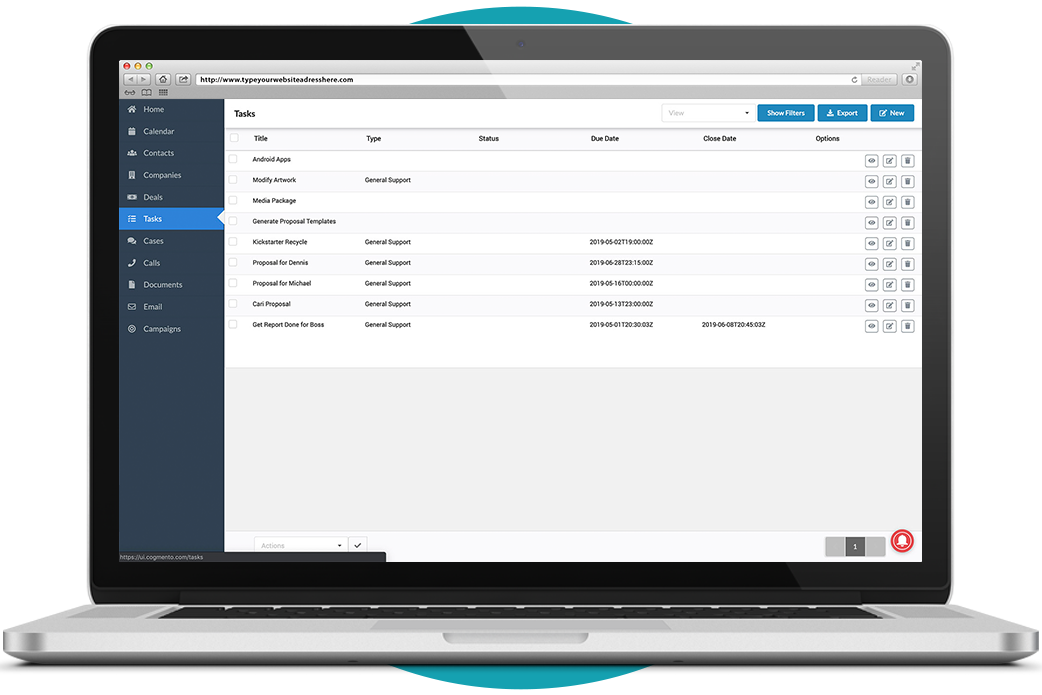 Task Management (HIPAACRM)
Overall, CRM enables healthcare organizations to work more efficiently on the level of collaboration of all the departments involved in the process by utilizing data management and reporting channels.
Report module
To avoid frustration of mismanagement, the CRM Dashboard should be customized to particular tasks, issues, appointments and activated for usage in real time. This way, any medical professional has the opportunity to access relevant information instantly whether it refers to sales leads, inventory related data, marketing, schedule, or customer support.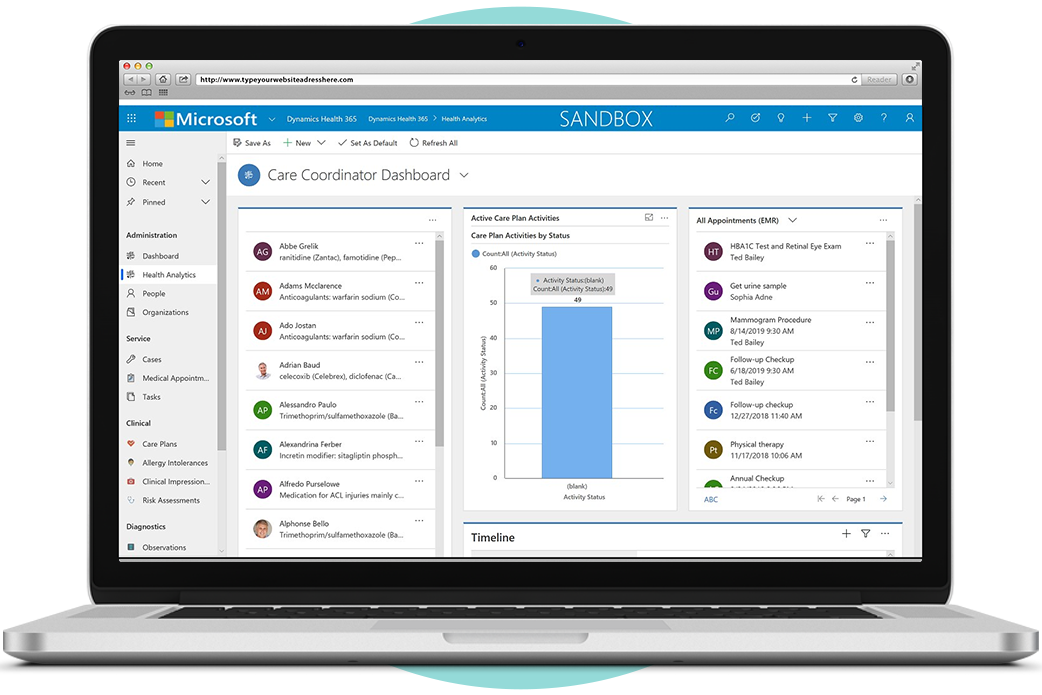 Dashboard (Dynamics 365 Health Accelerator)
Enabling the function of Custom Reports helps access data for evaluating the rate of customer retention, comparing ROI from promotion campaigns, estimate the budgets of the upcoming marketing events, etc.
This feature is important as a facilitator of work of administration department as the obtained data helps see the productiveness of each medical professional and identify profitability of service.
Additional Features
Due to the fact that functionality of healthcare CRM varies depending on specialization of the healthcare organization, the list of features and the scope of additional functions can be extended considerably.
With that being said, the following additional features prove to bring guaranteed benefits regardless of healthcare facility type:
Referrals Management
CRM Synchronization
Document management
Cross-device unification.
In particular, to assist in managing patient transition to the next step in healthcare system, it is advisable to develop options for transparent and smooth referrals management.
To maintain the computer synchronization with the CRM and keeping all the contacts, calendar events and schedule as well as tasks, it is highly recommended to enable automatic synchronization option for integrated cloud storage in the CRM.
The document management feature allows you to access and share any document with the staff in a click. Empowering the team with full-functioning document management options, healthcare providers and healthcare marketers centralize and streamline the medical practice, marketing and sales processes regardless of the physical presence in the organization.
Furthermore, enabling multi-platform and cross-device functionality, you get the advanced solution for your healthcare CRM that will perform equally well across desktop, web and mobile platforms with the utilization of cloud-based options.
Learn more about our expertise in
Integration with Existing Software
It is crucial that the healthcare CRM has integrations with all the applications used in current medical practices and can be easily incorporated in electronic health record (EHR) system or practice management software.
Apart from the regularly required integrations, it is essential that HIPAA compliant CRM software could integrate with existing software marking the narrower fields of healthcare organizations specialization (for instance, radiology software, dental medical service software, drug manufacturing software, marketing tools, etc.) with the ultimate goal to increase efficiency of providing care across the entire patient lifecycle.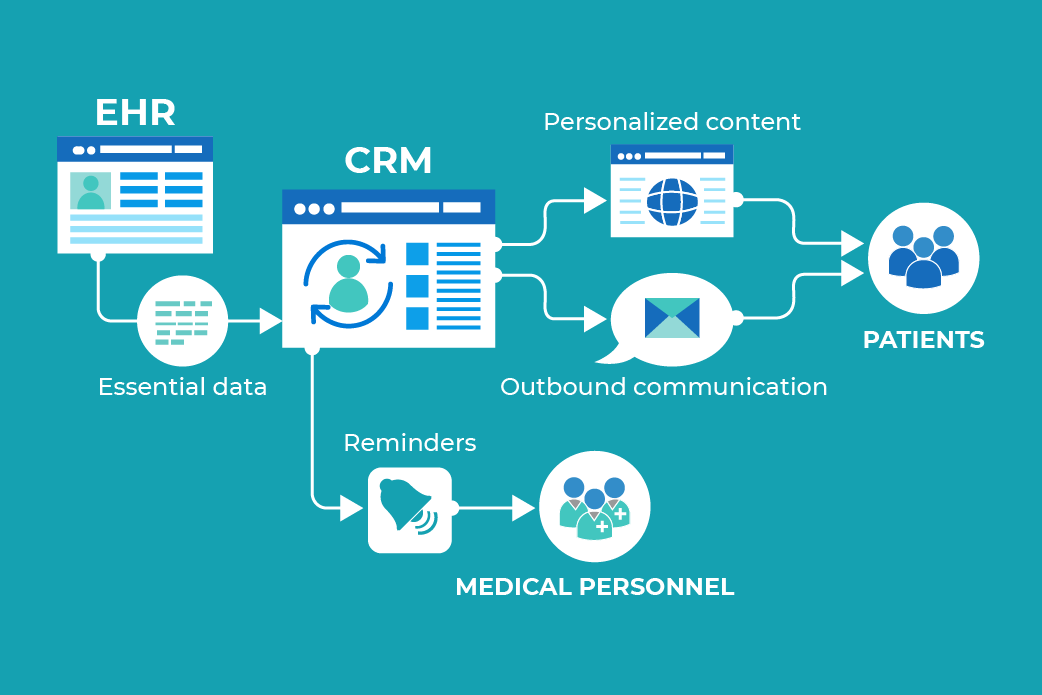 Why HIPAA Compliant CRM is a Must
HIPAA (Health Insurance Portability & Accountability Act) compliant healthcare CRM regards the required agreements, assessments and audits standardized to manage personal health information.
Geographically, the global healthcare CRM market is segmented into North America, Europe, Asia, and other countries. It should be stated that North America holds the largest share of the healthcare CRM market.
Although HIPAA is mandatory for protecting vital patient data on the territory of the USA, HIPAA protections standards are internationally recognized in Europe, Canada as well as other countries.
Since, while making a decision in favor of off-shelf or custom software, abiding by rules and opting for HIPAA compliant healthcare CRM software is a must for healthcare companies aiming at legally valid business operations so that complaints of any grievances could be prevented and all the consent rules could be observed, and the probability of violations of the required standards due to software flaws could be excluded.
Tell us about your project idea and WE'LL ESTIMATE IT FOR FREE
Conclusion
Healthcare CRM is the powerful assisting tool for gathering the disparate data and turning it into actionable and manageable system for smarter engagement and patient retention. With implementing HIPAA compliant CRM healthcare providers get a 360-degree profile of both consumers of their service and service itself. To coordinate CRM software at its best with operations along the entire customer journey and fill any probable gaps in the medical practices process depends on the ability to provide smooth patient experience and manage the medical service provision regardless of its complexity.
It can be obtained with custom healthcare CRM solutions bringing quantifiable revenue results that our company, with the wide expertise in healthcare software development, can assist you in.