Living in the digital era, it is essential to have an ideal software to keep your business running while delivering impeccable service not just to the whole company but also to the consumers and specific target market. In every industry, one must always be on top and up to date to rise above the competitors and keep your customers loyal. In order to do that, choosing the best marketing strategy is important.
However, having the best software and its development for your company is critical and crucial in many ways.
There are two types of software a company can choose from, one is the Off-the-Shelf software, which startup and fresh developing companies opt to use, and the other is Custom Software that large and established companies go for in order to meet their needs.
To dive deeper, let's discuss the best ways to find a better software for your company.
Two Types of Software to Choose From
What is Off-the-Shelf software?
An off-the-shelf type of software is usually of generic type, or off the package kind of software. is usually of generic type, or off the package kind of software. It is mass-produced and is introduced to reach a wide variety of businesses and individual consumers. Off-the-shelf software is often recommended for startup companies because since it is a ready-made product.
Though it is easy to use, it does not meet the unique business needs that may simply not be included in this kind of software, which leads us to the other type of software, Custom Software. It is often used by large established and developing companies. Custom software offers tailored-cut software, which means this type of software can specifically consider your business requirements, demands, and needs.
In particular, large companies need to have a software which perfectly fits their company personality and ever-growing business to keep it running and up to date.
Off-the-Shelf Software VS Custom Software
Now that we know the difference between the two types of software, Off-the-Shelf and Custom Software, it's important to highlight the particular differences, advantages, and disadvantages of the two so that you can be aware of all the options and choose your perfect fit.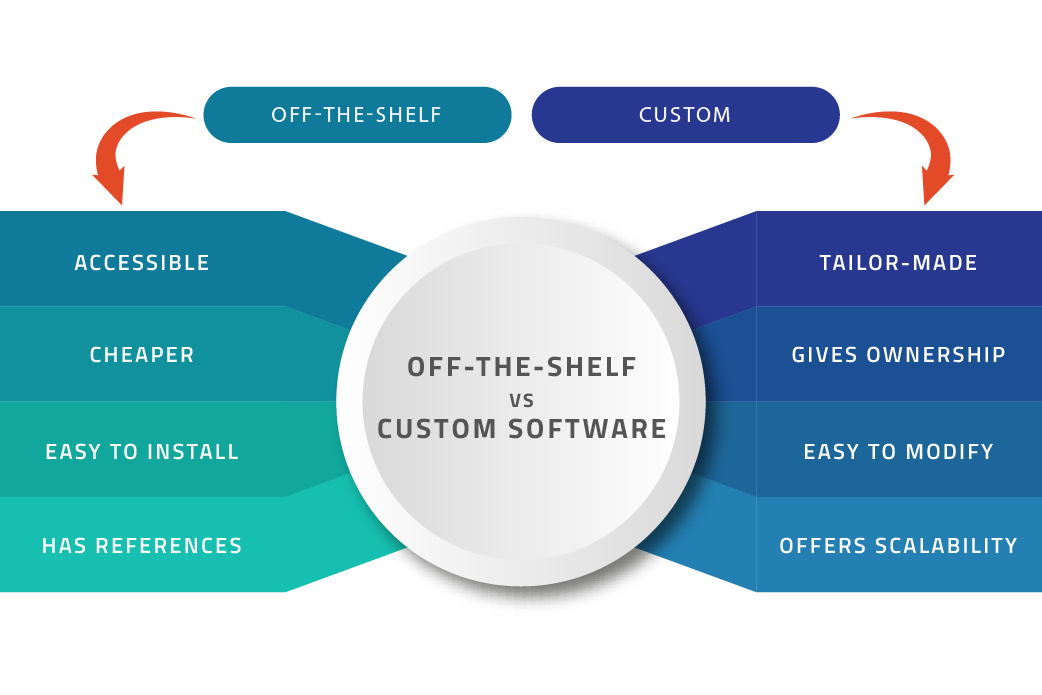 Off-the-Shelf Software
PROS
Moderately priced and in general, cheaper than a tailor-made or custom-built software.

Quick to install and use.

Has a broad range of users and guides which you can use as a reference even before buying one. With that, it is easier to get a quick overview of its suitability for your business.
CONS
In the long run, you may find that this may not fit well your business especially if you are at the growth stage. Other needs and demands from software may arise and this could be a problem.

Finding out more of what your business needs in the future, your off-the-shelf software may need modification and customization. It is not easy to modify or customize an off-the-shelf software to what you truly need as it has limited capabilities for modification simply because it is not built for it.

Being available to a broader audience can result in being available to potential competitors of your business which can affect your marketing strategy and development.

Compatibility issues are more likely to surface since applications may be hard to integrate with ready-made software.

Without noticing outright, the hidden cost may appear because you pay for extra features that you don't need and use while paying extra money for extensions and modules, not to mention paying extra for a license or extra users as you expand as a company.
Custom Software
PROS
Since custom software is tailor-made to your needs, you can assure that this software fits perfectly with your business.

The long-range of possibilities and options to modify and customize it is almost endless. You can get what you truly want and require this kind of software as it can easily be adjusted depending on your company development.

It provides ownership which means you don't need to pay extra for license fees.

It offers scalability in order to accommodate the current demands and requirements of your business while preempting your future needs as a company. As you expand and grow, you would need to add more features in your software.
CONS
While a lot of good things custom software offers, it would definitely cost you more compared to off-the-shelf software. Because it is harder to create and would take more time than simply pulling out a ready-made software.

The custom software solution may be great but could take several months to develop.

There could also be a tendency that you will be more dependent on the custom solution provider which can be of an inconvenience to both parties in the long run.
Got a great project idea?
Off-the-Shelf Software Examples
Applications made for a broad audience represent the off-the-shelf software. They are characterized by simplicity of usage and ease of accessibility.
A few examples of off-the-Shelf software would be the email you use, games you play and even applications you need for work such as editing software, accounting tools and even the anti-virus you use in your computer or device. These monofunctional programs offer straightforward solutions to particular issues. Even though it's easily accessible, no modification on your part can be done not unless the brand modifies the software itself.
Custom Software Examples
Two of the most essential custom software examples are:
Enterprise Resource Planning (ERP)

Customer Relationship Management (CRM).
With these, custom software development service is easily demonstrated as it offers solutions to specific groups in order to address their certain needs. Enterprise Resource Planning is basically used to manage businesses by allowing quick and standard information to be shared, which makes it easier for everyone to work fluidly and effortlessly.
Customer Relationship Management is used to organize everything from sales, customer service to marketing which creates an easier environment not just for the company or business but also for the consumers. If a business works on custom software it helps make the process smooth for customers. Customers' happiness is the final goal of any business as it often translates into customers' loyalty to your business.
Learn more about
These custom software development services can definitely give you an edge in the success of your business.
Conclusion
With the facts we presented above, depending on your specific business needs, you primarily decide what solutions will be a better choice for your business and for your consumers. Off-the-shelf software can be good to start with for addressing the common issues.
However, having custom software adjusted to your business needs can help maintain your business running smoothly and keep you ahead of your competitors.