When you need to centralize, share and process health records data most effectively, it is hard to overestimate the importance of Electronic Health Records (EHR) software development.
EHR systems are designed to provide a comprehensive overview of patients' medical data and, hence, focus on patients' health and interactions with healthcare providers reaching far beyond storage of medical history and standard analysis of clinical data originally compiled and collected by hospitals.
Due to diverse functions and scope of integrations, EHR software have wide capabilities in terms of distributing the data among healthcare providers and enabling easy data search along with smooth management regardless of the process complexity, which greatly benefit both patients and medical service providers.
Demand for intuitive, productivity-enhancing electronic health records continues to grow, and recent health IT figures confirm it. On the international scale, EHR software development introduces lucrative prospects to vendors as the Electronic Health Records market size has been consistently showing global expansion, and is expected to hit $33.4 billion by 2025.
What is EHR? Definition and More Facts
Although the terms EMR (Electronic Medical Records) and EHR (Electronic Health Records) are often used interchangeably, it is not formally correct as electronic health records perform functions of medical records (to store and normalize the information pertaining to patients medical history) and act extensively, which means that EHR demonstrate wider functionality and usability.
They not only enable secure storage of patients' information but provide the external patient data seamless integration into workflows of multiple healthcare providers simultaneously, thus, eliminating any communication bottlenecks and increasing healthcare system productivity in delivery optimal solutions to customers.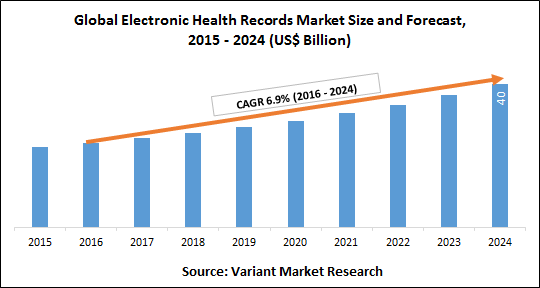 Source: https://www.variantmarketresearch.com/report-categories/medical-devices/electronic-health-records-market
Despite the obvious benefits of EHR for medical service, there are difficulties of implementation of EHR that developers work hard to address:
cost effectiveness (average upfront cost for on-site EHR deployment is estimated at $33000)
time consumption (EHR deployment requires allocating time for staff training to incorporate the system into workflow effectively)
privacy concerns (lack of transparency in data sharing mechanism causes patients' resistance).
As a side note, in most cases custom EHR development assists in coping with these difficulties quite successfully by removing the problem of inadequate usability and providing tailored solutions.
EHR Development as Healthcare Solution
EHR software market being one of the major medical industry sectors for almost two decades, has lots of off-shelf offers. Top EMR vendors by customers' recognition are:
This software is designed specifically for ambulatory services and marked by its diverse and accurate reports capability. To foster a culture of efficient communication, developers included Voice Recognition option into the platform dashboard that completely eliminates the necessity for time-consuming search.
In addition, there is an E-prescribing function for facilitating doctors' work. Overall, its electronic management functionalities are a great assistant in ensuring the increased productivity.
It is a full-fledged module for systematic work on patients' data across any device. It is featured with E-prescriptions, optimized note-taking, one-click billing and tabulating patients' data without extra effort.
Last but not least, Kareo Clinical interface enables doctors to send messages directly to their patients at any time and secure this information to prevent privacy concerns.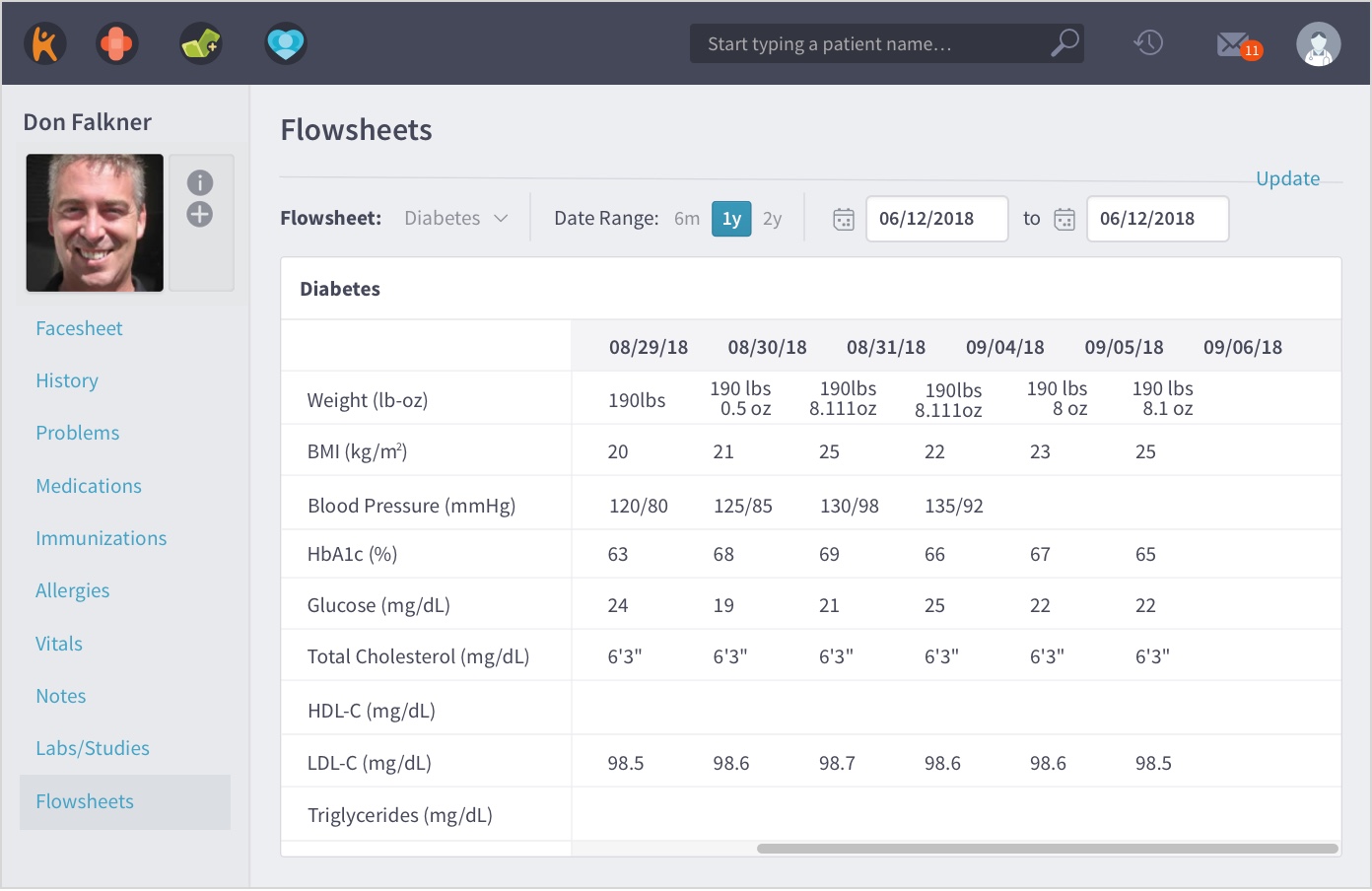 Kareo Flowsheets
It is an innovative tool for behavioral health practice management featured with a variety of options for easy note-taking, scheduling appointments, billing operations and getting professional consultancy and support with unlimited phone service.
In addition, there is a noiseless system of effective reminders and electronic claims that considerably reduce time consumption on routine activities for patients and physicians alike.
It is an award-winning EHR system designed to pipeline the medical service workflow in interest of patients and healthcare providers. It has lots of accolades for its capabilities in terms of meeting customers' needs and providing the highest usability. Its feature set includes integrated telehealth visits, patient charting, and patient portal packed with additional handy functions.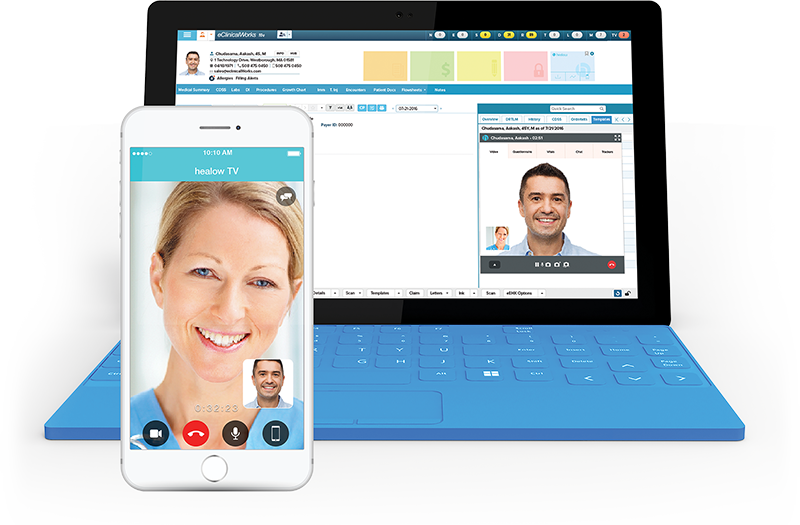 TeleVisits in eClinicalWorks EHR
Despite the availability of ready-to-use solutions, hospitals often report insufficient level of engagement in regards to full scale application of the off-shelf EHR systems due to previously unsatisfying usage experience, among other factors.
The main problem with utilizing value of electronic health record in workflows as an innovative technology is lack of usability when it comes to providing efficient health information exchange.
With heavy paperwork and admin duties, healthcare providers can't afford to add to their workload more time consumption on surfing multiple resources and searching between dozen screens for relevant data or entering the new information while consulting patients.
Apparently, without patients' data instant accessibility or enabling smooth integrations of EHR software into various medical services, improved healthcare quality will stay unreachable.
HAVE QUESTIONS ABOUT EHR SOFTWARE DEVELOPMENT?
EHR Software Key Features
Capturing the patients' information electronically ensures that healthcare providers get the powerful tool of managing healthcare processes as well as modelling health patterns for big groups of people for improving the healthcare quality.
The features that are highly required within EHR software development for performing managerial, research, communicative and clinical instrumental functions in no particular order include:
Electronic document management
It eliminates paperwork and reduces time medical staff have to spend on admin routine while enabling the expanded efficiency, monitoring capabilities and upgraded speed of workflow.
Task management
Changing to an EHR must visibly offload the medical staff in terms of setting priorities and performing tasks in a time-effective way.
Patient Portal
By encompassing this option, healthcare providers enable access to educational materials for patients and reinforce their engagement which translates into readmission decrease and increase of health awareness.
E-prescribing
This must-have EHR feature helps facilitate the prescription procedure and curb medical errors.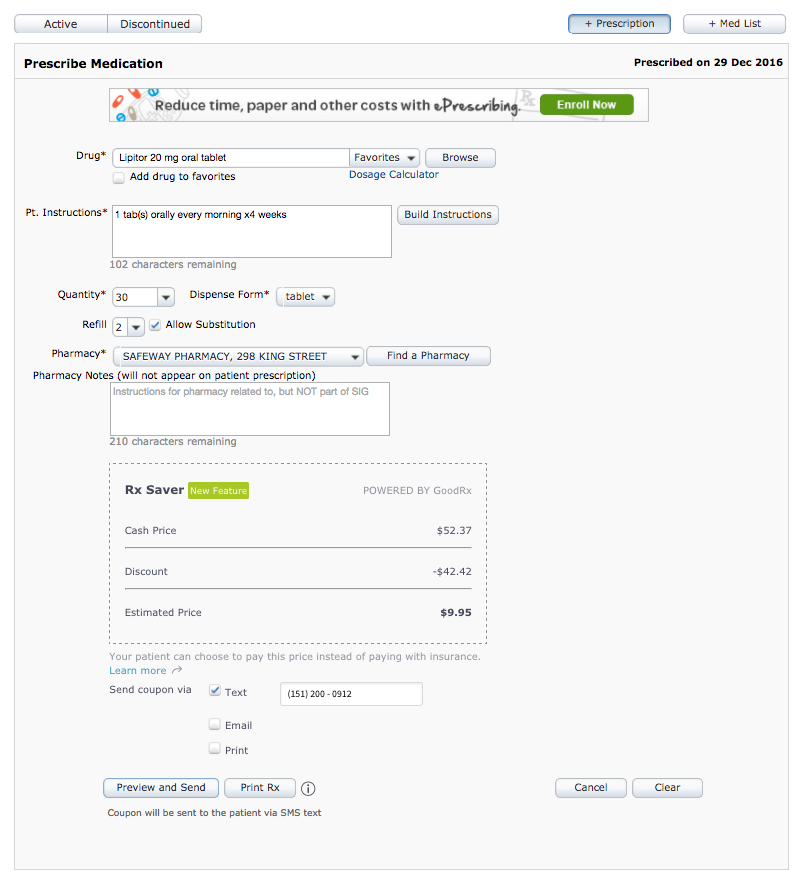 e-Prescribing in Kareo
Distributed access control
It enables role-based access to information for increased security, which means that doctors and hospital admins get customizable access to patients' data. It provides relevant spatial and temporal capabilities based on patient-specific needs. In addition, it cultivates privacy awareness as well as provides dynamic interactions within workflow.
Integration with labs
Due to instant data exchange capabilities and, thus, seamless collaboration with the lab technicians, EHR software create the wide opportunities for streamlining treatment immediately upon processing and introducing the review of lab results.
Integrated chat
With this feature, patients get access to improved communication with their physicians in terms of increased speed of messaging and uncompromising information security.
Clinical dashboard
It literally assists physicians in understanding their patients in a much better way as it contains the results of treatment as well as data on all the treatment processes pertaining to a specific patient's medical history. The results are introduced in various diagrams, which provide doctors with insights based on accurate statistical data.
Patient Charting
With incorporating this feature into the software, doctors get patient-specific records created in real-time that make the information on demographics, billing and insurance details, eligibility and, in case of necessity, any customized entries, easily accessible across any device. Additionally, for avoiding malpractice claims, lots of experts now favor the concept of Machine Learning application when creating medical charts.
Scheduling
This option implies that appointments and follow-up visits will be easily built into workflow. Electronic scheduling ensures flexibility of the system as well as its capability of reliable storage of relevant time entries.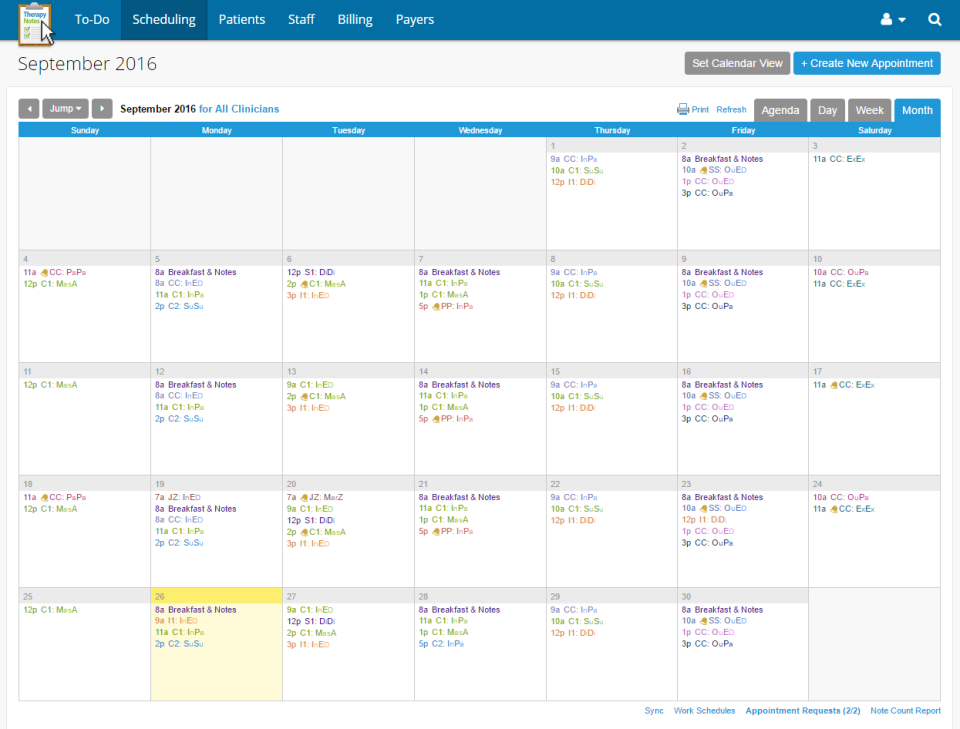 Calendar/Scheduling in TherapyNotes
Reporting
One of the must-have EHR features that lets template the critical reports and share them instantly.
Cloud hosting
It assists healthcare providers in ensuring secure and adequate maintenance of EHR software.
24/7 support access
Providing this option ensures a higher level of users' satisfaction in experiencing the service delivery.
This scope of functionality considerably contributes to EHR software conformity to Meaningful Use and comprehensively streamline healthcare service provision.
Want to discuss your feature set? Drop us a line
EHR Development Stages and Main Challenges
Critical stages in EHR development cover:
GDPR compliance
GDPR claiming to protect patients' rights, introduces consistent guidelines for patients' privacy: these Regulations coordinate the collection of EU residents' personal data. The package of compliance requirements pertain to all kinds of personal information including names, residency/addresses, contact details, and demographic-related entries.
HIPAA Compliance
Any organization or person on the territory of the US must comply with HIPAA rules regardless of the public of private status of healthcare provider, which means that medical service practitioners must create a flexible and verified system meeting the defined requirements pertaining to administrative and technical safeguards of confidentiality, integrity and security of patients' information.
EHR system certification
Custom EHR software should be certified by the Office of the National Coordinator for Health Information Technology - Authorized Testing and Certification Body (ONC-ATCB), which means that software meets standards for functionality and security.
In particular, EHR software must offer portable and structured data and patient-specific options ensuring efficient and secure data sharing. It should be noted that EHR systems for the US-based citizens are liable to being certified by ONC-ATCB certification while for the EU-based entities, the EuroRec certification is required (it implies the certification criteria similar to the ones stated by ONC-ATCB).
Meaningful Use
Meaningful Use criteria system implies incentive payments to vendors who are able to provide functionality complying to the requirements listed in strategic documents that established main rules for EHR systems in 3 Stages.
Throughout Stages 1, 2 the lawmakers have been expanding the criteria for certified systems in terms of defining:
requirements for the electronic capture of clinical data
patient data-sharing
care-coordination rules
primary patient engagement rules
Stage 3 is expected to introduce rules concerning standards for structuring data and measures of improving coordinated care and patient engagement.
Obviously, ignoring or breaching the regulatory requirements might result in prosecuting EHR vendors or terminating their business activity.
One of the security measures preventing the worst-case scenarios is addressing these issues prior to EHR deployment with a reliable healthcare software development company.
UI/UX
The EHR systems are aimed at introducing user interfaces that are effective and intuitive. Not giving enough thought to choosing the optimal EHR software interface design might result in data mismanagement or technical difficulties for medical staff. Therefore, major criteria in designing EHR system must pertain to emphasizing key elements, creating clarity in terminology and picking colors that would support users in navigation.
Want to create EHR software? Our team is at your disposal!
Blockchain technology application in EHR Software
Application of Blockchain technology as a decentralized ledger of transactions within EHR can redefine health data in terms of ensuring information immutability and cybersecurity. Besides, it can effectively solve the issue of Interoperability that often rises as a challenge in traditional EHR development.
Source: http://blog.timicoin.io/blockchain-and-tokenization-make-ehr-interoperability-irrelevant-and-more-importantly-create-a-marketplace-for-healthcare-innovation/
Blockchain has the capability of providing records unification and secure access of multiple health providers to data.
Data security and addressing privacy concerns make it one of the best solutions for major healthcare technology challenges.
Studies have confirmed that Blockchain application is a promising direction for managing EHR systems in the domain of multiple healthcare providers' secure interactions and collaboration.
Concluding Thought
The global healthcare community recognized the benefits of EHR software application due to its positive impact on the quality of medical care that has been proven multiple times as best serving the patients' interest.
EHRs provide users with a range of advantages when it comes to ensuring the improved healthcare quality as the healthcare providers and patients get ultimately innovative system for meeting individual needs. Moreover, it paves the way to practicing impeccable management style, which translates into increasing revenue and high level of patient engagement and customer experience satisfaction.
You may also like: