Software based on speech recognition has a wide capability of capturing any spoken words to convert them to text. Speech recognition development incorporates voice recognition as a major instrument of identifying a person by their voice.
Automatic speech recognition has been under development for more than half a century, and now crossed the border of usage in one particular field or industry exclusively due to a myriad of benefits this technology brings to businesses and consumers.
Application of speech recognition at home and workplace
Indeed, implementation of speech recognition widely spread geographically with Alexa and Siri now universally recognized as multifunctional online assistants that users cannot imagine their everyday life without.
Overall, the market of the speech recognition software in North America estimated to be worth $177 million in 2015 and expects to reach the revenue of $1.5 billion by 2024.
Speech recognition tech having the great potential in shaping new mechanisms of management also found its application across a variety of industries ranging from automotive manufacturing for free-hand control of the working process on multiple levels of production to medical industry for increase of doctors' time with their patients by implementing medical transcription recognition tools.
Top industries that greatly benefit from using speech recognition technologies are:
Finance sector

where chatbots are widely used in user interface

E-commerce

for improving customer care management by prompting the higher speed of feedback.

According to Gartner forecast

, enabling voice search can increase digital commerce revenue

by 30%
Transport companies

that use voice-activated services for enhancing productivity in terms of timing/route/booking improvements. For instance, storing users' voice searches on transport schedule might translate into more optimized way of utilizing transport network in general, which comes as a solution to big cities traffic issues

Education service

that enables both instructors and learners to use voice for more effective communication

Legal practices

for increasing client intake by facilitating case management with voice-assisted systems

Marketing companies

and agencies whose business vertical heavily depends on databases expansion as the material of analysis and the instrument for identifying optimal marketing solutions

Healthcare

for enhancing e-records security and increasing patient engagement.
The market growth can be attributed to attractive opportunities that speech recognition technology opens for online banking and healthcare ranging from embedding voice authentication to boosting business productivity with reducing time on admin tasks.
Impact of speech recognition on healthcare
Nowadays, voice-based apps for healthcare sector take up 47% of the voice recognition tech presented on the market. It is highly likely that soon speech recognition will take over as the major channel of patient engagement service.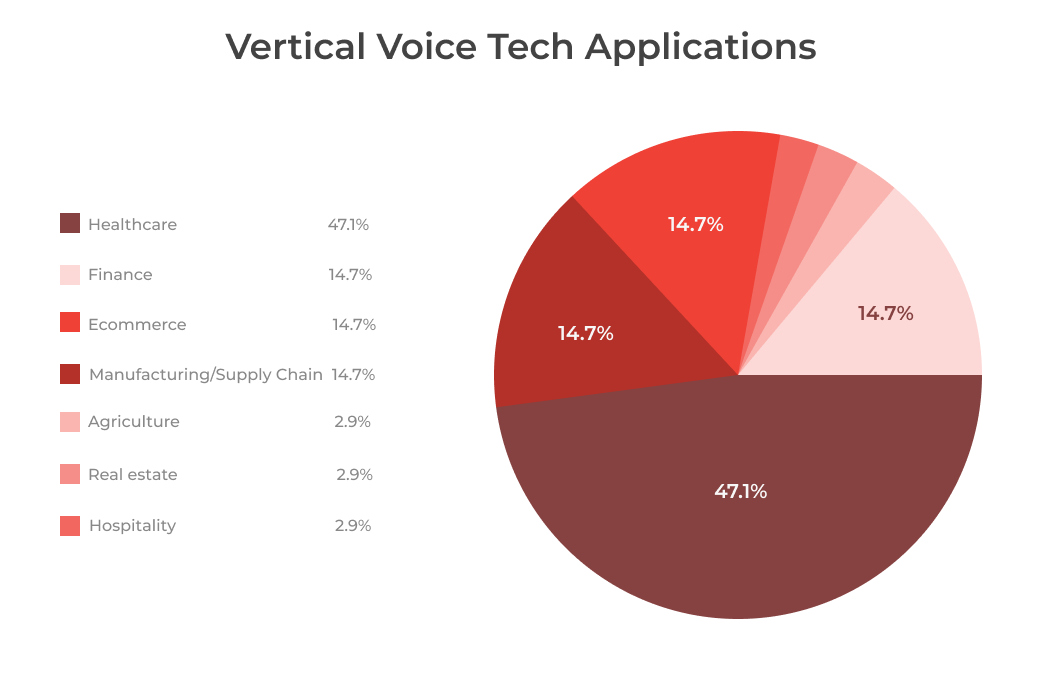 Source: Voice Tech Landscape: 150+ Infrastructure, Horizontal and Vertical Startups Mapped and Analysed
Implementation of speech recognition technology in healthcare is more than promising as studies confirm that, due to the benefits of voice technologies, they can contribute to identifying Parkinson's disease at an early stage, thus, better treatment: '...speech carries information relevant to an accurate and differential diagnosis of Parkinson's...and speech features of interest can be automated and assessed, with diagnostic reliability'.
Apart from clinical usage, it is apparent that healthcare can deliver more effective results in case it provides instant feedback and prompt communication. Therefore, making hands-free access to health-related data a top priority may have a considerable impact on patient-doctor interaction efficiency.
Google and Amazon funded creation of Aiva app that introduced one of the first virtual health assistants not only responding to patients' requests in real time but enabling the medical staff performance tracking in one dashboard.
In a nutshell, voice activated assistants can help patients, managers and caregivers alike:
retrieve information from medical records

instruct nurses on specific procedures pertaining to treatment

provide information on schedule, waiting lists, available units in the hospital, etc.

check on prescription detail

confirm appointments and follow-ups

assist patients with upper limb problems in satisfying health-related needs

remove extra load from doctors' work by facilitating the admin routine.
What impact does it have on patient engagement? Among other benefits, it makes patients' actual needs the centerpoint while providing healthcare service: now, when doctors can dictate and store patient's data directly into computer systems, it releases time. Instant creation of computer-based media files ensures that doctors and nursing staff can follow standardized procedures without extra time consumption.
Types of SR Technologies
Speech processing and converting it into readable data develops in two major directions:
Front-end speech recognition
It is also known as speech recognition (SR) in real time mode: it embraces software that works live and enables users to speak into the screen that will record and convert the speech into readable format.
It involves consumers' speaking into a handheld gadget, which performs recording. It types up the spoken words, and then both audio files and transcriptions are sent to human assistants for editing.
Application of speech recognition in healthcare sectors
Vendors strive to move beyond voice-based search experience so they explore new opportunities of speech recognition technology. Thus, software development companies can supply hospitals and individual customers not only with complex health systems but also with one stop shop apps that cater to particular needs of certain patients' groups.
Voice-first technology for seniors and patients with impairments
The elderly people, patients with dementia or cognitive impairment can greatly benefit from using voice-activated ReMe app, which features:
- wellbeing reporting
- sync with care plans
- hospital access
- communicating on Skype
- secure messaging from the app
- integration with Alexa.
Patient-provider communication of new generation
The techs that offer other functionality beyond traditional ERM reach the medical community successfully because they enable doctors to take advantage of improved communication with their patients. Virtual assistants 'trained' specially for clinical operations are getting more popular due to high capability of releasing medical stuff overload.
For example, Meet Eleanor app fully participates in:
fixing appointment cancellations

handling waitlists

notifying of backfills

updating electronic records in real time.
Setup of the app takes less than a week and does not require complicated adjustments.
want to use speech recognition in your project?
Physicians get note-taking to a new level
Doctors using voice technology as a virtual scribe that enables them to enter notes into the EHR hands-free, get the tool that boosts their productivity.
Speech recognition for clinical note-taking facilitate doctors' time management by:
providing accurate recording of the exact spoken words
releasing staffing issues

positively impacting the resource planning

optimizing time utilization

assisting in adjusting to changes in regulations quickly
With applying virtual scribes, in 76% of cases, physicians finish their clinical notes faster.
SR as a solution for hearing difficulties
Speech recognition development drives growth in market sector offering solutions to patients with hearing problems.
For instance, Ava app provides subtitles for any live conversation so the patient with hearing problems always stays in the loop and never misses on important details. Ava upscales the speed of communication significantly as it helps engage more effectively with medical professionals and delivers the best result from communication.
Applying computational linguistic for accurate recording of human speech increases customers' satisfaction, which in its turn increases the value of voice activated assistants in interaction with patients.
The time of making calls just to get redirected and put on hold is in the past. Now, with apps like CardioCube, patients connect to healthcare instantly. CardioCube integrates with Alexa as well as with other voice-based assistants so patients can request doctor appointments, medication refills, or get complete visit check-ins directly from home.
Adoption and challenges of implementation
Among the challenges that healthcare providers might face, there are several worth mentioning as they must be addressed without fail for enabling the optimal software adoption and usage.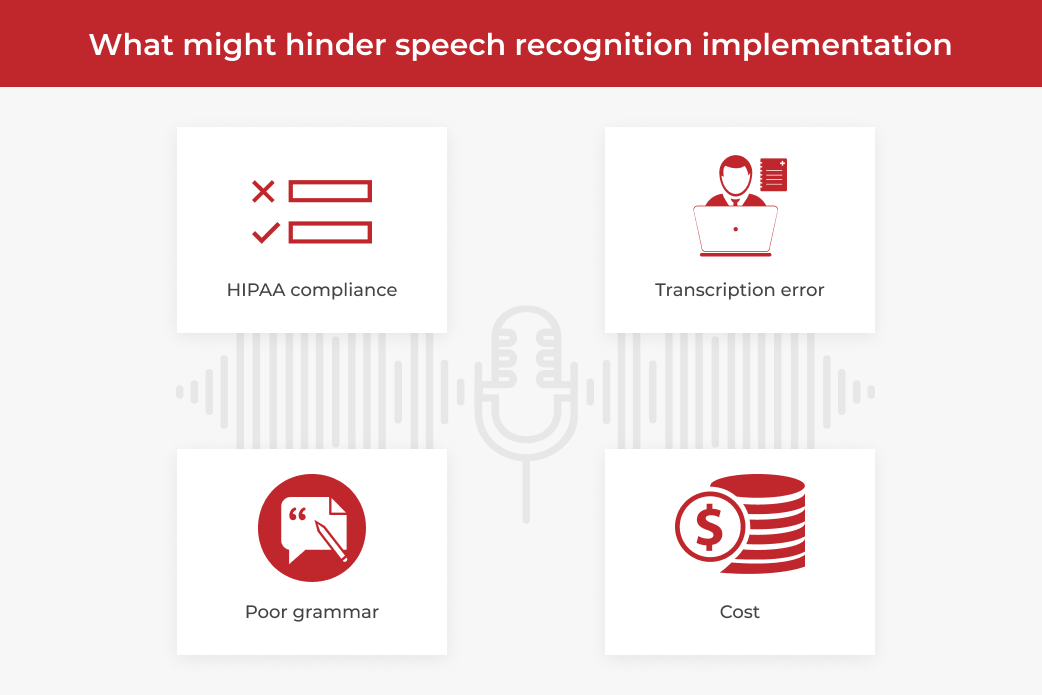 HIPAA Compliance
Procedures pertaining to governance and sharing data are determined by HIPAA information privacy rules. Speech recognition service providers are to observe who and with whom the information is shared so they have to run ongoing technological tests prior to release software on the health systems market.
In case of custom medical software development, fitting specific business needs makes it less time consuming to enable care management protocols and set up secure communication according to HIPAA compliance.
Transcription errors
Unfortunately, despite increasing accuracy in recording, documents created by speech recognition tools often require editing due to presence of misspelled or missing words. Speech dominated by individual linguistic preference may be challenging for recognition, especially for the tools with limited functionality. Another problem that often arises in healthcare is the inability of technology to recognize the names of prescribed drugs. Addressing these issues are in the spotlight of custom software developers.
Poor grammar
Grammatical structures mostly belong to more or less 'regulated' systems that can be subjected to speech recognition automation but due to a huge variety of language patterns in expressing ideas and emotions, capturing the individual speech might come as a challenge.
Cost
Decoding a human voice is certainly no ordinary task so software of high quality might be costly. The price of leading dictation and speech recognition software like Dragon can start with $150 per license.
To get absolute precision of recognition on freeware would be too demanding so the businesses that decide to opt for full-fledged functionality of dictation and transcription should be ready for deep analysis of business needs. From the point of taking cost-wise decisions, healthcare providers initially have to invest time and financial resources on search for tailored speech recognition solutions to achieve effectiveness.
Looking for a tech partner? We're here to help!
Concluding Thought
It would not be an overstatement to claim that the future in healthcare service delivery belongs to perfecting speech recognition systems and launching wearable wellness devices based on detailed speech analysis because human voice became an integral part of interacting with technology.
With a variety of offers on the market, every consumer of healthcare service has the attractive opportunity to find the speech recognition technology that works best for them. To have the positive experience though, it is crucial to try multiple systems to identify the off-the-shelf or customized technology that would be tailored to their needs in terms of cost-effectiveness and time-saving.
You may also like: