What is interoperability? In a nutshell, it is the ability to exchange data without errors or misunderstandings by systems that use different standards and technologies.
How is data interoperability applied in healthcare? Clinical data is composed by following predefined rules so that systems that use various technologies can exchange healthcare information.
Let's take a deeper dive into data interoperability in healthcare. Check the examples of interoperability in healthcare, discover what are the levels of interoperability, and find out how to implement interoperability standards.
DEFINITION AND BASICS: WHAT IS INTEROPERABILITY IN HEALTHCARE?
Interoperability in healthcare defines the ability of systems and devices to exchange, interpret and share data in such a manner that end-users can understand it.
It promotes operational speed to a new level, removes paperwork, and accelerates the digitalization of industries, including healthcare. It enables medical organizations to develop hospital systems by connecting software from different vendors that exchange data with each other.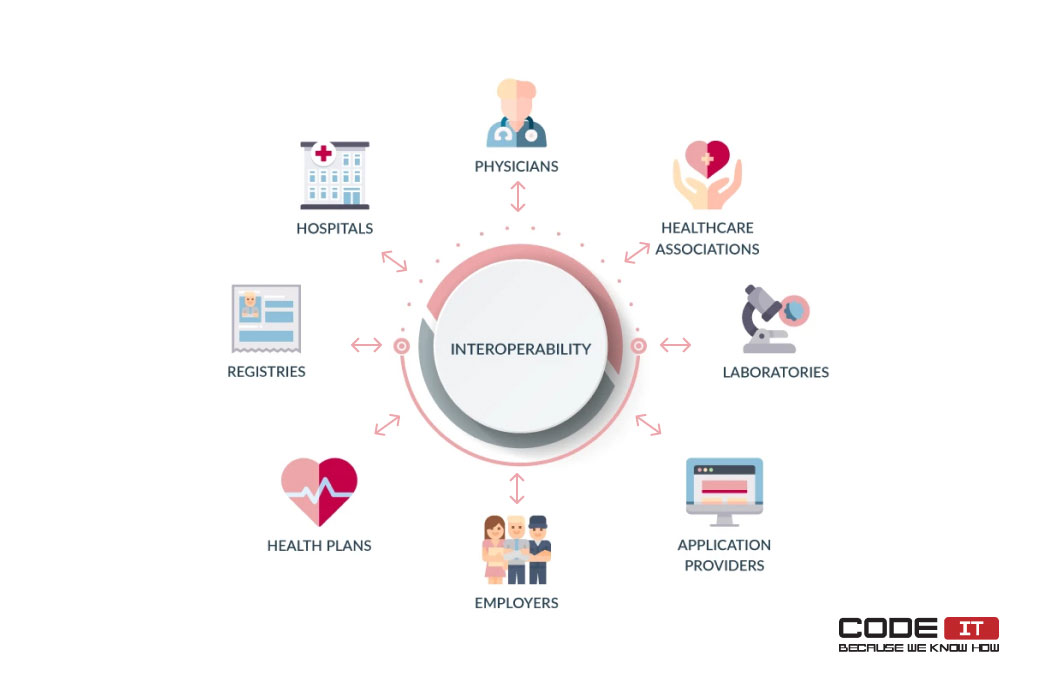 Also, using data interoperability, they can share clinical data electronically with:
patients
hospitals
physicians
healthcare associations
laboratories
application providers
employers
health plans
registers
Data Interoperability Mission
The primary mission of clinical data interoperability adoption is to develop solutions that help different systems and healthcare providers exchange clinical information. Also, it empowers hospitals to integrate diverse systems, improve patient care, and enhance data security.
Why is Interoperability Important in Healthcare?
Interoperability in healthcare is essential because it helps enable collaborative environments. Healthcare providers and associated companies can share and fetch medical data securely, fast, and error-free.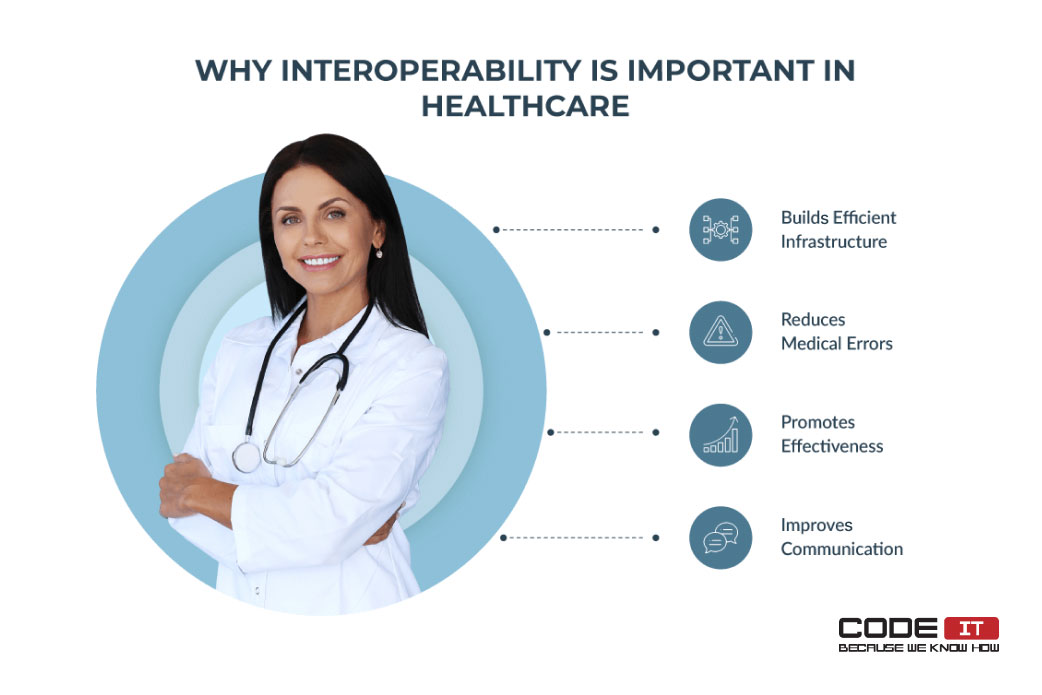 The foremost reasons to adopt medical data interoperability for hospitals are as follows.
It is important to improve communication between healthcare professionals and patients to enhance patient experience. Interoperability provides it by simplifying and accelerating the process of sharing patient information while not compromising on privacy and keeping it secure.
Access to patient data and treatment information promotes the effectiveness of healthcare service delivery at best.
Interoperability helps build efficient infrastructure for transferring and exchanging data.
Fast and reliable exchange considerably reduces medical errors.
Regulatory Compliance Obligations
Legal acts enacted in recent years oblige healthcare providers to accelerate the modernization of healthcare infrastructure by adopting EHR and strengthening the privacy of sensitive data transfer.
The ONC's Cures Act Final Rule announced the implementation of interoperability as a requirement in organizing the work of CMS (Centers for Medicare & Medicaid Services). Taking this approach enables patients to be better informed in healthcare decision-making and facilitates work processes in hospitals and healthcare system institutions.
Moreover, the Affordable Care Act (ACA) obligates medical organizations to use electronic data exchange methods only. Data interoperability is enabled through the adoption of specific interoperability standards in healthcare.
Current State and Trend Changes
According to the data interoperability statistics, 75% of healthcare executives point out data interoperability adoption as the main priority in their organizations.
An average hospital uses 16 digital systems from different vendors. All the systems should be connected by using health data interoperability standards.
75% of medical institutions use 10+ systems
23% of hospitals use from 1 to 10 systems
2% of medical organizations use only 1 system
The size of the healthcare solutions market grows year by year at a compound annual growth rate (CAGR) of 14.9%.
Problems Solved by Adopting Interoperability in Healthcare
The adoption of medical data interoperability enables hospitals to share clinical information between various systems. It enables hospitals to solve a lot of critical problems, including the following:
Lack of collaboration
Inconsistent communication
Incomplete patient data
Limited access to lab test reports
Regulatory compliance issues
Inefficient data retrieval
Poor patient satisfaction
Hire us to implement interoperability in your clinic!
EXAMPLES OF INTEROPERABILITY IN HEALTHCARE
Hospitals can use standardized messages to share appointment information, request lab test results, share data with other clinics, send requests to pharmacies, etc.
Let's check three examples of interoperability in healthcare below.
Use Scenario #1: Appointment Check
With the help of interoperability standards in healthcare, patients can use mobile or web applications to check their appointment in a few clicks.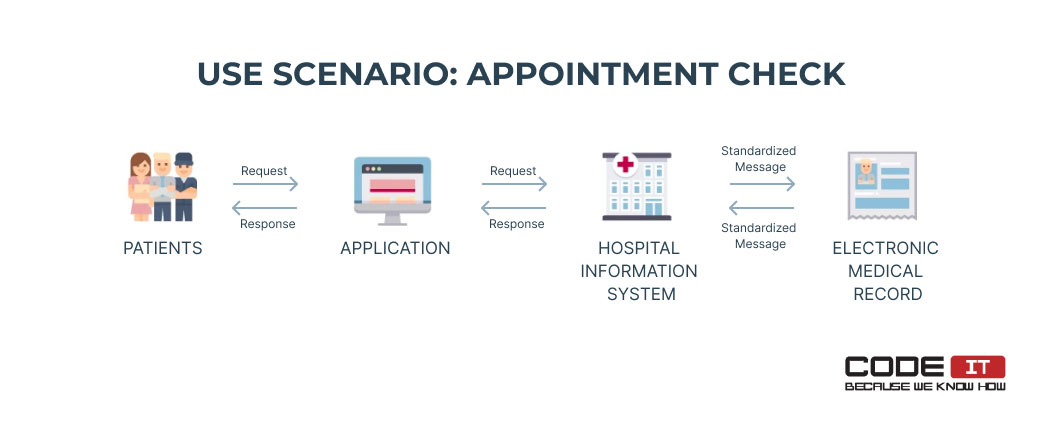 The actions flow is the following:
A patient submits a request using an application.
The application passes the request to a hospital information system (HIS).
The HIS sends a standardized message to an electronic medical record (EMR).
The EMR finds and gathers information about an appointment of the patient and sends it to the HIS.
Information about the appointment is transferred to the patient through the application.
Use Scenario #2: Hospital Transfer
An appointment request from one hospital is sent to another medical institution. The request is received by another hospital and is approved by a doctor.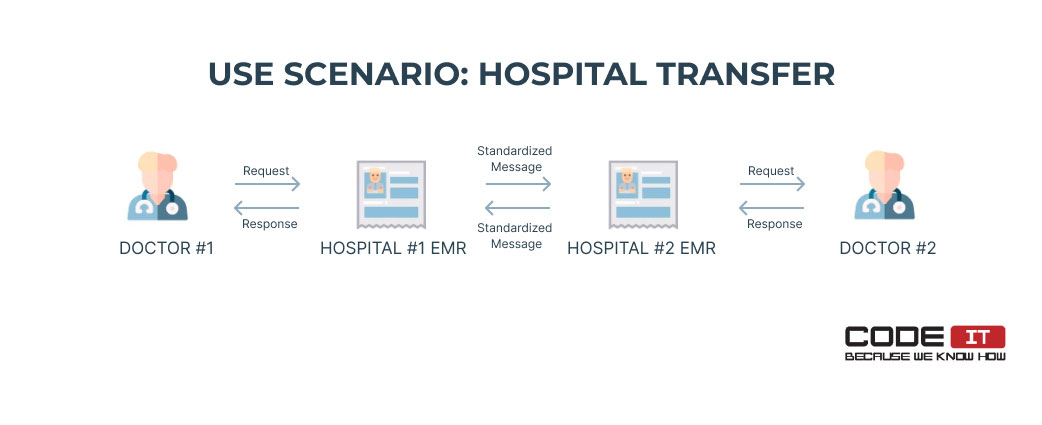 Let's check the hospital transfer actions flow in more detail.
Doctor #1 submits a transfer request using EMR #1.
EMR #1 sends a standardized message to EMR #2.
All the clinical data about a patient is transferred to EMR #2 automatically.
Doctor #2 reviews and approves the transfer request.
The approval request is sent to EMR #1 as a standardized message.
Doctor #1 reviews the transfer approval request.
Use Scenario #3: Lab Test Results Request
A doctor uses an EMR to request lab test results digitally to provide answers to patients.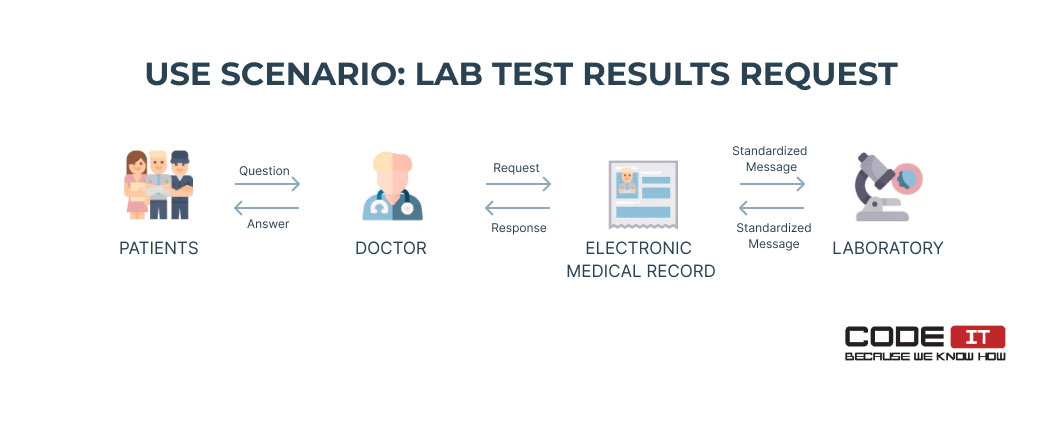 The action flow is as follows:
Patients ask a doctor to analyze lab test results.
The doctor submits a request using an EMR.
The EMR sends a standardized request to a laboratory.
The laboratory sends a standardized report to the EMR.
The doctor reviews the lab test results using the EMR and provides answers to patients.
THE THREE LEVELS OF INTEROPERABILITY IN HEALTHCARE
Multiple health IT systems communicate within healthcare organizations to improve the service and create the portrait of a patient as a 'digital citizen.' Examples of communication points include patient admission, ordering lab tests, checking for the availability of test results, etc.
Deploying interoperable channels help build a healthcare ecosystem that excludes delays in communication or mismanagement. Before addressing how to achieve interoperability in healthcare, it is important to review different types of interoperability.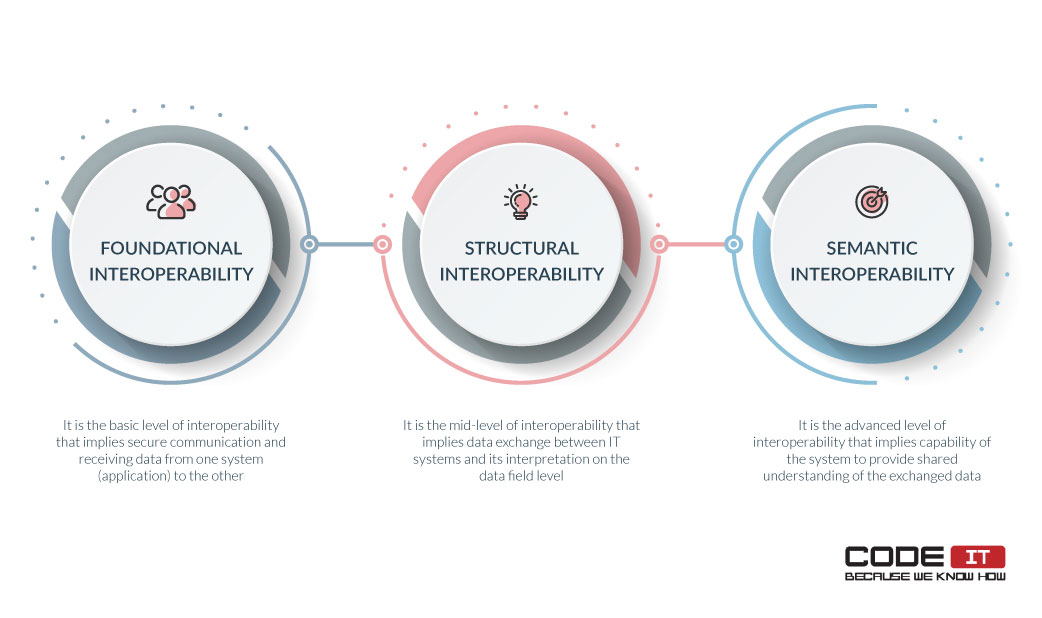 Specifically, interoperability is presented on three levels, which are as follows.
Foundational interoperability is the basic level of interoperability that implies secure communication and receiving data from one system (application) to another.
Structural interoperability is the mid-level of interoperability that implies data exchange between IT systems and its interpretation on the data field level.
Semantic interoperability is the advanced level of interoperability that implies the system's capability to provide a shared understanding of the exchanged data among users.
Let's learn about the three levels of interoperability in more detail.
Foundational Interoperability
Patient data is generated by doctors' offices as well as labs, devices, and research institutions. Acknowledgment of obtaining data and loading it into the systems is a crucial factor in ensuring the delivery of healthcare services of high quality.
Hence, when we talk about the foundational level of interoperability, we mean the basic level defined by receiving capabilities of the systems. An example of foundational interoperability is the presentation of lab test results.
Structural Interoperability
Structural interoperability as a mid-level of interoperability is based on the concept of unification. The transferring records keep the information throughout all healthcare interactions without any alterations.
The success of meeting the unification requirements is determined by the ability of the recipient system to interpret data. Interfaces introduce examples of interoperability at the structural level in healthcare. HL7 data interoperability standards are the most widespread among healthcare institutions.
Another example is the user data transfer from various connected devices, like fitness trackers. Patient portals get configurations that enable users to upload data for interpretation to advance the process further.
Semantic Interoperability
Semantic interoperability as an advanced level of interoperability implies sharing the data across disparate systems by streamlining exchange and the codification of the data. An example of semantic interoperability is processing lab data and ensuring the accuracy of its measurements according to predefined industry standards.
Semantic interoperability also presents the goal of healthcare service. Semantic interoperability enables healthcare providers to exchange patient data with all authorized parties by deploying various EHR systems to ensure safety, compliance, and efficiency. It eliminates duplicative testing, empowers patients with resources for mindful decision-making, and mitigates risks of delays or misinterpretation.
GOT AN IDEA OF A HEALTHCARE APP? CONTACT US TO GET YOUR FREE CONSULTATION
BENEFITS OF INTEROPERABILITY IN HEALTHCARE
The importance of interoperability in healthcare is linked to its benefits to healthcare professionals and patients. With interoperability in mind, creating actionable business rules against interpreted data is also easy.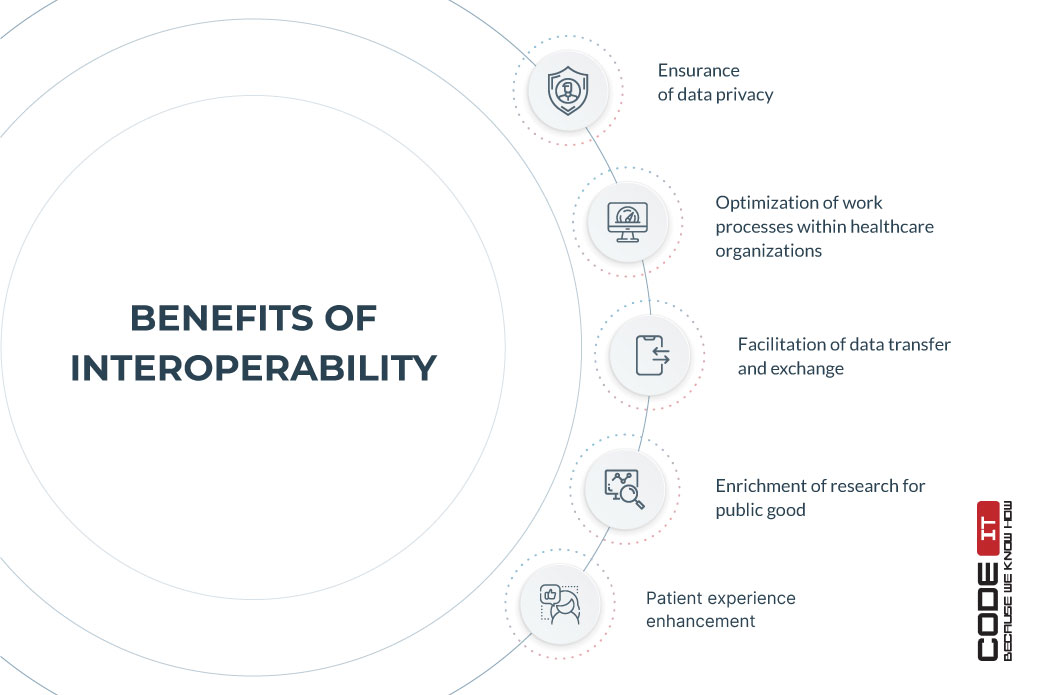 Overall, interoperability in custom healthcare solutions empowers healthcare providers and patients by bringing the following benefits:
Enhanced data privacy
Optimization of work processes within healthcare organizations
Facilitation of data transfer and exchange
Enrichment of research for the public good
Enhancement of patients' customer experience
Aside from satisfying the growing demand for access to data in real-time, interoperability assists in reducing redundant testing and diagnostic procedures and promotes continuity of care by automating the tracking of individual patients and patient groups. Thus, caregivers can better coordinate their professional efforts by having timely access to data.
Patients get distinct advantages of interoperability adoption because the efficient data transfer significantly advances the grade of healthcare services and provides consistent communication lines within healthcare service delivery.
Furthermore, data accumulated in public domains can be applied for research that improves public and population health.
HEALTHCARE DATA INTEROPERABILITY STANDARDS IMPLEMENTATION
The implementation of interoperability standards in healthcare implies six crucial stages. Let's untangle them in more detail.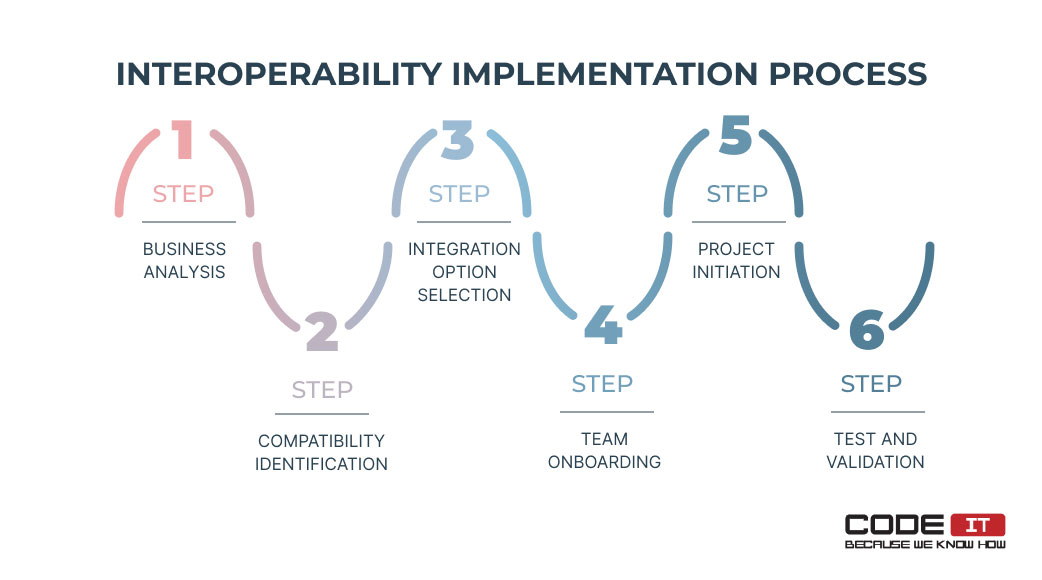 Business analysis.

Firstly, you should outline clinical cases of data usage. It will determine what data is needed and what kind of structuring it involves.
Compatibility identification. Discover if data interoperability standards used by systems in your healthcare organizations are compatible.
Integration option selection. Select the best approach to connecting systems by selecting point-to-point connections or using an integration engine.
Team onboarding. Hire healthcare data interoperability implementation experts and onboard them to your project.
Project initiation. Prepare an interoperability standards integration plan and initiate and project.
Test and validation. Examine how data interoperability interfaces work and identify errors. Testing specialists should document detected bugs and pass reports to software engineers.
CHALLENGES OF CLINICAL DATA INTEROPERABILITY IMPLEMENTATION
Most healthcare organizations still operate on foundational and structural interoperability because there are several challenges we need to recognize when we discuss achieving interoperability.
Mainly, challenges of interoperability in healthcare relate to the absence of standards. In particular, the issues are associated with a search for:
Standardized ways of patient identification
Unified health IT interoperability standards for the medical industry
Enacting the measurement standards that would be recognized by all industry players
Rules that would regulate information blocking by vendors
Data can be transmitted in many formats (for example, HL7, FHIR, CDA, and completely customized formats).
Read more:

Sharing and integrating data between systems, especially when doing one-to-one integration, might consume too much time and resources.
The disadvantages of interoperability in healthcare or problems with interoperability in healthcare fall behind its benefits in creating well-formed structured data for wide clinical use.
Reliable resolutions of associated challenges are achieved by making a plan of implementation that complies with existing interoperability norms in healthcare.
BOTTOM LINE
The importance of interoperability in healthcare is determined by many benefits ranging from safeguarding sensitive health-related data to optimizing the routine of healthcare professionals.
Poor usability and standardization in healthcare information systems put unnecessary additional pressure on overburdened health systems and block workflows.
Addressing this issue by providing appropriate usability standards can considerably improve interoperability in healthcare, remove complexities associated with delivering efficient data exchange and positively impact patient customer experience.
Looking for experts to enable data interoperability in your healthcare organization?
What is interoperability in healthcare?
Interoperability in healthcare is the ability of different digital systems and hospitals to exchange clinical data by using standardized messages.
What are examples of interoperability in healthcare?
The unification approach enables medical organizations to connect systems that use different technologies to share and receive data seamlessly.
Here are three examples of interoperability in healthcare:
A patient checks their appointment using a desktop or mobile app that sends a request to an EMR through a hospital information system.
A doctor submits a hospital transfer request that is automatically passed to another medical organization. A doctor from the other hospital approved the transfer requests. The system automatically transfers data from the first hospital to the second one and delivers the approval note to the first doctor.
A doctor uses an EMR to fetch lab test results from a laboratory automatically. If a lab test is completed, the information is transferred to the clinic's ERM so that the doctor can review the report.
What are the benefits of clinical interoperability?
95% of healthcare executives think that easy data retrieval is the major benefit of clinical data interoperability. The other benefits of standardization are as follows:
Enhanced data privacy
Work processes optimization
Improved data transfer and exchange
Enhancement of patients' customer experience