Health data interoperability adoption is the primary priority, ¾ of healthcare executives say. Moreover, according to the statistics, more than ½ of medical organizations plan to increase their investments in healthcare data interoperability development year-by-year.
HL7 integration helps enable medical data standardization, assisting hospitals in achieving their primary goals. In this post, you will discover what HL7 standards are, how they work, and how to integrate them.
WHAT IS HL7 INTEGRATION?
HL7 (Health Level Seven) is a set of rules for composing messages and medical documents. The framework enables global medical data standardization so that software solutions using different technologies can seamlessly exchange health data.
The mission of Health Level Seven International company is to develop an internationally-recognized standard to access and share medical data upon demand securely.
Looking for HL7 integration experts?
HOW DOES HL7 INTEGRATION WORK?
HL7 interfaces are standardized messages that enable interconnected systems exchange medical data. They help connect a lot of digital solutions from independent healthcare software vendors that use various technologies.
HL7-driven data standardization enables information to flow between diverse systems. Check the example of HL7 integration implemented by a hospital that uses different systems to deliver patient-centered services.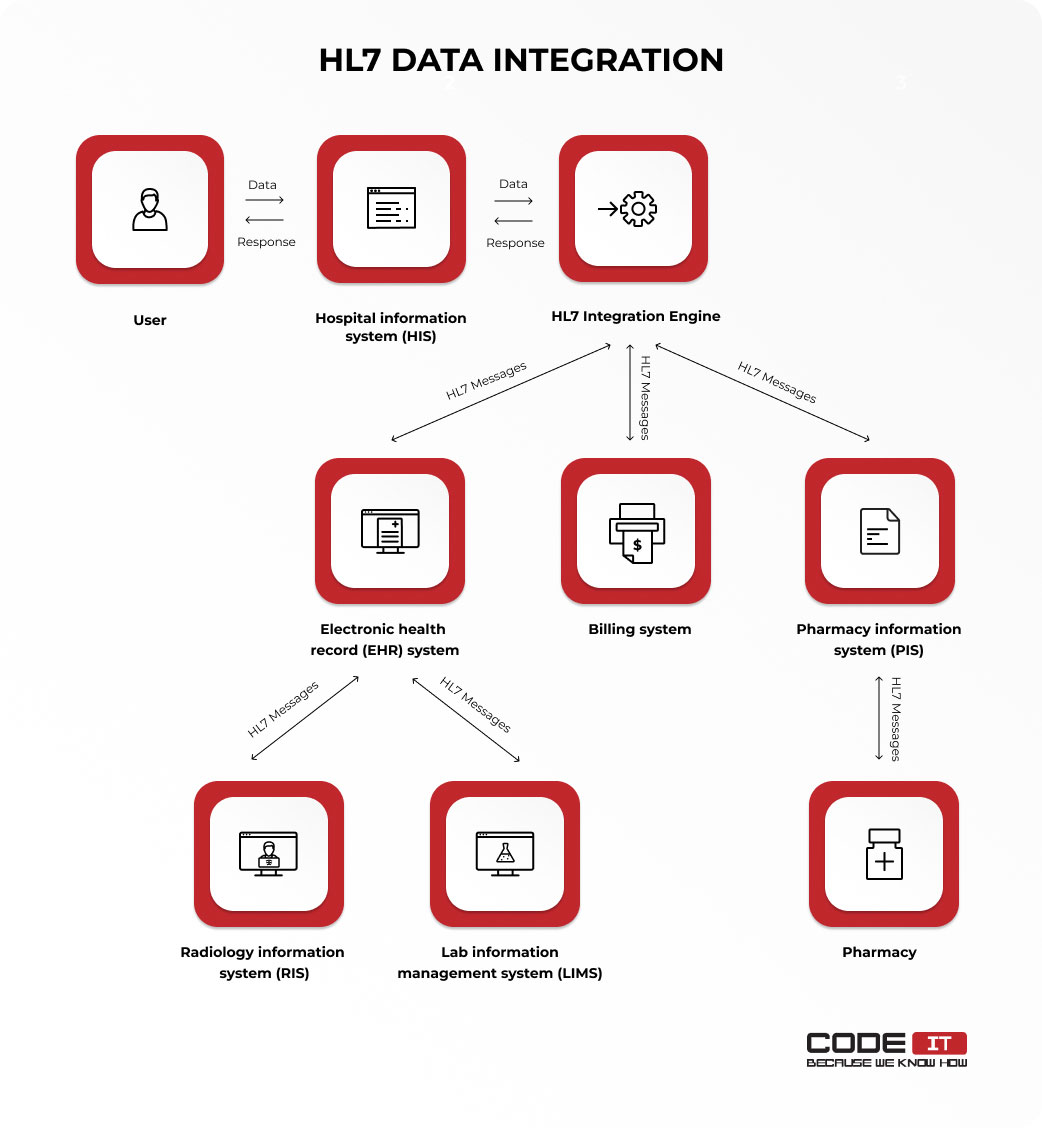 Many versions of HL7 standards have been released. The foremost types of standards are:
HL7 V2
HL7 V3
HL7 CDA
HL7 FHIR
Let's take a closer look at the types of standards below.
| | | | |
| --- | --- | --- | --- |
| | Release Date | Message Format | Popularity |
| HL7 V2 | 1989 | Pipe message | The most popular |
| HL7 V3 | 2003 | XML message | Low popularity |
| HL7 CDA | 2005 | XML document | Low popularity |
| HL7 FHIR | 2014 | XML/JSON or HL7 APIs | Emerging popularity |
HL7 FHIR is the newest and the most emerging one due to its rich integration capabilities. Nevertheless, HL7 V2 remains the most popular among healthcare organizations, being a legacy HL7 standard.
HL7 Version 2 (V2) is the most widely implemented healthcare standard in the world. 95% of US healthcare organizations use it.
HL7 INTEGRATION INSTRUCTION
In order to enable HL7 EMR integration in a healthcare organization, you need to analyze the existing environment, pick the most suitable option, and implement a new solution.
Feel free to check out the six-step HL7 implementation guide below to enable clinical data integration in your organization.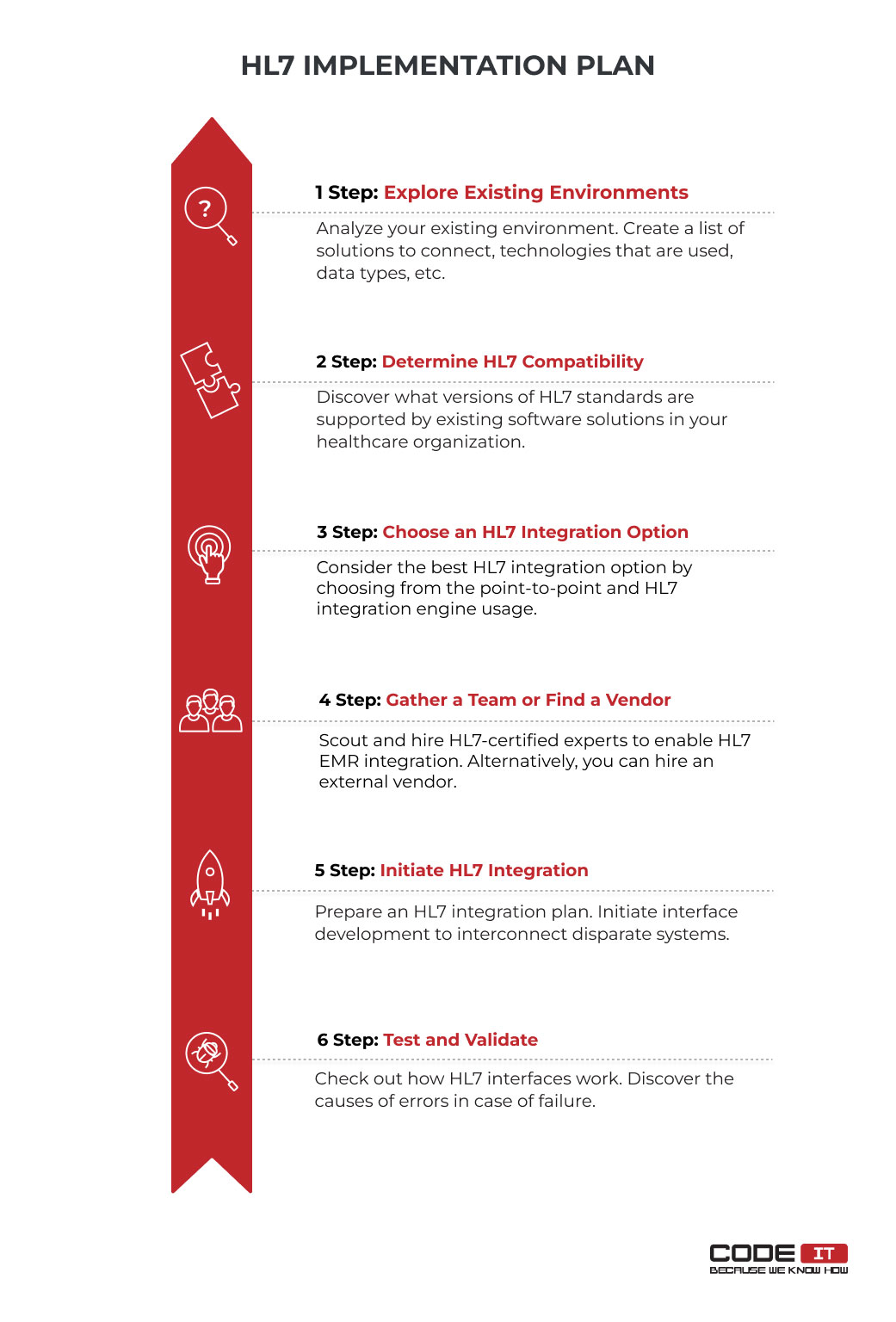 Step 1: Explore Existing Environment
For starters, you need to examine the existing systems in your healthcare organization. Create a list of disparate digital solutions used to manage patients, keep their medical records, prescribe medicines, etc.
Also, you need to analyze workflows to map out the flow of medical data in a healthcare organization.
Step 2: Determine HL7 Compatibility of Software
Analyze every digital system established in an organization to discover what versions of HL7 standards they support. It is worth noting that different versions of HL7 standards may not be compatible.
The absence of backward compatibility is the main reason for the low level of HL7 V3 adoption. Most healthcare organizations decided not to upgrade their legacy HL7 V2-enabled system because of the need to design new interfaces from scratch.
Check out the compatibility of HL7 versions below.
| | | | | |
| --- | --- | --- | --- | --- |
| | HL7 V2 | HL7 V3 | HL7 CDA | HL7 FHIR |
| HL7 V2 | All HL7 V2.x versions are fully compatible | Not compatible | Not compatible | Not compatible |
| HL7 V3 | Not compatible | All HL7 V3.x versions are fully compatible | Not compatible | Compatible |
| HL7 CDA | Not compatible | Not compatible | Compatible | Compatible |
| HL7 FHIR | Not compatible | Compatible | Compatible | Compatible |
Step 3: Choose an HL7 Integration Option
Various software solutions from different healthcare software vendors can be connected in two ways that are:
Point-to-point
HL7 integration engine
Discover the examples of the two different HL7 EMR integration approaches below.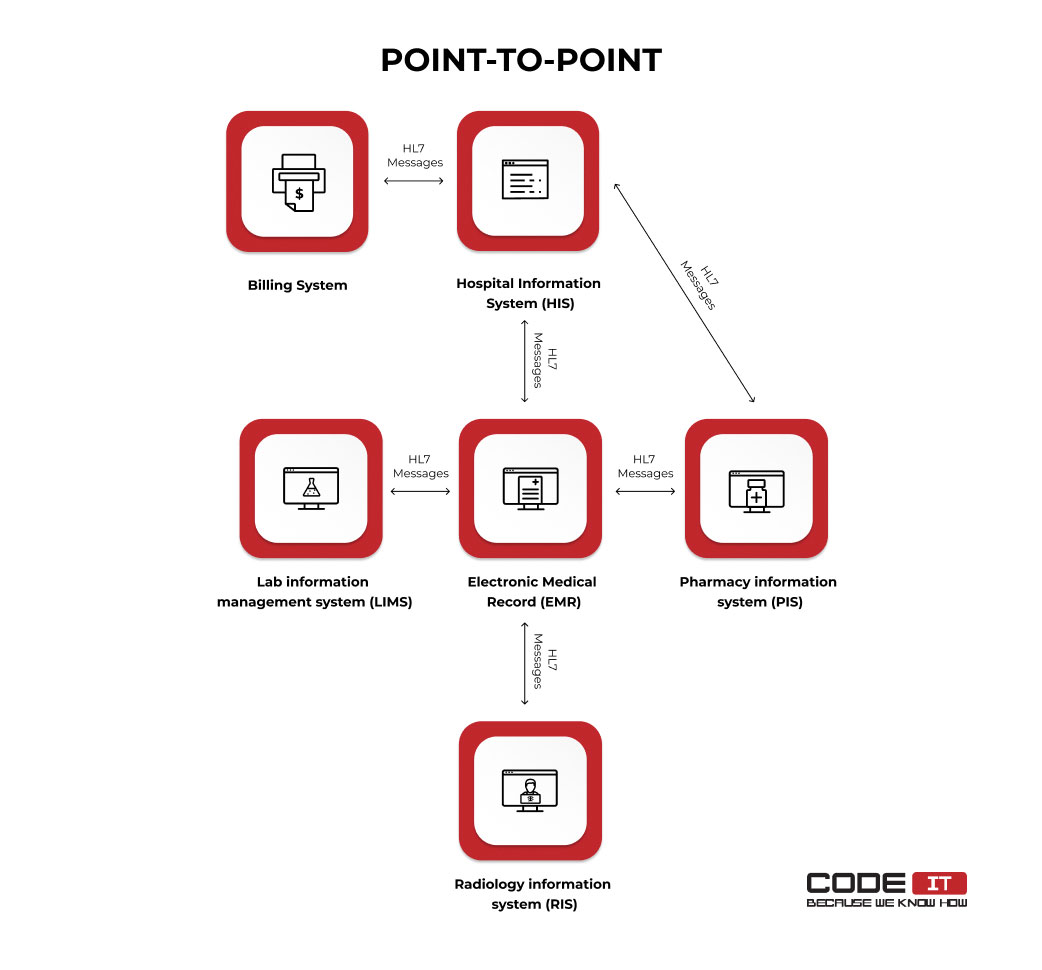 Point-to-point
This approach needs specialists to develop different interfaces to connect every digital system separately. Clinical data is shared directly between interconnected systems. Using the point-to-point HL7 integration approach, only two systems can be connected using one HL7 interface.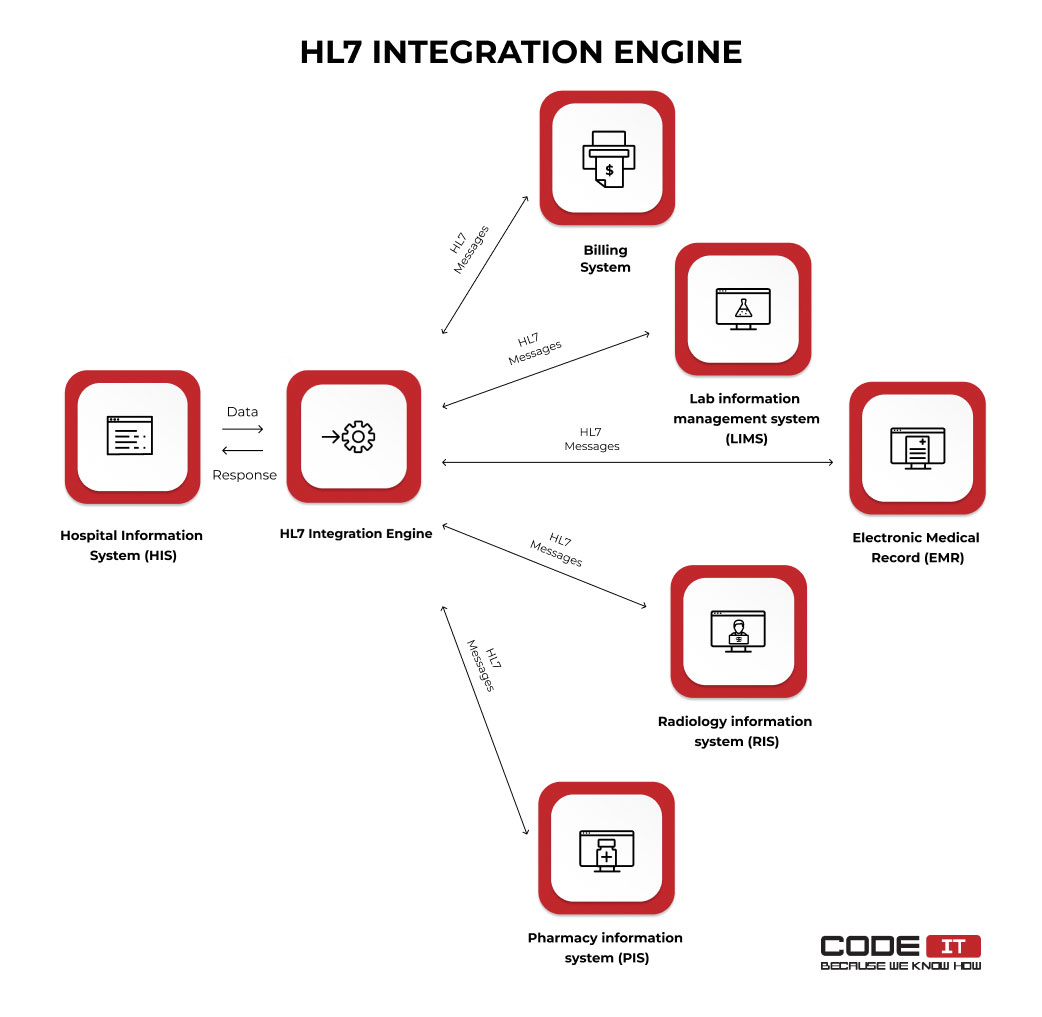 HL7 integration engine
This approach needs to implement HL7 middleware that works as a hub for different systems in a healthcare organization. All digital solutions can be connected to an HL7 integration engine to facilitate healthcare data exchange because it helps to route HL7 messages. An HL7 interface engine can be installed in a cloud or using on-premises servers.
Read also:

An integration engine may have a lot of useful features to streamline data exchange in medical organizations. For instance, it can validate shared messages and transform them.
The five most popular HL7 integration engines used by hospitals are the following:
Iguana
Definitive Healthcare
NexHealth
Redox
Qvera Interface Engine (QIE)
The point-to-point integration approach enables developers to integrate several digital healthcare integration solutions into one system seamlessly. HL7 integration engines help interconnect a large number of systems from different healthcare software vendors.
Step 4: Gather a Team or Find a Vendor
To develop HL7 integration interfaces, you must involve a team of specialists. The two options to choose from are:
Hire in-house HL7-certified specialists
Hire a company that offers HL7 integration services
Let's elaborate on these options in more detail.
In-house specialists
Gather a team of tech-strong experts and share all the collected information about your existing systems. They will help you enable HL7 data integration between different systems. Your team can involve the following roles.
| | | |
| --- | --- | --- |
| Role | Average Annual Salary | Primary Responsibilities |
| HL7 Interface Analyst | $86,827 | The analysis of existing software solutions and provide HL7 integration consultations. User documentation creation, staff education, and post-development activities support. |
| HL7 Interface Engineer | $118,748 | HL7 interfaces building and integration. Prepare project documentation, conduct healthcare interface maintenance, and test HL7 protocols. |
| Data Engineer | $115,665 | Raw data and information flow analysis. Data cleansing and transformation. Patterns and trends change detection. |
| Database Engineer | $172,858 | Database design and development and infrastructure maintenance. Data management optimization and issues troubleshooting. Database documentation creation. |
| HL7 Testing Engineer | $86,744 | Test scenarios creation and different cases checking. Manual and automated healthcare interface testing, test data collection and analysis, and reports preparation. |
| Network Engineer | $88,889 | Network devices installation and configuration. Network administration and issues troubleshooting. Optimize interconnections to enhance performance and security. |
| Project Manager | $85,267 | Project goals establishment and plans development. The assignment of tasks to team members and completion progress monitoring. Regular communication with stakeholders to provide reports and collect feedback. |
Where do I find HL7 integration experts? There are several options to find experts capable of connecting different systems using HL7 standards. As a healthcare organization executive, you can do the following:
Reach a recruiting company. Hire a dedicated company with extensive experience in scouting and hiring in-house specialists.
Post a job ad. Sign up for popular job listing portals like Glassdoor or Indeed and publish your job ad.
Scout new employees. Explore LinkedIn profiles of potential employees with the required expertise and offer a new position.
What skills should they have? The required skill set of involved specialists depends on their role and job responsibilities. Nevertheless, hiring experts with strong knowledge of networks and healthcare digital systems is advisable.
Also, ensure that involved experts have HL7 certification by exploring the Health Level Seven Certification Directory. It implies information about all HL7-certified members, including details on their certifications obtained.
External company
Hiring an external vendor that provides HL7 integration services is a hassle-free solution. A dedicated partner can allocate tech specialists with the required expertise and manage them to spend resources wisely.
Where do I find a vendor? To find a company that can help enable HL7 interface integration, you can explore trusted listings of firms with healthcare integration solutions development expertise, like Clutch, the most popular B2B listing.
How do I choose the best agency? Learn more about projects completed by a reviewed company that provides HL7 integration services and check reviews submitted by its clients. Also, feel free to reach out to the managers of a reviewed company to clarify if they have HL7 integration expertise.
The CodeIT team is ready to tap into your project! Check out:
Step 5: Initiate HL7 Integration
Involved specialists should establish smooth integration of disparate systems in your healthcare organization.
In order to avoid any possible misunderstandings, prepare an HL7 integration plan first. It should imply detailed information about a considered HL7 integration engine, HL7 message versions, data routing rules, systems that should be connected, automated data sharing settings, etc.
Once the plan is reviewed and approved, tech specialists can break it down into small tasks and begin the implementation process.
Step 6: Test and Validate
Examine how a new HL7 messaging interface is configured to ensure data is shared between systems fail-free. An HL7 testing engineer can help check an HL7 interface integration and detect errors in case of a failure.
Read also:
HL7 INTEGRATION OBJECTIVES
HL7 standards help enable clinical data interoperability in medical organizations, which is the primary objective of HL7 integration for 75% of healthcare executives. The other reasons to implement data interoperability are as follows.
Requirement compliance. Medical organizations are obliged to share medical data digitally to meet modern compliance standards.
Enhanced patient experience. Indeed, EHR (electronic health record) systems help improve patient care. However, seamless health data sharing enables doctors to deliver outstanding patient experiences.
Improved data quality. The HL7 interface integration enables software engineers to develop systems that automatically review and validate data. Also, the HL7 healthcare standards help reduce the number of errors.
Processes automation. Using HL7 standards, different systems can share clinical data automatically to improve performance. For example, a lab information management system can automatically send reports to an EMR system once completed.
CONCLUSION
HL7 EMR integration enables healthcare interoperability by connecting software integration solutions from disparate healthcare software vendors using HL7 healthcare standards.
The HL7 integration implies six crucial stages that are:
Existing environment analysis
HL7 compatibility review
HL7 integration option selection
Tech specialties hiring
Project initiation
Testing and validation

To enable hl7 interface integration in a healthcare organization, it's advisable to involve tech-strong specialists who:
have hands-on experience in the healthcare industry
hold verified HL7 certification
have deep knowledge of networks and data management
Develop HL7 interfaces with CodeIT's experts fast and stress-free!
What is HL7 integration, and how does it work?
HL7 data integration refers to integrating HL7 standards to enable health data interoperability in medical organizations.
Messages composed by following HL7 rules have defined structures and data formats. They can be easily interpreted by systems that use different technologies.
What are the benefits of HL7 interface integration in healthcare?
The HL7 FHIR integration enables medical organizations to share medical data between different systems seamlessly. The foremost benefits of HL7 integration are:
Medical data interoperability
Requirement compliance
Enhanced patient experience
Improved data quality
Processes automation
How does HL7 integration affect healthcare data management and governance?
With the help of HL7 messages, healthcare organizations can securely exchange medical data between different systems and clinics. Moreover, it enables hospitals to automate healthcare data exchange to enhance performance.
What are the best practices for HL7 integration in healthcare systems?
For starters, finding skilled specialists with healthcare domain knowledge and HL7 certification is required. The six HL7 EMR integration steps are:
Explore existing environment
Check systems HL7 standards compliance
Select an HL7 integration approach
Gather a team of experts
Initiate a project
Test and validate
What are the future trends and advancements in HL7 integration for healthcare?
According to the information provided by the Health Level Seven International company, 95% of healthcare providers in the US use HL7 V2 standards. Nevertheless, HL7 FHIR is the latest standard with emerging popularity due to a large number of new features.