Medical apps for patients are one of the most popular segments in mHealth apps due to their wide capability of enabling the individualized control over the health-related data and easy access to key features helpful in communication with medical professionals directly from the device.
Patient tracker apps actively infiltrate healthcare as they prove to be optimal solutions in multiple programs starting from monitoring patient well-being to assistance in post-surgery recovery.
The tech moguls Apple and Google contributed to growing popularity of mHealth apps with presenting Apple Heart Study and GoogleFit.
With the global mHealth apps market size projected value of $100.2 billion in 2023 and expected expansion at a CAGR of 44.7%, medical health apps for patients are highly likely to continue growing.
Types of patient apps
Most of patients apps fall into one of the following categories:
Patient engagement apps
Telemedicine apps
Medication apps
Healthy living apps
Emergency apps
Personal health record apps.
Introducing these categories, we would like to mention their key functions benefitting the patients and medical professionals.
Patient engagement apps
Using patient engagement apps, both doctors and patients take control over appointments and fees with booking and payments checkup functions, and patient reports and chats with the option of keeping medical records and chat info in one portal space.
Practically, instead of manually managing the medical service, with patient engagement apps, you can automate majority of medical service processes, build meaningful online presence and engage patients deeper via chats, polls and events.
Patients engagement apps provide:
Mobile service and booking
Mobile report management
Mobile payment gateways
Mobile event creation
Mobile medical chat.
With these features, patients get enhanced customer experience and get engaged more effectively.
The best choices available on the market are NexTech, IntakeQ, LumaHealth, Appointik to name a few.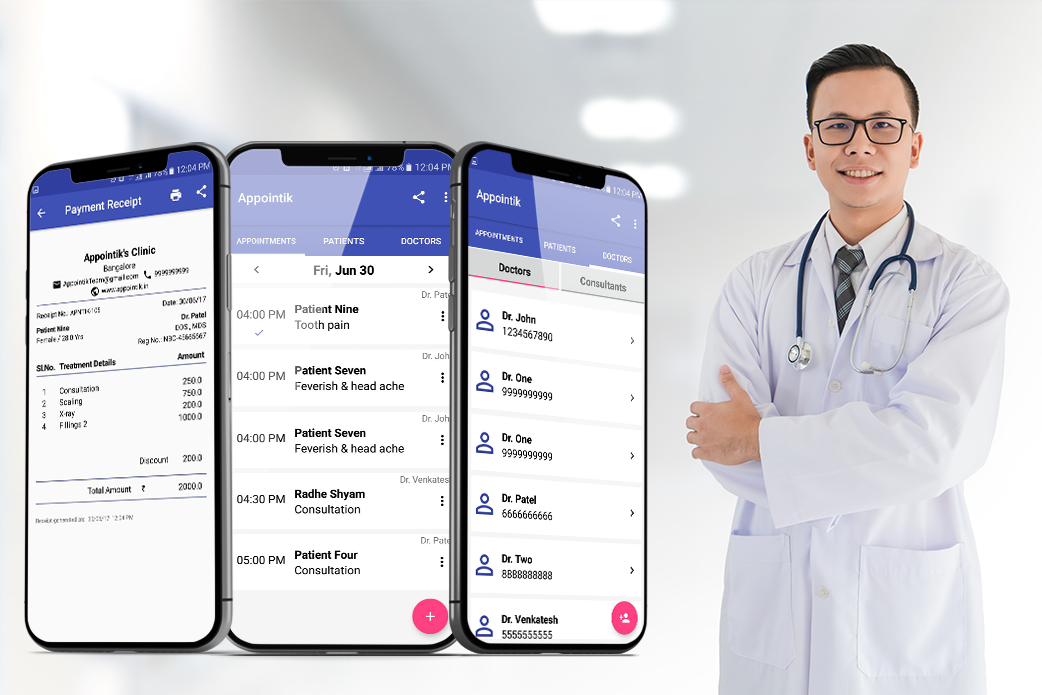 Telemedicine apps
With telemedicine apps, healthcare is being revolutionized in terms of providing instant consultation with a medical practitioner from anywhere. A doctor can remotely track patients' symptoms by a video channel, and prescribe medicines if required.
You can save tons of time on waiting comparing to visiting a clinic because the apps functionality enables you to get service fast and easy.
Telemedicine apps provide 24/7 access to dermatologists, physicians, psychiatrists and other medical consultants to get help for various medical conditions (from cold and diarrhea to flu and eating disorders).
Features in Telemedicine Apps that make them invaluable for patients are:
Detailed Patient Profile
Appointments and booking
Communication channels
Geolocation
Payment Point
Notifications.
The best choices available on the market are Lemonaid, PlushCare, DoctoronDemand, to name a few.
Check our guide on
Medication apps
Taking your medications precisely when your body needs them is crucial for ensuring the positive medical outcomes and optimal treatment. To make medication intake easy, there are automatic solutions that will remove the burden of remembering off your mental checklist.
Features that make medication apps popular among patients include:
Medication plan
Medication price
Pill identifier
Medication reminder
Drug interaction checker
Prescription renewal.
The best choices available on the market are Lady Pill Reminder, PatientPartner, to name a few.
Learn more about medication management apps from this article.
Healthy living apps
Wellness apps and patient activity trackers app are designed with keeping the idea of prevention in mind.
They help track health metrics to enable patients to maintain healthy diet, do exercise, check heart rate, and monitor sleep habits. Patients diagnosed with diabetes or heart diseases often use healthy living apps to get a diet plan catering to the needs determined by their medical conditions.
The best choices available on the market are My Diet Coach, MyFitnessPal, SleepCycle, to name a few.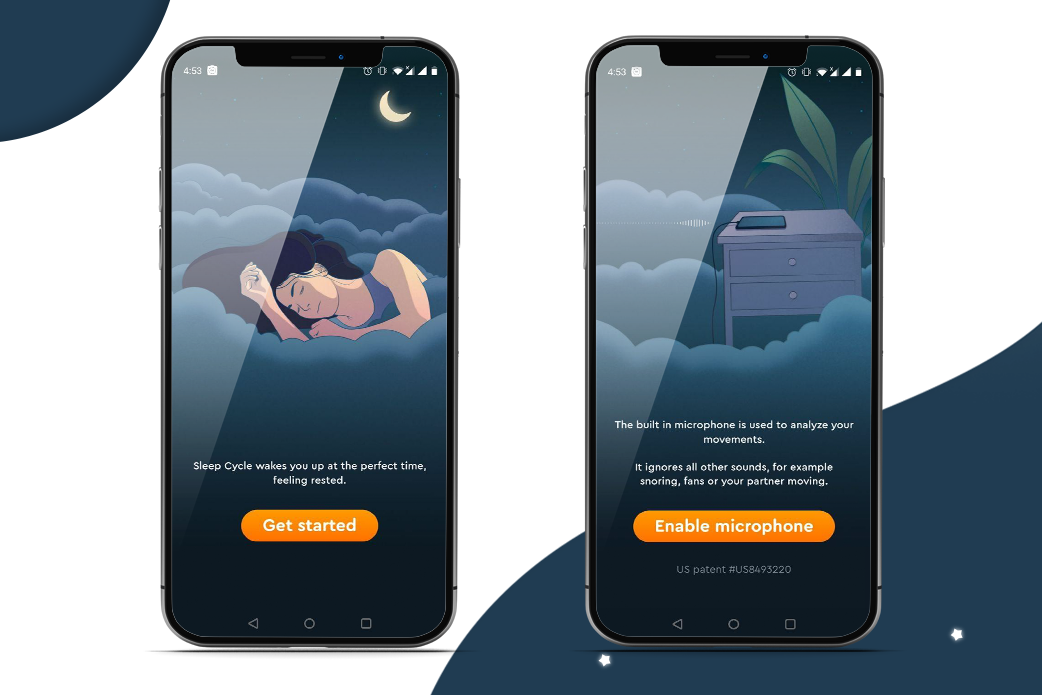 Take a look at this extensive guide on
Emergency apps
The patient apps for emergency medicine acquire bigger popularity due to their usefulness. In cases of medical emergency, these applications have the specific options to ensure instant assistance. They can help you find way to the closest emergency facilities (ER) or connect you with the medical centers through the most comprehensive databases.
In other cases, the apps provide you with a great number of options of preventive kind. For instance, you can input your vital medical metrics ( blood type, allergies, medical conditions, medication) and keep it for lock screen display.
For cases of mental conditions, some apps offer to assign three trusted contacts for emergency scenarios as well as include instant access to the Suicide Prevention Lifeline.
The best choices available on the market are ERres, palmEM, Pedi STAT, to name a few.
Personal Health Record Apps
These apps assist patients in tracking and managing the personal health data records. The application of this kind maintains recording all the visits and enables access to lab reports, X-rays, medical reports, blood tests and medical conditions information.
Additionally, the applications feature encrypted messaging with the healthcare provider. Apart from the clinical data, the patient can also store details on their personal records and contacts.
Personal health record apps introduce solution for saving all the health-related data including the medical diagnosis history, corresponding prescription of medicines, medicine alerts, data on the performed or planned surgery, etc.
Applying these apps, patients opt for user-friendly software that doesn't require any special tech-savvy knowledge but bring tons of benefits.
The best choices available on the market are ZocDoc, GenexEHR, Healthspek, to name a few.
Check our case study: Medical app for elderly people or users with chronic medical conditions
Benefits of healthcare apps for patients
With implementing mHealth apps in patients' everyday routine, they and their family get instant access to the healthcare c-suite that considerably simplifies previously complicated processes.
Considering the benefits, we should mention the following:
Medical patient apps allow for effective communication with healthcare professionals.
Telemedicine apps save manpower, cost, and time, which in the long run helps reduce hospital readmission rates.
Patient apps unlock up-to-date information on the go.
Patients apps facilitate medical service.
Patient engagement apps reduce overhead, make scheduling faster and easier and enable patients to have the enhanced customer experience.
Wellbeing apps give patients the freedom to manage their health and make more conscious health-related decisions.
Key Features of patients app
The mandatory features of healthcare patients apps are determined by the following requirements:
Adjustability: Will the app cater to individual needs at best? Unfortunately, the universal solution for all seldom works in general. Hence, the medical apps shifting focus to personalization are getting more popular.
Interoperability: It is essential that medical apps for patients work fail-free across multiple systems and gadgets. So apps that demonstrate various technological capabilities will get ahead of their rivals.
Offline workmode: In the healthcare sector, providers aren't always online. In rural and remote areas, service can be an issue. Therefore, an optimal solution for a patient app would be an app ensuring storing the data irrespectively of data connectivity.
Easy tap-in: Patient apps are undoubtedly beneficial. However, the patients are often facing the issues with understanding the navigation and other technicalities when dealing with portals and management systems. The patient apps that serve best must be easy for patients (especially, elderly groups) to fit into their routine easily.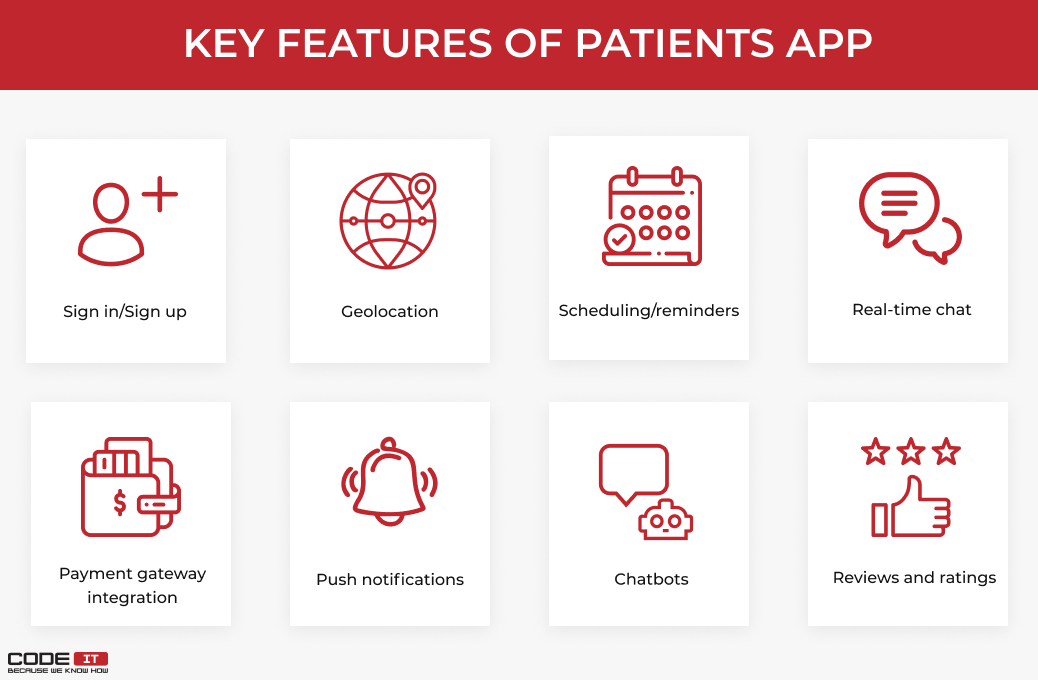 Therefore, the must-have pack of features includes:
Sign in/Sign up (to enable access to the service and create a personalized profile)
Geolocation (to offer customized solutions in search)
Scheduling/reminders (to enable the options for bookings and appointments)
Real-time chat (to ensure the patient gets easy access to the channels of communication with healthcare providers)
Payment gateway integration (to store the payments information and enable paying service fail-free)
Push notifications (to deliver important information on appointments, medication intake, etc. timely)
Chatbots (to get consultancy for routine service-related questions)
Reviews and ratings (to enhance customer experience with getting access to full databases on medical practitioners and medical service in general).
Want to develop a patient app?
KEY THINGS TO CONSIDER IN DEVELOPMENT
When building a strategy for the successful development of patient apps, there are the following things to consider:
Compliance and security
The healthcare apps for patients must comply with the data protection regulations (in particular, HIPAA and FDA policies).
Another set of security standards is PCI-DSS related to payment checkpoints. To make sure that your healthcare app is in compliance with all the above-mentioned standards, you need to work with the team of experts that can provide professional service pertaining to getting the licenses and official permissions of compliance.
Integrations
To get competitive market advantages of patient apps, you will need diverse integrations with other software that patients and medical practitioners can use.
Enabling integration options of medical app for patients leads to wider capability in terms of communication with EHR and facilitation of the medical service.
UI/UX
The user experience of a medical app is the checkpoint for further usage. Modern consumers opt for the app that guarantees impeccable customer experience. Hence, well-thought work of UI/UX designers of healthcare developers contributes lion's share to the success of the app in most cases.
Choose a reliable development company
Healthcare app development company having a good portfolio would be able to build a medical patients app of best quality.
Since the choice of the company determines the development process itself and the overall success of the project, it is crucial that you rely on independent reviews in evaluating the rating of the company and relevance of the company expertise to your business niche.
How much does a patient app cost?
Concluding Thought
Nowadays, patients as healthcare consumers, demand a diversity of options in getting instant access to the best quality medical service.
To get excellent care at an affordable price, medical apps for patients come handy as they allow healthcare practitioners to deliver relevant solutions and provide the best medical service to patients regardless of their location.
If you are looking for a patient app that would meet the high development standards, check CodeIT and contact us.
Further Reading: