Advances in app technology define the contemporary business landscape across any domain due to the opportunities they open up for users, and the medical industry is one of the most responsive sectors when it comes to following the latest mobility trends. Aside from healthcare apps with a range of solutions for patients, the app market also offers diverse medical apps for doctors.
Their popularity is determined by several factors including massive accumulation of healthcare data and fast-paced growth of telemedicine making the employment of health apps a win-win scenario in medical practices by increasing healthcare efficiency and simplifying doctor's interaction with patients.
Market of medical apps for healthcare professionals
Hospitals top the list of largest US industries by revenue that reached $1.18 billion in 2020. More than 70% of the largest US hospitals offer mobile health apps. It comes as no surprise that the mobile health market is forecast to be in alignment and grow to $102 billion in 2023.
Doctors have long been one of the professional groups profoundly affected by access to healthcare apps, which reflects in the following facts: 90% of physicians use their mobile devices for work purposes having the opportunity to choose among 318,000 mHealth apps available in biggest app stores.
Furthemore, under the conditions of pandemic,doctors move outpatient activity to emails, video chats, voice calls, and text messages, which increases the demand for communication apps designed for doctors. Overall, doctors employ mobile apps created for healthcare professionals to access electronic health records, collaborate with colleagues, or set their schedule.
The Benefits of Medical Apps for Doctors
The utmost benefit of medical app for doctors pertains to healthcare delivery that can fit into a wide variety of practices while being exercised out of doctor's office and hospital wards without any geographic constraints.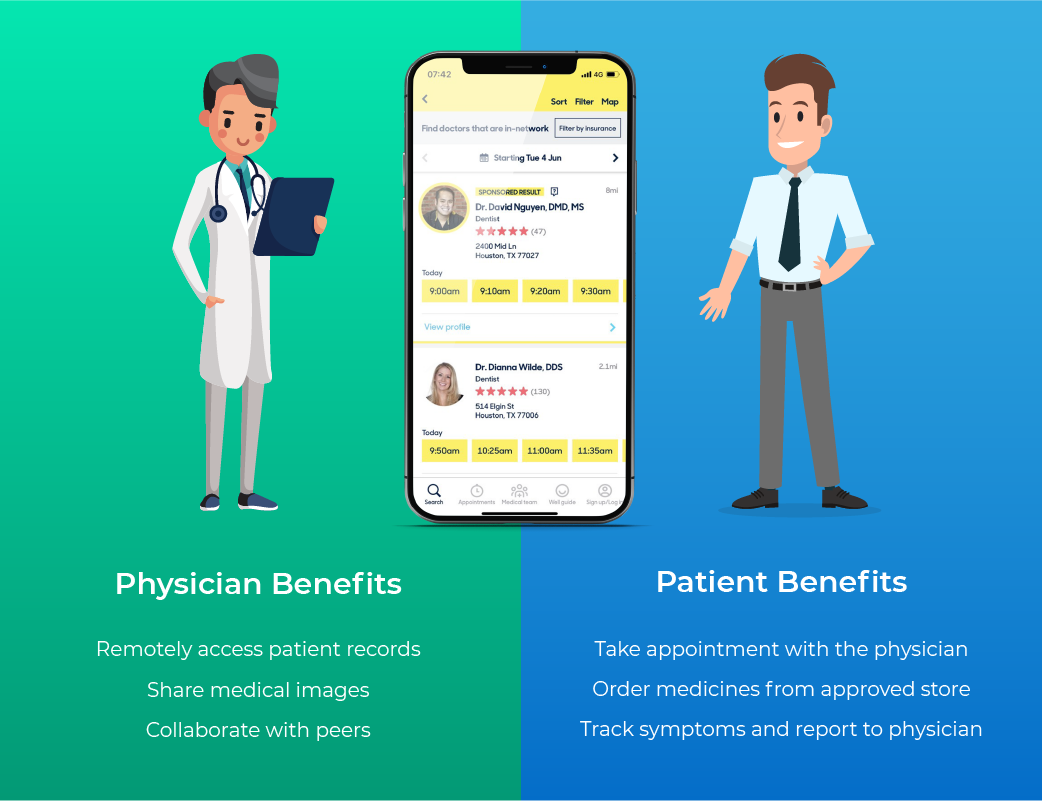 Besides, implementing apps in medical practice along with innovative solutions they offer, can be a game-changer when it comes to reduction of costs and establishing value-powered healthcare systems guaranteed to facilitate the doctor-patient communication and improve patient outcomes.
Incorporating apps in medical professionals' workflow results in reaching three major goals:
Improved communication at all the stages of work
Increased efficiency at the stage of clinical decision-making
Enhanced productivity throughout the workflow.
Types of apps for doctors
Mobile doctor apps available on the market greatly differ by app usability defined by demands of utility on global mHealth market, which lets group them according to areas of digital healthcare they respond to.
In general, mobile apps for healthcare professionals fall into the following categories.
Apps for information and time management
The apps in this category can be utilized in professional medical practice to facilitate the performance of mundane tasks:
Note taking
Note dictation
Audio recording
Organizing information and image gallery
Accessing cloud storage
Taking photographs
Scheduling appointments and staff meetings.
Having the apps with extensive note taking and information management functionalities including the options for speech recognition not only declutter physicians' desks, remove
paperwork and organize the schedule but boost doctors' productivity gaining more hours for achieving work-life balance and preventing burnout.
The best recommends for illustrating the functionality of such apps are:
Appointik. It gained popularity among healthcare professionals due to its medical practices management capabilities allowing to schedule the unlimited number of patients, save patient records in the cloud and enable the offline mode for more convenience.
ZocDoc. Using this app, you can schedule appointments in one step and list your practice to extend the audience easily.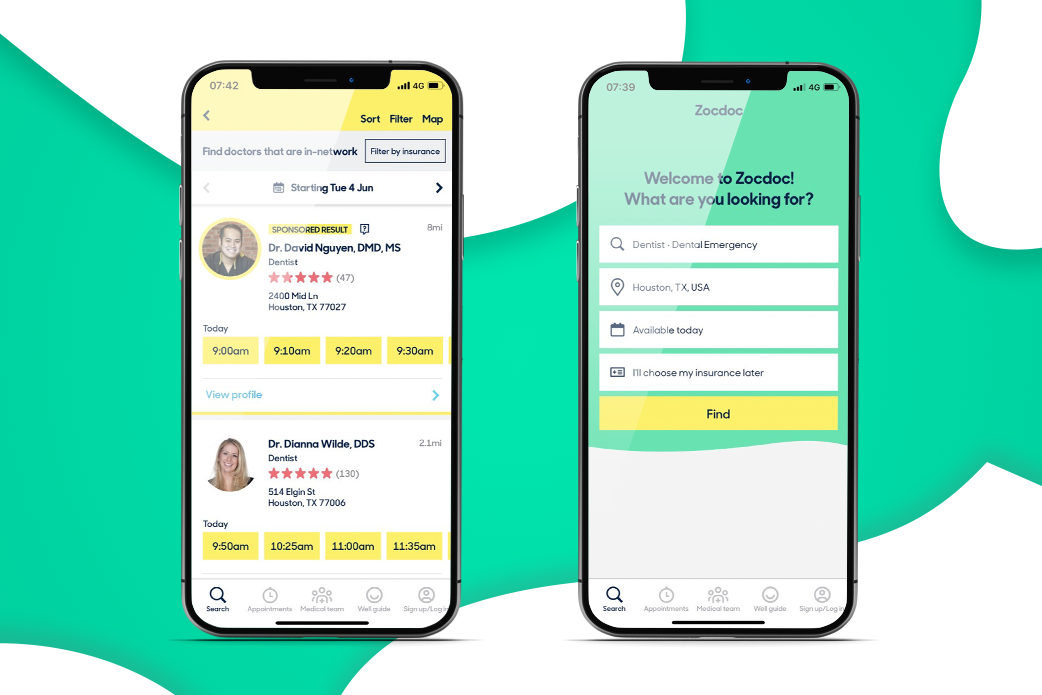 Practo. It pays special attention to data security and provides simplified scheduling that lets doctors allocate more efficiently and reach more patients.
Apps for EHR access and maintenance
The apps in this category assist medical professionals in getting instant access to electronic health records and performing associated tasks.
Access EHRs and EMRs
Opening images and scans from the device
One-click electronic prescribing
Billing.
The examples of such apps are:
Allscripts Remote+. With the capabilities of having access to patient detailed information in real time, enabling e-Prescribing, tackling task lists and entering lab results, this app is a must in healthcare app ecosystem of any medical professional.
Care360 Mobile. This HIPAA-compliant app provides physicians and healthcare professionals with options of lab orders placement, opening medication history, monitoring lab results, and drug prescription including operations on renewals.
Apps for communications and providing consultancy
Using these healthcare apps for doctors, medical professionals can achieve the increased efficiency of communication, enable patients to get consulting service remotely and build strong social network with the colleagues. The apps of this kind feature:
Voice calling
Video calling and conferencing
Texting
Sending and receiving emails
Multimedia messaging
Social networking.
Check our guide on
The apps that demonstrate the capacity of this category are:
Doximity. With this app, doctors can reach their patients instantly and network with other medical professionals without any constraints on privacy concerns.
HealthTap. It offers multiple options for successful networking by joining HealthTap Doctor Network or the HealthTap Medical Group to consult with colleagues in any specialty and, overall, enhance the online presence for better patient outreach.
Apps for reference
Medical reference apps give access to information on medications, diseases and medical conditions on-the-go. They mostly feature:
Medical coursebooks
Medical journals
Medical literature portals
Drug reference guides
Medical news.
The most popular apps of this type are:
Medscape. It is cited as the most downloaded free medical app. It gained trust of its users with providing accurate information as well as a drug interaction checker, procedure reference, and regular updates.
Epocrates. This app aims at targeting the areas of drug prescription and ensuring safety. It provides information on thousands of brands and help user check for harmful drug to drug interactions instantly.

Apps for patient management and monitoring
Patient management and monitoring apps enable doctors to get access to patients electronic records and review any information on demand directly from the mobiles, thus, reducing time and costs on waiting and visiting on medical facilities' premises. The apps of this kind assist clinicians in:
Monitoring users with medical conditions in real time
Spotting patients' location
Organizing follow ups with patient in rehabilitation
Collecting clinically vital data
The examples of such apps are introduced by:
VitalHub Chart. This apps enables doctors to get summary views on patients' profiles, access medical charts, see lab results, orders and full medication history along with information on patient demographics and important side notes (for example, allergies). To cater to medical professionals' needs further, the app offers to choose from various layouts when organizing specific workflows.
Epic Haiku. It features hospital lists of patients in care, summaries on patients' profiles, all the clinical meetings and appointments, and lab results. Additionally, it allows clinicians to get access to a patient's medication status as well as full medication history.
Check our case study: Healthcare app for medication management, doctor's appointments and symptoms tracking
Apps for clinical decision-making
To keep in view all the clinical treatment guidelines might be a challenge, and the clinical decision-making apps come as rescue. They are distinguished with capabilities of:
Clinical decision support systems
Aids on diagnosis
Medical calculators
Lab test orders
Lab tests overview
Guidelines on medical exams.
The apps to mention for illustrating the described functionality are:
PEPID. This app is developed for facilitating the decision-making process in medical practice. It provides support and patient care automation by allowing physicians to enter the patient's registered symptoms and 'calculate' diagnosis. With giving free access to over 3,000 disease profiles, PEPID holds leading positions among the apps of this type.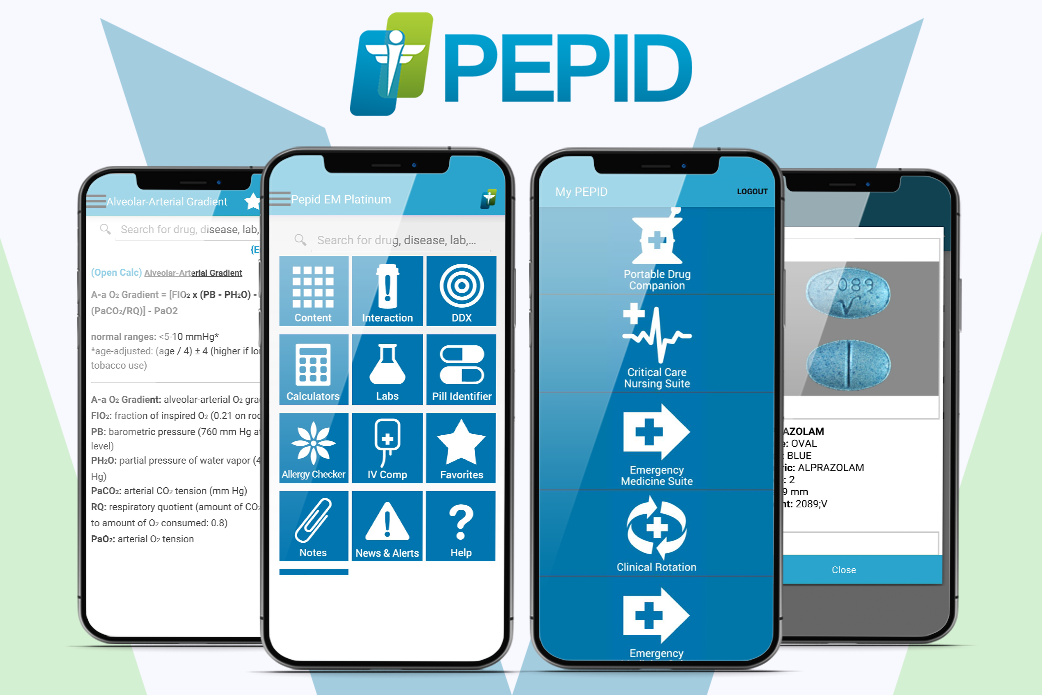 MDCalc. It is a tool enabling accuracy of calculations with capabilities of identifying over 150 various disease states along with providing specific treatment guidelines and how-tos.
Apps for medical students and medical staff education and training
Education apps focus on anatomy-centered presentations through offering visual diagrams related to the functions of human body parts.The apps of this type aims at providing:
Continuing medical education
Material for assessment tests
Material for preparation for board exams
Use cases
E-learning materials
Surgical simulation.
MedPage Today Mobile. Enables users to get access to CME/CE credits instantly and choose among updates for more than 30 specialties including medical news, podcasts and detailed reports in audio and video format.
Pocket Anatomy. It provides the medical content on musculoskeletal, neurovascular and internal organs in one app. Users can enjoy the intuitive 3D navigation and access detailed anatomy-related descriptions on their mobile devices.
✔What's more: For doctors' enhanced productivity, hospitals often opt for healthcare CRM functioning as 'the connecting unit' combining functions of patient management, scheduling and communication.
NEED CONSULTATION? WE'D LOVE TO DISCUSS YOUR IDEA!
Feature sets in a medical app for doctors
Due to the fact that doctors' activities are closely connected with their specialty, number of patients, complexity of tasks scope, the feature sets in the medical professional apps cannot be narrowed to a single list.
Depending on what field doctors work in, they choose applications to assist them through featuresets performing specific functions.
| Application | Featureset |
| --- | --- |
| Medical reference app | It implies search bar by categories and filters so that the user could easily access information on medicines, illnesses, related studies and medical articles. Besides, within this feature set the developers pay attention to introducing medical calculators of body mass index, etc., and enabling doctors to take, store, send images and playing, sharing videos of medical procedures and guidelines for diseases treatment. Featuring various medical tests and quizzes is also important part of the functionality in medical reference app sector. |
| Professional networking app | For expanding the network, doctors require apps with the chat options, file sending, image editing and sharing, activating access to medical journals or other related medical content. Not to overload device memory, it is essential that the app has cloud data storage functions. Besides, it is advisable that healthcare professional apps targeting networking functions have calendar of medical events and option to sign in for participation. |
| Patient health tracking app | Features that enables doctors to access Electronic Health Records (EHRs) and patient charts are must-haves in tracking apps for doctors. They should also include the options of lab orders placement and lab results reporting instantly. Furthemore, patient tracking implies featuring prescription management options and separate interfaces for medical staff dealing with patients at various stages of interaction within healthcare. Apart from monitoring features in patient health tracking apps, doctors expect to have tools for analytics to make use of accumulated data. |
| Doctor appointment booking app | Doctors belong to one of the busiest professionals whose schedule availability translates into revenue of individuals and hospitals. To manage appointments and booking for doctors, developers work on enabling the doctors to list their practices by speciality, geo-position, schedule availability. The feature set of appointment and booking must also regard integration with top payment gateways for doctors. |
| Telemedicine app | Telemedicine mobile applications can provide doctors with opportunities of exercising medical treatment more effectively and getting paid instantly in case the feature set of the app includes voice or video calling, texting, sending and opening attached files for X-rays and scans, and payment gateways. |
Additionally, there are some innovative solutions currently featured in medical mobile applications:
Augmented reality
It is actively employed in apps for training medical students as this technology enables visualizing and full-scaled introduction of anatomy-related objects.
Blockchain
For secure transmitting and storing health-related data, developers offer blockchain-based systems as the part of app functionality.
Artificial Intelligence
AI-powered apps give competitive advantage to its users due to unlocking wider opportunities for physicians when it pertains to medical practice management by using AI instruments and machine learning.
How to build a successful doctor app
Medical app development is a multistage process requiring the efforts of experts across domains of analysis, design and development.
Discovery stage
At this stage the project scope along with clarification on project detail is created. It demands market analysis and requirements elicitation. To make a project brief, the business analyst and project manager present their vision of market landscape in terms of target sectors aligned with business goals and app features for the project's MVP to further generate the project mock-ups, and prototypes.
Feature Set
At this stage it is vital to prioritize features for the project's MVP, outline the core functionality and define what will make the app unique. In case the client wants to pull in advanced features, there are add-ups in cost estimation.
Specifications & prototype
This stage of development implies considering the specific functional and non-functional requirements of the mobile doctor app and building the prototype that includes the wireframes of particular app screens.
Application Design (UI/UX)
The healthcare professional app UI design is the stage of introduction of a visually optimized plan for all the UI elements and forecasting User Experience. The visual objects including visual transitions, animated elements help the app stand out and contribute to creating user-friendly interfaces.
App development and testing
Depending on demand for native iOS, Android or cross-platform development, web app availability and set of mandatory and optional features to implement, we form the team of professionals with relevant level of experience and expertise and distinguish the required tech stack for further development.
As a rule, at this stage we use:
iOS - Swift, Android - Java (for mobile development)
Laravel, Node.js, Zend (for back-end development)
AngularJS, HTML5, CSS, React (for front-end development)
Third-party APIs of medical and non-medical kind to serve specific project purposes.
Within this stage, we also test the app by conducting bug-fixing performed in iterations.
LOOKING FOR A TECH PARTNER? WE'RE HERE TO HELP!
Launching the app
Entering the development stage means that your mobile app for healthcare professionals embodies the features available on the app marketplaces and, thus, is ready to be visible to your users.The factor of importance at this stage is not only to present the project as the final product but introduce the demo and follow the guidelines providing access to app stores.
Important factors to consider
Integration with existing EHR system
The developed app must integrate with the health management system adopted by hospital. Otherwise, the doctor will be denied highly needed 'on-the-go access' to actual patients' records.
Cross-platform accessibility
To fully embrace the audience of doctor app and provide usage of the app across any device, you will need a solution for cross-platform accessibility.
Data security
Providing security of sensitive health-related information is one of the highest priorities in healthcare software development.
In particular, medical app development requires following the strict healthcare encryption standards to ensure confidentiality and protection of databases, communications and any other channels involving transmission of eHealth data.
Regulatory compliance
Depending on the territory jurisdiction, the medical app regulatory compliance can be conditioned by requirements of HIPAA (for the US market), GDPR (for the European market), or PIPEDA (for the Canadian market).
What determines the cost of building a medical app for doctor?
The expenses associated with development of medical app for doctors are calculated with regards to multiple factors including:
The choice of platform for the app development (Web, iOS, Android, or cross-platform presence)
The professional experience of experts involved in development
The level of feature set complexity
The developers' rates for mobile development
The type of design you plan to implement
The third-party integration that adds to the cost of development
Surplus cost of maintenance.
To have detailed information, contact us by [email protected], and we will provide a free consultation on a cost estimate of your project.
TELL US ABOUT YOUR PROJECT IDEA AND WE'LL ESTIMATE IT FOR FREE
Concluding thought
Although providers seeking for patient engagement via mobile apps, medical professionals admit that quite frequently the apps they tried did not contribute to facilitation of medical practices, did not match the standards they expected, or lacked the functionality.
Customized apps for doctors with the patient-centered focus have the potential to meet the medical professionals' requirements at best in case a proper combination of experience and expertise required to build the solutions to cater to doctors' needs can be provided.
Opting for custom solutions created by the company having a relevant portfolio in healthcare software development can address any probable issues, avoid the pitfalls and launch a failsafe medical app for doctors successfully.