Effectiveness of medical service depends on development of modern technologies. The global medical system needs reforming because despite the huge expenses the desired level of social security in healthcare hasn't been reached yet. Many researchers exploring this question have a simple solution to this problem — distributed technologies.
According to Cisco, the technology has the potential to store more than 10% of the globe's total gross domestic product (GDP) by the year of 2027. Blockchain will help enlarge the Internet of things (IoT), maintain the data and even create smart cities. So why not use its advantages in healthcare?
What is blockchain?
Blockchain is a digital ledger, a database filled with entries that are encrypted. The recorded data is packed as blocks. How does it work?
A person often initiates a change to the blockchain, creating a new "block." Interestingly, this "block" is broadcast throughout the decentralized network. Once "seen" by each computer on the network, the record of the block or change is permanently added to the chain.
Eventually, all these computers approve of the change, and it is irreversible. That makes up the main advantage of distributed ledger: the entered data cannot be changed. Seems like it could be useful for a lot of industries, doesn't it?
Blockchain in healthcare
Interest in the decentralized technology itself has become noticeable, including using blockchain in healthcare. Evidence of the increased demand for blockchain technology is the result of a study conducted in October 2017 by the Black Book team. It surveyed 88 consumers of the healthcare system (among them representatives of insurance companies, consumers of medical services) and 276 provider technology executives.
The Black Book found that 19% of responding hospital executives and 76% of representatives paying for medical services considered or already applied solutions based on blockchain technology.
Thus, increased attention to the technology of distributed registries has led to an understanding of the potential for the application of blockchain technology in healthcare.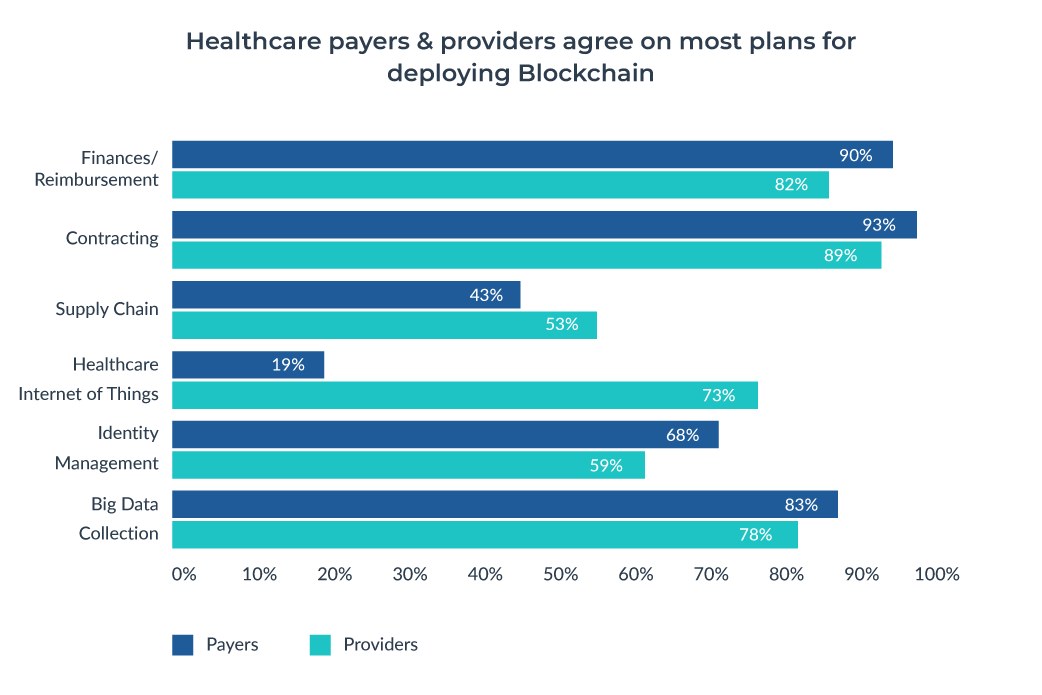 Source: Black Book Market Research
How blockchain can improve and change healthcare
Pharmaceutical sector
One of the main problem in the system of healthcare is centralized data storage. It results in lack of clarity in regard to such important questions as who has access to databases, and if they are really secure. The number of modern fintech companies and banks have already proved the advantages of blockchain in data storing and transparency.
Health organizations and providers
Imagine an alternative world with no paper documents or bureaucratic scurries. Such a world could exist. A smart contract is a special digital protocol that is used to establish and execute commercial deals without the participation of third parties. Smart contracts automatically fulfill all the conditions of the contract and also contain information about the obligations of the parties. Sounds like a perfect alternative to paper deals, which can take years before establishing.
Let's take a step further and imagine a world with no hospital queues and wasted time. Blockchain apps can provide you with the luxury of filling out hospital forms without leaving your home. All data is entered into the general network while remaining in the hospital.
With the growth of eHealth solutions application, consent management becomes a critical point for patients because everybody wants to have an access to their personal medical data. Blockchain could build trustworthy relations between customers feeling confident that their data is protected, and the healthcare institutions.
Insurance providers
Insurance companies are interested in people being healthy, which means they take great interest in leveraging the power of blockchain to help the patients. Leading players in the medical market implement a network that can enhance payment processing, interoperability, and transparency in the healthcare sector.
One of the ways to motivate the clients to practice a healthy lifestyle is a reward system. Some of the providers already try to implement micropayments reward program that offers considerable discounts to its members choosing to embrace a healthy lifestyle.
Consumers
Patient medical data often reside in separate silos that make it an arduous task for those who need the data for patient diagnosis, treatment, and care. The patient has to seek for their medical data when going from one doctor to another. The solution of the problem comes in form of the decentralized medication management system, a comprehensive platform that takes advantage of blockchain technology to manage access and sharing of patient medical histories. It is an architecture, within which each prescriber can create prescriptions for each patient and, accordingly, perform queries of historical prescriptions.
Benefits of blockchain to healthcare applications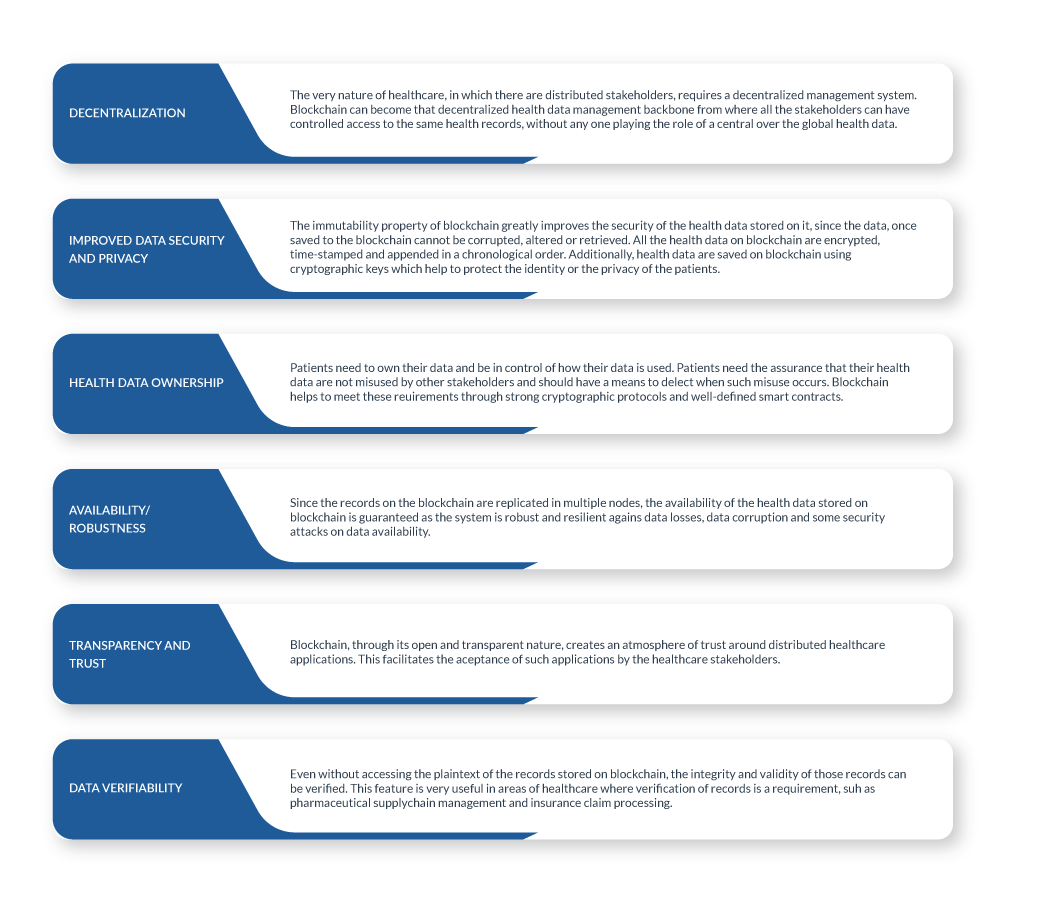 Source: MDPI "Blockchain Technology in Healthcare: A Systematic Review"
Pharmaceutical supply chain management and drug tracking
Problem: Counterfeiting is a huge concern for the pharmaceuticals industry, with an estimated number of one in 10 medical products circulating in low and middle income countries falsified, according to the World Health Organisation.
Solution: Growing interest in using blockchain for drug supply chain is understandable. blockchain technology can be an excellent solution for enhancing data provenance, integrity, functionality, and, of course, security of a pharma supply chain.
Problem: The clinical trials tend to undermine the trust of consumers. First, the published results of trial can be different from the right one. Second, some important data can be lost while bookkeeping.
Solution: The future of blockchain in healthcare should provide the decentralized system of storing the data which cannot be manipulated. Here comes a 'distributed ledger' technology - data storage with no administrator or interested party.
Electronic medical records (EMRs) management
Problem: About 176 million patient records were stolen in data leaks between 2009 and 2017. It comes as no surprise that security is the main issue in the healthcare industry.
Solution: With help of decentralized ledger, everybody in the network has a copy of the ledger and some level of access to its contents, but no one can modify it on his or her own. That makes the data breaches impossible.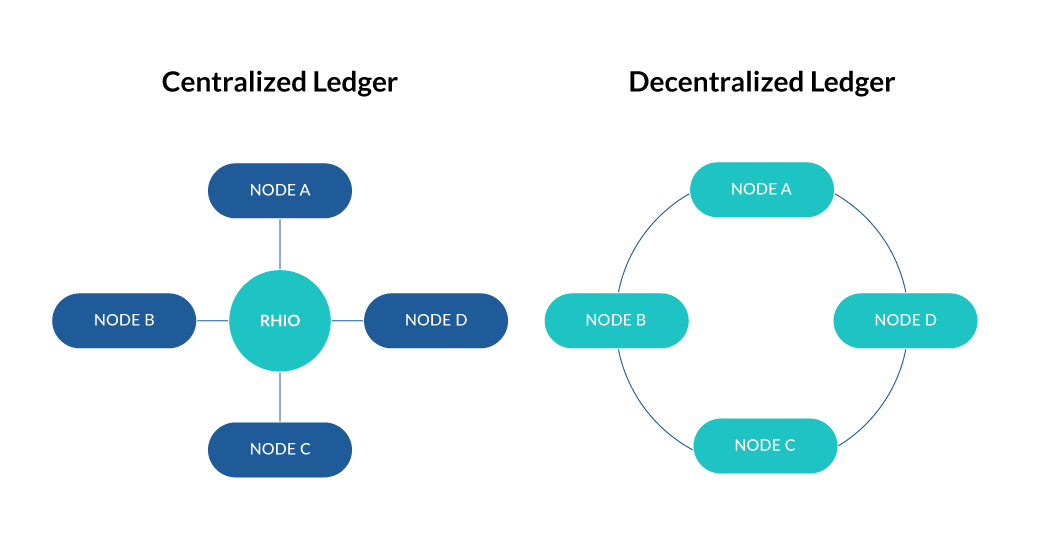 RHIO - A Regional Health Information Organization. The scheme describes centralized (a) and decentralized (b) data systems. In case (a) the RHIO is one central place where all records are stored. In case (b) every node has equal information accessibility. Besides that, the transactions become faster.
Problem: In 2008, the World Health Organization found that more than 7% of all healthcare spending — a staggering $415 billion — was the result of fraud and error. Fraudsters might find it tempting to receive profits by implementing false data within insurance agreements.
Solution: Since all the data is stored in a decentralized infrastructure, it will be impossible for third parties to take control under all the data.
Credentials verifications for physicians
Problem: Who wants to be treated by an unlicensed specialist? There is a risk that it might happen: the problem is that nobody can follow up if the physicians are not quacks.
Solution: For example, Hashed Health is a company using blockchain to ensure that the specialists has the legal right to work with the hospital's patients. How does it work? They build a special credential verification system for physicians, which is shared among other healthcare organizations.
Which of the cases were already implemented?
Medicalchain is a startup that provides medical records on blockchain - simple and transparent method for containing patient's data. With the help of technology, consumers will be able to designate who can query and change their data.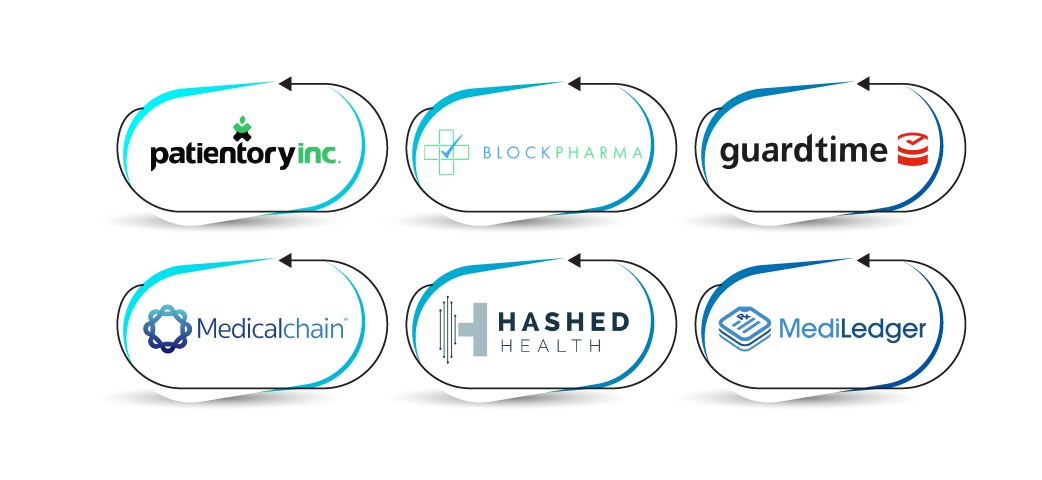 Patientory is known due to providing both clinics and patients with the opportunity of fail-proof securing personal information. Even more, the startup has also launched its own crypto tokens (PTOY), the coins that are used during the acquisition of additional services of the platform.
The Guardtime Health project works on four different vectors at once: data preservation in clinical trials, preventing counterfeit drugs, diagnosis accuracy and fighting data frauds. Besides working on distributed technologies, the Guardtime is known as a software security company.
The Chronicled startup has a variety of blockchain projects and MediLedger is one of them. It is a secure blockchain network that works on the drug authenticity task: it requires all items to have a serial number for ensuring a greater level of reliability.
Future of Blockchain in Healthcare
It looks like 'the blockchain future' has already come. Every imposing medical organization declares its readiness to implement distributed technologies. However, this tendency hasn't reached its full potential yet.
Currently, the systems for doctors and insurers can't communicate so doctors spend significant time filling out prior authorization forms and faxing them to payers. This is where the problem of red tape appears. Blockchain could provide validated and secure access to information for doctors and payers. Companies like as 23andMe and Shivom are preparing to combine blockchain technology with mass sequencing of the human genome. It may usher in the era of individualized precision medicine.
While costly now, blockchain can be the next technological light bulb to revolutionize the future
noted George Serafin, National Managing Principal at GrantThornton.
The problem is if we are ready to succumb to this change. The successful implementation of the distributed technology requires involvement of a big amount of companies and, thus, can be really expensive. It comes down to the issue of technological barriers that many companies are afraid to deal with. It also requires building a strong infrastructure and interconnectivity. Besides, another major problem is a lack of knowledge, so we need to talk about the additional costs of training and disseminating information within circles of people related to the field of medicine. The lack of clear legislative frameworks also hinders the merger of blockchain technology and the medical field.
Conclusion
Blockchain technology still remains an uncharted area. There are many barriers to break, but there are a lot of issues distributed networks could solve as well. We can definitely say that all these projects aimed at using blockchain technology are the first step towards integrating blockchain into medicine. Healthcare offers a huge field for the implementation of ideas. Apparently, blockchain can become our new reality, so now it is high time we accept it.
Have questions about Blockchain development for healthcare?
Also Read:
6 Key Healthcare Technology Trends 2022