The first Internet of Things in healthcare as the effective digital health solutions appeared two decades ago, and since then they have irrevocably changed the medical industry due to the potential they show in improving the quality of medical service and reducing the cost of healthcare for patients.
Medical professionals were introduced to groundbreaking examples of IoT applications in healthcare (remote patient monitoring devices, sensor technology solutions, to name a few).
It comes as no surprise that IoT in healthcare was included into top technological trends 2020 by Gartner Analytics. One of the indexes for the stated forecast is determined by expected growth of IoT healthcare market that is predicted to be worth $534.3 billion by 2025.
IoT in Healthcare: Definition
Nowadays, healthcare is being moved out of acute care setting and transitioned into home-based or post-acute setting to help medical service customers feel more comfortable and get best healthcare solutions via IoT technology, which activates a diversity of ways to manage patients' health more effectively.
If previously the medical products could be accessed only during the service event, Internet of Things technology brought revolutionizing impact to healthcare by enabling medical professionals to capture data continuously, which unlocks wide opportunities in all the medical fields in terms of building a bigger portfolio of connected devices. In addition, it allows to quickly respond to patients' needs and reduce the downtime, which translates in significant cost savings for medical providers and patients alike.
IoT for Smart Healthcare
HIoT (healthcare Internet of Things) applications contribute to digital revolution in healthcare sector and improvement of medical service quality.
IoT technology implies sensing activation and aggregating data from human body as a collecting target. Breaking down the technology implication, IoT-based operation in healthcare looks as follows:
Interconnected devices collect health-related information from a patient that transfers as the input of data. These devices can include monitors, camera systems, sensors, actuators, and detectors.
The data received from the sensors in analog form needs to be aggregated and converted into digital streams.
After the IoT data has been digitized and aggregated, further processing may be required before it reaches the data center, this is where Edge Analytics comes in. After this, it is transferred to the cloud or data center.
Thus, physicians, medical professionals, or virtual assistants get the opportunity to take result-oriented and informed decisions with data received through IoT-based devices.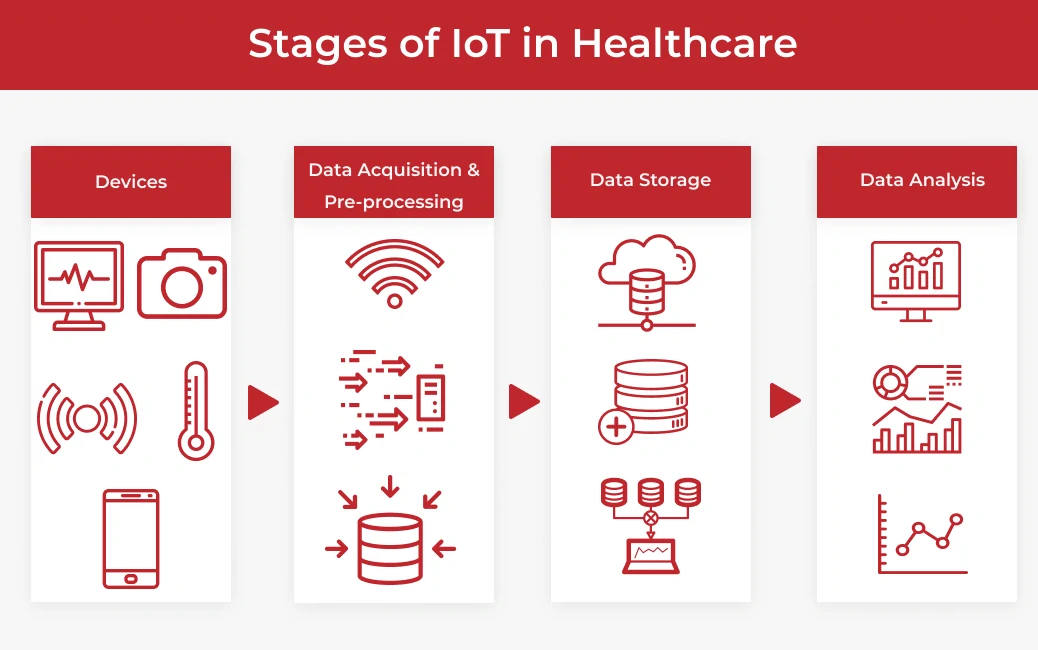 Another example of smart IoT solution in healthcare pertains to merging IoT and digital twins technology.
When creating a digital replica, digital twins capture and aggregate data collected by sensors on medical products: consequently, it is sent back to a platform via an Internet of Things (IoT) network. It allows doctors and healthcare providers to track patient data with precision, monitor treatment progress immersively and construct a digital model of the patient, which potentially elevates customer experience to a completely new level.
Benefits of IoT in Healthcare
With rate of changes happening in IoT for healthcare so quickly, the rate of benefits is also increasing rapidly. By applying smart healthcare monitoring systems using IoT and other IoT medical devices, healthcare providers and patients can greatly benefit from:
Decreasing wait time in hospitals
Tracking patients' records
Managing staff and inventory by instant access to aggregated data
Facilitating complex drug management procedures
Ensuring accessibility of critical hardware
Predicting maintenance issues
Increasing positive treatment outcomes rates
Enabling higher cost effectiveness of healthcare
Preventing errors
Enhancing patient experience.
IoT Examples & Applications in Healthcare
IoT healthcare solutions embark on capabilities to reach a wide spectrum of options unlocked with IoT-based products in regards to data accessibility, connectivity, and management of medical ecosystem. With application of IoT in healthcare, medical providers leverage both cloud and edge computing for achieving optimizing effect within medical service operations.
Overall, there is a differentiation of IoT in healthcare for:
Patients
This sector incorporates tools and apps wirelessly connected for delivering personalized solutions while monitoring health (for example, fitness tracker, pacemeter, glucometer, heart rate tracker, blood pressure monitoring band, etc.) and automated pace, rate, calorie count, exercise check, medical appointments reminders.
Medical Professionals
Getting data from monitoring equipment via IoT, doctors have wider opportunities in addressing health management and treatment issues. IoT-based devices assist physicians in enhancing positive medical outcomes.
Healthcare Facilities
Using IoT-based devices in hospital set up greatly facilitates healthcare management operations. For example, with assistance of IoT, it is easy to track location and utilization of any kind of medical equipment in real time.
The numerous IoT examples also confirm the considerable reductions on capital expenditures once IoT healthcare solutions are brought into picture. Below, we explore some of the IoT applications in healthcare in greater detail due to their time proven status of game-changers in healthcare provision.
The market offers a wide range of products, from complex surgical and endoscopic connected products to everyday IoT wearables of all different types.
Hearables
People with hearing impairments discovered advantages of IoT healthcare wearables for better health management and amplified listening experience with additional augmented options built in various hearables.
Apple AirPods' presented new Live Listen feature that hugely widened opportunities of interactions with the environment for people with hearing loss. This and similar hearables assist millions of patients just by connecting to smartphones.
Moodables
With moodables, customers tap in better health management by getting low-intensity current to stimulate brain.
Applying this head-mounted device also elevates mood almost instantly and augments antidepressants effect. One of the prominent vendors offering IoT-based solutions in this field is US-located Halo Neuroscience.
Healthcare Charts
By implementing healthcare charting doctors can save hours of working time on documenting the patient history, inputting test results, or history of medications intake. One of the companies that provide seamless experience in healthcare charting is Augmedix.
Its experts apply Google Glass technology to activate voice commands and input data instantly, by using a HIPAA-certified encrypted network.
Cancer Treatment
Curing cancer has always been a focal point for healthcare practitioners and technology innovators. At present, precision medicine and implementation of advanced healthcare equipment change the medical landscape.
IoT-based devices that use machine learning and predictive analytics at the stage of prevention show wide capabilities in analysis of collected data and classifying abnormal patterns indicating cancer.
For example, with iTBra that women can wear once a month for 2-12 hours, breast cancer diagnosis gets more efficient. The device is worn as regular lingerie, and the results of the performed test will be transmitted to a smartphone: this solution recommended itself as the effective measure within breast cancer prevention.
Hygiene Monitors
The sophisticated environment monitoring systems implemented in hospitals can help enhance patients' safety when they are admitted for medical treatment.
In case of applying hygiene monitors, the wireless sensors deployed on the mesh network periodically transfer data to an internal gateway device and display dashboard information on preliminary set hygiene and safety parameters inside medical facilities including the operation theatre in the hospitals.
The data visualisation tools send early insights for addressing compliance and maintenance issues without fail.
Sleep Monitors
Sleep monitoring IoT apps provide a real-time monitoring of any sleep-associated disorders, for example, obtrusive sleep apnea. Sleep monitors proved to be the effective healthcare solution for detection of disturbing symptoms related to human sleep.
For instance, Beddit sleep monitor enables consumers to measure and manage their sleep by retrieving insightful data through automatic and accurate sleep time tracking: patients and medical professionals have access to full information pertaining to patient's sleep including quantity of sleeping hours, stress level, heart rate and environment conditions during sleep.
The list of application of IoT in healthcare would be incomplete without mentioning IoT-based medical devices for providing care in diabetes and asthma therapy that show the trend for growing demand.
In particular, IoT devices that have already become irreplaceable for patients with diabetes and asthma conditions include:
Insulin pens (designed to store and keep all the records about insulin injection).
Insulin delivery devices (connected insulin pumps are great assistants in facilitating diabetes-therapy procedures)
Connected inhalers (app-activated digital inhalers got wide approval among patients and medical professionals).
Need tech consultation? We'd love to discuss your idea
Barriers and Challenges of IoT in Healthcare
The key challenges for IoT-based solutions pertain to:
Addressing data protection concerns
Ensuring transaction privacy.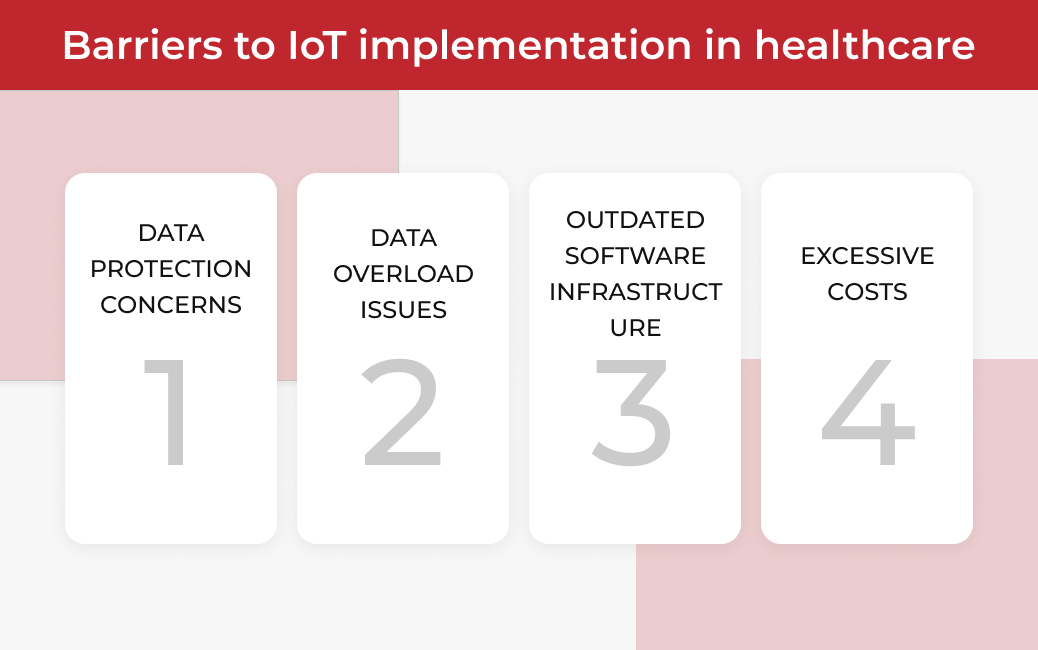 IoT architecture implies reliance on centralized cloud store, which means that providers must recognize maintaining highly sensitive health-related data as the highest priority. Furthemore, each block of IoT architecture requires communication in peer-to-peer mode, which increases probability of putting under potential threat of disruption the entire network.
Other objective barriers that create hurdles in wide implementing IoT in healthcare involve massive inputs of generated data, outdated existing software infrastructure, complexities of integrating multiple devices and protocols, data overload issues and excessive costs associated with implementation.
For example, in remote patient monitoring apps, IoT solutions are associated with significant costs if not introduced wisely from the technological aspect. In particular, almost half of the costs for implementing IoT technology might go down to covering expenses on network communications.
However, by applying custom healthcare development solutions providers take an adequate step in preventing privacy breach and regarding the specific requirements to cater to customers' needs in building IoT-based solutions at best.
Impact of IoT on Healthcare in future
The universal application of smartphones and wireless connectivity in combination with sensor technology costs reduction are two major facts supporting the considerable expected growth of IoT in the healthcare market.
With evolvement of new Internet of Things solutions revolutionizing healthcare, IoT medical market sector steadily overcomes the possible challenges of technology implementation and continuously upgrades the digital healthcare environment by bringing the benefits of futuristic innovations to doctors and patients.
Read also: