Being the artificial intelligence technique allowing to construct algorithm based on data processing and learning, machine learning has been widely applied in most industries ranging from entertainment, retail, transportation to pharmaceutical, medicine, and healthcare. For this reason, it is not surprising that there are so many healthcare use cases for machine learning. Yearly, machine learning medicine demonstrates steady growth in AI in healthcare market and is even set to keep increasing its market share in the following years due to its ability to collect and handle any amount of data, which is crucial for the healthcare industry.
According to market research, artificial intelligence in the healthcare market is projected to grow at 44,9% CAGR during 2020-2026. From $4,9 billion in 2020, the market is expected to reach $45,2 billion by 2026.
Technology has always been a huge part of healthcare but advanced machine learning brought healthcare and medicine to a different level and brought benefits not only to members of the community but also to the system in general by improving patient care, billing, medical records, medical training, and staffing models while reducing administrative and supply costs.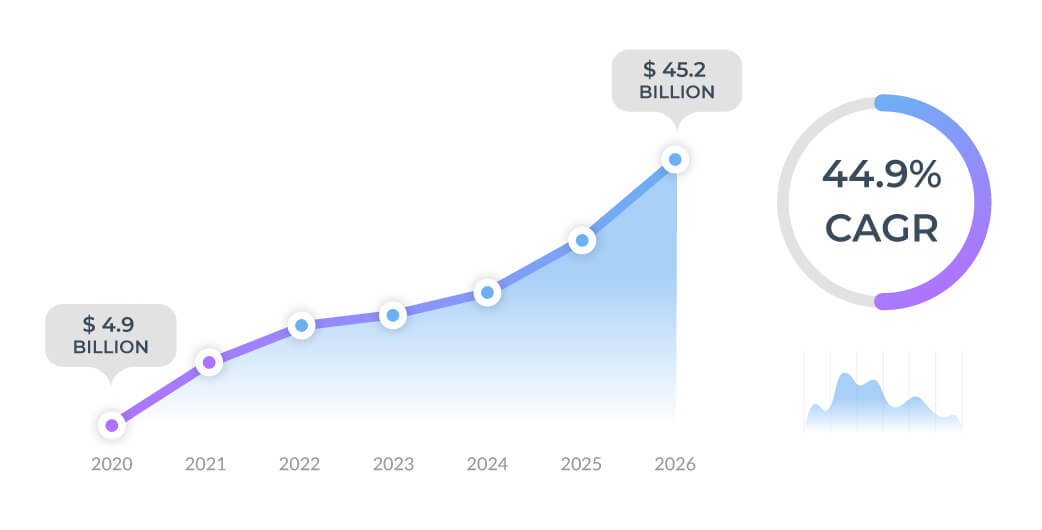 Applications of Machine Learning in Healthcare
As the years go by, machine learning in healthcare has continuously increased and progressed with the growing number of applications being used. Data, analysis, and innovation just keep on developing to facilitate a better healthcare system. Here are the different machine learning use cases in healthcare today:
1. Disease Identification and Diagnosis
One of the most common examples of machine learning in healthcare. Identification and diagnosis of different diseases and complex ailments such as cancers and genetic diseases are considered hard-to-diagnose resulting in patients finding out that their diseases have progressed. With machine learning, the process of identifying the disease and being able to diagnose appropriately at earlier stages becomes possible. Integrating cognitive computing with genome-based tumor sequencing, IBM Watson Genomics found that it can help in making a fast diagnosis.
Other healthcare systems are also developing artificial intelligence to develop faster diagnoses while providing immediate treatment to diseases; working by gathering patients' data, monitoring their health, and offering steps to further improve health and prevent the progression of diseases. With machine learning in the healthcare system, diseases that are progressive and damaging to health can be prevented and treated promptly.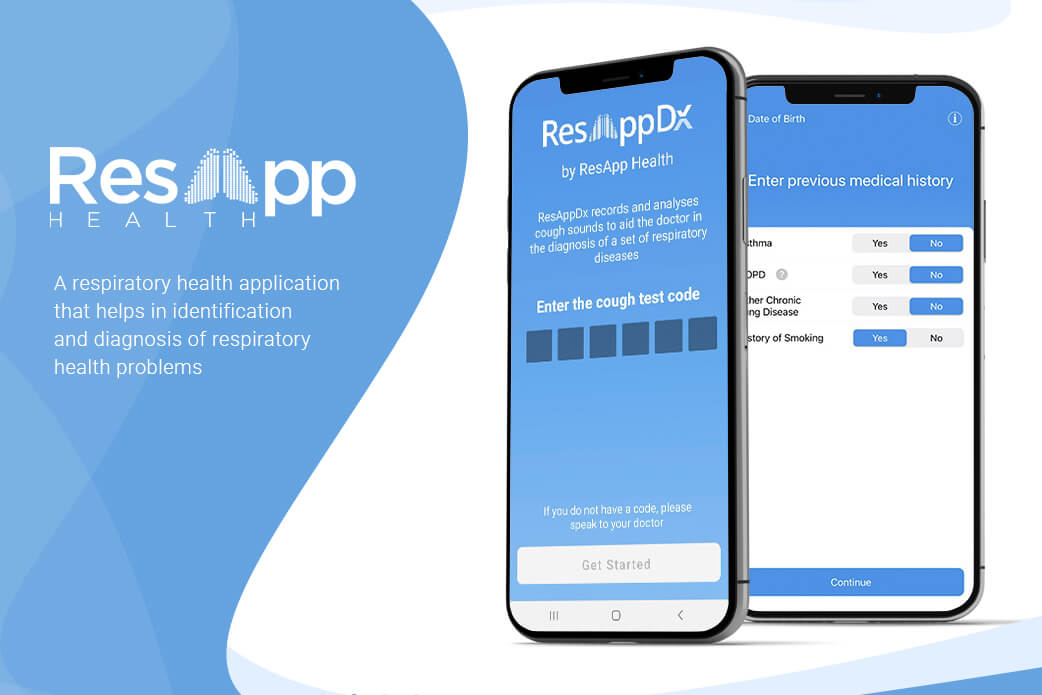 ResApp Health is also known as a respiratory health application that helps in the identification and diagnosis of respiratory health problems. This smartphone application provides a simple diagnostic test wherein users can cough into their phones while using the app and its machine learning-based algorithm will be able to diagnose whether it is an infection or a budding respiratory problem. With this, people can easily manage their respiratory health preventing the development of the disease.
2. Drug Discovery and Manufacturing
The incorporation of machine learning into drug discovery and manufacturing has made it easier at the early stages of drug screening compounds and estimation of the drug's success rate based on biological factors. Pharmaceutical companies have started using machine learning for the development of precision medicine allowing doctors to identify mechanisms for multifactorial diseases.
Finding alternative therapy for different diseases is much easier with R&D technologies using next-generation sequencing and precision medicine. Aside from that, machine learning techniques such as unsupervised learning can identify patterns in data gathered without predictions being provided.
Eco devices are now able to identify drug-data combinations with just ECG and heart sound recordings alongside their clinical data. This particular innovation by machine learning can help in the reduction of heart failure and complications of heart diseases.
3. Medical Imaging Diagnosis
Deep learning in healthcare has provided a better way to see microscopic deformities via scanned images in patients. With this, doctors can suggest proper treatment and appropriate diagnosis. This can also provide aid to radiologists in identifying health issues at the early stages, making it one of the most useful machine learning use cases.
Machine learning algorithms have helped identify cancerous tumors in mammograms, predict the relapse rate of leukemia by 90%, as well as skin cancers.
A fine example of medical imaging diagnosis can be found in the Imago Systems.
Imago revolutionizes imaging analytics allowing medical practitioners and artificial intelligence engines to see beyond poorly developed images by developing a more structured image that can reveal abnormalities that hints at diseases such as cancer.
Want to know more? Read our article
4. Personalized Treatment and Behavioral Modification
Another excellent example of machine learning applications in healthcare. Since 2012, Electronic Health Records in healthcare raised from 40% to 67% giving access to individual patient health records and data. With this on hand, healthcare providers can easily assess health issues and detect potential diseases based on their medical history of symptoms and genetic information. Aside from that, behavioral modification provided a better way for physicians to understand the kind of behavior and lifestyle changes a patient must go through for a healthier body and mind.
Using personalized treatment, doctors get information enabling them to offer individualized treatment options based on research analysis and clinical trials.
According to results researchers obtained, automated methods using wearable sensors and machine learning models have helped optimize data and improve symptom detection for Parkinson's disease. Thus, wearable sensors are being developed to provide guidance and monitoring for people who are suffering from the ailment. With just a sensor patch attached at the back of a patient's hand, motor tasks are monitored. This means tremor detection can easily be checked, and treatment may improve with such innovation.
5. Smart Health Records
Machine learning has proved to help ease the processes and save time, effort, and money when it comes to gathering data quickly for a more accurate diagnosis and clinical treatment suggestions. With document classification methods known as the process of sorting queries via email, optical character recognition or OCR data, as well as other health records, are easily communicated in the medical setting without lengthy data gathering.
In Westchester Center Health Network, a problem with smart health records rose with the not-so-accurate system hence the introduction of Health Catalyst. Health Catalyst was used to help users and medical practitioners predict readmission risks accurately. This did not only save time, money, and effort but also reduced the risks of illnesses to progress and become fatal.
Find out why companies should
6. Clinical Trial and Lab Testing
Clinical trials, research, and even lab testing can take so many years to finish. That's why machine learning is used in the process, it could help save time, money, and effort, not to mention many lives and improvement of disease treatments.
Through machine learning technologies, potential clinical trial candidates and their medical history can be easily accessed and monitored reducing data-based errors and other factors that hinder successful research. It can also be used as a remote and real-time monitoring data access to increase safety and reduce emergencies causing harm or death to participants.
Quest Lab Stewardship powered by hc1 has developed an innovative service employing machine learning to laboratory testing across healthcare systems to optimize laboratory test utilization. Aside from an efficient way of data gathering, it also provides a framework for lab directors and hospital personnel to discuss with medical staff and identify areas of concern once lab testing is done.
7. Prediction of Disease
Using the machine learning technique called artificial neural networks can help collect the data around the world and use this information to monitor and predict disease outbreaks. With this information on hand, minor diseases and chronic infections can easily be addressed and immediately treated.
A few examples of disease prediction by machine learning applications are the following:
Medial EarlySign is developed to provide early detection of high burden diseases predicting cardiac patients' future risk trajectories after hospitalization. Aside from that, it can also identify high-risk conditions such as a lower GI disorder, prediabetic progression, complications, and chronic kidney disease.
Realistic Look at Machine Learning and its Future in Healthcare
Artificial intelligence and machine learning have given the public a sparkly look and something we can rely on especially in the healthcare industry. However, as much as we admire technology and look at it as the answer to the next generations' improved health, it will not work without proper usage and guided research from experts. In the near future, we should expect the emergence of new healthcare use cases for machine learning, which will optimize more obsolete solutions.
HAVE QUESTIONS ABOUT MACHINE LEARNING IN HEALTHCARE?
Though Machine Learning can efficiently provide data gathering, it cannot formulate a cure or treatment for patients. It is a general tool for the overall benefit of healthcare that proves to be very effective but it should not be looked at as a replacement for doctors and healthcare professionals. The vast majority of machine learning in healthcare projects should still be supervised by medical professionals.
Is machine learning still in demand?
Of course. Such high technologies as machine learning are only gaining their turnover and are technologies of the future in their essence. Machine learning allows you to teach computer programs to recognize patterns and quickly process a huge amount of data.
How can machine learning be used in healthcare?
Machine learning in healthcare can be used in such destinations:
1) Disease Identification and Diagnosis
2) Drug Discovery and Manufacturing
3) Medical Imaging Diagnosis
4) Personalized Treatment and Behavioral Modification
5) Smart Health Records
6) Clinical Trial and Lab Testing
7) Prediction of Disease
What are the types of machine learning?
There are three types of machine learning: Supervised Learning, Unsupervised Learning, and Reinforcement Learning.