An accurate analysis of the medical image is an essential phase in defining the diagnosis and mapping the treatment plan. Hence, it comes naturally that medical imaging became the area of the most dynamic growth in healthcare.
In particular, over recent times, the medical image analysis made considerable progress and evolved to include multiple tools demonstrating wide capabilities in processing biomedical data and support of advancement in sharing data and establishing productive collaboration among respective medical professionals.
Global medical image analysis software: Market size facts
Globally, the market size for medical image analysis software was estimated at USD 2.41 billion in 2019 and is expected to reach USD 2.60 billion in 2020. Overall, a compound annual growth rate of the medical image processing market is forecast to reach 8.1% in 2027.
Introduction to medical imaging software
The development of new technologies that ensure precision in processing large amounts of complex data stand behind breakthroughs in accessible computation. The algorithm development made image analysis an indispensable tool for clinical studies and medical practice.
Today, image processing in medicine implies much more than just an option for viewing the images. With the capabilities of medical image processing software, medical professionals can not only perform various activities pertaining to patient images but incorporate them in administrative workflow for increased efficiency. In particular, healthcare providers can
track images and share related information on-the-go
archive images
manipulate images
manage images within unbroken medical admin routine.
Implementation of medical image analysis software greatly benefits both medical professionals and patients as end-users.
Furthermore, at present applying medical image processing is a common practice in:
Hospitals
Diagnostic Centers
Ambulatory Surgical Centers
Academic and Research Centers.
Market potential
Medical imaging supplies diagnostic information on such medical conditions as cancer, neurological, gynecological disorders, and cardiovascular diseases. Including such medical imaging procedures as CT, MRI, ultrasound, PET, and SPECT prior to making a treatment plan can reduce the need for surgery, hospital admissions, or prolonged hospital stay.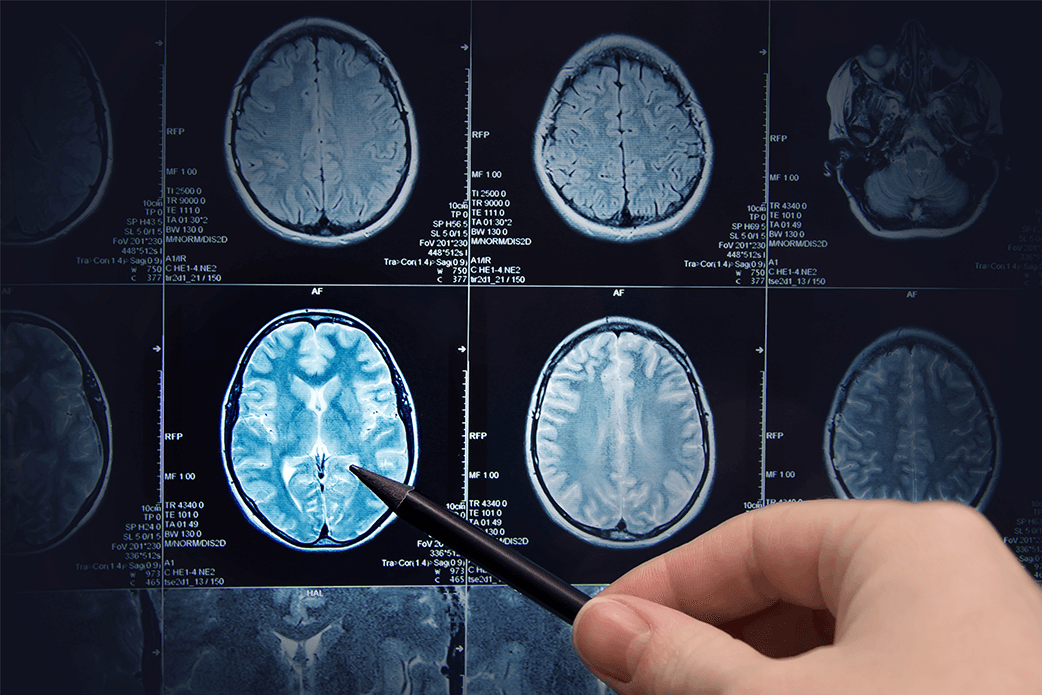 The market analysis shows that its growth is driven by applications of computer-aided diagnosis. While its major restraint lies within budgetary limitations but the opportunity presented by cloud-based image analysis software outweighs the challenges.
Speaking of challenges, it should be stated that hacking-related risks associated with the use of imaging equipment and software are among major concerns of healthcare service providers.
However, the increasing demand for medical imaging is likely to boost the medical imaging analysis software market, especially regarding the fact that among key players in the market, there are giant leading brands taking an innovative approach to the medical image processing:
GE Healthcare
Agfa-Gevaert N.V.
AQUILAB
MIM Software Inc.
Siemens Healthineers
Merge Healthcare, Inc. (IBM)
Koninklijke Philips N.V.
Medical image analysis: Areas of applications
Medical image analysis is applied across all the medical departments:
Orthopedic
Dental
Neurology
Cardiology
Oncology
Obstetrics and Gynecology
Mammography
Urology and Nephrology.
For example, image analysis enables the data acquired using diffusion tensor imaging (DTI) and functional magnetic resonance (fMRI) to reveal subject-specific structure and function of the brain.
In dental practice, there is a variety of programming environments for 3D dental imaging as well as panoramic and extraoral viewing that can be instantly processed and shared.
Furthermore, 54% of healthcare providers state that they invest into building imaging strategies to leverage an image archive to enable their clinicians' access all kinds of diagnostic images using a unified interface. There is also access to dermatology, endoscopy, bronchoscopy, ophthalmology, and pathology images. Among those that are most often referred to are images related to radiology, which explains the reason for adopting imaging decision support for radiology orders by 43% of healthcare providers.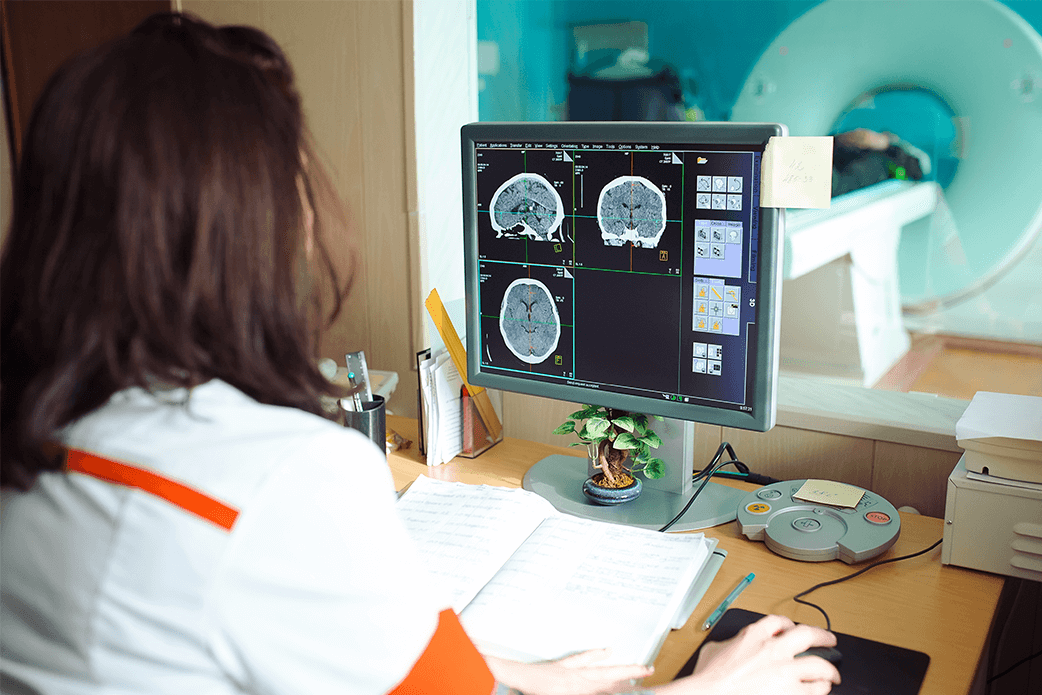 With the growth of size of the accumulated data in imaging, new data processing solutions are being acquired to multi-datatype archiving, explore and mine these data. As imaging advances further due to acquiring data on process of aging and researching genetics, a new technology must be applied to manage this information and marshal these resources into comprehensive results.
Thus, new medical image analysis software actively evolve:
Tomography
Computed Tomography
MRI (Magnetic Resonance Imaging)
Positron Emission Tomography
Single-Photon Emission Tomography
Ultrasound Imaging
Radiographic Imaging
Additionally, there is medical image analysis software of combined modalities.
For example, automated ultrasound image software using a generic deep learning analysis can help successfully addresses the issues of breast cancer classification. While diagnosis with ultrasound may be a time-consuming task in human reading, with applying dedicated algorithm in image analysis within the screening examination, the diagnostic accuracy increases.
INTERESTED IN BUILDING MEDICAL IMAGING SOFTWARE?
Medical Imaging Software: Definition
Medical Image Analysis Software
As mentioned above, in the medical image analysis, the medical conditions and health issues are analysed by various imaging modalities making medical image analysis software a core component of diagnostic machines that enhance and identify certain features of an image.
This software is used for viewing, training, storing, and sharing medical data and amplifies efficiency of the chosen medical treatment.
Medical image analysis software includes the following imaging types:
2D Imaging
3D Imaging
4D Imaging
At present, a shift from less complex 2D slices to 3D models is being observed. In particular, 3D medical imaging software is designed to analyze a clinical case in a few simple steps and introduced in the diagnostic medical imaging and 3D simulation software that can interact with the patients' 3D model created by importing CT/CBCT/MR in DICOM format.
4D presents a next step in imaging and provides advanced options of time-resolved volumetric CT, MRI, PET, PET/CT, SPECT imaging required by medical professionals, in particular, in radiation therapy.
Speaking of technological specs, we should mention the following types of Imaging by data formats:
Digital imaging and communication in medicine revolutionized healthcare industry in regards to reducing operating costs, saving time on administrative workflows while improving the outcomes and deliverables. DICOM brings the on-demand software to multiple devices enabling access in a single login environment without installing any additional software. To consider the specific clinic needs, the functionality can be tailored so that sharing options became available. The great advantage of the format is removing the need for USB/CDs, VPNs and paper filmless images. Acquiring, storing, retrieving and sharing medical images can only be done in the DICOM format.
Other data specification languages applied in medical image analysis include:
MINC
NIfTI
ECAT7, etc. (TIFF, Interfile, JPEG, PNG, BMP, GM, MRC, RAW).
The medical image analysis can be performed manually and automatically via artificial neural networks. Medical image analysis software also applies deep learning algorithms to evaluate images more effectively and bring higher automation into analysis.
The intraoperative imaging for surgical applications implying operation planning and preoperative simulation can be expected to create trends in medical imaging and, thus, development of new software in the field.
Find out everything about CodeIT's expertise in
Medical Image Processing Software
Medical image processing software intensifies and enhances the operation of the analysis of the medical image. Image processing operates on images (photographs and frames of video) as inputs. Image processing techniques are based on undertaking images as 2D signals and applying standard signal processing techniques to get the output.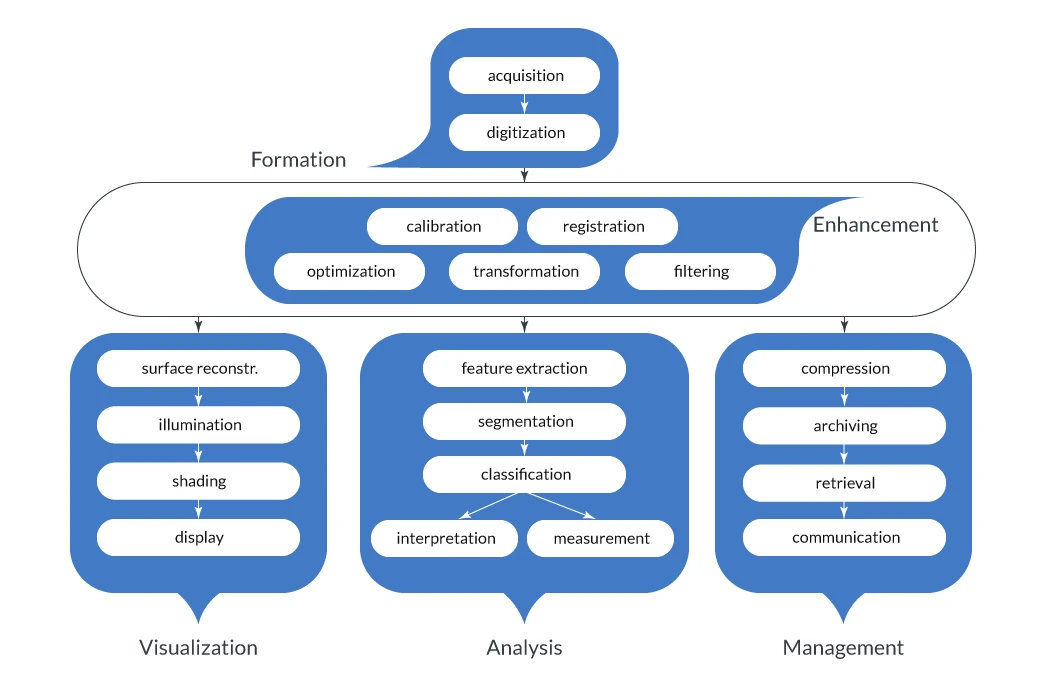 Scheme of image processing
Medical Image Processing Software include:
Image Segmentation
Image Registration
Image Visualization
Medical Image Segmentation ensures automatic or semi-automatic detection of boundaries within a 2D or 3D image. Due to high variability in medical images, image processing can be a challengeable task, and the segmentation is the effective solution to address the issue of obtaining accuracy in feature extraction alongside data classification, interpretation and measurement for deeper diagnostic insights.
Medical Image Registration software finds increased clinical use as an assisting diagnosis tool and an application in guided therapy. There are multiple algorithms for image registration but at the core of the method there is maximizing a degree of similarity between a transformed floating image and a fixed reference image. Hence, the registration of multimodal images ensures their alignment.
Applying Medical Image Visualization software helps overcome the limitations of conventional diagnosis. The software-based image visualization ensures the ease of image processing and enables healthcare providers to determine the quantitative characteristics of image properties and projective data.
Overall, the image processing software assists in a wide range of domains starting from identifying abnormalities to providing means of surgical planning and evaluation.
Among medical image processing tools, there are the following illustrative examples:
ImageJ
This open platform for biomedical image analysis provides a wide array of image processing operations easily applied to 2D and 3D images. It encopasses basic image processing (filtering, edge detection, resampling) and higher-level image analysis algorithms. ImageJ-based applications can open common 2D image files and DICOM format medical imaging data.
ITK-SNAP1
ITK-SNAP is a tool for navigation and segmentation of 3D medical imaging data that utilizes the active contour automatic segmentation algorithms and offers 3D image navigation in a dynamic interface while opening multiple 3D image file formats including DICOM, NIfTI and Analyze.
Medical Image Management Software
The medical image management software operates on imaging centers as the means of simplification of imaging infrastructure on a consolidated platform. The unification of this kind lets save infrastructure costs and improve image flow alongside achievement of maximized interoperability by offering multiple image viewing options. It allows consumers and providers to access their medical images files across any device.
Ultimately, it offers effective solutions for managing patient images from any modality or workstation using special robot systems in compliance with existing regulations, enabling any recipient to easily read or process the contained information.
Computer Vision for Medical Imaging
Nowadays, the complexity of healthcare service dictates the necessity to rely on precise diagnostics. For ensuring the reliable results, it can be provided by applying computer vision (CV) in medical imaging that brings:
Improvement of diagnosis quality with algorithms providing absolute accuracy.
Detection of health conditions at early stages.
Cost efficiency with reducing the chance of misdiagnosing.
Computer vision and machine learning models are designed to execute actions that only humans were once thought to be capable of performing. CV through machine learning can perform image classification, segmentation, object detection, 3D rendering, and more.
Overall, CV tends to exclude human errors and increase the positive outcomes in healthcare.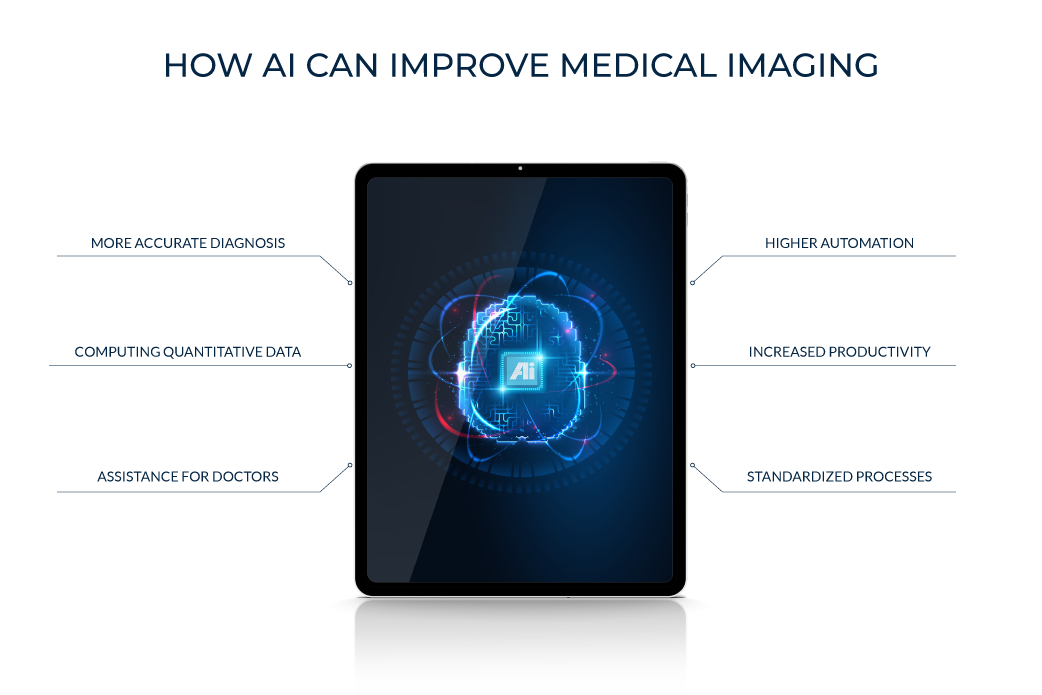 The vast landscape of computer vision applications in the healthcare industry embodies the areas related to images in:
Microscopic thin blood
Ophthalmology
Diabetes
Cancer Screening
AML/ALL – Leukemia.
In particular, automated medical image analysis of retinal fundus datasets will enable medical professionals to assess risks of complications for patients with diabetes.
And CV-based cancer prediction tools can make predictions of the development of breast cancer within 5-year span.
Looking for a tech partner? We can assist in developing your product.
To conclude
The increase of positive outcomes is linked to an accurate diagnosis that is ensured by applying medical image processing software: it can considerably improve the life quality of patients with severe conditions and assist medical service providers in delivering the enhanced experience to healthcare customers.
Creating a well-designed software infrastructure in medical image analysis is driven by scientific and engineering innovation alongside taking a tailored approach to development, community building and interdisciplinary collaboration.
READ NEXT:
TOP 7 MACHINE LEARNING USE CASES IN HEALTHCARE
ARTIFICIAL INTELLIGENCE IN HEALTHCARE