Health and fitness have always been in the list of everyone's top priorities. However, it wasn't as easy to stay fit and on-trend back in the day due to difficulties associated with finding fitness coaches you would be absolutely happy with.
Fortunately, since the digital era surfaced, fitness industry has also gone through the digital transformation. Nowadays, there are different applications available under the category of fitness, and they are easily accessible for everyone.
More and more people discover these applications and since then, apps for health and fitness have made a mark with different approaches ranging from cultivating healthier diets, different weight loss exercises with just one tap on their smartphones.
Exploring the Fitness Apps Market
In January 2019 the Polaris Market Research published a study and presented forecast stating that the fitness app market size is to reach $14.7 billion by 2026 and has an anticipated growth of 23% CAGR through the forecast period. On a Statista report, the revenue in the Fitness segment amounts to $17,963 million just this year of 2020 and has continued to keep growing rapidly. Hence, the revenue expected to show an annual growth rate from 2019-2023 CAGR of 5.0% resulting in a market volume of $20,499 million by 2023. This means, fitness application market continues to grow and is expected to expand with different developments in health and fitness features.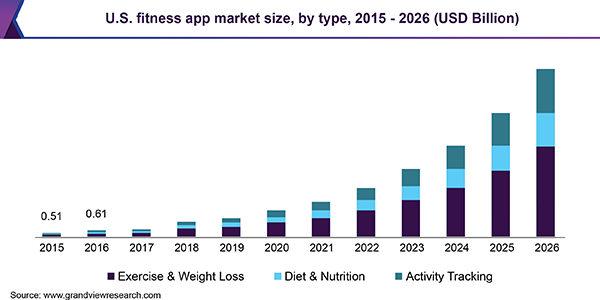 Choose the Fitness App Type You Need
Before deciding on features to be included in the fitness application development, it is best to define the different types of applications available in the market that target unique health and fitness needs such as Diet and Nutrition Apps, Activity Tracking Apps, and Workout Apps.
| Type | Description | Examples |
| --- | --- | --- |
| Diet and Nutrition Apps | This type of app works like a tracking device for a specific function such as eating habits. Users are able to log the food they eat, and the app helps track how much calories are included in the food they have logged. Water intake can also be tracked with this app. A feature that can be useful for this type of app is incorporating a barcode scanner that will help relay the nutritional value information of the food choice. | MyFitnessPal, Waterlogged, Lose It! |
| Activity Tracking Apps | This type can keep track of different activities or exercises a user chooses to do. Some are designed specifically for runners, cyclists and exercise tracking depending on which activity the user chooses to do. The app tracks the distance traveled, number of steps taken or climbed, and calories that were burned during activities. | Strava, Nike Run Club, RunKeeper |
| Workout Apps | This type serves as a personal trainer or a mimic of a gym or an exercise studio. It provides a specific workout routine or exercise for your fitness requirement whether you want to gain muscles or simply lose weight. Users are able to choose which part of the body they wish to work on like Full Body, Upper Body, Core Strength, Lower Back or even customize a specific workout. | Sworkit, Tone It Up, Freeletics |
These fitness applications provide different takes on the health and promote fitness, which serves as a guide for everyone.
Define Fitness App Key Features
Each fitness app has a different function and offers unique features for its users. However, here are basic key features required for a fitness app to make it more user-friendly and accommodating.
Sign Up and Log In – This feature allows users to have the option of creating their personal account or log in through their social media networks such as Facebook, Twitter, Instagram or email.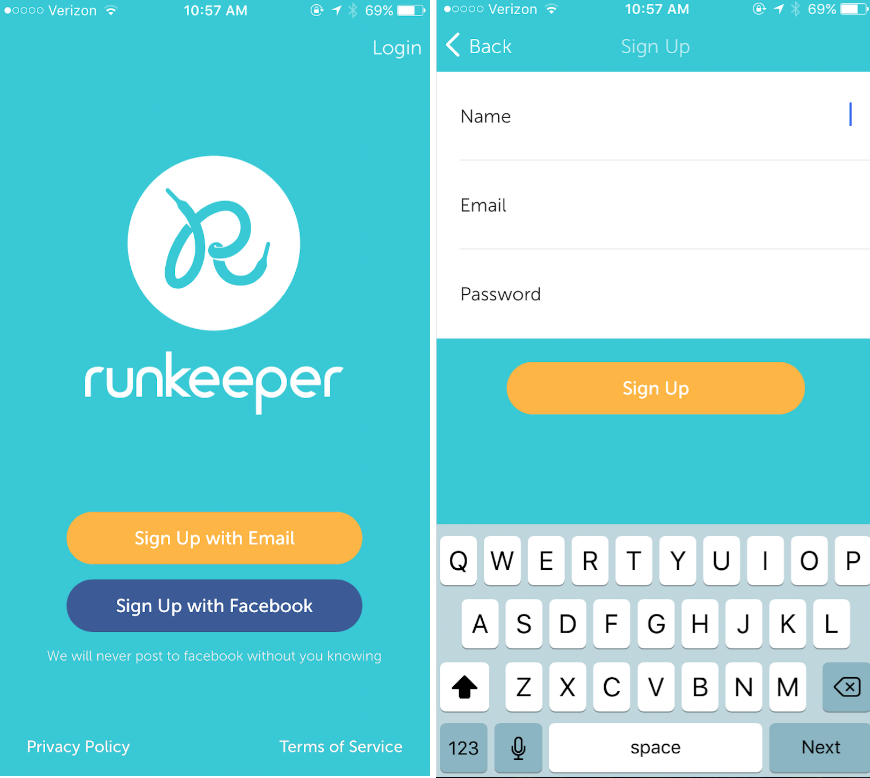 Image Source: Runkeeper
Personal Account/User Profile – Having a personal account or user profile helps in gathering more and specific information such as fitness goals, age, gender, weight, and height. This feature helps the app as well to provide a more effective and relevant fitness scheme for the best results.
Third-Party Device Connectivity – It is important that your fitness app works compatibly with as many trackers as possible. Wearable producers and mobile platforms provide fitness app developers with this opportunity of a broader chance of collecting and storing useful information such as heart rate, calories burned, type of exercises, and duration and intensity of physical exercise.
User Activity Tracking – This feature helps user get a more accurate result in their fitness needs and requirements. Being able to track different activities can help translate the progress of users' fitness journey.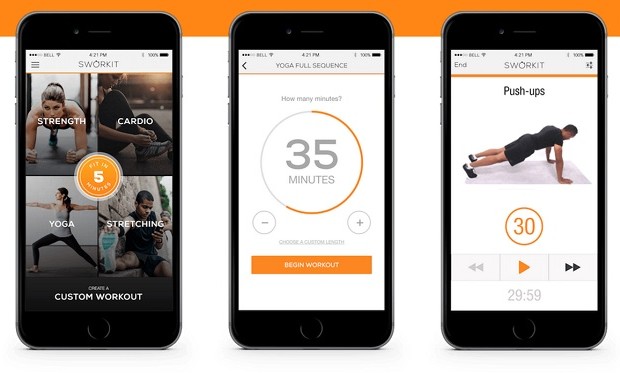 Image Source:Sworkit
Geolocation – This allows users to create different routes for walking, running and cycling. It also helps them see and track the distance when they run or cycle with the map provided by the app. Not only this information is useful for tracking purposes but it also gives a motivational boost.
Notifications and Reminders – It is important for users to have certain reminders and notifications in order to achieve their fitness goals. However, time and frequency of notifications should be adjustable.
Ready to create your fitness app? Contact us to estimate your idea.
Add More Features to Your App
Now that basic features are established, it is also important to have more distinguished features that set you apart from other fitness apps. These features then will help attract and retain your app users.
Goal Setting – One of integral parts of a fitness app is goal setting. Being able to allow users to set objectives and goals is motivational as this also translates into goal tracker to assist the person in achieving the fitness goals without fail.
Educational Content or Video Tutorials – Providing educational content in the app such as tips on how to stay fit and healthy, techniques for a better mindset in exercising and even exercise tutorial videos allow the users to stay engaged.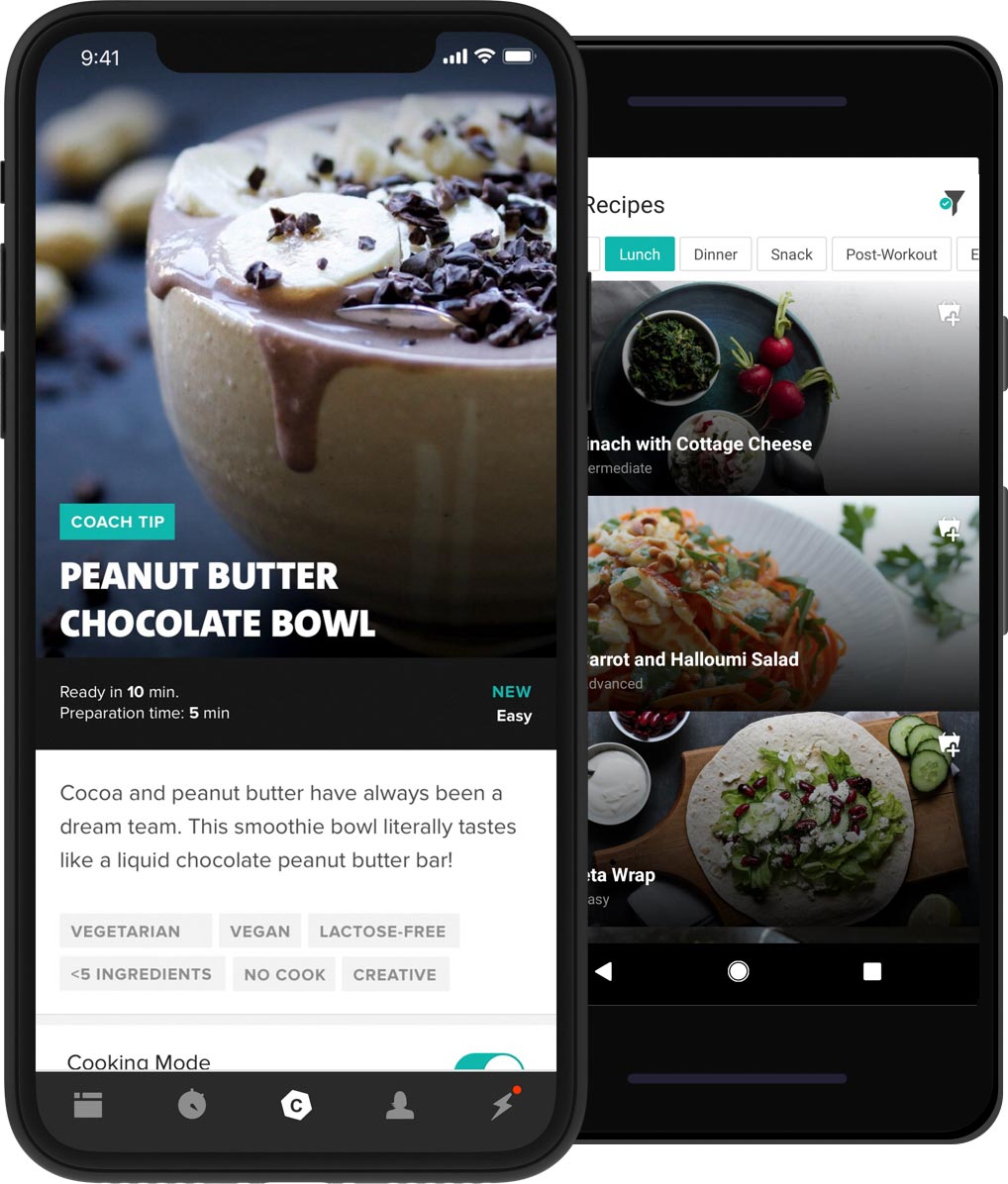 Image Source:Freeletics
Gamification – This feature creates more motivation for users and preventing them from stopping the usage of your app. Giving rewards, badges and elements of competitions give the users a strong mindset to reach their goal and stay motivated.
Social Media Integration – Adding social media features to the app gives your app free advertising as users are able to share their results on their social media pages. It is also important to make sure your app has social media pages so people can easily see what the app is all about while generating engagement.
All these features, both the basic and unique features must be taken into consideration in order to provide the best health results for app users. The above-listed features are essential to maintain your fitness app's relevance in the long run.
Pick the Monetization Model
Of course, it is also important to make sure that the fitness application you are developing will give you fruitful rewards. There are different ways of monetizing your app. In order to get profit or income from the fitness app, you can include:
1. Paid Apps – In order for users to get the benefits from your fitness app; they must first buy it. A technique you can apply is to offer a free trial and when they did realize the value of your app, there's a huge chance they pay it or have a subscription to keep using the app.
2. In-app Purchases – If you want to launch a free fitness app for users, you can still generate income by encouraging users to purchase something in your application such as an advanced feature setting or premium content that they can only access when they purchase the certain feature.
3. Advertisements – Other fitness businesses may find it interesting and beneficial to partner with you and run advertising campaigns in your app, which you can charge on a cost-per-mile commission.
4. Free Apps – Offer the app free for basic fitness features and give users the option to pay for premium content. In the long run, users will be encouraged to buy premium features that they might need for a more successful fitness result.
Supervise the Development Process
Hire the Team of Professionals
Crucial to the development process are the people you would need as a team in order to have a successful fitness app development. Apparent, your best choice is the team with experience in developing applications with recommendations and positive feedback from previous customers. This will help create the app of great performance and solve issues within the development process.
How to Develop?
Once you have decided which type of fitness app you are developing, it is time to start with the development process.
· The Inception Phase is where you will define the scope of work, you're collaborating with your team on the creation of project roadmap and planning sufficient resources with set budgets.
· Technical Documentation and Design. The business analysts and designers are preparing the technical specification of the product, based on the requirements needed for the application including use cases, platforms, user stories, wireframes, basic design and a prototype of your fitness app.
· Application Development. Launching a fitness app for both Android and iOS users require mobile app developers specializing in these operating systems
· Quality Assurance takes place in the form of testing and bug fixing. Testing is performed on various devices. You will be able to see how your app works and if the features function as to how they are expected to do so.
Keep in mind that business and development should work hand in hand for the process to run smoothly from the definition of requirements, road mapping, development of UI/UX, front end and back end, quality testing to the deployment of your application and support.
In Conclusion
Don't forget these things for your fitness app development:
Provide the best fitness app features to keep attracting users and retaining them.
Workout apps must be flexible in terms of exercise variation, tips, and techniques.
Incorporate wearable fitness devices and collaborate with their producers for better fitness results, not to mention the cost efficiency of this technique.
Just like any other application development, fitness apps can be quite challenging. However, by making sure the fitness app of your choice contains the best features that will be of value for users for the long term, it deems successful and worth it.
To accomplish that, make sure you can offer customizable workout plans that are tailored to people's needs. With the genuine intention of assisting users in achieving their fitness goals through different features, it is more likely that your fitness app will stand out and succeed.
Also Read:
6 Key Healthcare Technology Trends 2020