With the massive closing of brick and mortar stores, the demand for strong online presence of retailers is skyrocketing. Let alone the imposed quarantine, this trend is steadily on the rise mainly due to the opportunities for enhanced shopping experience that online consumers are willing to explore.
Overall, online shopping statistics and global online shopping market size allow us to predict the number of the US digital buyers to reach almost 300 million by 2024.
Furthermore, with the range of most popular online shopping categories widening rapidly from fashion, books, media and music to electronics and various tech products, consumers expect that e-commerce businesses deliver equally excellent service not only on web but on mobile.
Shopping apps converting three times more than responsive websites reflect the digital buyers' choices in favor of getting shopping experience on-the-go and satisfying the demand for 'carrying less while doing more'.
With the rising number of buyers preferring mobile apps for the entire purchase process, making mobile commerce a top priority is an unquestionable wise move for selling businesses worldwide regardless of their niche.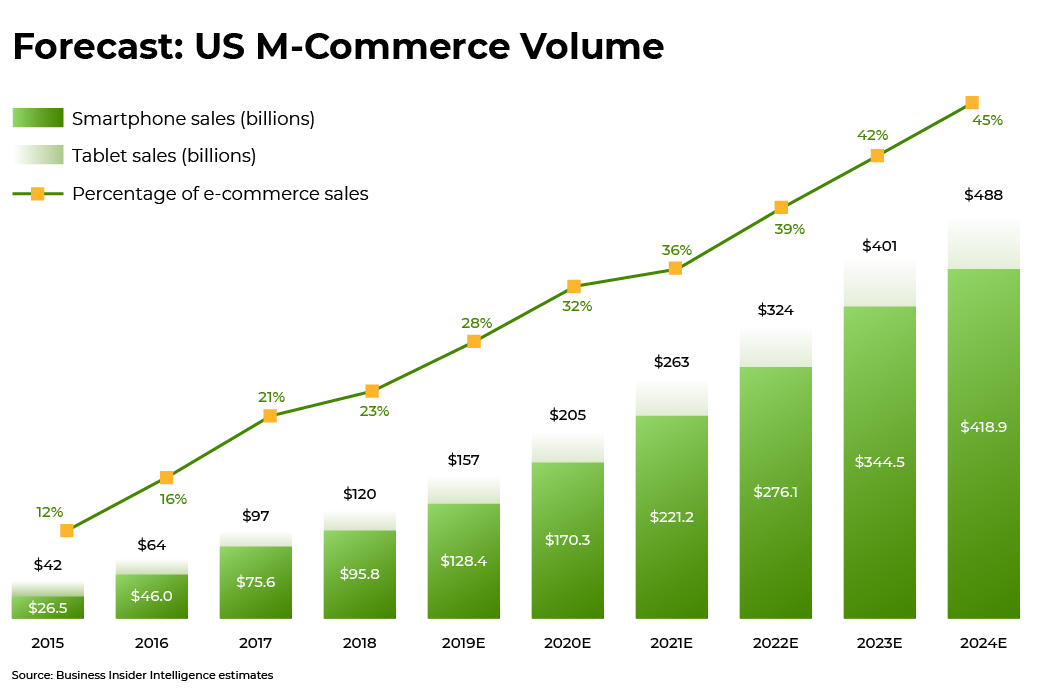 M-commerce market: Facts and Numbers
The impact of global usage of the smartphones as the primary source of communication and information projects into the constantly increasing number of online shoppers. According to studies, 79% of Americans made their purchases online using mobiles in the last 6 months.
It implies that statistically, potential customers are highly likely to visit the website from their cell phone rather than a desktop.
Mobile commerce as the major branch of e-commerce matters so much that analysts predict 54% of total e-commerce sales to be completed exclusively on mobiles by 2021.
Ignited by massive success of such giants as Amazon, Walmart, eBay, Groupon, Etsy.com, Wish that are ranked as the most popular apps by reach, vendors globally are driven by the necessity to meet consumers' expectations to have the smooth shopping experience from their mobile devices.
Top U.S. shopping apps by reach 2019 | Statista
Among other reasons in favor of creating your own online shopping app, there is affordability of app development as a service that small businesses can easily incorporate in their budgets regarding the guaranteed benefits for their sales numbers.
Benefits of mobile shopping app for your business
There are three major benefits that enterprises across any industry get with implementing the mobile shopping apps in their business operations.
Major Benefit #1: Increased number of buyers
Businesses obtain the means to embrace target audience globally and increase the revenue multifold.
How it is achieved: Throughout all the stages of the conversion funnel, it is much easier to hold consumer's attention on the application compared to the browser because the mobile shopping app is equipped with the optimal functionality empowering and facilitating attention along customer journey and, with implementation of user-friendly design, reducing attention gap to the minimum.

Major Benefit #2: Increased user returns
Businesses unlock the potential for enhancement of customer experience and building customer lifetime loyalty.
How it is achieved: Mobile shopping apps demonstrate high level of efficiency in terms of building customers loyalty. The availability of mobile application in e-commerce prevents customer switch to competitors by offering personalized approach that translates into better clients' retention and easier 'brand recall'.
Major Benefit #3: Increase of new clients
Businesses engage new clients easily by applying mobile apps as an advanced solution in creating new sales.
How it is achieved: Development of online shopping mobile applications enables vendors to engage new clients and increase sales by developing omnichannel experience and attracting a bigger number of new clients. Mobile shopping apps are the best tool for providing consistent service and creating effective marketing communication.
Check out our case study: a video player solution that takes online shopping to the next level.
What features you must include in your mobile shopping app
Your mobile shopping app is to feature basic and optional characteristics.
While the basic features include must-have functionalities of the app to provide satisfying experience of purchase and amplify consumer loyalty to the service, with the optional features, consumers get enhanced shopping experience that ensures customers' deeper engagement with the brand.
Basic features
User signup/Authorization
Product filtering/Sorting items
Checkout
Payment gateway
Customer support
Shopping cart
Push notifications
Optional features
Wishlist
Tracking location
Reviews made by customers
System of relevant recommends
Sharing on social media
Online in-app chat
Shipping
Now more in detail on each of the features:
With enabling user sign-up/sign-in, you give easy access to your service but since shopping mobile apps imply options for fund transfers, they might require secure user authentication for ensuring customer data privacy.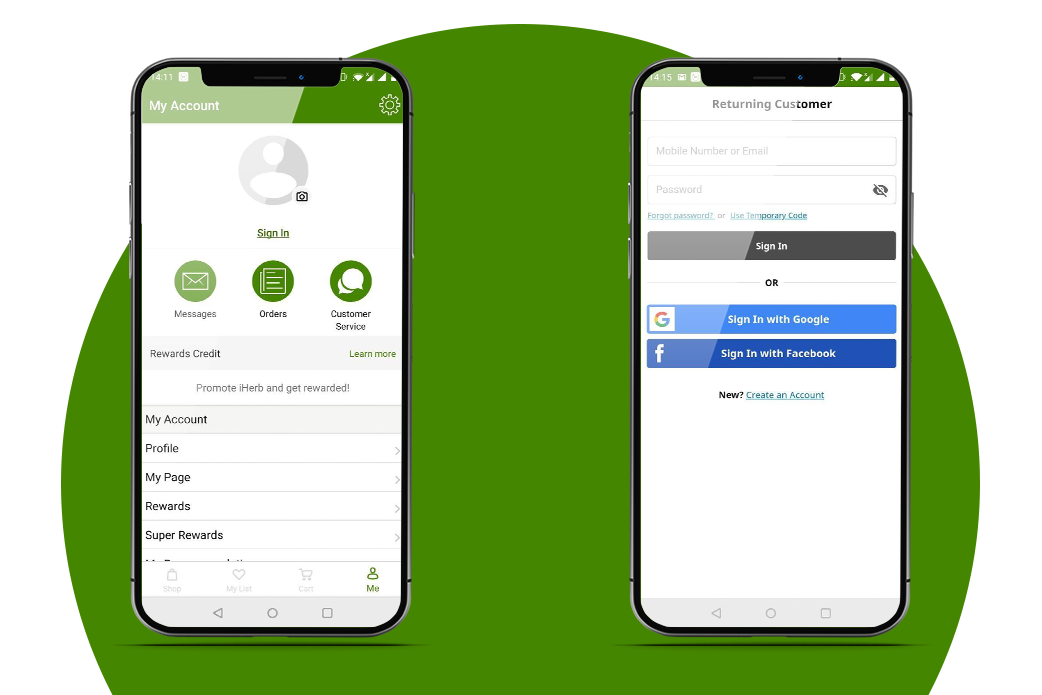 User sign-in feature (iHerb)
Product search and filtering enable users to land on the right item as fast as possible. Hence, it is preferable that the app had multiple filtering categories by price, size, color, tag, vendor, brand, etc., and integration of the filters with the search bar.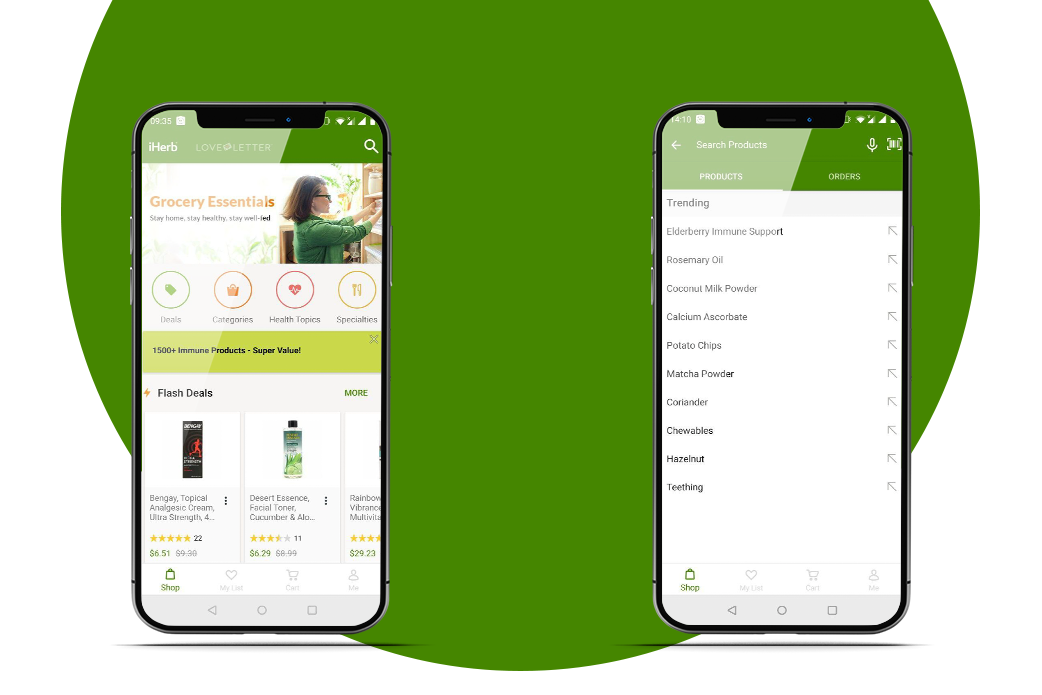 Search screen with trending categories in iHerb app
Since checkout is an important stage along the customer making-decision journey, it is crucial for mobile e-commerce app developers to concentrate on checkout option optimization and adjustment to smaller screens.
Payment gateway can be implemented with choosing out of two options either by directing payment process within the app by asking customers to input their card details or by employing the intermediary platforms like PayPal that accept and encrypt payment information.
Since an inefficient mobile application customer support might cause the app failure, it is advisable to pay special attention to organizing the communication with your customers at best. A mobile application support model that allows instant feedback to all reviews would be an ideal solution.
Due to the fact that 78% of the users access stores via mobiles, shopping cart must ideally fit the screen, provide security of customer sensitive information and have perfect performance to prevent cart abandonment.
Sending push notifications for personalized offers to the customers makes them purchase through the mobile app more willingly. Push notification option is also extremely helpful during promotion and seasonal sales campaigns.
Wishlist feature in mobile shopping app enables customers to store items they like and create personalized lists of items in their user account. It is the valuable information for future reference and the important way of ensuring a deeper shopper's engagement with the brand.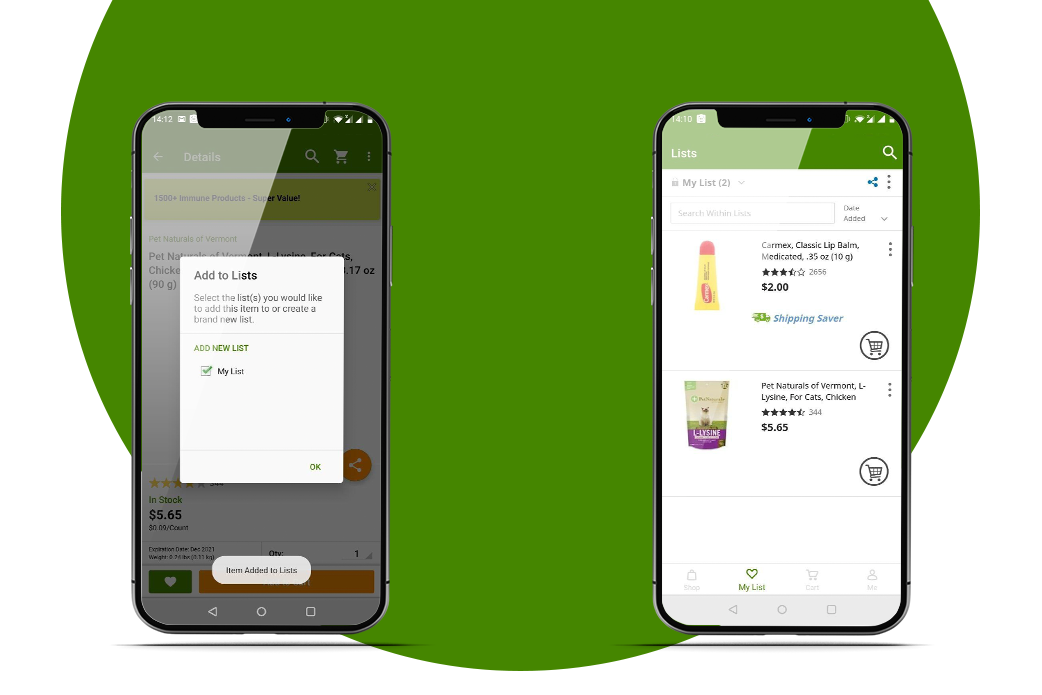 Wishlist (iHerb)
Tracking location helps send location based push notifications on offers in the vicinity and, overall, with this feature, vendors improve conversion rates considerably.
Find out
In mobile shopping apps, providing the system of reviews is an important option that influences the rating of the app in general and creates the additional channel for the service promotion in particular, since majority of consumers heavily rely on other users' similar shopping experience.
System of relevant recommendations: Capability to produce recommendations based on customers' preference is essential for creating the deep engagement of the user with the service. Mobile recommendation option is also based on tracking location and offering relevant shopping attractions.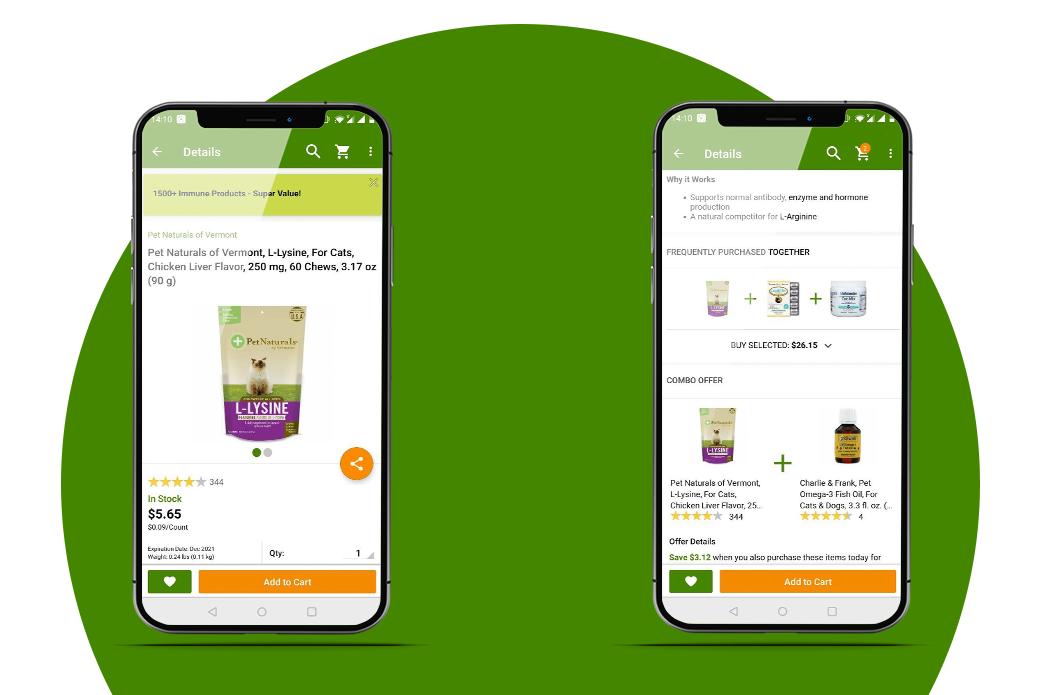 Product details screen and product suggestions (iHerb)
Sharing on social media: Social media platforms are getting more popular not only for social interaction but social shopping as well. It means that adding the sharing on SM option to your mobile shopping app would benefit your marketing and potentially, increase the sales.
Online in-app chat: Since smartphones proved to be the force driving the growth of e-commerce, exploiting the communication options of the mobile comes natural. Implementing online in-app chat implies that shoppers can directly chat with buyers through a messenger.
Shipping: According to Bigcommerce, 93% of consumers consider shipping options to be one of the most important factors during their online shopping experience. Thus, including shipping as the available option in your mobile shopping app can guarantee to increase operational efficiency of the app.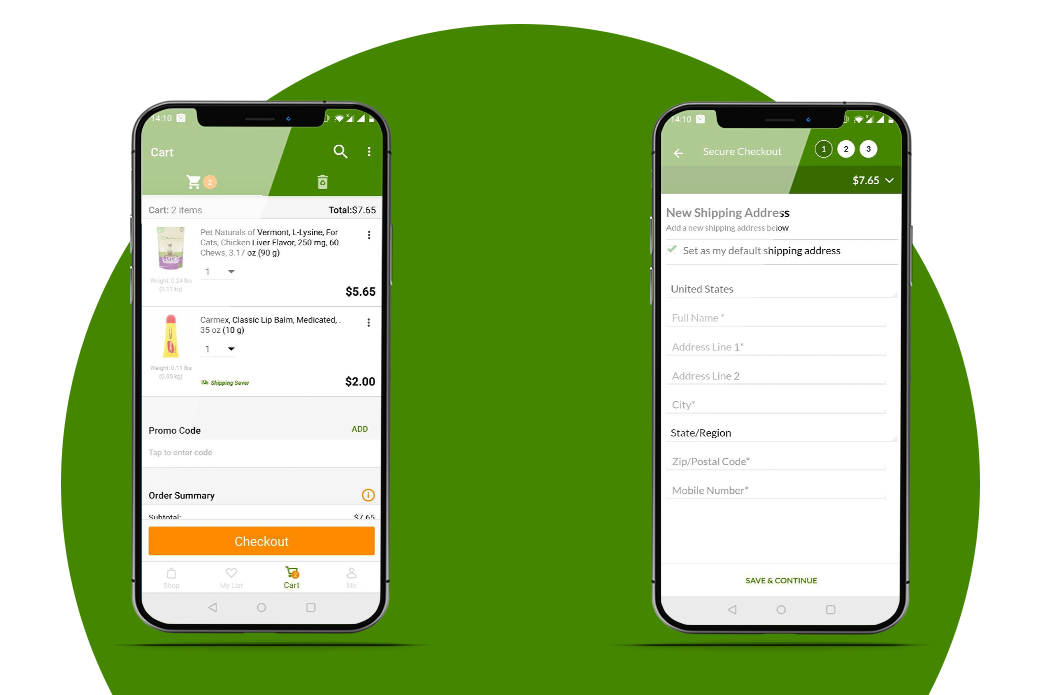 Shopping cart and shipping option (iHerb)
WANT TO DISCUSS YOUR FEATURE SET? DROP US A LINE
Besides, shopping apps actively deploy advanced technological solutions:
iBeacon is an ideal tech solution for customer targeting: it detects a shopper's presence on mobile within the tracked location and enables various notifications (for example, of a special offer or recommendations of relevance).
Augmented Reality activates the 'try-on' mode and allows shoppers to preview items or experience services in the 'almost real' environment before buying them (the most innovative solutions are offered by IKEA Place app and Sephora assisting in creation of virtual makeup in its Virtual Artist Studio).
Machine Learning solutions in shopping apps provide optimized search and deliver more specific and prioritized results catering to customer needs for personalized approach.
Create a mobile shopping app: Stages in-depth
Market analysis and requirements elicitation
Business analysis is recognized as the process of eliciting that implies gathering, discovering, capturing and defining the information within the business niche for fail-proof development by creating development backlog and managing the requirements that mobile shopping app development has to meet.
Our team of business analysts and application architects are responsible for conducting this stage of mobile shopping app creation at best.
NEED CONSULTATION? WE'D LOVE TO DISCUSS YOUR APP IDEA
Features list
At this stage, it is crucial that development backlog included only those features that match your mobile shopping app functionality.
Overloading the app with the irrelevant features for the sake of creating the 'rich' feature list can actually cost users who would prefer a clearer perception of their specific needs reflected in simplified navigation among comprehensive options.
Specifications and prototype
Specifications and prototyping as an important stage of the development process aims at interpreting your business requirements into both functional and non-functional characteristics and creating the prototype which includes the wireframes of each app screen.
Application Design
The shopping app UI design is the stage when the expert team presents a visually optimized plan for a noticeable logo, a user-friendly basket and a layout for item display.
Ratings show that a mobile shopping app design finds positive customer response in case the menus are simple and the number of item images on the screen is limited while the size of the images tend to be larger. All the buttons that serve call-to-action purpose must be hard to miss.
Applying the principle of visual hierarchy also adds to creating the user-friendly design of your shopping app.
Choice of platform
Apple's iOS and Android operating systems are the key players on the market of operating systems for mobile devices.
Research on your market for your business niche can help you choose the best platforms in regard to meeting the needs of your target audience.
In general, iOS development supposes optimization exclusively for the two latest versions of Apple devices and OS. Android development implies optimization for a a big number of devices and screen resolutions that translates into a longer development process.
In case you are not restricted by tight budget, you can choose development for both platforms.
You may also consider to take an alternative approach to app development and create the app with React Native. It allows you to build a cross-platform app with native UX at the optimized cost. React Native is the framework created by the Facebook team as a result of combining JavaScript web programming language and JSX markup syntax. Since it does not suppose applying special IDEs, it allows to avoid the time-consuming process of debugging and deploy all the changes directly on the testing device.
App development and testing
When it comes to the stage of development, you need to identify the tools that can considerably cut down the app development costs and ensure high quality of app performance.
Below, there are technologies assisting in building a Minimum Viable Product for the mobile shopping application:
For featuring payment processing, developers set up card payments with PayPal API, Braintree SDK or Stripe API, Android Pay API, Apple Pay API.
To implement customized push notifications and in-app messaging, Batch is good solution to consider.
The recommendation systems can be based on ML-powered algorithms to provide users with information on items similarity.
Location tracking can be activated with MapKit framework for iOS, and Google Maps SDK for Android.
Facebook Mobile SDKs are best for fast social login process and instant access to analytics tools. By the way, social login (e.g. via Google, Facebook, Twitter) may be your small competitive advantage.
Voucherify API is ideal to manage special offers, coupons, promotion campaigns, and track custom events.
Technologies may vary depending on your technical requirements and specification.
Launching the app
To make this stage smooth and easy, you need to research app launching techniques carefully.
Ensure a hassle-free mobile app launch by thorough examination of the submission guidelines for those app stores where you plan to display your app. The most popular app stores now are Apple App Store, Google Play and Amazon Appstore. To facilitate the launch, do additional research for understanding the publishing policies and, thus, preventing the rejections upon submittance (you need to watch out for incomplete information, substandard user interface, inaccurate screenshots, and, of course, bugs and lack of testing).
Once your app is launched, the development cycle is over, and now you need to concentrate on maintenance of your mobile shopping app, its updates and addition of some new features over time.
How much your shopping app costs? Describe your idea, and we'll estimate it for free.
Concluding thought
Nowadays, much of e-commerce growth is attributable to great transformative processes and big shift to absolute online shopping for both convenience and safety reasons, which requires retailers' adjustment to digital sales boost.
To meet customers' expectations and bring best results from interacting with sellers on mobile apps, for the guaranteed success, you can employ the team of our experts experienced in mobile app development and creation of customized online shopping apps for any industry sector.
What features should be included in a shopping app?
Online shopping app should include the following basic features:
User signup/Authorization
Product filtering/Sorting items
Checkout
Payment gateway
Customer support
Shopping cart
Push notifications
How to create an online shopping app?
Development of a shopping application requires the following steps:
Market analysis and requirements elicitation
List of features
Specifications and prototyping
Application Design
Choice of platform
App development and testing
Launching the app
Choosing the right custom software development company is a key factor in project success.
What technology stack is used to create online shopping applications?
Below, there are technologies assisting in building a Minimum Viable Product for the mobile shopping application:
For featuring payment processing: PayPal API, Braintree SDK or Stripe API, Android Pay API, Apple Pay API.
Customized push notifications and in-app messaging: Batch.
The recommendation systems can be based on ML-powered algorithms.
Location tracking: MapKit framework for iOS, and Google Maps SDK for Android.
Facebook Mobile SDKs are best for fast social login process and instant access to analytics tools.
Voucherify API is ideal to manage special offers, coupons, promotion campaigns, and track custom events.
✔Technologies may vary depending on your technical requirements.
How much does it cost to develop a shopping app?
The cost of a shopping app greatly depends on the choice of platform for the development, feature set complexity, developers' rates, tech stack. The timeline for this development varies from approximately 3 to 6 months. To have detailed information, contact us by [email protected], and we will provide a free consultation on a cost estimate of your project.