In today's competitive environment, digital business often has to not only provide value to its customers but do it as quickly as possible, optimizing all its processes and preventing all possible risks. In such conditions, more and more companies are turning to implement the CRM (Customer Relationship Management) system in their processes.
Contrary to popular belief that the CRM system will only help in customer management and automation of manual processes, this is not entirely true. CRM systems are different and may have variable toolkits. Depending on the functionality and type of CRM, such a system can optimize both customer support and marketing processes, as well as sales measures. According to some reports, the successful implementation of the CRM system can recoup every $1 of investment in the foreseeable future by 9 dollars, increasing the customer success rate, sales forecasting, and productivity indicators.
And although the benefits do look pleasant and convincing, many companies, having gone to implement the CRM, do not achieve a positive effect. This problem is connected not with the very fact of the CRM implementation, but with the way in which it was implemented. Although most companies turn to ready-made solutions on the market, it is a custom CRM that will help achieve the results that we talked about above. In this article, we will try to convince you why the custom CRM software is what you need, and also explain in which cases it is really better to give preference to ready-made solutions.
Custom vs Ready-made CRM
The market of ready-made CRM systems presents a large number of different solutions. From the most popular ones like HubSpot and Salesforce to small and niche CRMs tailored for specific business goals. In the early stages, it may seem that the investment in the development of a custom solution is not worth it and it is much better to choose a ready-made system. Nevertheless, as with any other question, it all depends on what goals you are pursuing, what your budget is, and what your strategy is.
Assess the tasks facing your company and those ready-made solutions that are on the market. Oftentimes, you won't be able to find the perfect CRM that will fully match your goals and budget. However, you can try to find the most suitable option that suits you early on. It is worth remembering that ready-made CRMs have rather weak scalability capabilities. Thus, the solution that met your goals in the early stages of the company's development can become outdated and no longer meet the needs of your business.
As for the budget, of course, a custom CRM requires a high initial investment. Nevertheless, soon enough it will show a high ROI, and additional expenses will be needed only to maintain and scale the system. In the case of a ready-made CRM, you will spend money on a monthly or yearly fee according to the chosen subscription plan. Also, depending on the plan chosen, there will be restrictions and payment requirements for additional tools or resources.
Finally, don't forget about your business strategy. You really shouldn't invest in building a CRM if you want to create a small niche business with no expanding plans in the future. In case if you want to grow, expand and hire new people, you need to seriously consider a custom CRM development.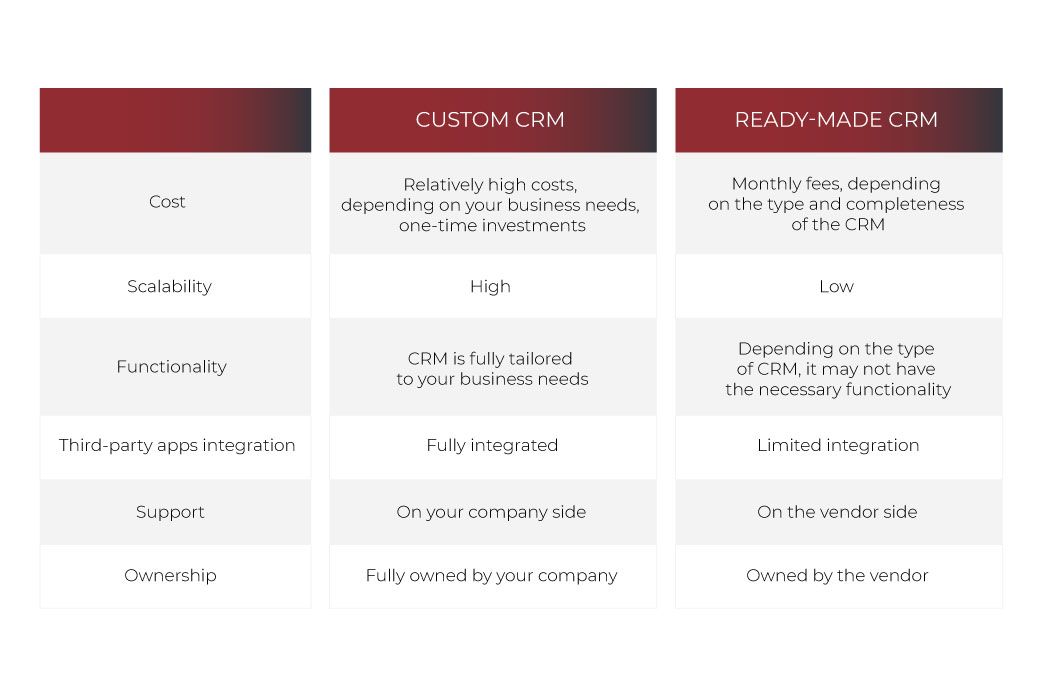 Custom CRM benefits
Let's talk about the benefits of custom CRM software. We have already talked about the three main areas in which CRM helps businesses develop - sales, marketing, and customer management. A custom CRM is capable of significantly boosting all three directions and will meet the needs of your users and the number of requests that will come.
On the negotiating side, a custom CRM always makes a good impression on users, investors, and all stakeholders as they see the company is serious about delivering value and expanding in the future.
In general, when talking about the value of a custom CRM, it is customary to highlight the following benefits.
Business-oriented system
Ready-made CRMs, although they have a flexible subscription system, often contain a large number of unnecessary features, without having those that your business really needs. Thus, you have to pay for a tool that does not fully meet your needs. A custom CRM is created for the specific needs of your business, and therefore it will always meet your needs and provide a significant boost to your sales and marketing processes.
Advanced automation
The process of value delivering consists of a large number of actions and steps that your team members and your users take. Custom CRM is developed taking into account specific actions and is able to automate some of them, freeing up more time for your sales and delivery personnel and simplifying the user journey. Usually, when creating a CRM from scratch, developers invest in it the ability to automate some processes in analytics, marketing, billing, invoicing, and delivery directions.
Full control by company's technicians
Another important issue, which is often forgotten, is technical support for the operation of the CRM system. The convenience of using a ready-made CRM lies in the fact that support is provided on the vendor's side and you don't have to bother with it. However, you are also not insured and cannot guarantee that there will be no possible problems with the vendor, which will eventually harm you. Another problem is frequent updates, some of which are not always good for your business. Of course, the support of a custom built CRM is under the control of your technical specialists, and therefore you fully control the process and mitigate risks, and are also insured against any sudden breakdowns.
Improved analysis of customer behavior
Analysis of the behavioral factors of your customers and their actions in the system is the most important issue. Often, customers, using your product, generate a large amount of data that is stored in the system and is constantly analyzed. Ready-made CRMs have some functionality that allows you to sort this data and conduct basic analysis. Custom CRM solutions are configured by you, including in the issue of analyzing customer data, and therefore you can add any filters and automate routine tasks as you like.
Scalability
Of course, the main advantage of a custom CRM is its flexibility and scalability. In today's market, any digital business collects tons of data. The inability to adapt to new challenges in the market means a lack of flexibility. In modern conditions, a static business is a dead business. Therefore, it is simply impossible to overestimate the importance of scalability in CRM.
Smooth integration with third-party tools
Finally, don't forget that today even a small business most often uses a large number of different tools. Companies of 50 people or more can generally use a toolkit of 10 or more different tools. In such a situation, it is extremely important to skillfully integrate them into the CRM system, so that your employees do not have to retrain to use new tools, and the CRM can retain all the convenience and potential that your tools give you. Ready-made CRMs rarely provide the ability to integrate with third-party tools, more often providing their users with their own solutions. A custom CRM is developed taking into account the tools that are used within the company, and therefore their integration won't cause problems.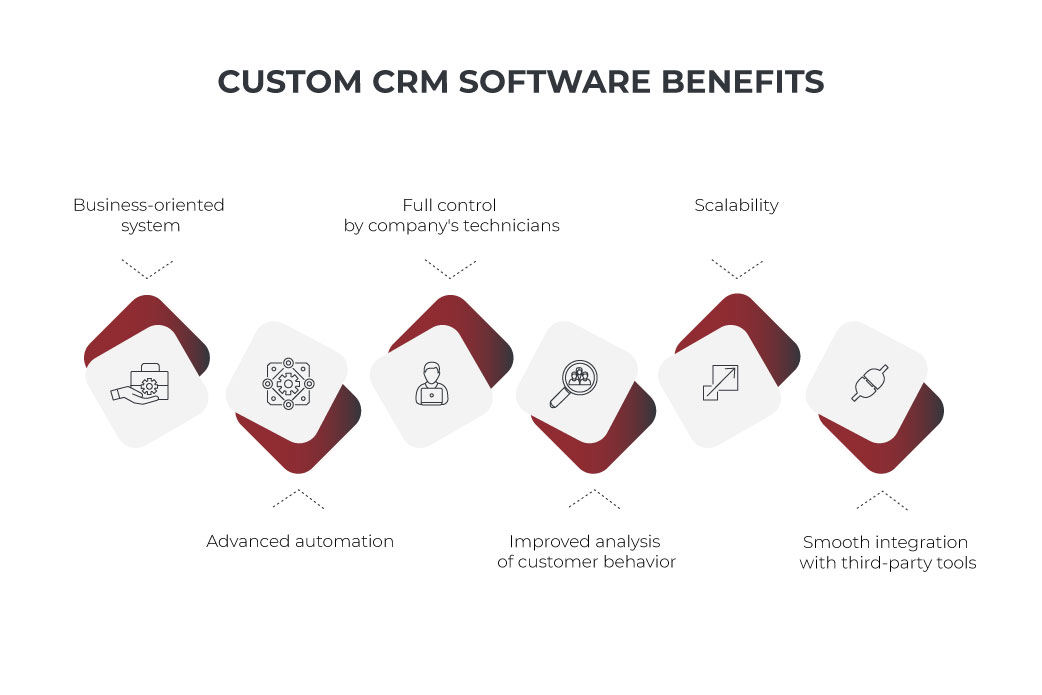 CRM types
Before we move on to the custom CRM development, we would like to raise a little the question of what types of CRM exist. This question is sometimes surprising since many are convinced that all CRM systems perform approximately the same tasks. It's almost entirely true, but one should not close his or her eyes to the CRM types.
Collaborative CRM
CRM of this type implies an emphasis on optimizing the work processes of various departments in your company. For example, support teams can receive data from customers, which will be of high value for the marketing team. Collaborative CRM should provide fast transfer of this data, in order to generally raise the level of your service in the eyes of customers. After all, the final task facing this type of CRM is to improve the quality of services provided by your company.
Operational CRM
The most common type of CRM is the Operational one. In general, this is exactly the CRM that most people imagine. Most often, such a CRM has a convenient dashboard, in which all operations are monitored and analyzed, and a convenient toolkit for its automation. This includes sales, marketing, and delivery chains.
Analytical CRM
Analytical CRM most often has some parts of the functionality that can be found in the previous CRM, but it is sharpened more for collecting and analyzing data that comes from customers. The most used tools in such a CRM are diagrams and graphs, which allow your analysts to better understand customers. It is not uncommon for a company to use two separate CRMs - operational and analytical - at one time.
Strategic CRM
The last type of CRM is a product that combines all three of the previous types. Strategic CRM, as the name suggests, serves to comply with the strategic goals of your business. Most often, it is about the building of long-term trade relations with your customers. That is why the toolkit of the strategic CRM includes all those features that allow you to better trace the journey of the customer, from the incoming lead to the returning client. The final goal is to build successful, mutually beneficial, and long-term relationships with your customers.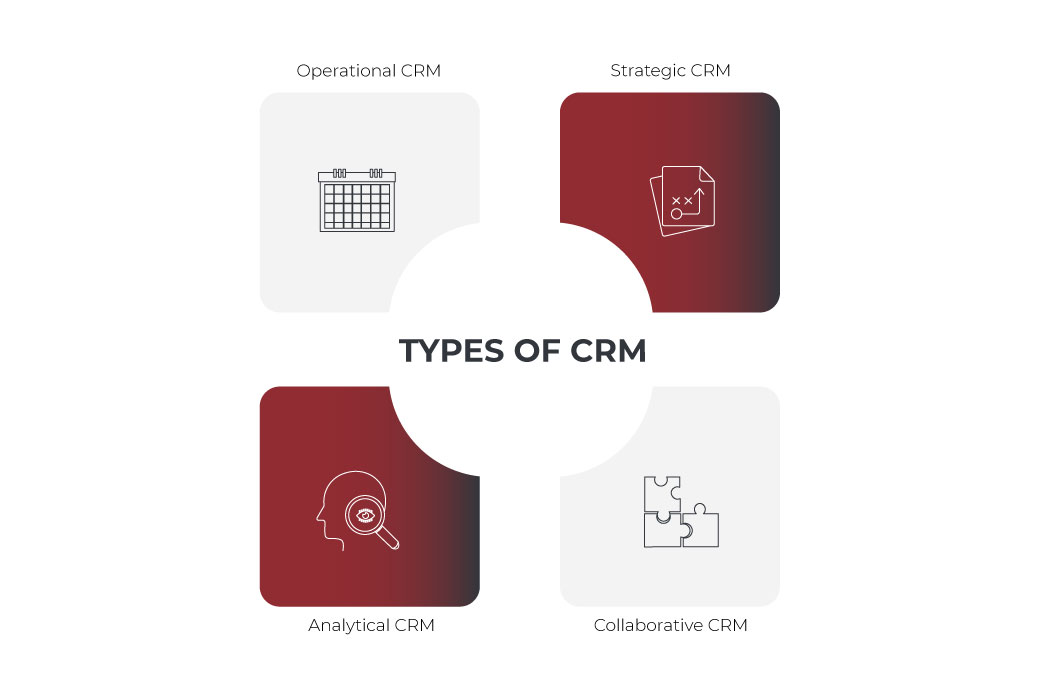 How to build a CRM
From the point of view of development stages, the creation of custom CRM software is by and large no different from the development of any other software. This is all the same analysis, prototyping, development & design stage, testing, launch, and maintenance. However, there are a few things to keep in mind before you decide to build custom CRM.
A few things to keep in mind
Abandon complicated interface. Your employees should get a convenient CRM that will be intuitive even after integration with all third-party tools. A complex interface will require additional time to familiarize yourself, which will slow down the process of CRM implementation in general. Such things are unacceptable in the process of automating operations, which is the purpose of creating a CRM system in the first place.

The question of legality. It is worth remembering that any software must be created within the framework of the law and not violate the rules of the regulator. This is not so relevant for industries that are not heavily regulated by government agencies, but critically important for companies from such industries as healthcare and fintech.

Choose your vendor carefully. The development of a CRM can be performed by other vendors using an outsourcing model. Make sure the chosen company provides post-launch support and has a clear understanding of your business goals.

Assess the functional requirements. Gather all the tasks and processes that are performed by your employees from all departments in one document. Combine this data with all the processes and actions that will be carried out on the customer side. This will help you to understand the functional scope that the future CRM needs.
NEED HELP IN DEVELOPING A CRM? WE ARE READY TO LEND A HAND
CRM features: default vs advanced
Before starting development, you need to carefully consider what functionality your CRM will have. It is a good idea to ask employees what pains they are experiencing, what processes are the most time-consuming, what can be automated, and what can be abandoned. Ultimately, you should come up with a set of default and advanced features that your CRM will have. Often, it will look something like the following.
Default
User control panel. The main dashboard visualizes all the processes in accordance with the job rank of the user, displaying any necessary data.

Simple calendar. A necessary thing for any CRM. A calendar is used in order to conveniently arrange invoices, requests, reports, and other data by day.

Notifications & Reminders. Another absolutely necessary feature that works closely with the calendar and user profiles, allowing company employees to always remain up-to-date regarding any changes in the system.

Identity and Access Management tools. The IAM toolkit is designed to automate the process of assigning status to users of the CRM, according to their job rank. After that, the IAM tool can automatically provide such user access to the corresponding data, nothing more.

Reporting tools. No one works today without reports.

Task management panel. Task management is not the most important feature for the custom CRM since these measures are often carried out thanks to third-party tools like Trello. Nevertheless, the introduction of task management functionality into a custom CRM system will greatly facilitate your managers' work.
Advanced
SMM integration. Social networks have long gone beyond the social and entertainment segment and today they are already full-fledged marketing platforms, with their own unique ecosphere. Implementing social media integration for a custom CRM can be a really good idea for certain marketing tasks.

Thrid-party tools adoption. An absolutely necessary feature that we have brought to the advanced part only because not every business uses a large number of third-party tools. Some companies make do with their own resources. However, integrating third-party tools into the CRM is an absolute must-have for most businesses.

Email marketing tools. This is already a truly advanced feature that is needed only if the business relies heavily on email marketing activity, which is not common today.

Finances & Invoicing. As with third-party tools, invoicing and finance features are a must, but not for everyone. Many companies use CRM exclusively for marketing activities and do not need additional functionality. At the same time, invoicing takes place on the accounting side.

Mobile access. A convenient feature that is not necessary, but greatly simplifies the work of your employees. If there is a need in the company to stay in touch with the customers 24/7, then the manager should have appropriate access to the CRM. Such round-the-clock access is impossible without the mobile version of the CRM.

Lead qualification. A feature that is required for sales-tailored CRM. Lead qualification, especially if it is streamlined and automated, allows sales managers to understand what potential the lead has and what exactly can be offered, even before direct contact with the lead.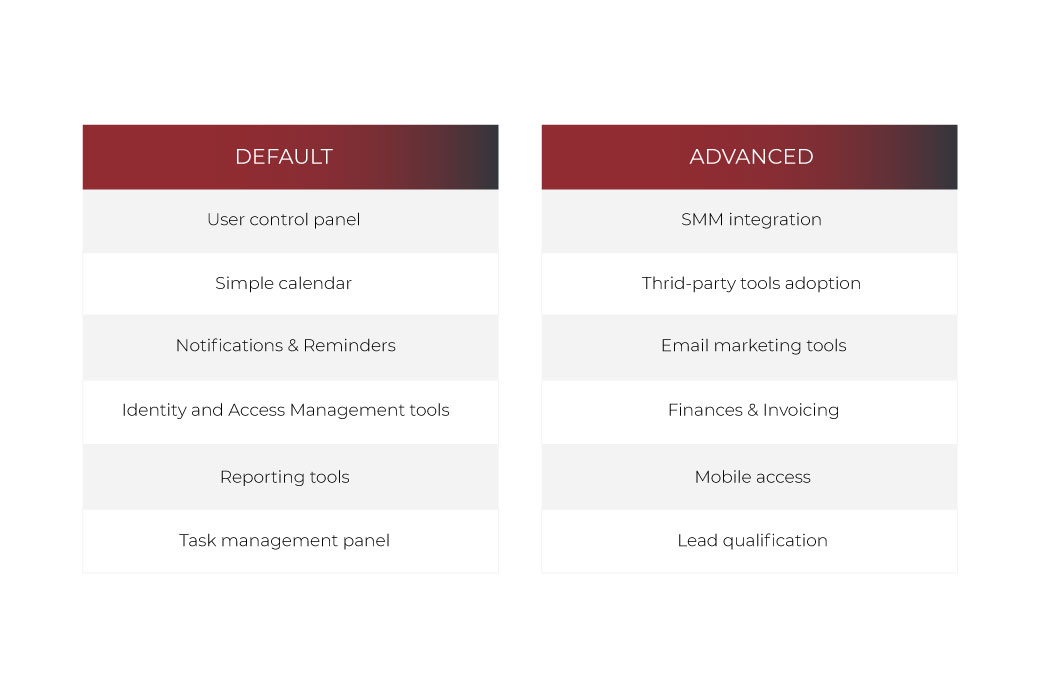 How to choose the right CRM development vendor?
If your company doesn't have the ability to independently build your own CRM software, you can turn to CRM software development companies. The development cost varies greatly depending on the geographic location of the company. So, if you're looking for an answer for how much does it cost to build a CRM question, you have to prepare yourself that there will be no clear indicators here. The highest hourly rates for technical specialists and designers can be found in the USA and Western Europe.
A good option to create a custom CRM with a lower budget would be an outsourcing model in countries of the Eastern Europe region. Here, specialists' rates are much lower, and the quality of work is often in no way inferior to American or Western European production. However, it all depends on whether you were able to choose the right software development vendor.
Here, the vendor selection process is no different from the situation with the development of any other product. Request a vendor's portfolio and evaluate whether the company had experience in developing similar CRMs. Perhaps you will find something that you like even more than your original idea. Pay close attention to what questions are asked by the vendor, this will help determine the level of the company, at least approximately. Reviews usually do not carry that much value, but it is still worth paying attention to. Finally, hold meetings with the future team and ensure that all stakeholders have a common understanding of what exactly and why will be created and what business goals are being pursued.
To sum up
A custom CRM system is a tool that will help a company solve many issues. However, you need to be careful when deciding how to implement such a system in your company. There are cases when small companies, having miscalculated their strengths, tasks, and budget, got involved in the development of the CRM and eventually went bankrupt. A custom CRM system is a unique tool that will only harm if you approach the issue of its development and implementation without thinking over all the details.
HERE'S OUR GUIDE ON
How to develop CRM software?
The development of CRM software can be carried out both by the efforts of your company and with the help of third-party software development vendors. The development process is not much different from the development of any other software, and also includes the stages of a clear analysis of the business goals and features of the future product, the construction of KPI and ROI methods, design, prototyping, development, testing, and the maintenance stage.
What are the 4 types of CRM?
There is a conditional division of all CRMs into 4 main types: collaborative, strategic, analytical, and operational. All of them perform similar tasks but differ in the functionality that comes to the fore in them. You can find out more about the difference between the 4 types of CRMs above in the article in the corresponding section.
Can a company create its own CRM?
Of course, if the company has sufficient technical potential and is able to assemble a team of several specialists (1 front-end, 1 back-end, 1 designer, 2 QA engineers, PM manager, and Business Analyst), then the development of a custom CRM is possible. Another option is to opt for CRM software vendors, who are present in large numbers on the market and are ready to develop the solution you need on their own.
Should I buy a CRM solution or build a customized one?
This depends entirely on many factors, including the type and size of your company, your resources, business goals and future plans. Ready-made solutions are really convenient from the point of view of instant implementation and the absence of the need for large investments. However, only a custom CRM can fully unleash the potential of your business and allow it to scale and expand in the future.