According to the statistic , the mobile app development market is growing rapidly and is expected to evolve. The emergence of mobile apps has recently gained the popularity of app development outsourcing.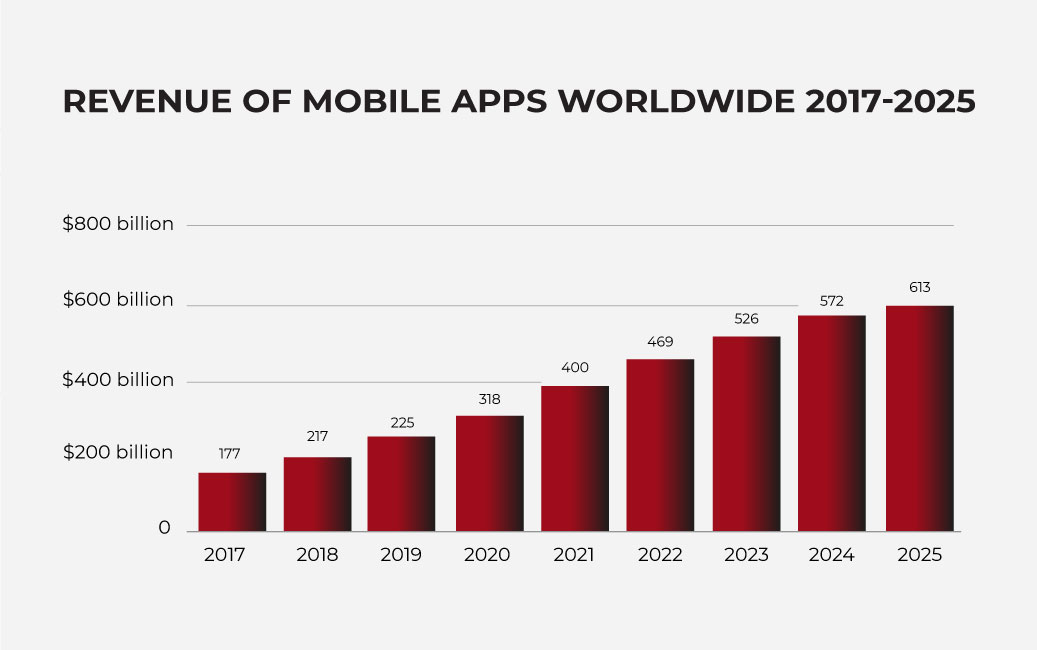 If you're thinking about developing a mobile app for your business but don't have the resources, mobile app development outsourcing can help you compete with the big hitters in the industry.
This comprehensive guide on what to do to outsource mobile app development will help you not to fail when delegating application creation. You will discover the advantages of outsourcing, how to find the right partner, what pitfalls to consider, and other useful details to succeed.
WHAT IS OUTSOURCING?
For starters, let's clear things up by defining what outsourcing is. In the case of mobile app development, outsourcing is hiring a contractor responsible for building an application. A tech-strong partner capable of outsourcing app development can help get rid of the need to hire in-house app development specialists.
WHEN TO OUTSOURCE APP DEVELOPMENT?
Don't you know if outsourcing is the right idea for you? Check out the foremost reasons to outsource mobile app development:
Shortage of resources to gather and manage an in-house team

Need to find a lot of skilled software engineers fast

Lack of expertise in certain niches, like blockchain, ML, or AI

Need to find a technically-strong partner to validate ideas

Desire to reduce mobile app development risks

Ability to get full-cycle development service at one place

In case you think that outsource mobile app development may be the right approach for you, let's take a deeper dive into the benefits of delegating mobile app development to skilled experts.
THE PROS OF MOBILE APP DEVELOPMENT OUTSOURCING
The primary advantages of outsourcing are significant cost savings, fast development, and a professional approach to mobile app development.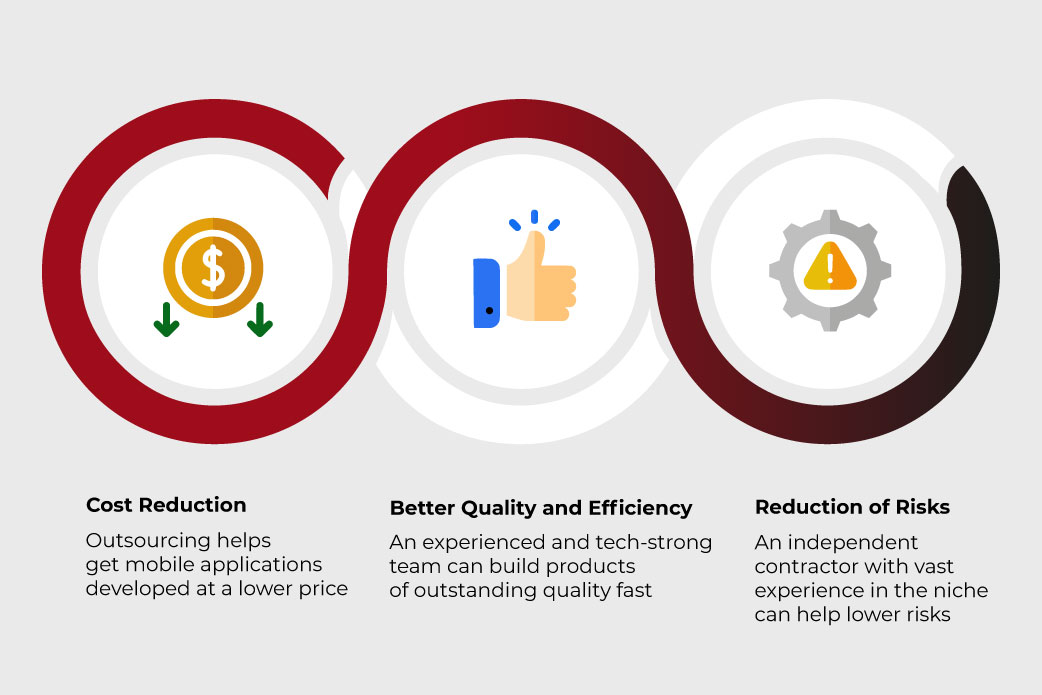 Here is a closer look at the advantages you end up gaining when you outsource mobile app development instead of hiring in-house to work on your project:
Cost Reduction
One of the biggest advantages of outsourcing is that it helps save money and time because you don't need to hire any employees for development. You won't need to spend any money, effort, or time on the training and recruitment. Also, you can save on taxes, workplace establishment, and other team maintenance expenses.
Here are the salient points of the cost-reducing advantage you gain from outsourcing:
Acquire services at lower prices and higher quality

Reduction of extra charges

Outsourcing is cheaper than hiring qualified developers

No additional taxes on employee wages
There isn't any need to invest any time or resources in the organization of employees and workplaces or the infrastructure. In most cases, clients pay fixed prices or compensate for the time spent by developers. It simplifies the aspect of financial planning.
Better Quality and Efficiency
When you outsource mobile app development, you can get a superior standard of work. It is because there are a lot of businesses that specialize in mobile development in the IT industry.
Software development companies have competent experts to cope with challenging software engineering tasks. Also, firms that offer mobile app development services can allocate the required number of designers, software engineers, project managers, and other experts to complete all the tasks on time.
Here are the main points of quality and efficiency you gain from outsourcing:
Partnership with a firm that has extensive experience in app development

Access to highly qualified staff, technologies, knowledge, and specialized equipment

Ability to scale up a team fast and stress-free

Focus on the main business goals

Thoroughly planned budget and schedule
In mere words, an outsourcing company can guarantee superior quality work. Also, it can deliver an app faster than an in-house team.
Reduction of Risks
When you outsource mobile app development, you don't need to monitor projects continuously or worry about the poor performance of employees.
Here are some of the benefits you gain in terms of reduction of risks when you choose to outsource:
The client pays for the result and doesn't need to deal with any employees

No employee downtime and illness to worry about

A contractor tackles all risks and unexpected issues
One of the main advantages you get when you outsource app development is not worrying about the schedule, since you have specialists working on the task. Even if the developers face delays or other problems, you don't have to worry about anything. An outsourcing company will be required to tackle all the issues or compensate for your losses.
Want skilled professionals to build an outstanding mobile application for you?
HOW TO OUTSOURCE MOBILE APP DEVELOPMENT
Outsourcing may seem straightforward at first sight. However, in case you don't have a reliable partner yet, it's advisable to choose a mobile app development company wisely to succeed by following helpful tips.
Do you need a thorough guide? Discover a step-by-step instruction on how to outsource app development and not fail in the post below.
Determine Your Goals
For starters, you need to understand what you want to achieve clearly. Get prepared for delegating mobile application development to a contractor. Write down the primary goal your app should achieve.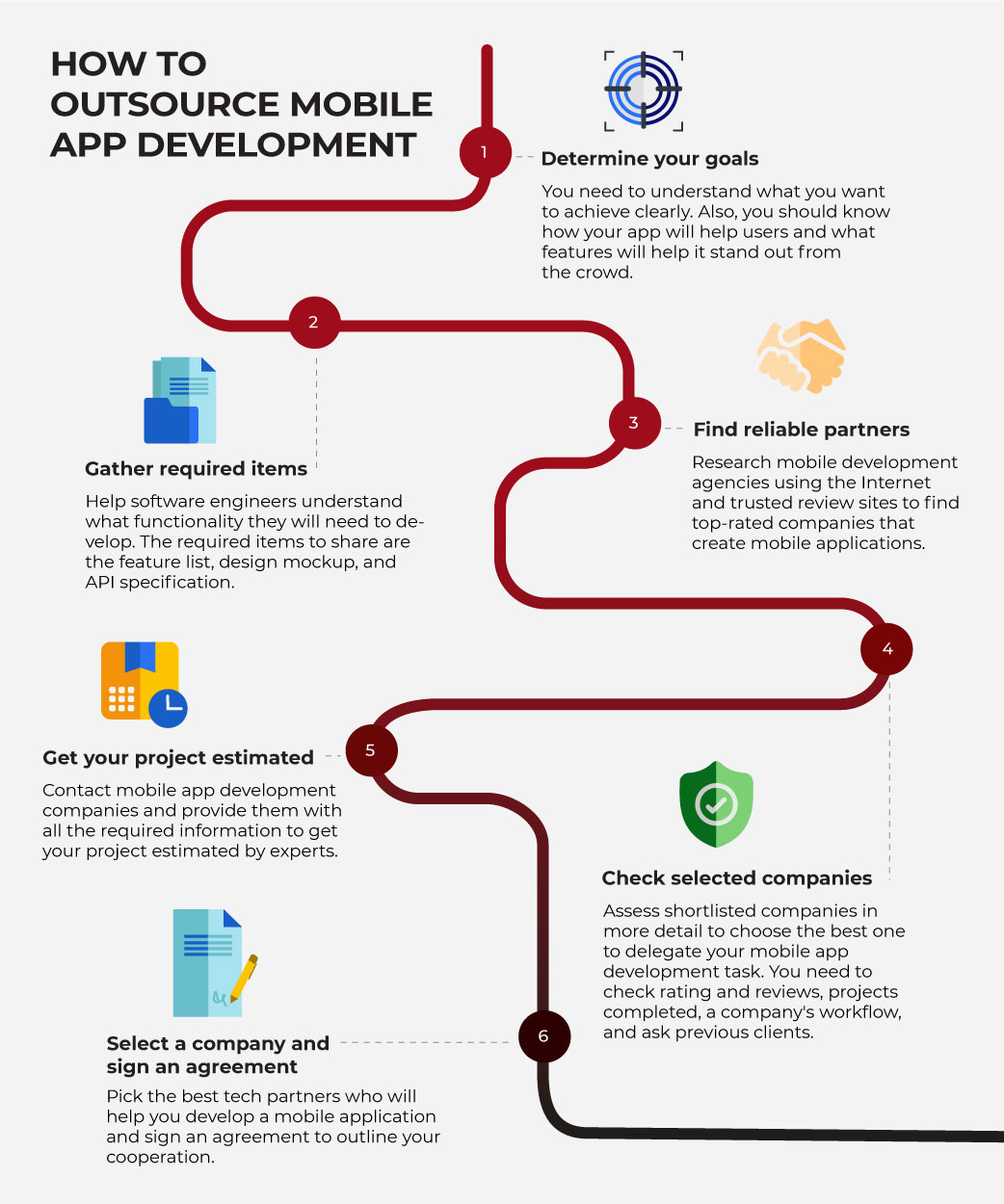 Also, you need to clearly understand how it will help users and what will make your application stand out from the crowd. Determine the unique selling point that will help you acquire new users and overcome your competitors.
Gather Required Items
To outsource mobile app development and not waste precious time, you should gather the following:
List of features. Define all the features that your mobile app should include.

Design mockup. Software engineers should understand what type of application you want and what it should look like.

API specification. It will help developers understand what third-party services will be required to connect to fetch and write data.
These items will help developers clearly understand what functionally they need to develop. In essence, they will be able to quickly estimate the time and resources required to fulfill your task.
Find and Shortlist Reliable Partners
At this stage, you need to research a lot of mobile development agencies to find a trusted tech partner. Since there are a lot of firms to choose from, it's vital not to go wrong. Discover how to find and assess selected companies below.
Where To Find Companies To Outsource Mobile App Development?
The most reliable way is to ask your connections if they can recommend any firms. However, if you have no references, the following options are available:

Google search. Feel free to use the Internet to find top companies. Submit the "outsource mobile app development" search request or other similar. In such a case, Google's search algorithms will help you find the top companies. It's advisable to skip promoted search results that usually appear on the top.
Trusted listings and review platforms. There are a lot of websites that list B2B and B2C companies. Most of them offer the opportunity to learn more about firms and check reviews submitted by real people. The top sites are Clutch, TopDevelopers, and GoodFirms. You can find top-rated companies using these directories and read honest reviews.

Freelance platform. A lot of software companies are represented on freelance platforms. Upwork is the niche-leading website to find top-rated companies. You can find top-rated firms, check reviews, and complete projects using the site.
How To Assess Selected Firms?
After researching top firms to outsource mobile app development, you need to shortlist the best companies. Assess them more thoroughly to choose the top one to delegate mobile app development tasks. Follow these steps to examine shortlisted companies:
1. Rating and reviews. For starters, it's recommended to ensure that selected companies can deliver mobile applications of impeccable quality. Use popular review platforms and read the feedback shared by other people.
Pay close attention to the points that are crucial for you. For instance, if you cannot afford to increase your budget, check if a company can develop all the functionality without exceeding predetermined investments. If you need to get your application built fast, consider firms that never miss deadlines.
2. Projects completed. Case studies can help you learn more about a mobile development firm. Feel free to explore projects completed thoroughly to read about challenges a firm can tackle. It's advisable to choose companies with hands-on experience in developing the functionality you need.
3. Company's workflow. The way a firm develops new products is vital to consider. Don't hesitate to explore a firm's website or ask their managers to learn more about workflow. Ask about tools and techniques used by a firm to manage its team.

If a company doesn't have a well-polished plan for building mobile applications, it's a red flag. Note that a top firm should clearly understand the mobile app development stages and have a tried-and-tested workflow to optimize the processes.
4. Previous clients. In case reviews submitted by other people don't offer many details about a company, don't be shy about contacting real people. Find the previous clients on social media and ask them about their personal experiences. Ask previous clients to highlight the best and worst parts of their cooperation with a firm to get a comprehensive review of a selected firm to outsource mobile app development.
Don't have a reliable company in mind? CodeIT can become your tech-strong mobile app development partner!
Get Your Project Estimated
Estimation is a necessary process to help you understand the outsourcing app development cost.
Indeed, you can try to calculate the IT outsourcing cost by yourself. However, the best option is to contact mobile app development companies and provide them with all the required information. They will estimate your project and provide quotes that you will be able to compare to choose the best tech partner.
The final cost of outsourcing app development depends on many factors. The main ones are the following:
Deadline
The urgency of developing a mobile application affects the number of software engineers required to be involved in the development and their seniority level.
Scope of work
The scope of work is the number of features needed to be developed. Also, it may imply different services like market research or target audience analysis. It affects the number of hours required to spend by specialists.
Type of firm
There are three major types of software development companies: onshore, nearshore, and offshore. They have distinctive peculiarities that you should consider to outsource mobile app development successfully.
The type of firm chosen directly affects the hourly rate of experts. In case you have a tight budget, you should reach out to offshore mobile app development firms.
| | | | |
| --- | --- | --- | --- |
| | Onshore | Nearshore | Offshore |
| Time zone | Same or +3 hours | Same or +6 hours | Different |
| Language gap | No | No or Medium | No or Medium |
| Hourly rates | High | Medium | Low |
| Involvement | High | Medium | Medium |
| Example countries for the US | United States | Canada, Mexico, Chile | Hungary, Ukraine, Germany |
When calculating the outsourcing app development cost, you need to understand that overseas app developers can help you save your budget without compromising a product's quality. For example, a Ukrainian outsourcing company can charge less than a firm based in San Francisco. Meanwhile, the quality of products delivered may be the same.

Mobile app development approach
When developing a mobile app, it's vital to consider an approach. You can choose among the following ones:
Native. This approach implies separate iOS and Android app development outsourcing. You need two teams of skilled software engineers to build native applications for both platforms separately.

Cross-platform. It is a cost-effective approach that foresees the ability to combine Android and iOS app development outsourcing. Software engineers can build a mobile app that works on both platforms, using the same codebase.

Hybrid. It is a less popular development approach applied to outsourcing Android and iOS app development. In a nutshell, it is helpful when you need to outsource web app development services to build a web app that will work on desktop and mobile devices.
Complexity of design
The design complexity affects the number of hours needed to spend by UX/UI designers. However, it also affects the technology required to use. For instance, if you need to develop custom gestures or want your application to have complicated animations, developers will be required to craft native code.
Supported platforms
These days, you need to develop applications for both iOS and Android to reach a large audience. However, if you want to outsource iOS app development only, you can reduce expenses because developers only need to build an app for one platform.
Then, you can scale up your business by ordering the outsource apple watch app development services or building a mobile app supported by Android devices.
Backend integrations
If a mobile application needs to request, process, and store data received from users, it should have a backend that has to be integrated using API. The type of backend needed to integrate also affects the outsourcing app development cost.
Select a Company and Sign an Agreement
After analyzing all the aspects, you need to choose the right company that will help you outsource mobile app development. Feel free to contact a chosen firm and sign an agreement. The type of documents may vary depending on the firm.
At CodeIT, we sign the following documents with our clients:
NDA (Non-Disclosure Agreement). It is signed before the work begins to ensure that all the confidential information won't be disclosed.

MSA (Master Service Agreement). This document outlines the cooperation process like parties' obligations, terms, etc.

SOW (Statement of work). It implies detailed information about a product or service that should be delivered to a client.



OUTSOURCING FLAWS TO CONSIDER
Indeed, the outsourcing model isn't ideal. It has disadvantages that may make the entire development process a nightmare for you. Therefore, you should always consider the flaws and understand if you will be capable of managing them before hiring a company. The flaws you should consider are the following:
Limited Control
Cooperation with a third-party contractor always loses control when comparing in-house development vs. outsourcing. Having all the experts gathered in the office, you will be able to monitor their progress and get involved in most processes.
However, you will get limited control when delegating mobile development tasks to another company. Indeed, you will be able to communicate with project managers daily. They will update you about the progress and consult with you when implementing different solutions. But, you won't be able to monitor all the processes meticulously in most cases.
Possible Communication Gaps
When you reach an onshore mobile app development company, the risk of miscommunication almost erases. However, if you partner up with a nearshore or an offshore company, you may be required to communicate with experts for whom English is not the first language. Thus, there is always space in the room for miscommunication when outsourcing app development.
Wrapping Up
After weighing the pros and cons of outsourcing, you should ensure that there are no operational or functional flaws. It's vital to understand all the advantages and disadvantages of mobile app development to succeed.
Also, you need to choose a tech partner wisely to succeed. A reliable company will help you find a cost-effective solution and deliver a fully-functional application on time, so you can outsource mobile app development stress-free.
Do you need to build a modern mobile application without hassle?
What is mobile app development outsourcing?
In a nutshell, it is a process when you hire a tech-savvy partner with expertise in building mobile applications. When outsourcing, you delegate all the development tasks to a chosen contractor and get a fully-functional mobile application.
How to outsource app development?
To delegate mobile app development, you need to do the following:
Determine your goals
Gather required items
Find reliable partners
Assess selected companies
Get your project estimated
Choose a company and sign an agreement
Is it profitable to outsource mobile app development?
Yes, it is profitable to outsource the development of mobile applications. Yuriy Rybkin, the CodeIT COO, states in the article that outsourcing is the most cost-effective solution for companies that need to build a mobile application once.
How to find mobile app development outsourcing?
There are many ways to find companies that offer assistance in building mobile applications. The top sources are the following:
Recommendations
Google search
Trusted listing and review sites
Freelance platforms
How to assess mobile app development companies?
To check selected firms that build mobile apps, follow these steps:
Check the overall rating and reviews
Examine projects completed
Assess a company's workflow
Interview previous clients