Due to technological advancement and innovative digital solutions, businesses have become more competitive throughout all the stages of the business process including production, marketing, sales, and even post-sales transactions.
The implemented technologies enable faster business undertaking and allow enterprises to widen their reach and gain unlimited growth potential. Small businesses, in particular, have gained a considerable competitive edge in the vast and complex global online marketplace with the use of these technologies.
Custom business software products are the centerpiece of this commercial revolution as crafted software catering to specific business needs works accelerates the speed of business processes. With the meteoric rise of online commerce and mobile business transactions, different software products prove to be reliable assistants in delivering what is expected of a modern-day enterprise.
Software Development Trends for Small Business
In recent years, software development for small business has seen considerable growth due to the availability of customizable technology and the increasing number of skilled software developers for hire. According to the 2019 Top 10 SMB Technology Trends, 76% of Small and Medium Businesses (SMBs) strongly agree that digital technologies greatly impact their business practices while many of these businesses (27%) are considering business intelligence and analytics as the number one area to where they plan to allocate more business investments. This is closely followed by marketing automation and enterprise resource planning (ERP).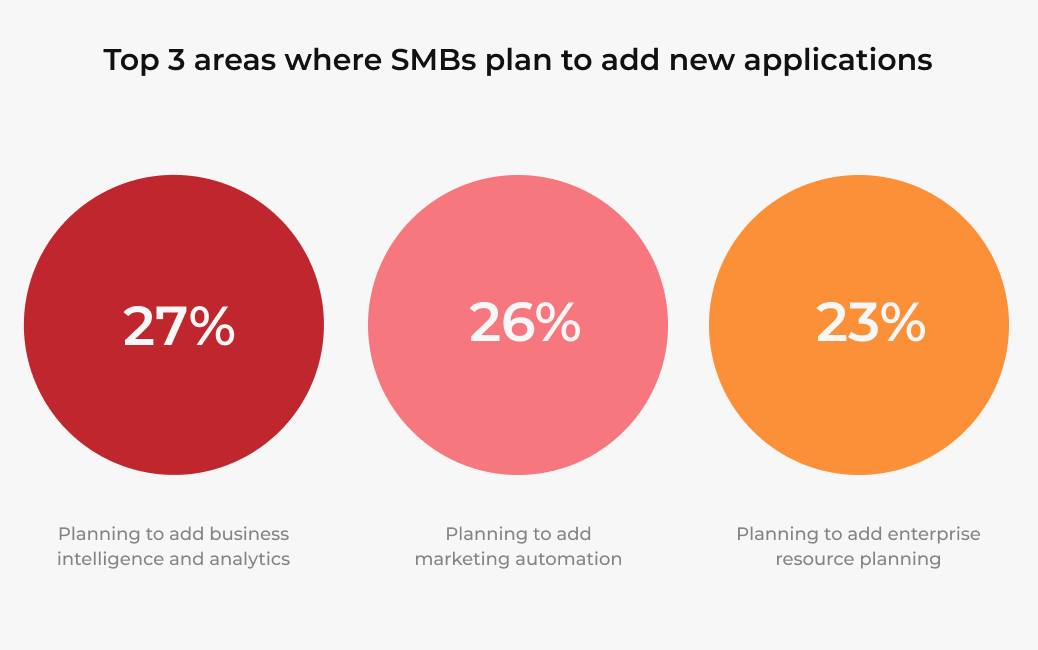 Source: SMB Group
The report also indicated that SMBs prefer to make replacements in various areas of their current business applications, primarily on ERP (40%), then customer service automation (37%), and corporate performance management or CPM (37%).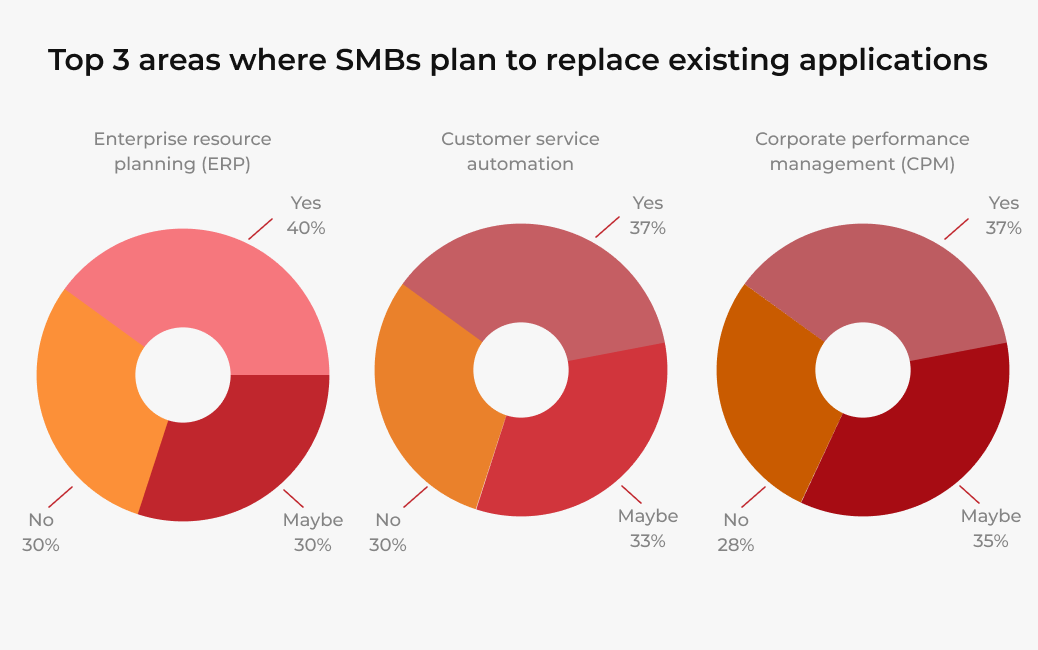 Source: SMB Group
The statistics clearly reveal that small businesses recognize the importance of technologies and applications that would suit their unique needs. Custom software development provides an answer to these needs and even more, enabling SMBs to realize their vision in terms of business growth by improving various areas of business processes.
Various custom software that can be developed for the business include the following:
Why they are important: Communication tools are crucial to the operation of the business for internal management and engaging customers. You can customize your communication tools in the form of message apps, video calling apps, or similar applications that fit the nature of your business.
Why they are important: You can streamline financial transactions related to your business in a way that is easy and manageable. Accounting software solutions help you manage cash flow, taxes, and other financial paperwork.
Customer Relationship Management (CRM) Software
Why they are important: CRMs play vital roles in today's business organizations especially in Ecommerce. You can develop your own custom CRM to better manage your sales and marketing.
Why they are important: Headhunting is becoming more challenging these days while recruitment, training, onboarding and HR management processes get more sophisticated. Customized HR system helps keep up with this trend.
Looking for a tech partner? We can assist in developing your product
Benefits of Custom Software Development
The reason behind the skyrocketing popularity of custom software development are the plethora of benefits that business organizations gain from them. These benefits make doing business easier by optimizing cost-efficiency of business processes.
Custom software are designed to fit the unique needs and preferences of the business. This means that there is no need to make adjustments on the business model and its established basic standard operating procedures. Hence, custom software makes the model and the standard procedures even more efficient.
Revealed:
Businesses using some form of technological systems would not find it hard to make the necessary integration. Custom software development is done with seamless integration in mind making the combination of established systems and applications with new ones, hassle-free. Moreover, technical complexities are reduced, if not totally eliminated.
Data management and protection is an important benefit you gain from custom software. You do not run the risk of having your data altered or exposed with the use of off-the-shelf software. It also makes reporting and analysis easier. You get the exact data and report you need the way you need them to be.
Custom software puts any business organization ahead of competitors using off-the-shelf software. It doesn't settle for any feature less than what it requires fitting the business model and the overall direction of the company. This translates into increased productivity, better management, and top-notch customer service.
Evidently, the benefits your business can gain with custom software make a considerable positive impact on any business organization. This makes investment into custom software development services a wise move for any business.
Hiring to Develop Customized Software for Your Business
While the importance of having customized application software for your business is unquestionable, the real deal-breaker is who should tailor these solutions. Some businesses indeed recognize the need for custom development but they can't seem to decide on who should be doing it.
Choosing between hiring in-house software developers or contracting a custom software development company is a dilemma for many. But this puzzle should be easy to decipher: the answer lies in what exactly you need and how often you need this service.
Related: Discover the advantages and disadvantages of
If you are looking into developing one or two customized software that will be used for a long period of time with no need for periodic updates or configuration modifications, then hiring a software development company should be your direction.
Sophisticated and highly reliable software development companies have the comprehensive skills and knowledge to cater to specific needs of your business.
The advantages of hiring a firm include a "set" agreement on output and cost without having to cover the development training cost. As a result, you collaborate with the experienced developers excluding the cost of hiring them as employees.
On the other hand, hiring in-house developers work for businesses with a steady stream of software development and software modification needs. Having your own developers is more cost-efficient if you have a perpetual need for these types of work. The advantage with this choice is the cost-effectiveness and having constant access for manpower that can do development, monitoring, reconfigurations, and other similar needs.
Ready to share your project idea?
The Bottom Line in Custom Software Development for SMBs
Technology is moving at a fast pace and SMBs need to cope up with the new rising trends. Consumer behavior is shaped by the influence of numerous factors including attributes defining your business operations.
The instant access to net resources helps customers make informed choices. Business owners applying the right technologies will be able to measure to customers' standards.
Custom software development seems like the optimal solution that will prevent any kind of small business from falling behind and easily adjust to evolving business trends.