At the beginning of 2018, many sources simultaneously announced an increase in property prices in the US. In particular, this applies to such regions as Tacoma, Everett, and Bellevue, San Jose, California, and Raleigh, North Carolina. It is assumed that, on average, the purchase price of real estate will increase by 5.4 percent, while rent will rise in price by 3.5 percent. Rapid growth in the value of the real estate was observed already in 2017 and the trend persisted in 2018.
The fact that real estate is one of the most promising areas of business development, is evidenced by other data. For example, the growth of the average sales price of new homes sold in the U.S: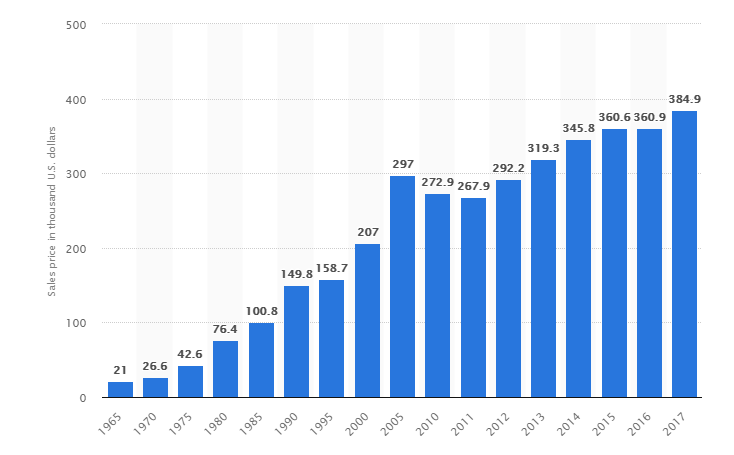 The growing number of new house sales and stable growth of rentals are also worth paying attention In the past few years, we have faced a worldwide trend in the digitalization of the real estate market. This trend sets certain rules that you need to follow if you want to make a profit.
One of the main trends is realtor app development. The pioneers in this area are Zillow and Trulia, which are among the largest players on the market today.
Why does a real estate business need an application?
44% of real estate buyers

looked for properties online first;

Zillow's estimated visits are about 188 million users per month;

58% of Millennials and 46% of Generation X buyers found their home via a mobile device;

Every month, users scan 420 million homes, and every second as many as 186 homes on Zillow;

80% of homes in the US were viewed through Zillow;

The income of Trulia is estimated at $251.9 million, for Zillow this figure is $1.2 billion.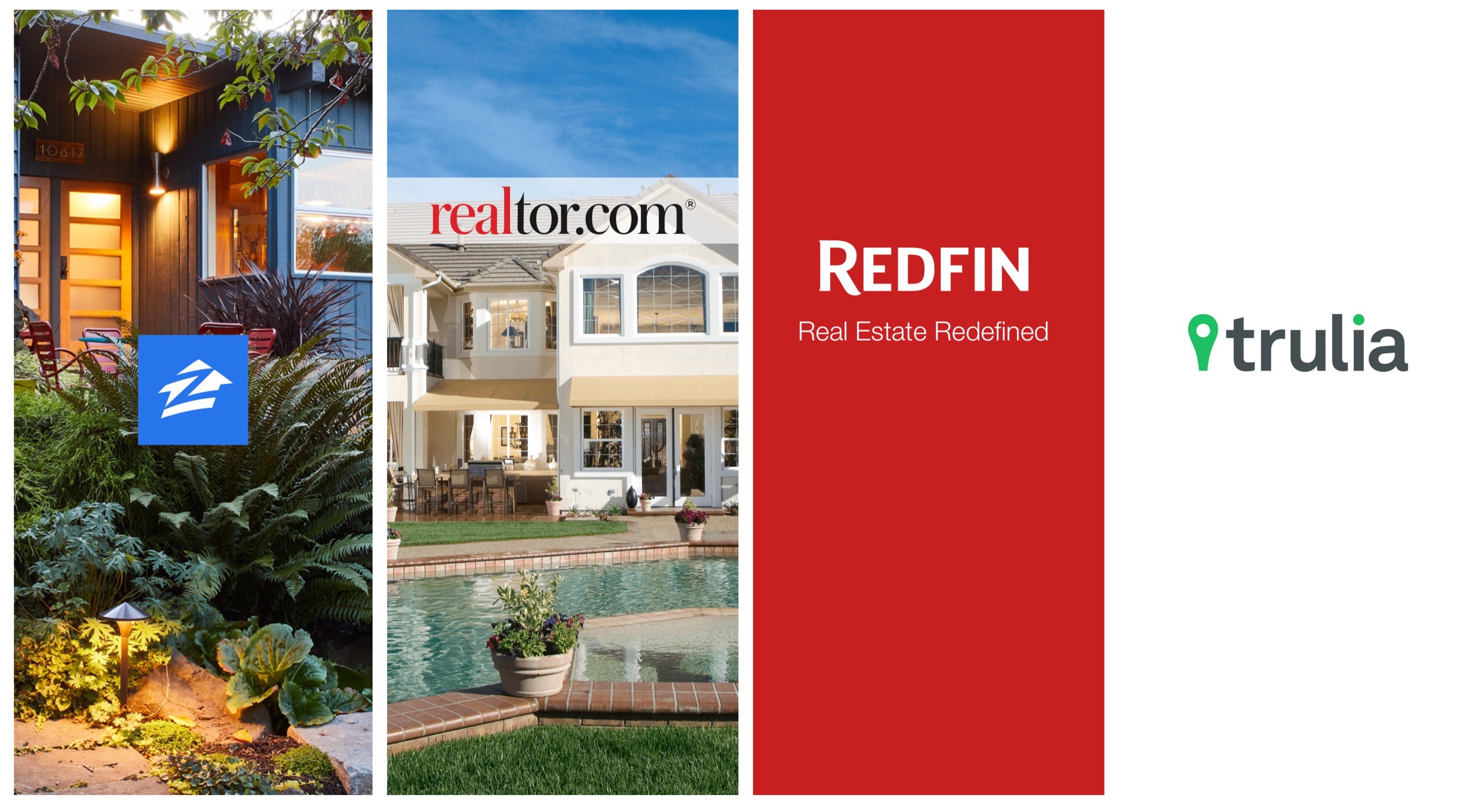 Why does Zillow Group so popular in the Real Estate market?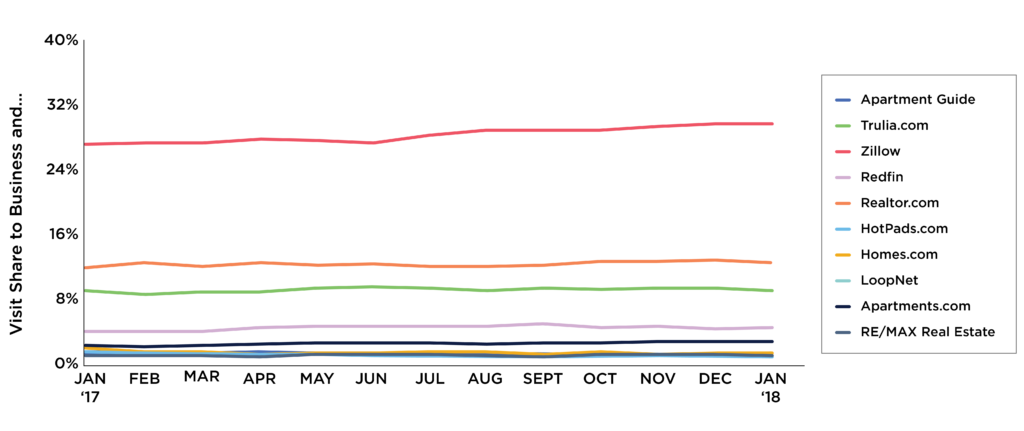 As can be seen from the chart above, and the previously mentioned statistics, the undisputed leader among real estate applications is Zillow. It is slightly inferior to Trulia, which was bought by Zillow Group in February 2015 for $ 2.5 billion.
So what are the main reasons for the popularity of this application?
Huge MLS Database.
According to reports for August 2018, Zillow's database contains 110 million homes located in the US. This is the most complete real estate database in the whole country.
Advanced property search.
The convenience of use has great importance in promoting the application on the market.
Thanks to the search and filters, homebuyers can find a real estate object that perfectly matches their needs.
Detailed information about the property.
In addition to the listings, Zillow provides its users with a huge range of information about properties (crime statistics, nearest schools, neighborhood, weather, etc), which makes it one of the best real estate listing apps.
Interactive map.
A map showing the location of the listings is a great way to give the user exhaustive information about the property of interest.
A better connection with potential buyers.
Zillow provides users with an excellent opportunity to contact the agent at any time to schedule showings. And also to leave feedback about cooperation with the agent, after the buying process is completed.
A large number of Real Estate professionals.
According to the open statistics, in 2016 2 million real estate agents and brokers were listed on Zillow.
Сross-platform.
Zillow includes web and mobile applications. 75% of Zillow's visits come from mobile. During the month 420 million homes are viewed through mobile devices.
Got an idea for a real estate app? We'd love to discuss it
What are the main functions of a real estate application?
In order to answer this question, we have prepared a table with a list of real estate mobile app features that will allow your product to become a top tier. We collected this list of functions from the most popular real estate applications on the market.
The ultimate list of features that will make your Real estate app best of breed


For home buyers:
For brokers/listing agents:
Must-have

Map view




Home listing options




Advanced search




Sorting (by latest, featured, etc)




Image gallery




Authorization via Social media




Detailed property info




Rich Push Notifications

Profile with the working experience




Client's reviews

Agent contact info




Adding property and editing data




IDX




Agent's Service Areas




Uploading an agent's license

Challenger

Neighborhood info




Saving favorites




Save search




An option to find an agent in a certain location.

Open house calendar




Agent's Sale Prices statistics




List of agent's sold Properties

Killer features

3D or virtual reality tours




Videos




Mortgage calculator




Property's Price Trends




Sold Homes statistics

Internal advertising panel




Signing documents online
We analyzed the list of functions of market leaders and divided them according to different user roles (home buyers or real estate professionals), for whom these functions will be useful. In addition, we have grouped these functions according to the degree of necessity.
"Must-have" functions are the minimum set of features for the real estate app. This is especially related to those entrepreneurs who create MVP.

Correspondingly, in the "For leader pretender" block, there are functions that we recommend to pay attention to for those who want to expand their product.

"Killer features" - we have attributed the most complex functions that will add value to your product.
According to polls:
83% of real estate buyers, while choosing a house, are primarily focused on photographs and 84% on detailed information about it;

42% of respondents prefer to view virtual tours;

Another 45% of the respondents answered that the most useful function of the real estate application is an interactive map;

42% of respondents indicated the need for an agent's contact information.
Want to discuss your feature set? Drop us a line
What are the main steps in a real estate application development
After you have chosen the functionality, it's time to start developing your future application. But do not forget about the pitfalls that may occur along your path.
Step 1: Multiple listing service database
According to US law, all public information about real estate must comply with certain canons. They are approved by the National Association of Realtors (NAR). This information is stored in the multiple listing service. MLS is a system in which brokers enter information about a real estate object and make a professional assessment of it to determine the actual value. A multiple listing service database does not have a public API, this information can not be accessed by an ordinary user or a person who wants to sell his house. Only brokers and listing agents have access.
But nevertheless, NAR allows brokers to display limited information about real estate objects on their websites thanks to the system known as IDX or Internet Data Exchange.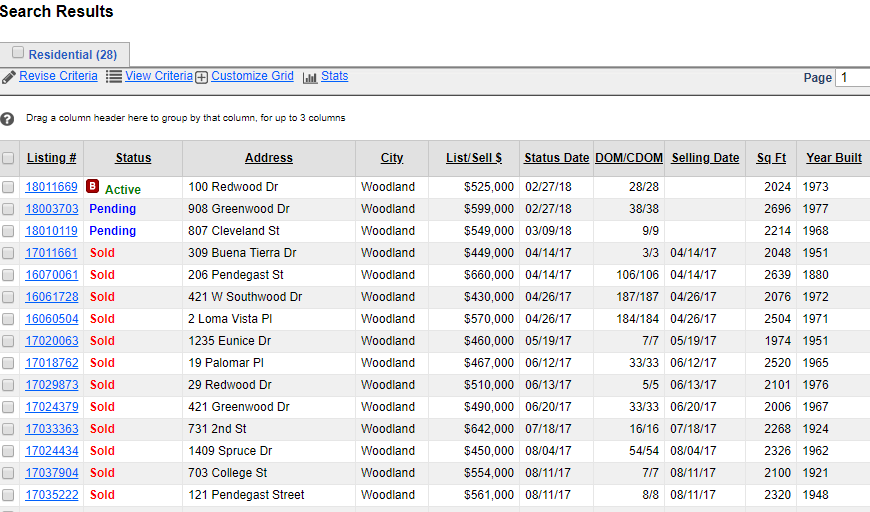 IDX allows you to upload information such as price, property features, type of property. The downside is the fact that this system is practically not customizable. For example, if you want to change the design of the real estate catalog to fit your website, it will be almost impossible.
As you understand, in order to create a competitive position in the real estate market, you need to take care of where you will get the actual information about the listings. For today in the US, there is no single national MLS, instead, there are about 600 local systems.
You will ask: where do the big market players take the listings from? Some of them conclude an agreement with each MLS directly. Based on our experience, we advise startups to get access to the most extensive databases. For example, the California Regional Multiple Listing Service (CRMLS), the Arizona Regional Multiple Listing Service (ARMLS), and the North Texas Information (NTREIS). This will give you access to more than 100K listings and allow you to quickly enter the market.
Step 2: Advanced property search & filter
Creating a new real estate application is in a highly competitive environment, so we strongly recommend you make it as convenient and useful to the user as possible. If you have already completed the first step of our guide and determined what MLS you are going to cooperate with, then the list of properties in your database is huge. To help the user not to get lost in such a variety of houses, your application needs to contain a convenient and detailed search for real estate objects.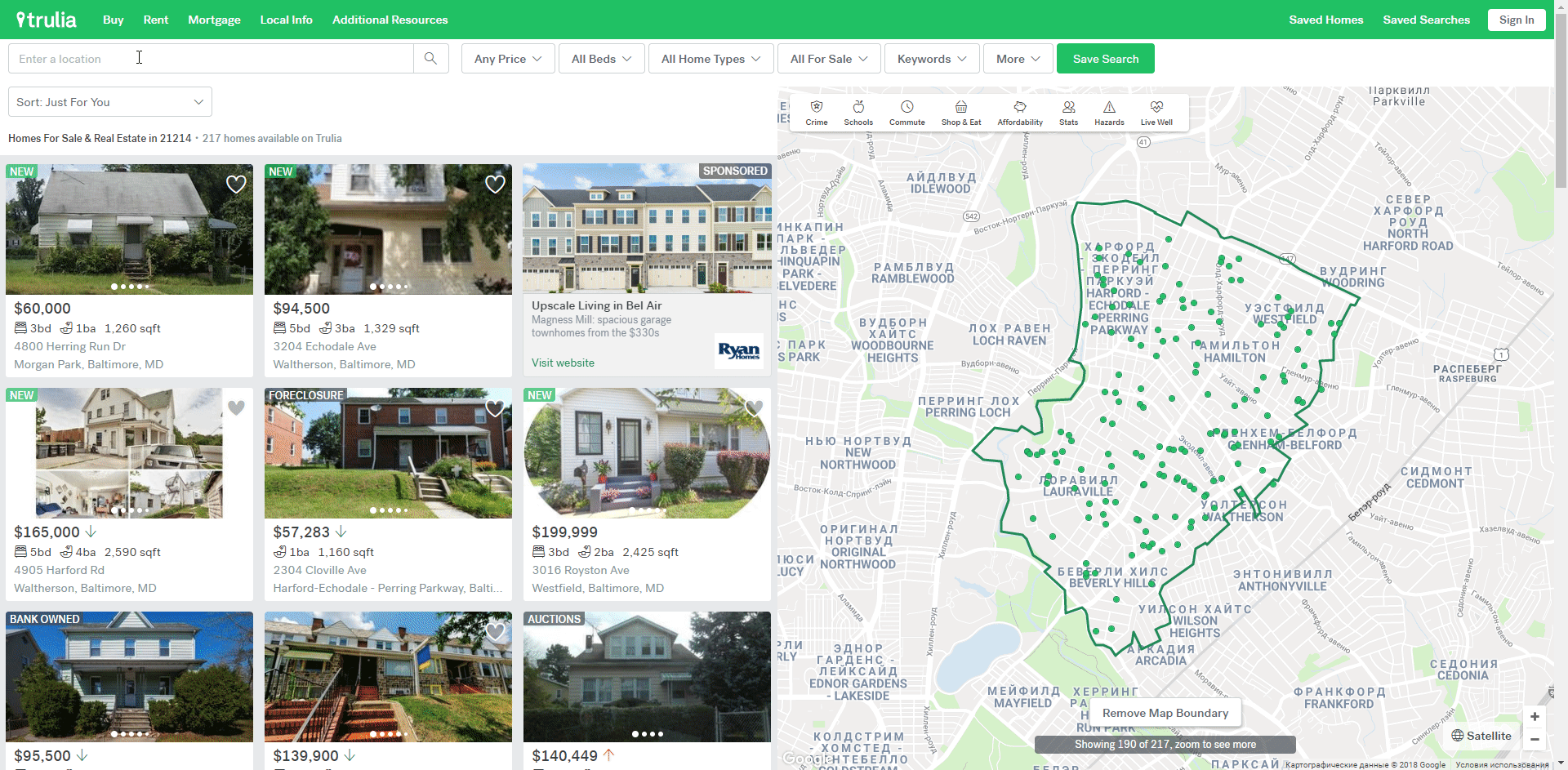 The filter can be divided into:
Geographical feature
By price
Minimum price;

Maximum price;
By property type
Apartment;

Condo;

Multi-Family Home;

Single-Family Home;

Townhouse, etc;
By home features
Number of bathrooms;

Number of bedrooms;

Square feet;

Lot size;

Year of built.
In addition to a detailed filter, it is important to give users the ability to sort information by novelty (for example, from old listings to new ones), price (from low to high, and vice versa), by the number of rooms, lot size and so on.

Step 3: Detailed apartment features
Detailed information about the property will be no less important for the user's convenience. As we said earlier, certain information that has public access is uploaded from MLS.
But apart from this information, additional details are also important to users. For this, you can allow the listing agents to edit information about the property. It is also worth noting that the list of houses is not the only database that is used by traffic leaders in the real estate market. For example, Trulia provides information about the level of crime in the neighborhood. Crime Data can be obtained by API from a number of sources, for example from Data.gov.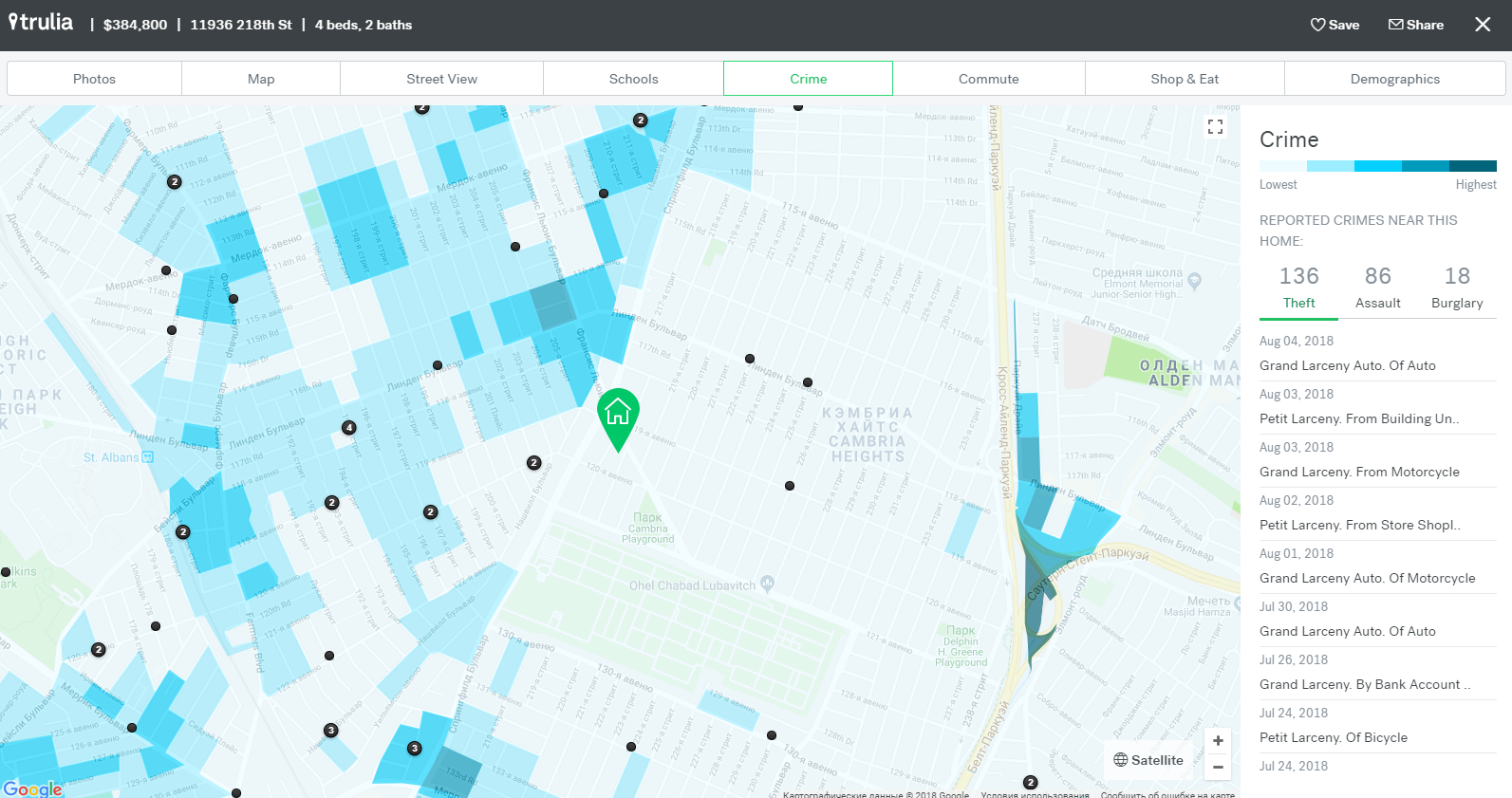 Zillow provides information about schools located in the neighborhood. This data is also pulled from the GreatSchools database.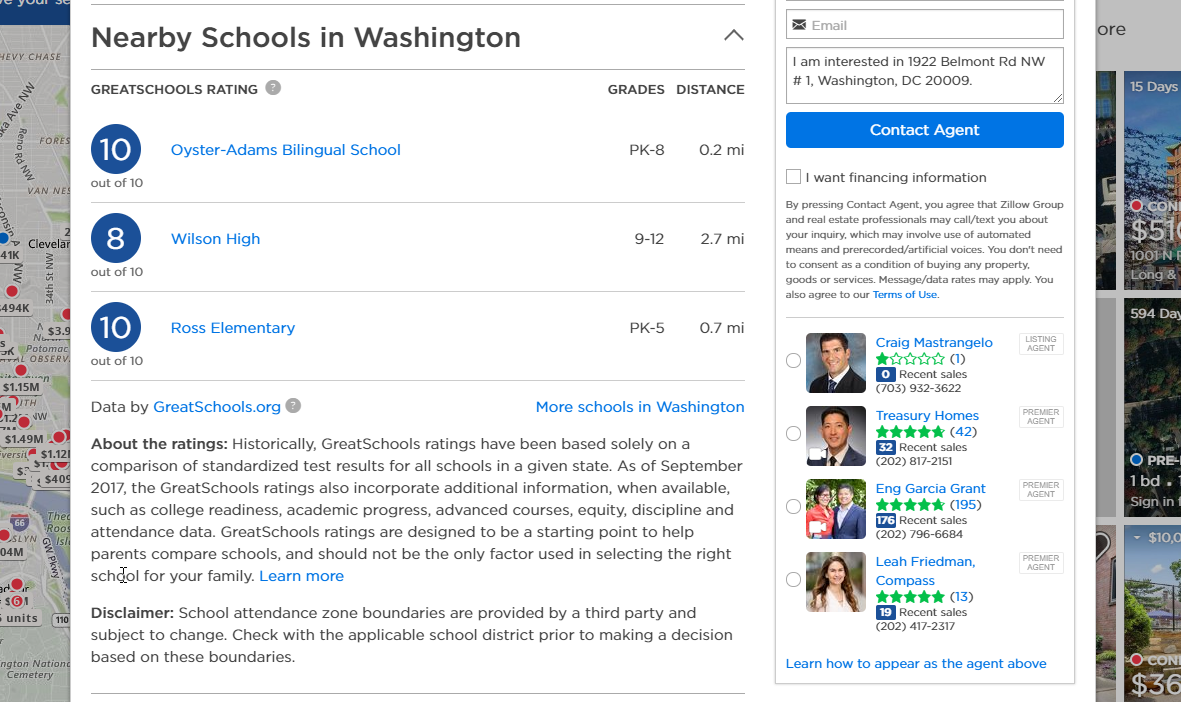 Step 4: Interactive map
A common standard for real estate applications is the availability of an interactive map on which the user can get acquainted with the location of the listings. Objects on the map are marked with an icon. Clicking on it the visitor can see detailed information and a photo of the house. Such functionality is not only convenient but also allows to increase the user's involvement.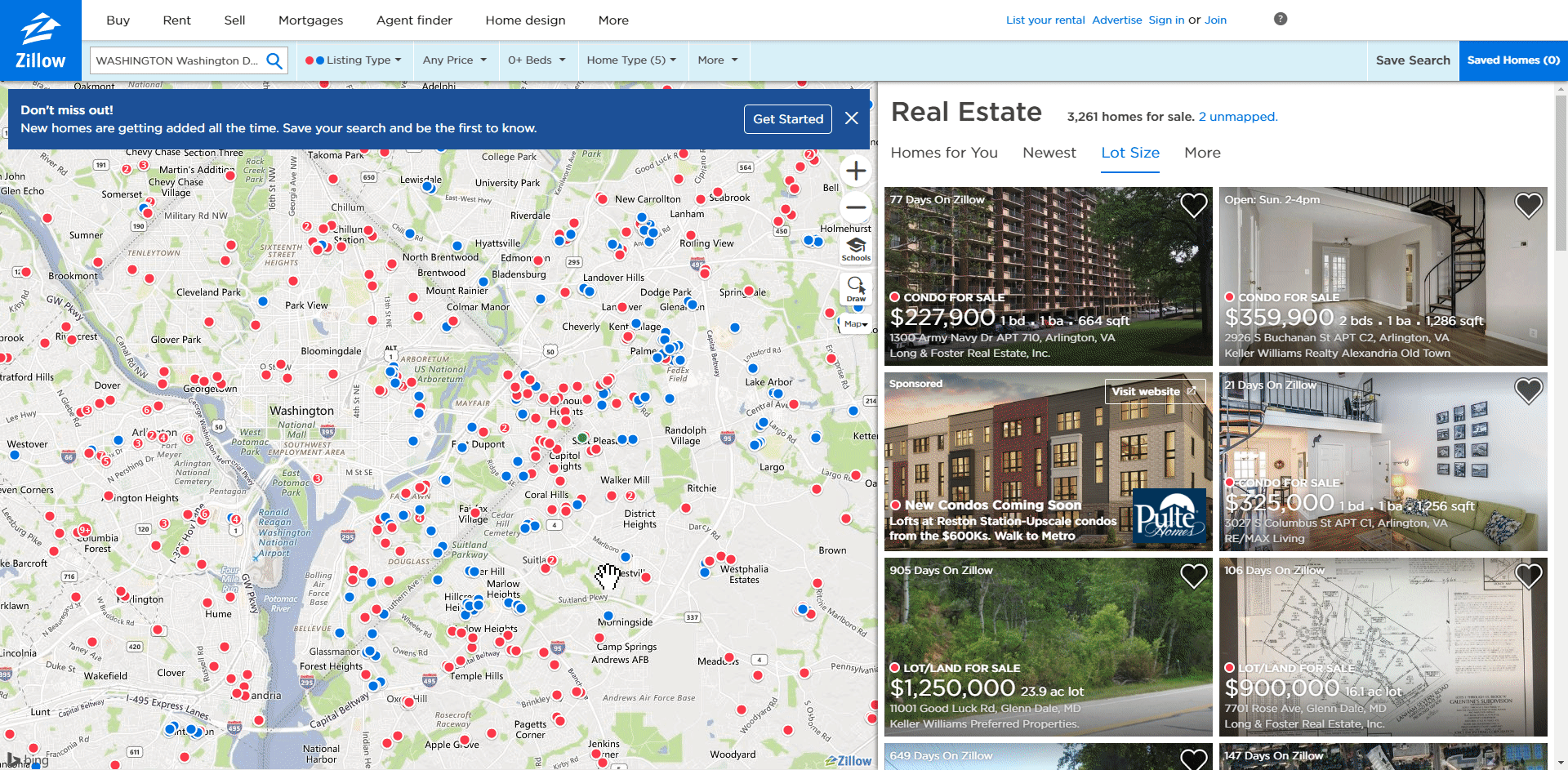 For example, Trulia uses Google Maps API to easily and conveniently visualize important information for users, which they take into account when buying real estate. With the help of the map, visitors can see who lives next door, where the nearest park or mall is located. With the help of an experienced developer, you can add data on schools, public transit, nightlife, environmental and natural disaster risks, property valuations, and sales trends.
In addition, Map APIs will allow your application to work productively on all types of mobile devices and correctly displayed in the web version.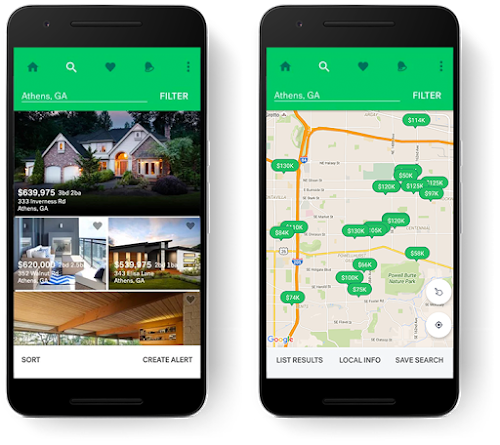 Step 5: Choose a model for monetizing your application in advance
We started this article with the fact that real estate in the US is a promising business nowadays. But in order to make the fastest possible profit from your application, we recommend you to think about the ways you are going to earn money in advance. Because it will influence the functional and technical characteristics of your future application.
There are several common models for monetizing a real estate application:
Special plans for listing agents and brokers
For this, your application must contain different user roles with different functionality. Brokers and listing agents will be interested in an extended profile with contact information, rating, and feedback from their customers.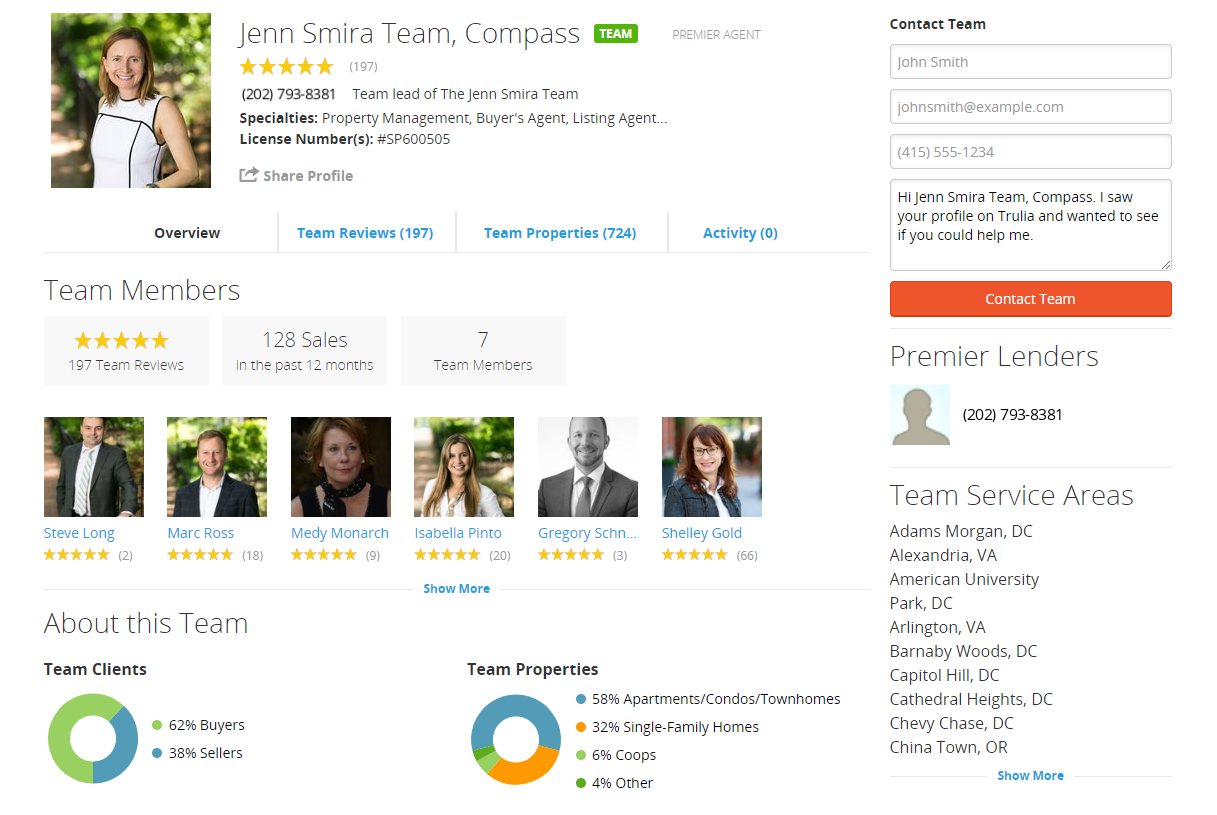 Advertising functions
The presence of an internal advertising cabinet is a challenge that requires a detailed approach in the development. Nevertheless, this is one of the most effective methods of promotion in the real estate market. Mortgage brokers will be interested in promoting their services, and listing agents will be happy to advertise a house that has been on the market for a long time.
Fee for additional features
A spread practice is to provide advanced functionality to users for a fee. Perhaps the broker will be interested to have a page with a unique template and description of services.
Detailed business analysis and quality development will help you determine the most effective monetization model, which will suit your business needs.
Step 6: Choose the right development technologies
Having thought about all the functionality and having determined the sources of databases, you come to the most interesting and the most difficult stage in the process of developing a real estate application: what technology stack to choose?
Speaking about the technologies used in the development of Zillow and Trulia, we can distinguish the following:
Postgress, PostGIS SQL databases to handle a huge number of MLSs.

Different APIs, such as SimplyRets, iHomeFinder, Spark APIs

Facebook SDK - to log in using your account on the social network.

MapKit - to create an interactive map that is customizable for your business needs.

Firebase SDK and Apple Push Notifications Service for correct work of push-notifications.
The whole technology profile you can find on BuiltWith.
We would like to draw your attention to the fact that the target audience in the sphere of real estate is quite extensive. And in order to cover all its segments, we strongly recommend conducting multi-platform development.
Therefore, speaking of technologies, it can be mentioned that for the frontend it's best to use HTML5 and a JavaScript framework. JavaScript has a huge number of geo-focused libraries, such as Leaflet, which can greatly facilitate the development task. To customize advanced filters and sorts you need to implement JQuery.
We do not recommend using multiple database paradigms. The most effective way to store and manage property data and MLS data is to apply MongoDB. But MySQL / Postgres is also suitable for these purposes.
Let us know if you have some questions left unanswered
How much does it cost to create a Real Estate application?
Wish to create your own real estate app? Any entrepreneur at the product development stage is interested in the cost issue. We tried to give a rough time estimate according to the mentioned before the ultimate list of the most popular functions for this kind of product. Please note that the time cost may vary greatly depending on your business needs, the set of required features, the number of MLS, etc.
In addition, you will have to decide what type of application you are going to develop: a web app or a mobile app. For your convenience, we prepared the information about how long does it take to create both web application and iOS apps like Zillow or Trulia.
Also, our estimation includes all stages of product launching, including Business Analysis, Quality Assurance, Project Management, Bug fixing.
| | |
| --- | --- |
| Stage | Effort (man-hours) |
| Development | 2800 - 4200 |
| Testing | 1000 - 1500 |
| Bug fixing | 300- 400 |
| Project Management | 400 - 600 |
| BA, Knowledge transfer | 400 - 600 |
| Total | 4900 - 7300 |
For the higher-precision estimation, you can send us information about your future or existing project: [email protected]
Real Estate tech trends
Like any other industry, the real estate market is being influenced by the increasing impact of high technology. This and other factors shape the direction of the industry and the trends that prevail in it. That is why speaking of real estate technology trends we distinguish such factors as:
AI & Machine Learning
Machine learning technology, combined with the use of AI elements, allowing the quick process of large amounts of data to create more accurate patterns. Real Estate solutions supported by these technologies function more efficiently, including such nuances as better energy consumption.

In addition, the introduction of AI technologies allows entrepreneurs to create a more convenient service for real estate clients, who can receive more accurate data regarding what kind of real estate they want to buy. The potential of high technologies in this segment is extremely huge.
IoT
The Internet of Things in the real estate segment includes all those devices that can be found in modern smart homes. All of them are combined into a single network in order to function better. IoT also includes the development of new and better solutions for smart home control, including sensors, improved voice control, and so on.
5G
The new generation of communications will of course affects the real estate segment. Thanks to the introduction of 5G, sensors and other devices inside the house will function faster, be able to process large amounts of data faster, and communicate with each other without errors. Also, 5G will help to achieve better security, support, and monitoring of all home systems.
Virtual reality
VR technology will take the process of inspecting homes and lots online to a new level. Users will no longer need to physically be at the facility in order to verify its qualities. This factor will significantly speed up the process of buying and selling in the segment. Global crises such as a pandemic have only accelerated the adoption of this technology.
Mobile services
For several years, mobile applications have been competing on equal terms with desktop applications in all industries, including real estate. The ability to inspect the house and its parameters, find the house you want, contact an agent and make a purchase literally using only your smartphone is really convenient. And while real estate mobile apps are nothing new, they will certainly get a boost from technologies such as AI, Big Data, and VR. That is why mobile app development for real estate market will be a trend in the coming years.
The bottom line: How to dominate at the Real Estate applications market
To summarize all the information above, we will highlight a few key points:
The database is very important. If you are going to develop a mobile application, you will deal with a large number of APIs and MLSs.

You need to decide in advance, how your application will get the listings. The app should contain a large number of properties to make the user find exactly what is needed. There is a large number of local MLSs and you need to access them.

Choose the functionality. Your application should be as convenient as possible. And it should give a variety of information about each real estate object to the user. The uniqueness of your product in a highly competitive market depends on the list of functions.

Choose the monetization system. Create a business model for your product, it will help you make a profit as soon as possible.

Analyze the applications of competitors. What are the main features of the market leaders? Is there anything you can do better?

Choose the most efficient and modern technology stacks.

Hire

a dedicated development team

. Think about the idea to outsource the project with a real estate app development company, it will help to minimize costs, gain the support of experienced professionals and launch custom real estate app development.
Do not forget that the qualitative process of developing a real estate application includes the work of a team of specialists: developers, DB expert, UI designer, UX expert, and QA specialists. We hope that this guide will be useful to you in realizing your new business. If you have any questions regarding the development of a mobile application or a web-based real estate platform, please contact us. We will be glad to answer any of your questions.
SEE ALSO:
?How much would a real estate app cost?
The cost of your future application depends on the list of features you want to realize. The effort of all stages of product launching will take
4900 - 7300 man-hours
approximately. To find out the current rates and determine the exact amount of expenses, please contact us by email:
[email protected]
?What features should be in the real estate app?
?Where to start when developing a real estate app?
Choose the right MLS, Map APIs, technology stack. Then think about user-friendly property search and detailed information about each listing.
?How do real estate apps make money?
There are several basic models for monetizing such applications. The most popular are paid plans for real estate professionals, in-app advertising, the fee for additional features.