Machine Learning in Business Operations
A huge amount of data is generated daily by various businesses. According to the forecast, 463 exabytes of data will be created every day by 2025. This makes performing data analytics tasks crucial in business processes for many companies in various industries.
Revenue of business can be increased with the help of machine learning through extending data analytics efforts in order to acquire insights at a greater volume, quality and speed. In fact, according to 45% of those who have adopted machine learning in their business speaks of benefits this technology brings in terms of access to more pervasive data analysis.
Various avenues of revenue growth are driven by having these data insights through predicting business outcomes, improvement of business strategy and better customer engagement. When used strategically, the insights are key to having the business gain a competitive edge over their market peers.
It is important that businesses are aware of the opportunities machine learning gives in order to make deliberate and relevant decisions on areas of prospective investments. Businesses should think critically whether their operations will benefit with machine learning implementation.
Signs Your Business Needs Machine Learning
How to check if your business needs machine learning?
How Can Machine Learning Add Value to Businesses?
Machine learning greatly contributes to various businesses showing the steady progress in areas of usage. However, here are specific details on how it adds value to businesses:
Customization of a user's environment and experience
Customizing the user's environment and experience speak volumes on the way businesses can benefit. Through this, customer engagement can be made better with data insights derived from machine learning. Companies can better identify, understand and respond to customer needs, which may even result in the potential sales lead. Product search using personalization based on user's search and purchase history is beneficial, especially in the sales and marketing industries. Machine learning-driven data analytics can also improve customer segmentation by predicting and segregating profitable clients from risky ones in the insurance and finance industries.
Computer vision
Computer vision continuously innovates its ability to produce numeric and symbolic information from images and other high-dimensional data. Different businesses have incorporated computer vision and benefited from what it offers. In particular, it provides solutions in biometrics, forensics, augmented reality, and industrial quality control. This technology has enabled endless possibilities through activation of visual content recognition.
Digital content processing
Machine learning is instrumental in enabling quick processing of massive amounts of content. The most common use case is document retrieval including classification of documents by topic and keywords, an automatic summary of the content, and extraction of pertinent information from large amounts of content. It facilitates retrieval procedure efficient shaping it in an organized manner.
Predictions, estimates, and sales forecasts
It is important for businesses to continually be innovative and agile for meeting the growing customer needs. Machine learning techniques are regularly used to forecast demand for products and services. With this, companies of various markets and businesses continuously flourish and remain relevant however fast-paced technology and business can be. Demand forecasting allows businesses to manage their stock inventory, evaluate economic returns on promotions and cost reductions. It can also provide predictive analytics that aids in analyzing historical and current data to make predictions for future outcomes. It benefits the finance industry by predicting currency and stock price fluctuations. It also helps predict hypoglycemic events and even outbreaks of infections for the healthcare industry.
Machine learning in healthcare has continuously increased and progressed with the growing number of applications being used. Read about
Anomaly detection
With anomaly detection from machine learning, such problems as structural defects, errors, and even fraud can be easily detected. This is helpful especially in spotting intrusion that can potentially damage information systems. Aside from that, anomaly detection can easily discover strange activities in large and complex big data sets which can be useful in the field of banking, security, natural sciences, medicine, and marketing.
Expected Business Outcomes on Implementing Machine Learning
With machine learning opening big possibilities for businesses, outcomes guarantee to improve. Here are some benefits ML can bring to your business:
Enhanced Customer Experience and Functionality
Machine learning is able to create patterns that allow different companies to learn more about its users. Personalizing the services helps businesses stay attractive and relevant from knowing the customers' best matches on dating apps, songs on music sites, or products they are likely to purchase. Having the ability to provide real-time and personalized customer support through these things will result in an enhanced customer experience that continuously generates sales and retain customer loyalty.
Take a look at this extensive guide on
Improved Business Strategy, Process, and Business Logic
Machine learning models promote an improved business strategy with its ability to generate customized offers to the right customers through the available data they have. For instance, dynamic price optimization for revenue management is a commonly used tool in retail, automotive, mobile communication, and even in the electricity industry enabled by using data on customer variability preferences and buying patterns. This helps increase the probability of sales while generating a higher value of revenue in different businesses.
Competitive Advantages
Machine learning has continuously proved itself to be the go-to technology in the fast-paced and rapidly growing business industries. With machine learning in business, it is easier to analyze huge amounts of data, create detailed customers' profiles and get a competitive advantage on the market.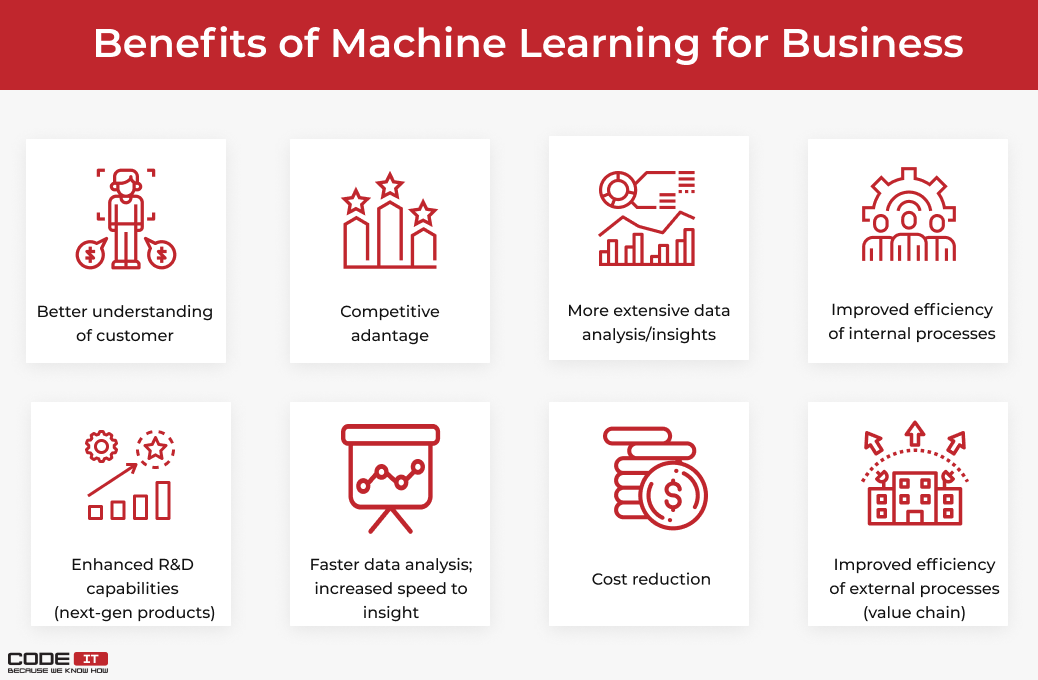 How to Apply Machine Learning in Business
Here are helpful steps to apply machine learning to your business:
1. Analyze your business processes and goals
When incorporating machine learning in your business workflow, the first steps include understanding the project goals and expectations, defining project objectives and creating initial queries. Data scientists investigate the data for better development of intuitive understanding of the problem, then together with business stakeholders make preliminary plans with the scope of work to be done.
2. Data Collection and Preparation
Critical yet another important step is preparing collected data by analyzing, visualizing and a better understanding of the most useful data through preprocessing and transforming it in order to construct the final dataset from the initial raw data.
3. Model Development
This step allows for training a few models before deciding which one gives off the most accurate results. By experimenting with various types of models, feature selection, and parameter tuning--it will be easier to identify which model is overfitting or underfit.
4. Model Evaluating and Deployment
Data scientists evaluate the accuracy of the model by analyzing results generated by machine learning models and tune their parameters continuously until the sufficient results come out. At the final stage of development, we put a model into production.
5. Measure the results of machine learning implementation (ROI)
Determining how to measure the impact of the solution and defining the potential return on investment (ROI) of machine learning is important. A higher overall project ROI can be forecast especially since recurrent benefits are expected after the first year for most projects. Hence, it is essential to acknowledge that machine learning is an exponential technology.
A business will also have to make choice between hiring data scientists and software developers and developing models in-house or outsourcing machine learning tasks. Opting for customized service, you enable your business to get tailored solutions for meeting the specific requirements you set yourself.
LET US SOLVE YOUR MACHINE LEARNING CHALLENGE
CodeIT data science team will lead you through the whole machine learning process. We'll attentively learn the specifics of your business domain, discuss all your requirements and business goals, explain the wide range of machine learning capabilities, and make it clear what techniques match them.
We handle data-related processes ranging from data collection and preprocessing to preparing datasets for effective modeling. Then our experts create an optimal ML model, evaluating its accuracy to deliver ready machine learning solutions.
Tagline: In this article, we discovered the main benefits business gets by incorporating machine learning, discussed potential outcomes from implementing ML, and identified the steps in which you can apply machine learning in business.
Further reading: