Virtual Reality is a three-dimensional setting generated by technology, which allows users to immerse in a certain environment by making it look completely real. With the use of computer simulation, physical presence can easily be mimicked through the use of electronic equipment with sensors such as gloves, helmets with the inside screens usually looking like typical goggles. This equipment helps implement virtual reality in different types of applications within medical, industrial, aerospace, commercial, retail, and entertainment sectors.
The continuous technological advancement led to broadening the scope of the Virtual Reality Market as everyone is starting to realize the dramatic improvement it can give on daily life basis. This explains its continuous growth rate: according to Verified Marketing Intelligence, the Global Virtual Reality Market is projected to reach $33.08 billion by 2025 at a Compound Annual Growth Rate of 55.3% from 2018 to 2025.
VR in Gaming, Entertainment and Media Industries
Mobile Virtual Reality gives a different kind of experience in such trends as selfie filters and games. Even though there is still a lot to improve, people show great interest to such apps, which is confirmed by figures that keep increasing for companies supporting VR. In 2017, Google announced that it had shipped over 10 million of its cheap Google Cardboard virtual reality headsets since their debut in 2014, which means that virtual reality and what it offers continuously piques the curiosity in the gaming, entertainment and media industries.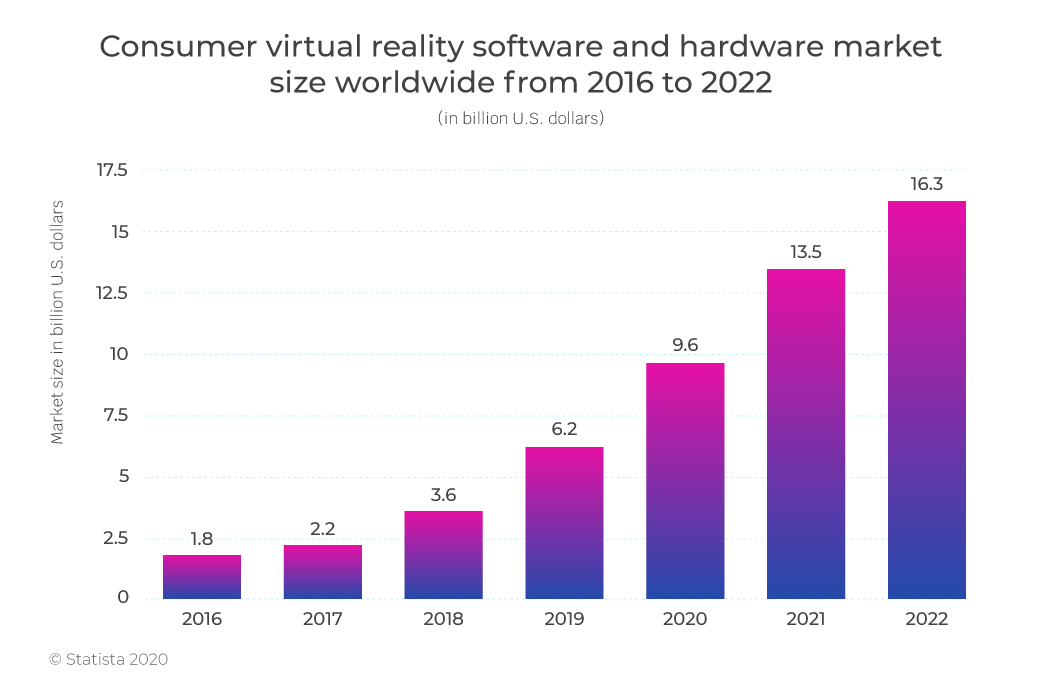 An immersive gaming and entertainment process with just the use of a VR headset not only provides excitement but also bring a different level of digital graphics.
VR headsets in the market benefit the gaming, entertainment and media industries as well as shopping, healthcare, education, and industrial sectors by prototyping for further use of Virtual Reality headsets and, thus, bettering user experience.
What are the industries that have already adopted Virtual Reality technology?
Healthcare. One of the most important industries that responds to advancement in technology is healthcare. With the continuous development of technology and software, the healthcare industry then continuously flourishes and benefits every person in the world, including all those working in the medical field. The increase of healthcare expenditure along with focusing on efficient healthcare services with significance in training healthcare professionals are a few of the key factors driving the adoption and usage of Virtual Reality. VR helps revolutionize virtual training of surgeons and medical practitioners for complex surgeries, three-dimensional simulations, phobia busting mental health treatments, and chronic pain management. Diagnosis and treatment can be remotely possible, training can be less risky, medical lab and equipment design can also be improved. Virtual Reality has allowed medical schools and institutions to transform anatomy studies. VR in the diagnostic segment is expected to emerge as the fastest-growing application segment in the healthcare industry.
Education. Educational materials have always impacted students' knowledge retainment compared to just reading it on their own, which explains why practical lessons, experiments, and experience have always made it easier for students to remember certain lessons taught this way. With the use of VR in education, students not only remember what they learn but also develop another level of interest in learning. Three-dimensional animation and simulation in Science can provide easier understanding while remaining educational and fun at the same time. Having access to these kinds of educational material is also useful and cost-effective in the long run for education institutions and facilities.
Construction and Architecture. Virtual Reality allows a different kind of visualization that works well for the designer-client relationship. Architects can easily provide not only the look of construction but also let the client immerse in it. VR provides easy and fast demonstrations while enhancing collaboration amongst concerned parties which assists in decision making. Aside from that, replacing physical mockups with virtual mockups to improve efficiency and productivity benefit all the parties involved in the project.
Retail. Shopping has already started to evolve with the emergence of e-commerce. However, VR placed it on a new level since V-commerce was born. With e-commerce, a handful of the tasks and a bunch of people are still pressured with the demands of a colorful photo, grandiose videos, and detailed product descriptions to enhance buyers but with V-commerce, customers can easily immerse themselves and visualize exactly what they're buying without having to go in a physical store. Aside from that, VR in retail will help in the reduction of marketing costs for campaigns, reduction of product returns and offer efficient analytics and data. With VR, maintenance is easier and budget-friendly than having to maintain a physical store.
Related:
The effects and benefits of Virtual Reality are not limited with usage within the above-mentioned industries. Other industries such as banking, insurance, securities, and investment services, manufacturing, wholesale, transportation, federal/central government, state/local government, telecommunications, and media are a few that use VR and will provide an improved experience to all.
What You Need to Create a Virtual Reality Application
Choose your VR device
There are various types of VR hardware you can choose from but Google Cardboard is one of the easiest and most affordable VR devices to acquire.
Use a special 3D engine – Unity
A three-dimensional or 3D engine helps in the development process of creating a virtual reality application and Unity is the best engine for building 3D environments especially in game development with an option to choose Plus or Pro for a more advanced feature.
Use an app-building studio
You can easily choose an app-building studio that works for you, for example, we are using Android Studio for Android devices.
Google Cardboard SDK for Unity
This allows you to create an immersive environment featuring motion tracking, stereoscope rendering and user interaction with options for both Android and iOS users.
Autowalk script for Google Cardboard
Available for both Android and iOS users, script provides an auto walk function to the Google Cardboard Unity SDK.
GOT AN IDEA FOR VIRTUAL REALITY APP? LET'S DISCUSS!
The Challenges Your Business May Face with VR
Virtual Reality has become popular in the technology industry. However, there are still a lot of developments and research to do to conquer the different industries and markets. Here are several challenges you may face with VR in your business:

High Price
Building or incorporating virtual reality in your business is expensive. The development could cost anywhere between $8,000 to $100,000 depending on the requirements of your business. Another thing is that the VR device such as headsets are expensive (except Google Cardboard, price from $15), and not many people would prioritize buying it for a business however much they might like the products being sold.
Health Issues
There is still very limited research and study with regards to the effects on the health of VR gears, which makes it even more challenging since advice and caution for usage is inconclusive and, overall, lacks evidence. Like any other technological materials, VR gears pose physical and mental effects on users with longer than usual usage. Physical effects include headache, queasiness and blurred vision. Mental health effects may include behavioral and perception problems but those are still just conclusions without enough data and research to back it up.
Limits on Monetization Model Patterns
Since VR is still trying to penetrate the mainstream market, monetizing the technology and generating revenue can be a little challenging in the beginning. This calls for an extra hardworking marketing input, especially in the current situation of the VR industry.
Challenges of Fixing Clear Business Strategy
There are no known cost-effective development plans and vision for VR-oriented companies as the industry is fairly young despite flourishing in the gaming industry. The market segment is a bit small despite the tendency of steady growth. This poses a difficult and challenging state especially with the lack of successful business strategies to be taken as a role model or example in the future for businesses. A big corporation can go for a trial and error strategy, but this may not be practical for small development companies.
Engaging Content
Despite the popularity and rise of virtual reality in different business industries, there are only a few and very limited compelling content that uses VR to its full potential as of the moment. Considering the endless possibilities, this challenge may be easier to resolve in the future.
TELL US ABOUT YOUR PROJECT IDEA AND WE'LL ESTIMATE IT FOR FREE
With these challenges, it can look like a huge leap to become successful in the VR industry but once established, it can also bloom and become a huge success.
In a nutshell, there is still a lot to learn and develop in creating a virtual reality application but in the never stopping development of technology, it can be a real game-changer.
Read Also:
Future and trends of mobile apps development