Telemedicine Trends In Stats and Facts
Telemedicine is broadly defined as the use of telecommunications and software to monitor and treat patients in lieu of an in-patient visit.
During the coronavirus, we witnessed plenty of telemedicine stories that have been marking the epic emergence of new telehealth technologies and a shift to a much stronger presence of telemedicine in the healthcare industry.
The functionality of telehealth tech solutions allows healthcare professionals not only to communicate and diagnose but provide treatment to patients within the digital environment.
It translates into the rapid growth of the telemedicine market. According to Grand View Research, the telehealth market share is expected to reach $298.9 billion by 2028.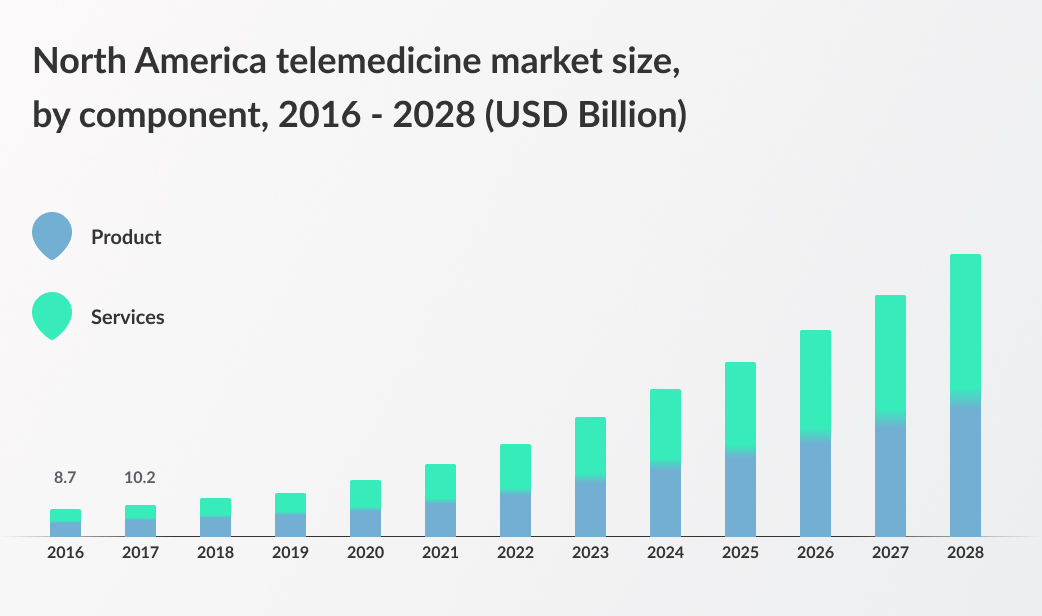 Key factors in driving the expansion of telehealth market size stem from:
the increase of chronic medical conditions

the effectiveness of remote health monitoring

the shift to customer-centric delivery of healthcare services

the rise in healthcare costs for government and private sectors

the search for minimizing the risks of coronavirus

the initiatives for increasing awareness of mental health and work-life balance.
Moreover, due to the impact of COVID-19's new strains, telehealth trends showed the demand for providing optimization-based workload of healthcare professionals.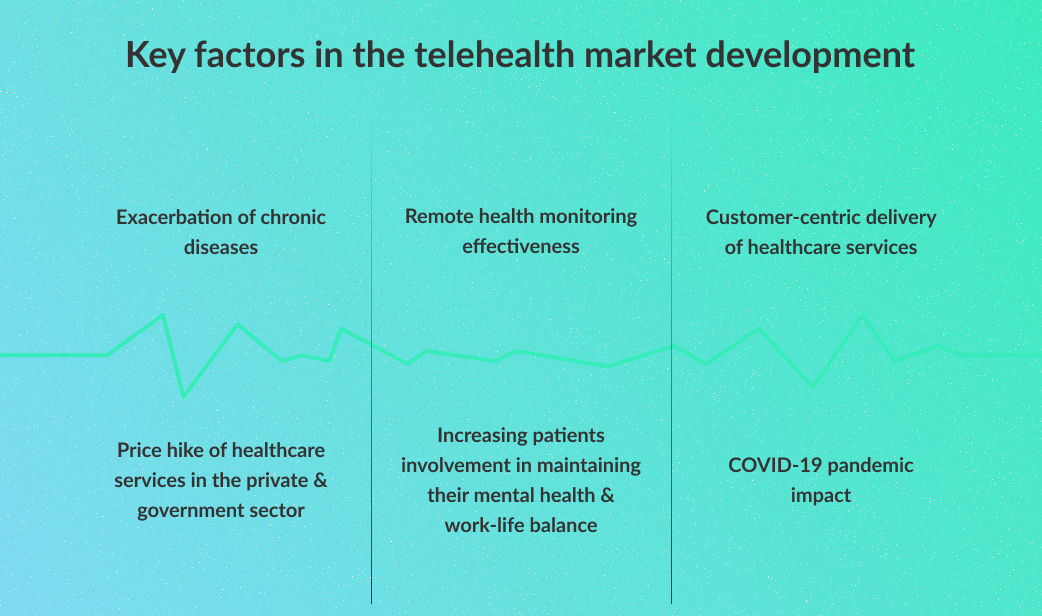 In particular, telemedicine trends utilizing artificial intelligence and benefits of AI in healthcare demonstrated exponential growth determined by wide capabilities of technology:
to address patient monitoring

to improve medical procedures

to contribute to building diagnostic tools

to elevate analysis collaboration to a new level.
Telehealth originates from the mid-20th century when radio-based technologies assisted in providing medical advice for crews on ships. In hospitals, the first usages (mostly, for consultations purposes) date back to the 1950s.
In the last three decades, telehealth embarked on a trend of expansion among patients with chronic diseases like diabetes, asthma, patients that experienced strokes, heart failure, and mental health conditions.
Overall, telemedicine before and after COVID-19 has been an indicator of a variety of telehealth industry trends that shaped not only expanding telemedicine market size but its current status of the most successful and promising sectors in healthcare that we discuss below.
Telehealth Today
Current trends in telemedicine are based on the idea of digital delivery of healthcare services.
Its usage stretched from rural to urban areas where it became the healthcare option for millennials and busy parents.
In telehealth at present, there are three types differentiated by a time-related aspect of service delivery. They are: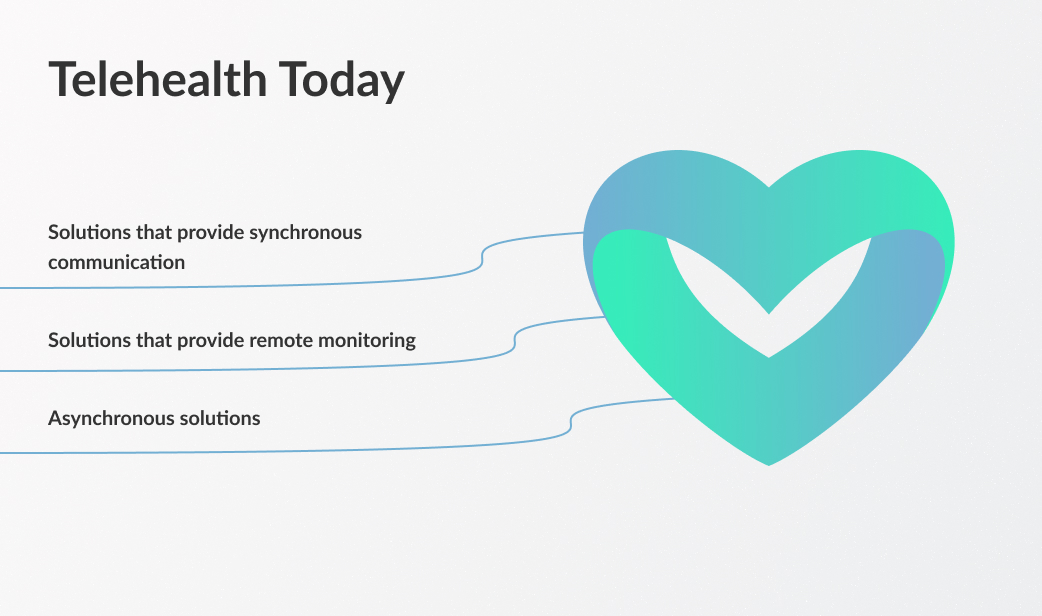 Solutions that provide synchronous communication
For instance, real-time services like video conferencing platforms for joining patients and medical professionals.
Another example is augmented reality apps that integrate data with the healthcare environment in real-time, which makes health-related information cost-effective and easily accessible for medical training in imaging, nurse education, etc.
Solutions that provide remote monitoring
They ideally suit the cases when patients are unable to visit doctors frequently but require regular monitoring of health-related metrics. Among the widely known solutions are Dexcom that enables patients to transfer glucose numbers directly to their doctor, Nutrium offering activity and nutrition tracking, remote patient monitoring programs, etc.
Asynchronous solutions (also known as store-and-forward solutions)
The apps of this kind allow medical professionals and patients to interact within their own schedules. For example, telehealth systems, electronic health records software, medical CRM that found wide application in a hospital environment.
Besides, due to mobile devices being the major means of preference of access to telehealth services, a segment of mobile health solutions requires close attention in terms of global business potential as it promises to grow at a rate (CAGR) of 17.6% from 2021 to 2028.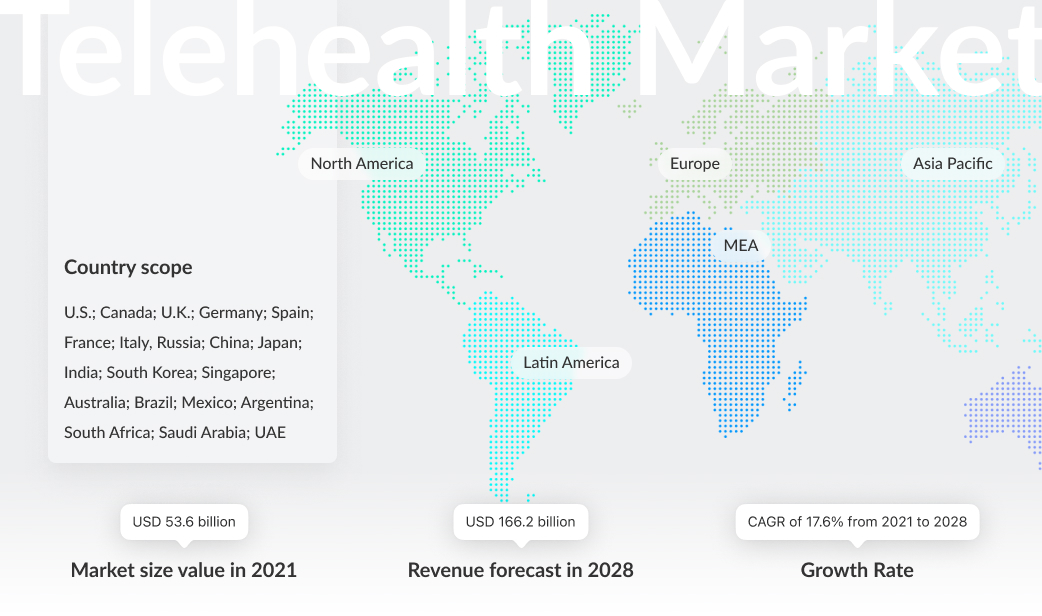 How Covid-19 Changed Telehealth
The coronavirus crisis created a clear line between before and after COVID-19 healthcare where telemedicine is a vital part of post-pandemic reality.
As it was stated in the McKinsey Report:
Telehealth has helped expand access to care at a time when the pandemic has severely restricted patients' ability to see their doctors.
Wish to create your own trendy telehealth app? Feel free to contact us
Indeed, during coronavirus, the world has seen an unprecedented increase in telehealth usage: only in the last week of November 2021, the number of American patients turning to telemedicine apps rose by 154% (!) evaluating against the same period in 2020.
For instance, Teladoc, a leading virtual healthcare app, experienced a surge in demand by delivering service to 20000 customers daily.
Another example is Amwell (previously known as American Well), a telemedicine Boston-based business that delivers video connections between patients and doctors. It posted third-quarter revenue of $62.6 million, which indicates an 80% jump compared to last year's numbers.
The Impact of COVID-19 on telehealth made telemedicine a new face of healthcare globally.
Coronavirus telehealth accelerated the emergence of various telemedicine technology that showed to be an effective alternative to onsite medical treatment.
It means that we can expect that recent trends in telemedicine will prevail alongside future telehealth trends we consider below.
Future Trends In Telemedicine
Despite the steady growth of telehealth, there was still much room for improvement in regard to wide-scale adoption but during coronavirus, it has increased significantly including televisions and remote monitoring tools for providing primary patient care.
Research on ROI for telehealth will determine what solutions will be further developed but at present, it is clear that both patients and medical professionals are positive about their experience of telemedicine and plan to use it post-pandemic.
From a technological perspective, we can observe a trend for continuous overlapping of healthcare and tech.
Particularly, telehealth trends will be further moving forward to provide seamless communication solutions with a high level of interoperability. Aside from video conferencing tools that will further modernize telemedicine, the post-Covid environment will require new solutions for eliminating risks of coronavirus implying:
faster delivery of healthcare services

an increase of accessibility of monitoring devices and tools

a further expansion of online primary care.
Global telemedicine trends that we can expect to move upward are also related to:
Delivering software tools for the best digital experience in medical education including a custom-designed database that would bring medical training to a new level of learning productivity

Creating solutions for telehealth segments like telemedicine cardiology, telemedicine pathology, tele-gynecology, and others that have shifted from niche areas to mainstream

Search optimization solutions that will guide patients to get high quality virtual medical services by utilizing geolocation and medically relevant information

Drug development tools that enable researchers and scientists to incorporate clinical trials virtually

Relaxation of telehealth policies and regulations on the state level to promote the idea of telehealth visits as a fully functioning alternative to in-person visits

Mental telehealth apps and uptake in their usage also help see a big potential for future opportunities

Development of solutions that allow taking a more team-based care approach

With the prediction of half of the visits to be virtual, healthcare will experience the growing demand for mobile telehealth solutions that can bring costs of healthcare down.

Another key area of opportunity lies in creating a hybrid model of telehealth and in-person care
Barriers Of Telehealth
Telemedicine healthcare solutions demonstrate high cost-saving efficiency, reduce the load on hospitals and medical professionals and facilitate processes within medical practice.
However, despite the trend for global telehealth adoption and its conceptual acceptance, the implementation of telemedicine programs is not without obstacles.
The challenges that telehealth faces today are linked to:
Restrictions on the legal status of telemedicine visits

Adoption on the global and national level

Insurers' concern about abusing telemedicine services

Staying attached to the idea of face-to-face interaction between doctors and patients

The demand for integrated solutions

Patient retention under the terms of remote monitoring

Defining the procedures of prescribing pharmaceutical products

Providing patient privacy and confidentiality of data (the recent data leak from a mental health startup showed that these concerns have solid grounds)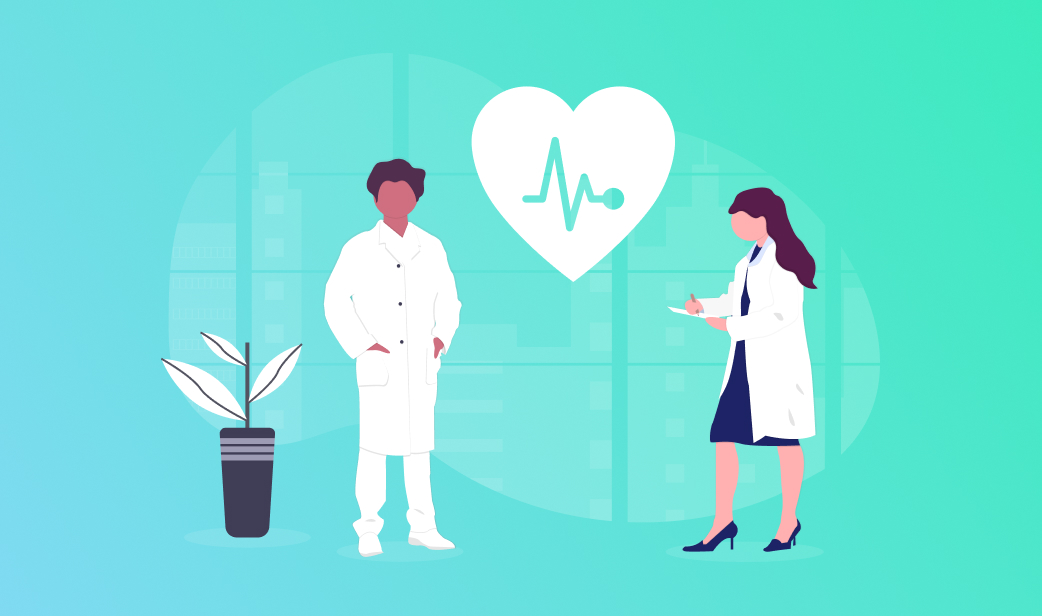 To Sum Up
Since technology continuously supports sustainable medical programs, it came as no surprise that telemedicine during coronavirus showed a surge in demand for its services.
While the future will show what virtual healthcare trends are here to stay, we can make certain predictions based on current trends now.
Due to improvement of medical outcomes and high efficiency of cost-saving telemedicine will be moving forward in creating value-based solutions in drug development, medical training, remote monitoring, AI-utilizing diagnosis processes, as well as digital solutions across multiple sectors of the healthcare industry including telecardiology, telepathology, teleradiology, etc.
Telemedicine utilization trends 2022 demonstrate that healthcare providers aiming at using telehealth in delivering their service are to comply with the requirements of HIPAA technology checklist. In view of complexities associated with app development and legalities, it's crucial that reliable vendors that can provide custom healthcare software development services are consulted to leverage the power of telehealth solutions in full.
Looking for a tech partner? We're here to help!