How can Machine Learning help your supply chain?
Machine learning has been one of the most promising technologies due to its multiple capabilities important for business success in terms of making accurate predictions, recognizing patterns, to name a few.
Machine learning is applicable in training computers so they could imitate human thought processes. It leads to generating accurate solutions quicker even when faced with huge amounts of data. Machine learning begins with two sets of data: Training Data and Test Data. Training data is used for teaching the machine in order to review the data's correlations while creating a mathematical model afterward. Test data is the dataset needed to be analyzed as it includes unknowns that must be understood for further evaluation.
With machine learning, patterns in supply chain data are detected quickly through algorithms that obtain significant factors to the supply networks' success. For instance, one of the most popular athletic brands Adidas makes use of machine learning technology to identify consumer trends. This allows for a more efficient and quick response to its global supply chain. Adidas is also able to maintain a good customer experience through its features of allowing their consumers to customize the design of products and have them delivered quickly.
Artificial Intelligence's potential impact is greatest in marketing and sales and supply-chain management and manufacturing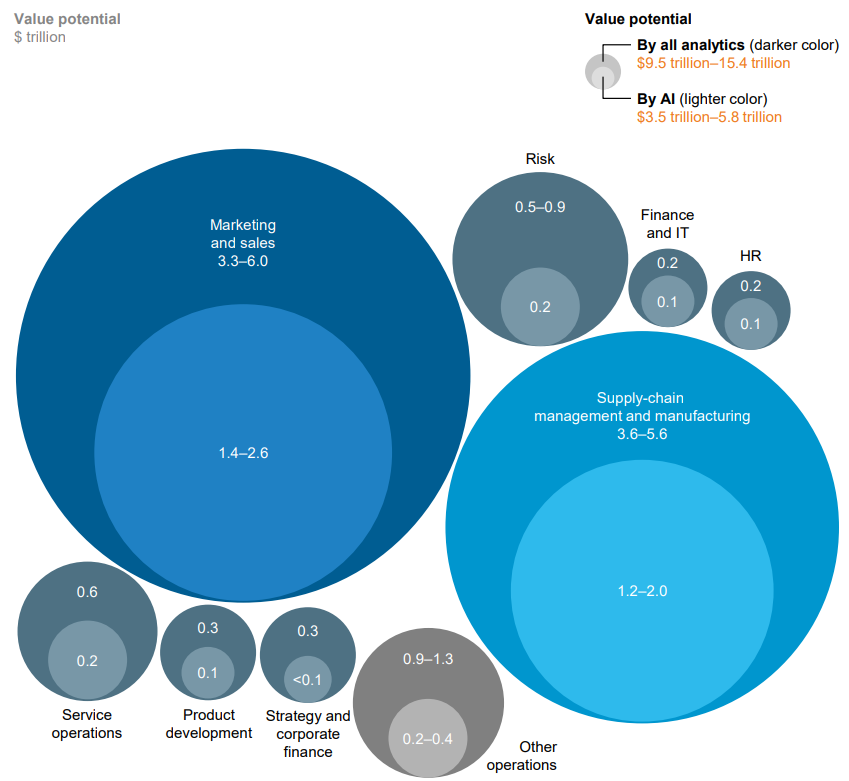 Source: McKinsey Global Institute analysis
A few thoughts to ensure success
Speaking about the use of machine learning in supply chain management, it should be said that this process should be approached carefully. Here are some thoughts to keep in mind.

Pursue clear objectives. Despite the fact that there are a number of machine learning applications in the supply chain, the implementation of technology must be accompanied by clear objectives. The very essence of technology implies that you cannot act at random here. Therefore, it is very important to establish clear and understandable KPIs and metrics, upon the achievement of which the success of the implementation will be assessed.
Carefully evaluate the supply chain dataset and its performance before and during the implementation of machine learning in logistics.
Build with a view to the future. Despite the fact that it is difficult to grasp machine learning for supply chain forecast, the prospects for technology in this segment are extremely high. However, many entrepreneurs see the results of competitors and strive to quickly create a solution that solves a specific business problem. This is not a completely correct approach, since it would be much more logical to create a self-correcting system that can learn, grow smarter, and will function in the future to solve similar and new problems.
To achieve this goal, it is necessary to create the most autonomous AI in logistics and supply chain solutions that will not depend on the constant involvement of specific technical specialists.
Be original. Despite the fact that there is a sufficient number of machine learning in supply chain use cases in the segment, we advise you to always focus on your specific business needs, your audience, and your business logic. Not always an original approach will help to achieve success, but blind copying of competitors' solutions is guaranteed not to give results in a broad perspective.
Challenges in Supply Chain Management
The supply chain frequently changes. Hence, there evolves a need for meeting the new demands within maintaining a smooth sailing flow.
Overall, supply chain management can potentially face several challenges such as:
Fluctuation in demand
Inadequate inventory planning
Backlogs of orders
Uncertainties in logistics
Communication gaps within the supply chain
Shortages in supply
At times, it can be difficult to address the supply chain challenges and make sure the business goals are realized according to schedule. Advanced technologies like machine learning as a branch of artificial intelligence are the optimal solution in addressing these business issues across various industries.
However, it is important to know that though Machine Learning is versatile, it is not a 'general purpose' solution that can be used in all data. Instead, machine learning can only successfully work in cooperation with skilled data scientists and business leaders for accurate data selection and validation.
Need consultation? Achieve your goals with qualified data scientists!
Supply Chain Applications Impacted by Machine Learning
In keeping a business successful and profitable, it is necessary to make sure that challenges and problems in the supply chain are addressed and solved in a quick manner, mistakes are avoided, future opportunities are predicted as accurately as possible.
Implementing AI and machine learning algorithms in the supply chain for your business proves to be a success in the following cases.
Transportation Management - Companies actively acquire Transportation Management Systems to promote freight savings and provide a more competitive service while determining the impact on performance.
Machine learning gives companies the opportunity to access the potentially insightful data and spot the answer to the questions pertaining to the company's performance:
Do service level standards meet in terms of delivery and schedule?
Which lanes are associated with more delays in the service?
What are the 'stops' that cause delays to shipments?
Having all this information, the company can find solutions to conflicts in the future as machine learning promotes high service levels and a better understanding for shippers on how to deliver results efficiently.
Warehouse Management – Machine learning provides more accurate inventory management that helps predict the demand for growth and its drops. Machine learning is used in warehouse optimization assisting in the detection of excesses and shortages of stocks in your store on time. This is essential in preventing sales losses due to the ability to pinpoint familiar patterns, inspect storage, and check the inventory every now and then in a more accurate way.
AI and Machine learning will have impacts on the following areas in particular: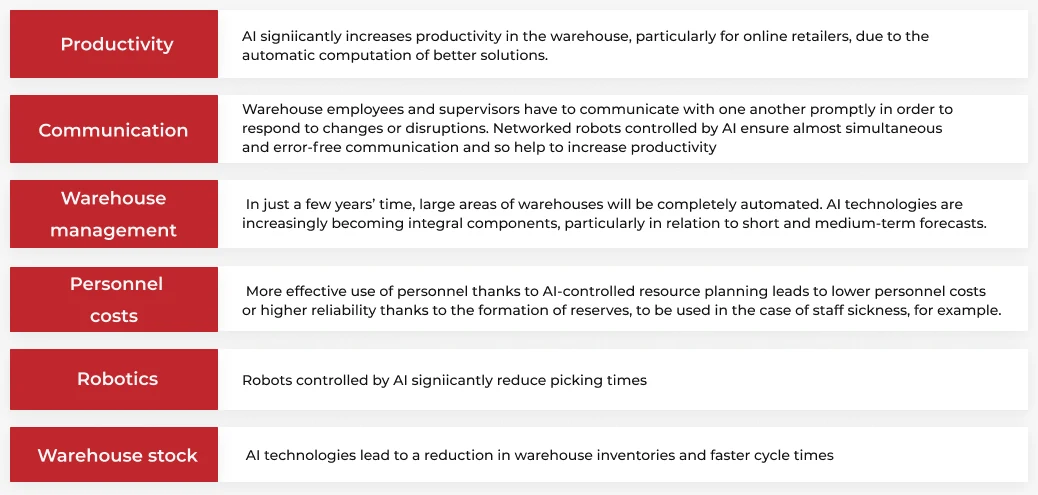 Supply Chain Planning – Using machine learning in supply chain planning makes decision-making processes optimized through the application of AI algorithms from analyzing massive data sets. It leads to ensuring wider planning functionality, producing accurate results, and making it a powerfully reliable tool in your business.
Demand Prediction – Machine learning-powered demand prediction algorithm provides a more improved demand forecasting function. By analyzing customer behavior tendencies, businesses can easily match potential buying habits and shape the customer portfolio with precision. With predictive analytics in the supply chain, businesses are able to control manufacturing and logistics in the prevention of supply shortages and excesses.
Logistics Route Optimization – It is important to incorporate machine learning for route optimization which analyzes existing routes for faster delivery of goods. Enabling this function also prevents delays in delivery and helps enhance customer satisfaction.
Workforce Planning – By using existing production data, machine learning is capable of creating a more appropriate environment that can naturally adjust to various condition changes in the future. It is applicable in recruitment, retention, employee development, and performance management. Automation of the processes in gathering data, making inferences, and generating ready-to-use insights can be done when machine Learning is utilized in workforce management. Thus, managers get reliable tools for maximizing the overall workforce performance.
End-to-End Visibility – Machine learning algorithms play a key role in providing end-to-end visibility from suppliers and manufacturers to stores and customers and eliminating the probability of conflicts as the technology can accurately identify inefficiencies that require an immediate response. There's a huge amount of data involved with a wide network of IoT sensors in combination with advanced analytics. With the use of machine learning to analyze this data, hidden interconnections between various processes in supply chain management can be discovered without fail.
Security of Supply Chain – It is important to have smart and complex security for your company to avoid illegal infiltrations that may harm data within the supply chain. Machine learning algorithms are capable of evaluating risk factors by simply using data of those who are trying to access information, what kind of information they're trying to access, and from what kind of environment the request is coming from. If your supply chain is secured with this technology, a data privacy breach is prevented.
Let us know if you have some questions left unanswered
Concluding Thought
Machine learning is a crucial tool in supply chains as it enables computing models to adjust to certain conditions, changes, and developments in a business environment with the ability to improve on its own over time. Aside from that, machine learning algorithms discover new patterns in supply chain data with very little manual interference while still providing accurate information and prediction that helps the business.
By using machine learning technology and incorporating it, supply chains are presented with improved accuracy in different branches of their business such as logistics, operations, planning, and workforce.