E-commerce has been revolutionized by two companies: Amazon and eBay, with the use of eCommerce software development. While the 4th Industrial Revolution introduced artificial intelligence in retail, the current pandemic accelerated the application of ai in eCommerce.

Statistics have shown stellar growth in the usage of AI in retail industry, with a market share of USD1.80 billion in 2020 and it is expected to reach a whopping USD10.90 billion by 2026, at an anticipated Compounded Annual Growth Rate (CAGR) of 35%.
By bridging the gap between data and execution, artificial intelligence retail solutions assist retailers in making effective and efficient decisions, positioning it as the future of AI in retail market.
Within the article, you will be given a granular view on the reasons retailers should adopt AI within their businesses and the benefits of artificial intelligence in retail industry.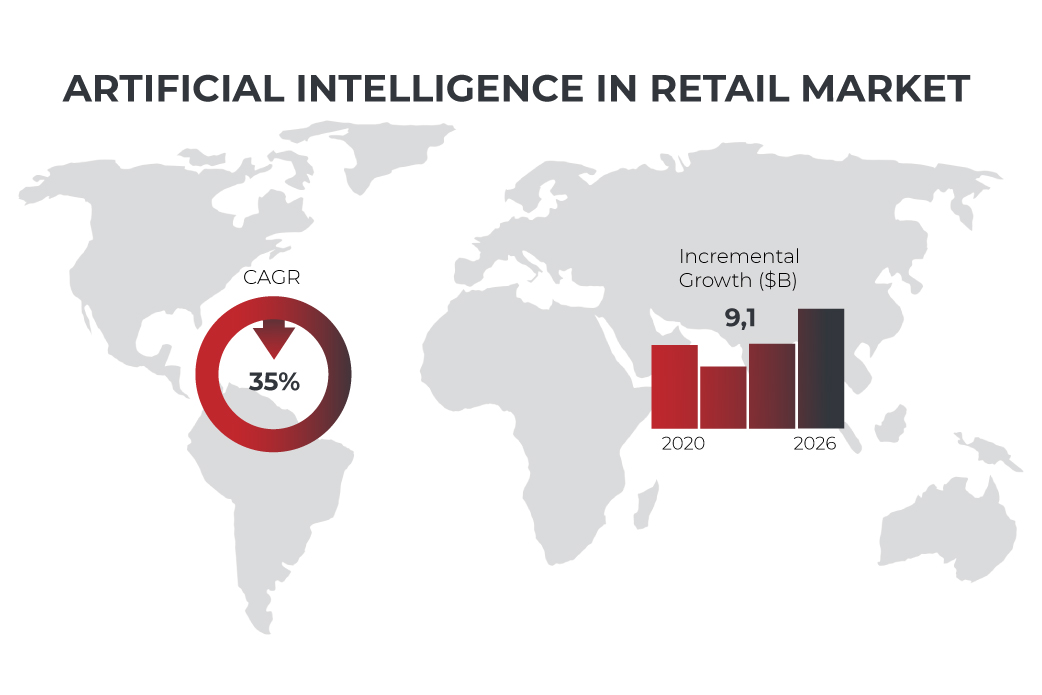 WHY ARE RETAILERS USING AI?
Retail is a fast-paced industry, and market success is dependent on staying current with advances in technology. Artificial intelligence retail solutions are one of the technologies that are progressing in the retail industry, with evidence indicating that the impact of AI on retail industry is undeniably positive.
Furthermore, prior to the COVID-19 pandemic, approximately 80% of consumers were accustomed to purchasing items in physical storefronts. However, in the aftermath of the pandemic, physical stores are suffering from low sales as consumers are more inclined to purchase their items online. This is an excellent opportunity to employ ai in retail market. As a result, AI in retail stores has become inevitable.
Why today? Why not wait until ai in retail industry is matured?
Indeed, time is required for deep learning technology to mature. However, machine learning is old technology and has been readily available in some form for decades. As new research is conducted continuously, the mathematical and statistical underpinnings of modern AI will become well established. In essence, retail is one of the few industries where AI is being used in an effective and productive way.
WHAT ARE THE ROLES OF AI IN RETAIL INDUSTRY?
There are plenty of benefits from adopting AI in smart retail. We have prudently selected 5 benefits and applications of artificial intelligence retail solutions for your eCommerce in the retail industry.
Captivate consumer
Stand out amongst your competitors! Consumers are constantly on the lookout for retailers that are able to provide services that are personalized, in a relevant manner, distinctive, and inspirational across all touchpoints. The personalized shopping experience includes precise product recommendations to increase consumer's expenditure, optimized site layout to help consumers locate what they want faster, and determining how to drive them to the checkout page faster. Retailers using AI to personalize their consumer shopping experience can see an estimate of a 10% increase in sales.
Targeted advertisements
AI impact on retail is evident via targeted advertisements. Marketing planning, content production, consumer segmentation, and targeted advertising execution can be enhanced by the application of ai for shopping, also known as shopping intelligence. For example, in 2016, L'Oreal's eCommerce business grew year on year by 32% in sales after investing in artificial intelligence in retail industry. Targeted advertisements allowed L'Oreal to grow at scale and it has become the backbone of their marketing operations.
Price strategy
Information about demand and supply, seasonal trends, promotional activities, revenue goals, are some of the pricing strategies that retail stores adopt to give out the best deals to attract consumers, whilst maximizing revenue potential. Artificial intelligence together with deep learning gives retail stores a higher leeway for price adjustment and promotions, similar ai in retail examples are eBay, Walmart, and Jet.com.
Managing and mitigating risks
Let's face it, we, humans, are prone to common errors, whether it's sending an email to the incorrect stakeholders, inputting the wrong order number, or mailing the wrong goods to the wrong consumers. These typical mistakes could potentially cause business operations to be disrupted, in turn, hefty loss of productivity and profit.
While it is impossible to eliminate human error, the right custom software solutions, with the right artificial intelligence retail solutions can help retail stores to reduce these unwanted errors. AI and retail make a perfect combination, as AI can automate every stage of the retail process, improving accuracy, efficiency, and scalability of operations.
Enhanced workforce
By directing, organizing, collaborating, and automating complex monotonous tasks, artificial intelligence and deep learning technologies in retail have the potential to alter next-generation workplaces. On top of that, artificial intelligence in retail will help support and enhance increasingly demanding work, utilizing minimum manpower, maximizing productivity, vis-a-vis profits.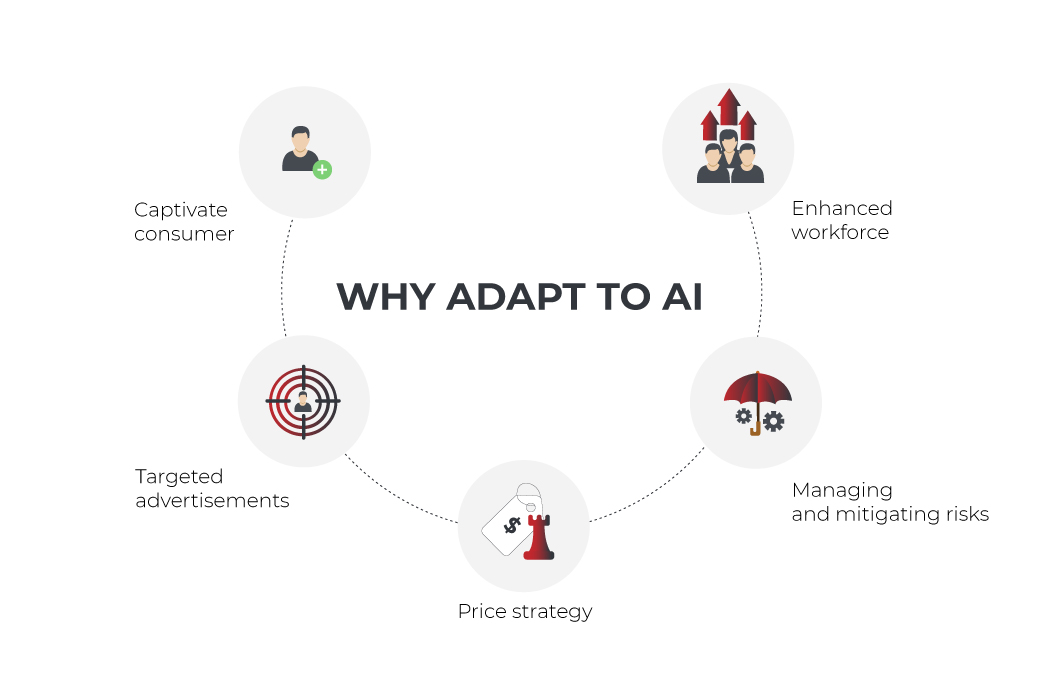 USE CASES AND APPLICATION OF ARTIFICIAL INTELLIGENCE IN RETAIL INDUSTRY
The lists below explore the use cases and roles of ai in the retail industry.
Manage resources
The combination of ai and robotics in retail stores gives retailers a simplified way of performing mundane tasks, like moving inventories from the stockroom to the shelf, or counting remaining stocks at the end of each month. AI in stores gives employees more time for human interactions and less time for routine-based tasks.
In addition, retail robots give retailers the opportunity to capture big data in the likes of customers' buying patterns to a cashless payment gateway at the physical store. On top of that, retailers will be able to boost the efficiency and accuracy of inventory management, not forgetting the productivity of the employees.
Chatbot
Natural Language Processing (NLP) is a subfield of AI that assists computers in understanding, interpreting, and manipulating human language. NIP use cases include detect, analyze, and evaluate unstructured written and spoken natural language to extract important information and value. NLP is widely used in Chatbot.
On the retail front, retailers using ai with Chatbot enhancements, improves their day-to-day customer services with tools, such as:
Text recognition;

Semantics;

sentiment analysis;

consumer service; and

information discovery.
On the consumer front, Chatbot allows consumers to experience a well-crafted journey of shopping with AI, whilst taking advantage of its premium consumer services.
The adoption by ASOS in artificial intelligence integrated with NLP allows ASOS' consumers to have real-time chat with ASOS bots, allowing the consumer to promptly receive a list of product categories to choose from, redirecting the consumer to the relevant categories, are some ai in retail examples. In a nutshell, the Chatbot leads consumers through a more comprehensive diagnosis before providing personalized suggestions, tailored recommendations, advice, and product descriptions.
Visual Integration
Amongst the many ai in retail trends, visual integration is one of the most exciting features of ai in retail 2021. Visual integration is an image analysis solution that uses machine learning algorithms, face recognition, biometric verification, and activity recognition to comprehend visual material, collecting important information for object identification, recognition, and assessment. Here are some of the application of artificial intelligence in retail industry using visual integration:
| | |
| --- | --- |
| AI in Retail Industry | Consumers are able to receive recommendations of identical products, of similar shapes, colors, and patterns by uploading images via chatbot. |
| AI in Beauty Industry | Consumers upload a photo of themselves together with the intention to purchase facial products, artificial intelligence studies the image, and based on the photo uploaded, recommends a wide range of products that best suit the features of the consumer. |
| AI in Fashion Industry | Within a few minutes, consumers are able to discover the perfect outfit with all of the pieces properly matched with the use of virtual fitting rooms. |
Not only will consumers be able to reap the benefits from the use of this technology, but retails will also be able to see their sales increase.
Recommender systems
Using ai in retail, retailers are able to track consumers' behavior, providing consumers with a personalized shopping experience - precise product recommendations, optimized site layout, and promotion recommendations, via the use of machine learning and artificial intelligence to analyze the data collected from the consumers. Recommender systems give consumers a customized experience, which may lead to higher client loyalty, conversion rates, and revenue.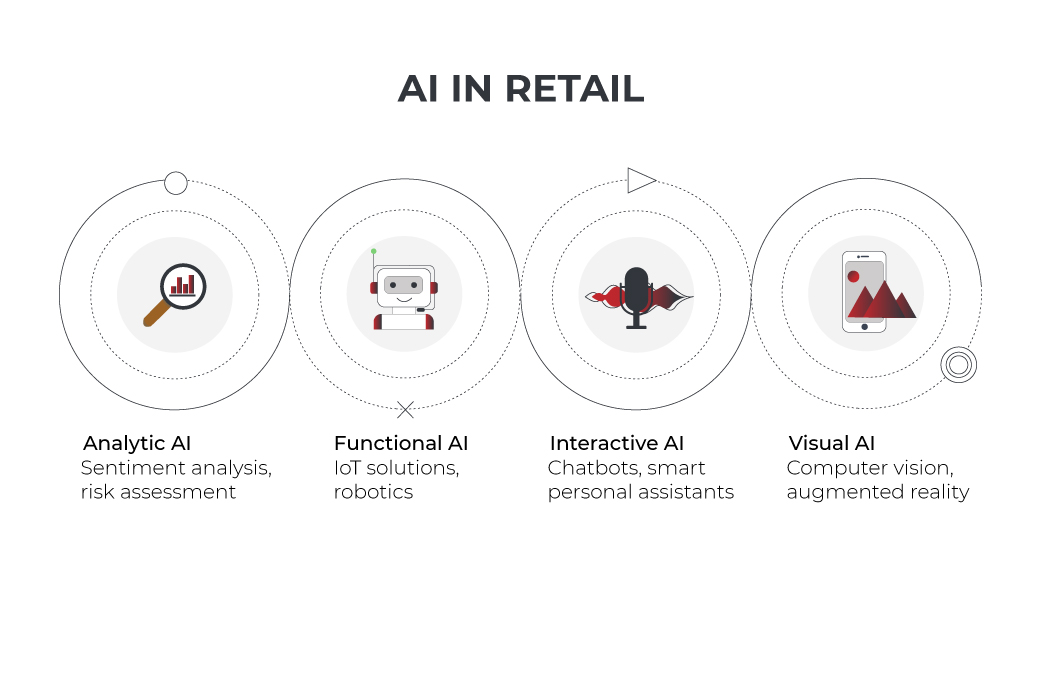 Alibaba saw an increase in sales of approximately 10% after adopting personalization in shopping to their consumers by ensuring that each consumer receives personalized recommended items. They do so by analyzing consumers' content consumption and purchasing habits on their platform.
Predictive Analytics
Predictive analytics is a type of statistical modeling that examines current data and forecasts future business outcomes. Everything from prospective sales to potential product shortages may be forecasted with it.
With predictive analytics, retailers are able to forecast the demand of products, whilst keeping track of their inventory, ensuring that there is enough stock readily for supply to meet its demands. In addition, it allows retailers to anticipate changes influenced by external macro factors, i.e. the current COVID-19 pandemic, allowing retailers to use machine learning and forecast accordingly, to remain profitable during times of crisis.
Retailers are able to use artificial intelligence to predict trends, project sales, and determine the optimal product pricing to entice consumers, and reduce costs while staying competitive, boosting cash flows. Hopper, a travel app, uses AI to predict price patterns and advise consumers on the best times to book flights. The company promises to save clients an average of $50 each flight and has a prediction accuracy rate of 95%.
Anomaly Detection
Anomaly detection seeks out unusual objects, events, patterns, or activities in datasets that deviate from the bulk of data. The use of anomaly detection algorithms is tremendously useful in identifying breaches, fraud, security threats, text data discrepancies, and health risks.
A leading retailer, Walmart, uses artificial intelligence fraud detection on security cameras to tackle the increasing theft cases at checkouts in their stores. The camera technology enables Walmart to identify unregistered items at self-service and manned checkouts, allowing the security and/or employees to swiftly intervene. The same technology can be used at parking lots to prevent, reduce and deter crime at the parking lots.
Despite investing a whopping US$500 million in the technology, Walmart was able to prevent losses of approximately US$4 billion in 2018, making AI in smart retail the 'golden goose' of Walmart.
Supply chain management
Retailers must rethink their old supply chain in favor of adaptable and flexible ecosystems that can swiftly adjust to changing consumer behaviors in order to meet a larger range of client needs that are migrating from mainstream to niche.
Here are key areas of the supply chain and how artificial intelligence with robotics helps in key areas.
| | |
| --- | --- |
| Inventory management | AI assists retailers by tracking all product information, audits inventory, and analyzes the supplier's performance. |
| Warehouse management | AI provides retailers with labeling systems, optimizing space utilization, organizing product segments, track results, and evolve warehouse organization |
| Operational costs | With an effective and efficient inventory and warehouse management, retailers will be able to reap the benefits from lower operational costs |
| Delivery | AI helps plan an efficient delivery route to reduce the frequency of delivery to the same area. AI also keeps track of the location of the deliverables to the consumer. |
| Safety | Safety is highly likely to be achieved in a well-organized supply chain environment. |
The COVID-19 pandemic has seen a boost in revenue for supermarket giants in the likes of Tesco. Before the COVID-19 pandemic, Tesco offered roughly, 500,000 to 600,000 slots of delivery of goods a week. After the COVID-19 pandemic, it has seen its delivery of goods increase to approximately 1.3-1.4 million a week. To optimize the supply chain, Tesco adopted artificial intelligence by converting excess space into an "automated warehouse", giving them a higher "physical" presence for distribution. Today, with ai, Tesco is able to increase both the volume of orders whilst maintaining cost-efficiency.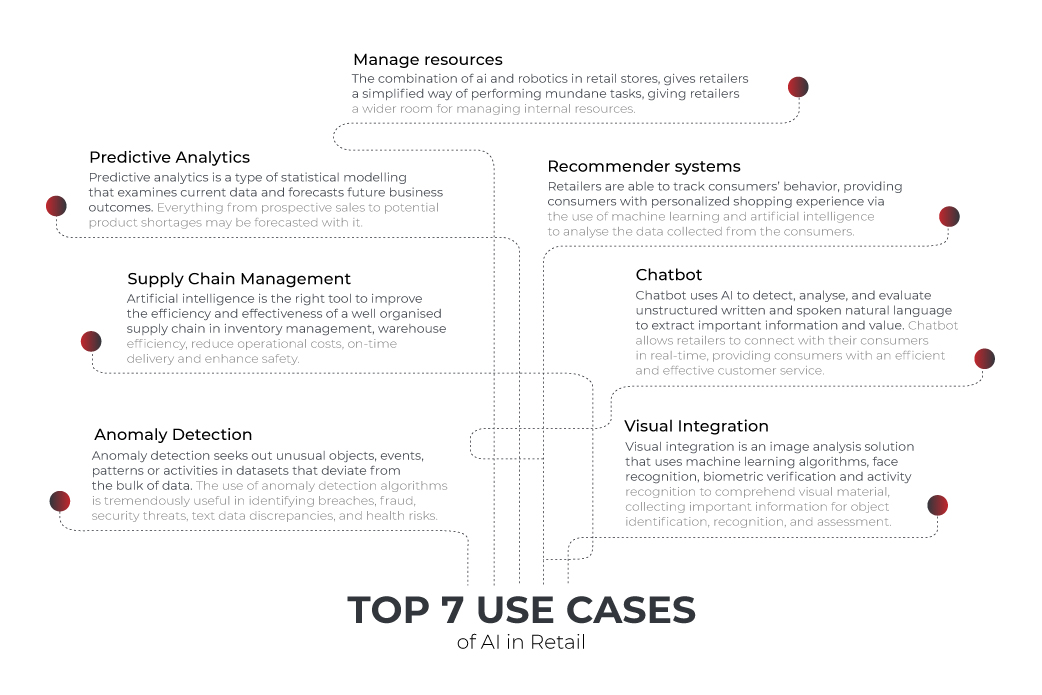 AI AND RETAIL IN SUMMARY
The future is now. Reap the benefits from adopting artificial intelligence into your retail business. Expand your retail business with the aid of artificial intelligence retail solutions. Maintain relevancy and outperform your market competition!

Increase your sales by captivating your new and existing consumers with the best personalized shopping experiences. Mitigate risks by making timely and well-informed decisions with greater company insights. Reduce your costs by automating and increase efficiency in mundane business processes, allowing your employees to have more time to think creatively and deliver amazing experiences for both online and in-store operations.
Give your consumers the excitement and the enchantment of ai in shopping anywhere, at any time with a genuinely efficient and immersive user interface with artificial intelligence and machine learning.
What is AI in retail?
AI in retail refers to the collaboration between AI and retail systems to improve consumer experiences, forecasting, inventory management, and more. Computer vision and other AI technologies provide near-real-time intelligence to brick-and-mortar shops. When examined on the cloud, the same data might give additional business insights.
What are AI use cases in retail?
AI use cases are decision-making abilities, NLP (Natural Language Processing), Visual Integration, Recommender Systems, Predictive Analytics, Anomaly Detection, and Supply chain management.
How is AI changing the retail industry?
Retail is a fast-paced industry, and market success is dependent on staying current with advances in technology. Artificial intelligence retail solutions are one of the technologies that are progressing in the retail industry, with evidence indicating that the impact of AI on retail industry is undeniably positive.
What are the benefits of adopting AI in retail?
Retailers will be able to captivate consumers, target advertisements towards specific consumers, manage and mitigate risks, enhance the workforce and conduct price strategies on products.