With a diversity of mobile travel apps on the travel market, any destination became more accessible. Overall, by the World Tourism Organization ( UNTWO), travel as an industry contributes 2% of total global GDP to the world economy. Meanwhile, 84% of travel brands intend to increase investments in mobile travel app development as the biggest trend in the travel market sector.
Exploring the travel apps market
Mobile travel apps have gained so fast pace that all age and group categories of travelers prefer applying a smartphone at almost every stage of the journey, which translates into increasing travel apps market size.
Travel apps developers successfully explore various domains to bring traveler's experience to a new level, and the range of offers is still expanding when it pertains to:
consumers' age (travelers of 21-31 are the most frequent users of travel apps)
location (Asia-Pacific turns out to be the fastest-growing travel market region)
choice between using desktop and mobile apps (mobile travel apps drive the travel market growth).
Mostly, leisure travelers search reviews, book and check maps, weather and flight-related information, which adds up to using 7-8 apps on average.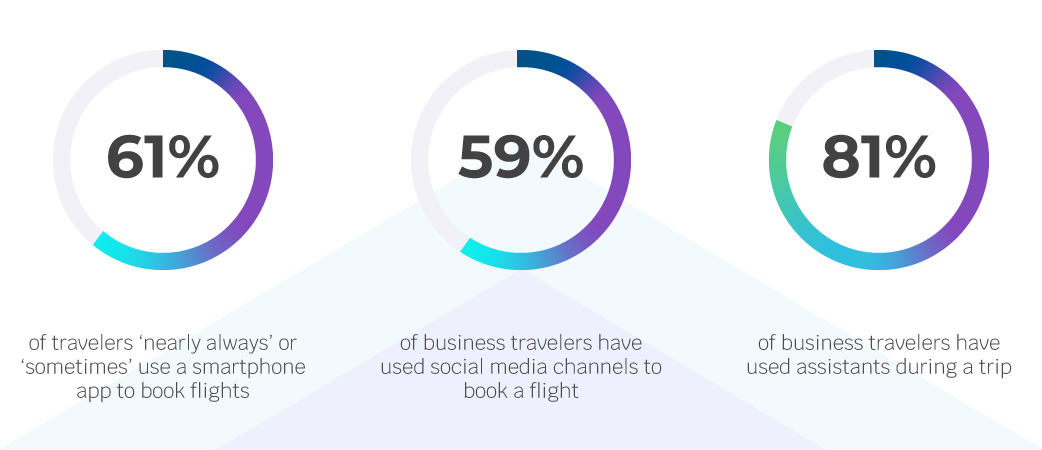 Source: Travelport
Furthermore, with the new technology, mobile travel apps users get access to additional services:
IoT: it enables users to customize their travel experience by integrating the wide scope of advanced functions like temperature control or monitoring baggage location in real time from their mobiles.
Chatbots: Apps are actively deploying chatbots to assist travelers in dealing with travelling-related problems (cancelations, luggage loss, schedule changes, local traffic jams, etc).
Types of travel apps
Travel apps market offers solutions to assist travelers at all stages, from voice-activated booking search to real-time translators.
Additionally, travel apps developers create solutions for enhanced travel experience when it comes to possibilities to navigate and explore a new location and even get a tutorial for packing a suitcase painlessly.
Flight booking apps
These apps are developed to help:
book flights,
search flight information,
spot cheap flight deals.
Flight booking apps got so popular that 84% of consumers prefer apps like Kayak instead of a direct airline reach.
With features that make Kayak API highly appealing to businesses, this app is one of the best free travel search engines.
Kayak enables users to track flights prices, categorize travel information by destinations, and adjust flights prices to users' budgets. By aggregating online travel agencies information, Kayak provides instant feedback on best deals for the prospective traveler.
Ideal choice of the travel app for consumers searching optimized flight booking solutions.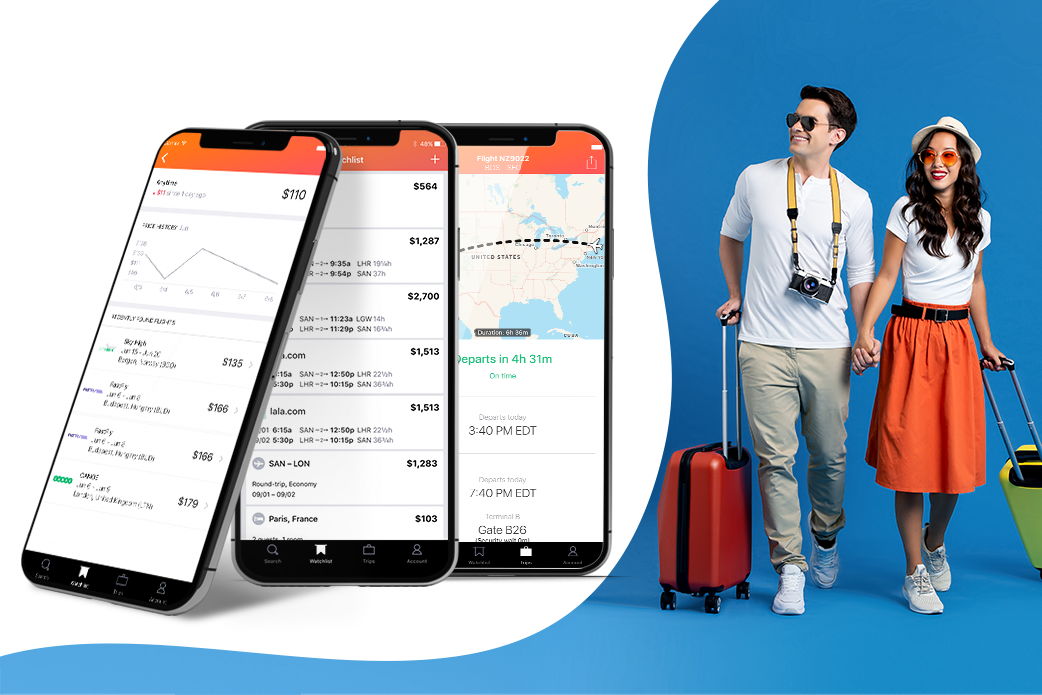 Accommodation booking apps
Whether you are planning a trip or decide to jump at the hot deal offer, you might need an accommodation booking app for a better travel experience. These apps are designed to:
tailor your search in terms of price and location
check offers availability
provide honest reviews.
If you want to grab a deal on last-minute offer, you absolutely need a reliable accommodation booking app. HotelTonight, on short notice, delivers information on deals that will save you tons of time and money. It is a free app that provides regularly updated info on hotel rooms and renting offers with steep discounts.
Transport apps
For smarter travel, you need to know the quick routes and fast ways of navigating around the place of your destination. Travel apps developers roll out the solutions that can satisfy the most experienced consumers. The transport apps are designed to:
Cater ride-on-demand service
Find the route
Get quick and reliable results about local transport fares and schedule.
One of the most popular transport app that shows detailed maps alongside with line statuses. In real-time, a traveler can get disruption alerts. It has Uber integration and provides live cycle hire info. With Citymapper, you manage navigating around big cities across the world with exceptional ease.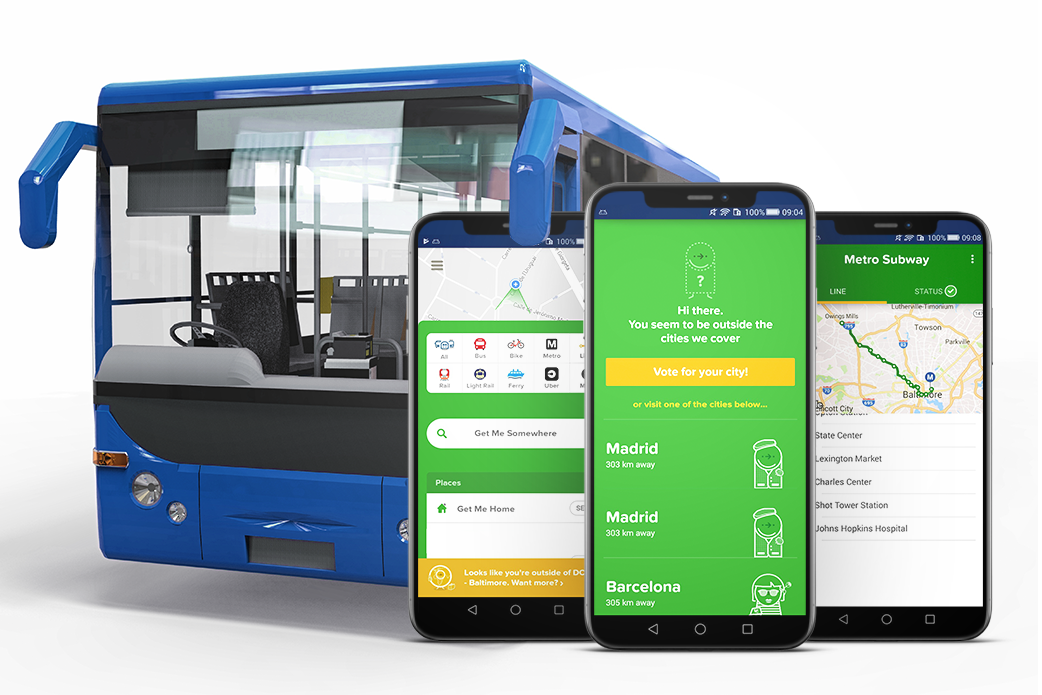 Travel guides apps
To plan a memorable trip, travelers turn to travel guides apps that feature a wide range of solutions without emptying consumers' pockets. The travel guide apps are designed to:
Provide reliable fellow travelers' reviews
Share information on social media
Interpret in real-time.
TripAdvisor is the most comprehensive online source when it comes to searching for information about different locations and the places worth sightseeing. It includes reviews of hotels, restaurants, activities and pictures that TripAdvisor community shares in real-time, with additional options for hotel and restaurant reservations.
Take a look at online tourist guide on Tenerife island we created
Define the feature list for your MVP travel app
The most demanded features welcomed by both tourists and business travelers include the following characteristics of a mobile MVP travel app.
Sign-up/profile management
For easy sign-up, there is usually a bunch of login options with email or social media account info that lets users skip on repetitive login procedure and keep their profile updated.
Search & Filters
With convenient filtering and sorting systems, travelers get relevant results fast by navigating around within suggested categories.
Travel booking services
The option to buy a flight ticket, book a hotel, make a reservation is a must-have option that will help you keep the target audience satisfied and engaged throughout the journey experience.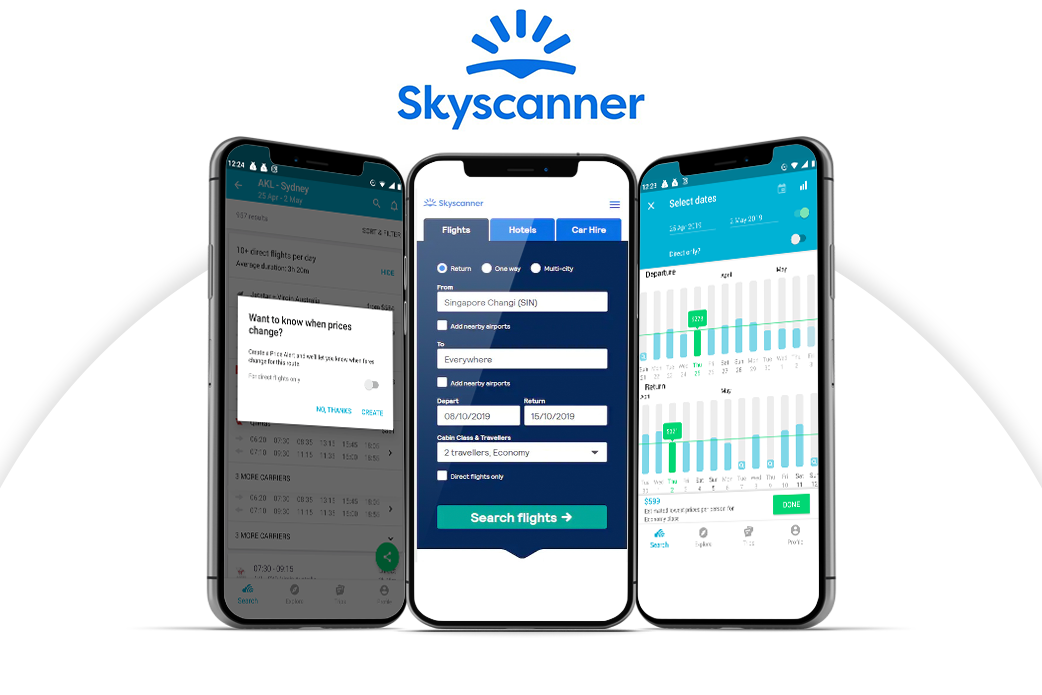 Mobile chat
Incorporating the chat and providing its availability around the clock will draw a lot of customers that search for responsive apps during the travels.
Rating lists
When you consider a mobile travel app development, including the option for ratings might be a wise decision as ratings always attract attention. Travelers rely on other users' reviews to the point of immediate discarding places that scored low in consumers' listings.
Sharing on SM
The modern travel app cannot be imagined without the option for sharing the travel news with friends. Hence, your travel app will win an additional point with such an integration feature.
Geolocation awareness
The geolocation feature supports tracking the travel on the map. This way, the user gets access to any place located nearby (restaurants, hotels, pharmacies, museums, etc). Location-related information is essential for most travel decisions we take so it is highly advisable that it was included into the app menu.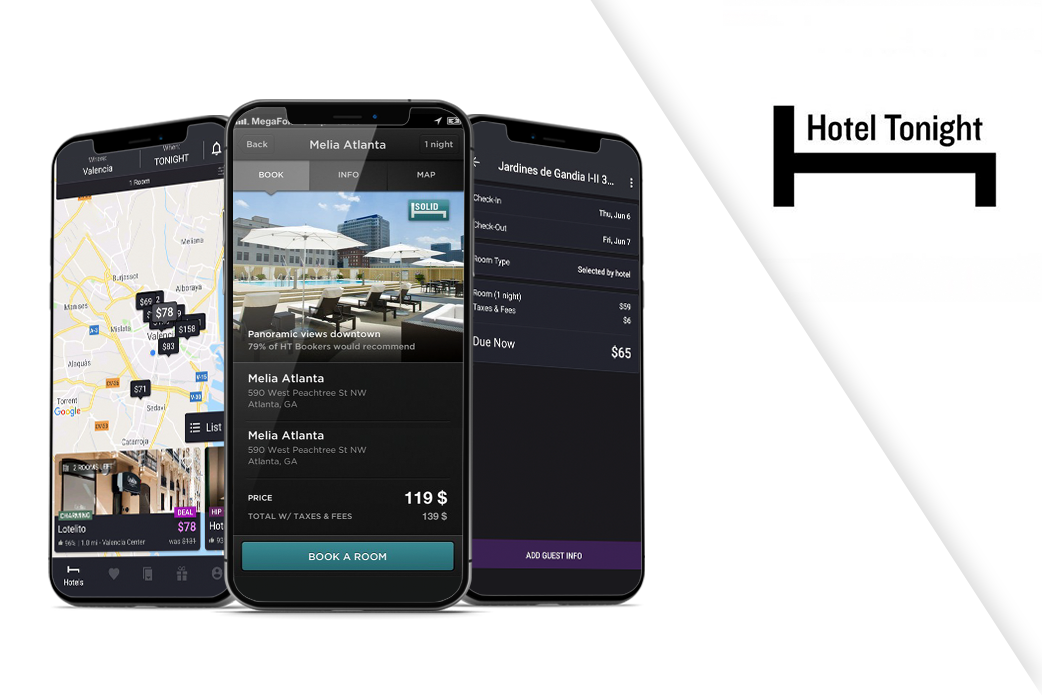 Push notifications
Push notifications create the system for news, discounts, reminders that the user can feel appreciative about due to improved getting an enhanced customer experience and feeling secure on updates that pertain to booking changes and cancellation policies.
In-app payments
The cashless solutions are great facilitators of traveling in terms of time and energy saving. Developing this feature, you literally get the enriching app both your customers and for yourself.
GOT AN IDEA FOR A travel APP? LET'S DISCUSS!
Add More Features to Your App
Furthermore, to create a successful mobile travel app, you can consider the following additional features:
Weather
Although smartphones have default weather applications, it is not enough. With the weather as the special feature in your app, the data on actual weather forecasts, overview of weather patterns by location and season will be stored in one place.
In addition to integrating a real-time climate forecast, travelers would need alerts on upcoming changes of weather.
Translators
Even though English is widely used internationally, at times we absolutely need to know the local language, and apps featuring translating options rank high. The translation that users usually need includes both visual types of translating and voice-activated translation.
Taxi Service
Delivering a solution for secure car booking helps travel apps engage a wider audience and earn better reviews.
Emergency Call Info
If the user knows that you provide the emergency phone numbers for the respective services (embassy, local police, etc.), they will appreciate it for sure because having such a call button is reassuring and helpful.
Currency Converter
Currency converter assists travelers in shaping the trip budget and provides the information on the exchange rate.
Travel planner
Any experienced traveler knows that headache-free trip starts with a straightforward plan. Travel planner in the travel app will help create the optimal itenary, calculate the budget, track the route and manage the travel in terms of schedule and entertainment.
Check our guide on
Travel app development industry trends
When developing a travel app, it is important to keep in mind the modern mobile travel trends that consumers follow and cater the solutions for keeping the target audience deeply engaged.
The top 10 trends that are expected to prevail include the following:
Using the mobile for booking the flights
Using the voice assistants in trips
Merging reservation services for food, restaurants, ride-sharing, and hotels in one 'grab-it-all' app
Implementing AI and machine learning to optimize day-of-flight operations
Having real-time access to journey information including flight status, baggage status, and waiting time
The omni-channel approach, which means that a user can switch from the desktop app to the mobile app seamlessly
Applying AR to allow travelers to convert currency in real-time with the smartphone camera
Apps launched by airlines and focusing on delivery of branded fare, a la carte, and commission-based travel options
Full-fledged mobile travel concierge branded apps
Digital omni-presence on messengers and social platforms with travel-related information.
You may also like:
How to make a successful travel app
To create a successful mobile travel app, there are questions that must be used as guidelines to enable a smooth development process.
Define your target audience and list the solutions
Travel as a global trend is popular among all types of apps users.
Depending on the age and social group though, you can predict the solutions that particular groups might find of special value:
The following groups will surely require a different set of options in the travel app:
Couples (will highly likely be interested in wide booking functionality)
Couples with kids (additionally, will likely be interested in attractions, entertainment, and travelpoints with good infrastructure for eating out)
Single travelers (will be interested in information on local activities, or, in case they are business travelers, reservations functions)
Senior citizens (any options associated with extra comfort and security will naturally come in spotlight)
Teenagers and students (cheap deals on booking and accommodation, accessibility to attractions, social media sharing options will be highly welcomed)
This is just one of the examples that demonstrate how diverse the travel apps audience is, and, thus, how important it is to analyze all the travel audience segments to make the deep analysis of target groups to estimate the list of solutions that users need in their travels.
Pick the app business model
To monetize mobile travel app service, you can choose among several business models:
the agency model (by aggregating the info, the app becomes an appealing platform that hotels and rentals are willing to pay to announce their presence)
the merchant model (suitable for the apps associated with travel agencies that sell the hotel reservations directly)
the advertising model (charging market participants the small advertising fees)
differentiating model (offering the user a free set and paid premium version with advanced functionality)
paid model (make it not a free of charge app from the moment of launch but feature it with the unique functionality that will be appealing to users).
Define the type of app you want to develop
Supply the list of features within the development backlog to, choose the ones that match your MVP. Keep in mind that you are not supposed to build one-stop-shop. At this stage, it is preferable to address the pain points of the specific target group of travelers.
Hire the team of professionals
The fail-proof approach to developing the professional-looking and well-functioning travel app is to work with the outsourcing team that has the prior experience of delivering customized development solutions and having expertise in performing similar projects and meeting deadlines at all stages of the development process.
TELL US ABOUT YOUR PROJECT IDEA AND WE'LL ESTIMATE IT FOR FREE
Final Thought
Mobile travel apps assist consumers worldwide in taking most travel decisions ranging from booking to choosing the restaurant. It makes the travel apps market an appealing opportunity for both startups and businesses striving for growth.
With the well-developed mobile travel app, you are guaranteed to retain your users and expand your service by catering to general and consumers' travel needs at best.
?What features should be included in a travel app?
The basic MVP includes the following features:
Sign-up/profile management
Search & Filters
Travel booking services
Mobile chat
Rating lists
Sharing on SM
Geolocation awareness
Push notifications
In-app payments
Additional features:
Weather
Translators
Taxi Service
Emergency Call Info
Currency Converter
Travel planner
✈️How to make a travel application?
Travel mobile app development requires the following steps:
Define your target audience and list the solutions
Pick the app business model
Define the type of app you want to develop
Hire the team of professionals
?What are the main types of travel apps?
Flight booking apps
Accommodation booking apps
Transport apps
Travel guides apps
?️What business model you can choose to monetize mobile travel app service?
To monetize mobile travel app service, you can choose among several business models:
the agency model
the merchant model
the advertising model
differentiating model
paid model.