Once again, the demands and talks about tech trends in travel are getting some spotlight. After surviving a brutal shutdown from the pandemic, we noticed that the industry is recovering and snowballing back to a high-demand state. Across the world, many eager travelers are packing their luggage and ready to enjoy their long-awaited vacation plans. Today, we will go in-depth on how future travel technology will pave by the example of innovation in the tourism industry.
The State of the Travel Industry
The travel industry is stabilizing, and people are starting to travel again, although the way we travel has been significantly influenced by Covid-19. In 2021, we noticed a drastic increase in travel mobile app development and changing demands in the travel industry to surmount the setback of Covid-19.
In 2021 The World Tourism Organization (UNWTO) reported tourism growth of 4%, which remains far below pre-pandemic levels. Also, international tourist arrivals were still 72% below the pre-pandemic year of 2019.
UNWTO also estimated that the global tourism economy would reach a value of US$1.9 trillion in 2021. However, this is still significantly lower than the pre-pandemic value of US$3.5 trillion.
The global travel industry recovers unevenly from the pandemic. Europe and the Americas are doing better than other regions, but the Caribbean sees the best results. The UNWTO Panel of Experts predicts that international tourism will rebound in 2022.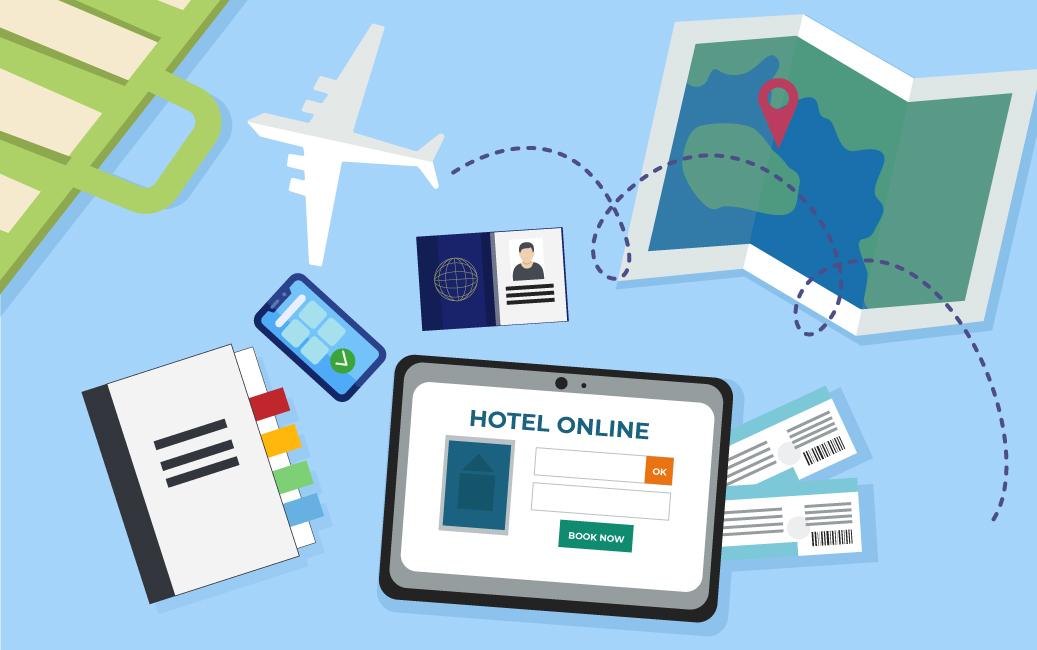 Adopters of Tech Trends Are Leading the Rebound
In 2021, some major countries and airlines continued to be early adopters of travel technology trends and successfully contributed a positive impact of technology in the tourism industry.
Singapore Airlines is the first to start trialing a new digital health verification process based on the International Air Transport Associations (IATA) Travel Pass framework. This process allows customers to securely store and present information related to Covid-19 tests and their vaccination status in the future.
Changing Demands in Travel Industry
There has been a surge in the number of people working remotely, and those who can work from home are doing so more often. Also, many people choose to live more flexibly because many dont need to be in a specific place to do their job.
A rise in corporate travel to maintain team building and increase person-to-person interaction.
The pandemic has made many people want to avoid staying in a traditional hotel and instead, look for rental-like accommodations that provide more short-term options.
Hotels are now looking to provide more amenities for their guests in order to keep them from choosing to stay in a short-term rental. These amenities can include kitchen facilities, larger living spaces, and on-site laundry. Providing these amenities can help hotels keep guests from choosing to stay in a short-term rental, and can also help to attract new guests.
Customers prefer Low-touch hotels during their vacations or trips. Therefore, Hoteliers or Property Management Systems (PMS) are turning to Cloud-Based Technology and developing a travel app to iron out Low-touch solutions, especially during a short-staffed situation.
Travel firms see cybersecurity as a significant threat in 2021. The World Travel and Tourism Council (WTTC) study found that the travel industry believes cybersecurity will be the number one threat to their business. In addition, the study found that more than two-thirds (68%) of travel companies believe cybersecurity will be the number one threat to their business in the future, up 50% in 2018.
Impact of Technology on the Travel Industry
Implementing the right travel technology trends will allow a positive impact of technology in the tourism industry.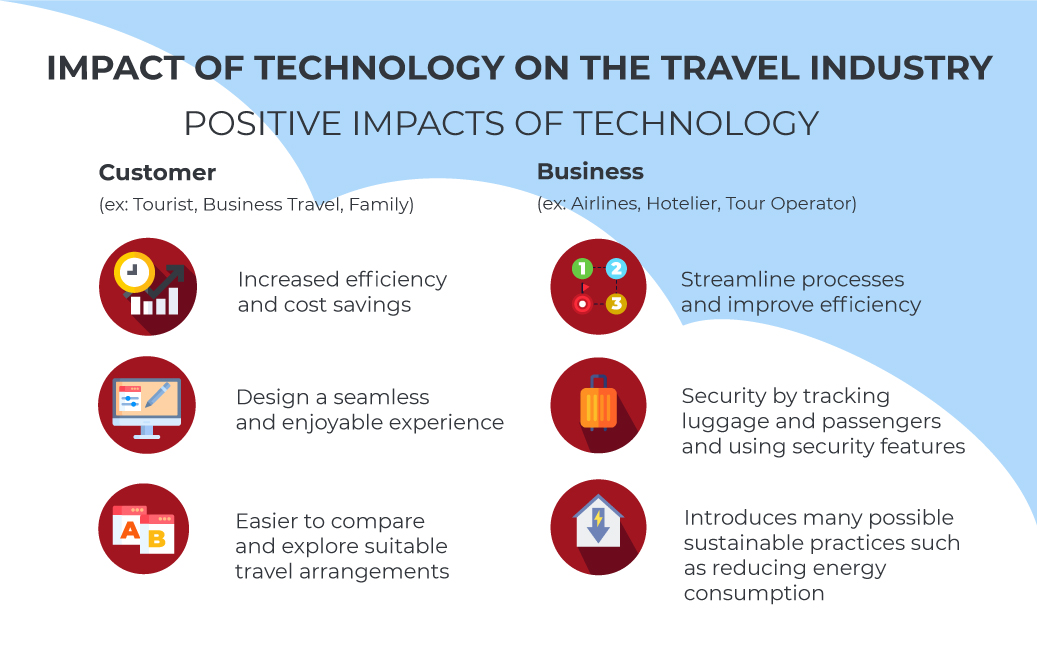 Tourism and Hospitality Industry
Today's tourism and hospitality industries include mobile devices, big data, and the internet of things (IoT). Mobile devices are becoming the crucial platform for technology trends in the travel industry because current trends in the tourism industry require Low-touch and Cloud Services.
Many travelers now use their smartphones or tablets to book their trips, check-in for their flights, and find information about their destinations. Hotels and resorts also use mobile devices to provide guests with information about their rooms, local attractions, and restaurants.
Big data is becoming increasingly important in the travel and hospitality industry. Hotels and resorts are using big data to track customer behavior and preferences. This information is used to improve customer service and create targeted marketing campaigns.
To learn more about technology trends in the travel and hospitality industry, here are examples of seven ways technology is changing the travel industry:
Booking travel: Travelers can book flights, hotels, and other types of travel online, through apps or travel agents.
Finding travel deals: Travelers can find deals on flights, hotels, and other types of travel online.
Planning trips: Travelers can use technology to plan their trips, including finding destinations and attractions.
Sharing travel experiences: Travelers can use technology to share their travel experiences with others.
Getting around while traveling: Travelers can use technology to get around while traveling, including using GPS to find directions and using apps to find transportation.
Staying connected while traveling: Travelers can use technology to stay connected while traveling using WiFi and data roaming.
Taking care of money while traveling: Travelers can use technology to take care of their money while traveling, including using apps to find currency exchange rates and using credit cards with travel rewards.
What Are The Trends in Travel Industry?
As with nearly all businesses, technology presents the travel industry with seemingly endless opportunities. In recent years, technology trends in the travel industry have changed rapidly, and we are witnessing how current trends in the tourism industry are pushing toward a more sustainable and less environmental impact.
Trending Travel Technology in 2021

A quick look back at travel technology trends of 2021 and the positive impact of technology in the tourism industry.
Process Automation and Virtualization technologies have become more commonplace in the workplace. These technologies allow employees to complete tasks faster and more efficiently, freeing time to focus on more important tasks. Additionally, virtualization will enable businesses to operate more efficiently by consolidating resources and reducing the need for physical space. As a result, companies can save money and improve productivity.
Cloud Systems such as Hybrid-cloud or multi-cloud platforms are utilized to manage data across multiple clouds and data centers. They enable companies to move data between clouds and data centers to optimize performance and costs.
Artificial Intelligence (AI) has become more widespread in data analysis, forecasting, and customer service. For example, many companies use AI as training machines to recognize patterns and identify patterns in customer data to provide the best matching service and experiences. Clean-Tech prices fall as the technology becomes more widespread, efficient, and affordable.
Clean-tech is often associated with the term "green technology," which generally refers to the application of technology to reduce environmental impact and improve efficiency across a wide range of industries. Clean-tech reduces the cost of travel, making it more affordable and accessible to more people. The use of clean-tech also has a ripple effect throughout the travel industry, as businesses and consumers shift their spending to accommodate the reduced cost of travel.
Virtual Reality (VR), Augment Reality (AR), Extended Reality (ER), and Mixed Reality (MR) have become the major tech trends. Companies are implementing these major tech to enhance and immerse the user experiences. In addition, these technologies equip with many potentials to improve training and simulation software by simulating accurate environments with real-time overlay information.
Learn more in our complete guide:
Safety & Cleanliness Due to Covid-19
There has been increased stress on safety and cleanliness in the travel industry due to the covid-19 pandemic. As a result, many airlines and hotels have stepped up their cleaning and hygiene protocols, and passengers are being advised to take precautions such as washing their hands regularly and avoiding close contact with others.
Moving toward Sustainability
Air travel is a significant contributor to climate change, and the pandemic has shown just how vulnerable the industry is to disruptions. As a result, airlines are now looking for ways to make their operations more resilient while reducing their environmental impact. Some airlines invest in new technologies, such as electric aircraft and sustainable fuels.
Ecotourism
The travel industry is becoming more environmentally conscious, which is reflected in the way businesses are adapting. Ecotourism is a form of responsible tourism that focuses on the environment. It means traveling to natural areas to enjoy and appreciate the scenery and wildlife while minimizing the negative impact of tourism on the environment. Ecotourists often choose small, locally owned and operated businesses committed to sustainable practices. This commitment will ensure that the local community benefits from tourism and, at the same time, the environment is protected.
Future Travel Technology
Future travel technology will inevitably lead by major example of innovation in the tourism industry. Innovations such as virtual reality headsets can allow customers to "visit" a destination before booking a trip. Additionally, AI can help plan trips, recommend activities, and provide other assistance.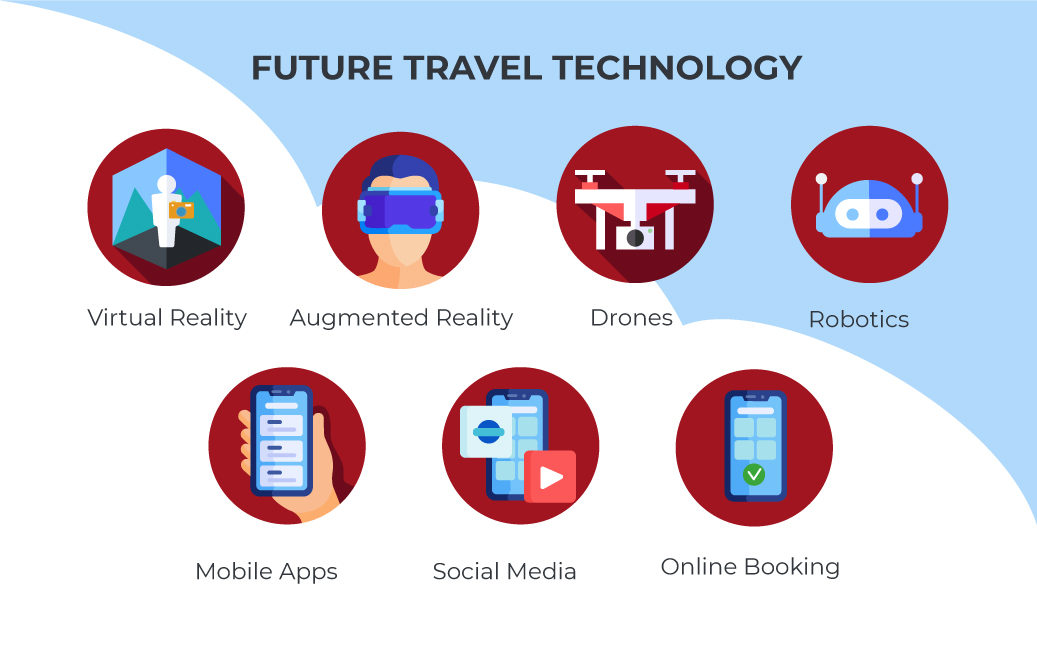 Innovation in technology trends that are expected to dominate and impact the tourism industry in 2022 include
Virtual Reality: Virtual Reality is set to revolutionize the travel industry by allowing people to explore new places without leaving the comfort of their homes. VR technology will also provide travelers with an immersive experience that will make them feel like they are actually on vacation.
Augmented Reality: Augmented Reality will also play a big role in the travel industry in 2022. AR technology will allow travelers to view live information about their destination, including directions, restaurant reviews, and local weather conditions.
Drones: Drones are expected to play a major role in the travel industry in 2022. They will be used to deliver items to travelers such as food, drinks, and souvenirs. Drones will also be used to provide information about the destination, such as tourist attractions and directions.
Robotics: Robotics will also play a major role in the travel industry in 2022. Robotics will automate tasks such as checking in and boarding passengers. Robotics will also provide information about the destination, such as tourist attractions and directions.
Mobile Applications: Several mobile applications are designed to help tourists. These applications can provide information about a destination, help with directions, and provide recommendations for activities and restaurants.

Read on to know how to create a travel app that travelers will want to choose in our article:

Social Media: Social media platforms are a great way to connect with potential tourists. Tourism organizations can use social media to share information about their destination and promote special offers.
Online Booking: More and more people are booking their travel online. Doing so will allow tourists to compare prices in finding the best deals and book their trip quickly and easily.
Future of Air Travel
Future air travel technology will introduce more business tools and technology in the tourism industry. Customers are expecting more cost-effective and reliable internet connectivity, such as a 5G experience at home. Airlines started to invest in satellite In-Flight Connectivity (IFC) to maintain a high-quality bandwidth, speed, global coverage, and beam coverage. Major airlines estimated that in-flight network connectivity services in commercial airplanes are critical in building an innovative civil aviation industry.
CONCLUSION
The pandemic has made us realize how much we missed open borders and traveling. Before Covid-19, we took the freedom to move about the world without restriction for granted. Now many recognize that the global movement of people is essential for spreading knowledge, ideas, and culture. In 2022, we can expect travel tech trends to continue to serve the travel industry's recovery. As a result, travelers can expect to have even more remarkable, low-touch, and innovative ways to book and experience their trips.
Do you want to leverage the hottest tech trends to grow your travel business?