The Anxiety and Depression Association of America introduced the facts and statistics indicating the alarming growth of cases of Anxiety disorders and depression in the United States. One of the most common mental health problems is Anxiety disorder that 40 million adults in the United States ranging from 18 years old and above suffer from, which results in affecting 18.1% of the population annually. Though Anxiety disorders are easier to treat than most mental disorders, only 36.9% receive treatment as many do not think their anxiety should be checked.
Ignoring this medical condition results from the fact that most people are not aware of how to take care of their mental health, how to check and track symptoms that might be alarming. In the Q2 Global Healthcare Report 2019 of CB Insights, investments in healthcare companies have increased globally from $26.5B to $26.9B. Companies that incorporate technology into problems of emotional, psychological and social well-being are a rising trend.
Prospective users of mental health solutions
People are either unaware of mental health issues or worried that the hospital service might be too pricey. Whatever the reason is, mental health disorders affect a lot of people all over the world, and we must know how to cope with them considering the reasons mentioned above.
People with behavioral problems, mental disorders, anxiety, depression need to be aware of the necessity to track their conditions. For example, in the United States, a chunk of the population suffers from mental health disorders but not all of them get treatment. According to the World Health Organization, almost 75% of people with mental health disorders remain untreated in developing countries with almost 1 million people taking their lives every year.
Research suggests that mental health apps are cost-efficient while being helpful in treating mental health issues. That's why people have been exploring mobile mental health solutions that can benefit them without imposing financial burdens or breaching confidentiality when it comes to their respective mental health concerns.
GOT AN IDEA FOR A MENTAL HEALTH APP? LET'S DISCUSS!
Different Types of Mental Health Tracking Apps
There are various types of mental health apps made to address different mental health needs. Some are developed specifically for the youth, some are made for certain groups, and most importantly, some apps are designed to cater to solutions for different mental health issues.
Mental Disorder Apps – this type of app is created and designed specifically for those who are struggling with their mental disorders particularly anxiety, depression, and schizophrenia. According to NCBI mental health apps can be comparable to traditional psychiatric treatment especially for Mental Disorder Apps—which uses cognitive behavior therapy (CBT), mindfulness training, mood monitoring, and cognitive skills training.
Anxiety – relaxation training, CBT, and mindfulness have shown to have reduced anxiety symptoms. However, these kinds of treatment and intervention are also considered partly expensive and not accessible to most people. This is why mobile health applications have paved the way for more practical and tailored treatment. Studies show that mobile health apps have greatly helped in the reduction of anxiety disorders.
Schizophrenia – psychosocial interventions such as social skills training, cognitive training, and education on illness management can help alleviate symptoms of schizophrenia alongside with antipsychotic medications. Studies suggest that the usage of mobile apps for schizophrenia can successfully aid most of the patients.
Though apps for mental health disorders are promising and helpful, experts suggest that these apps work exclusively as a supplement to traditional therapy. These apps should have doctors on-board 24/7 to fully support the users.
nOCD is an app that gives tips on treatment to users with OCD or Obsessive-Compulsive Disorder. nOCD helps find therapists, effective treatment plans with reliable support, self-help tools that you can use anytime, anywhere, and intuitive ERP exercises. Aside from that, it also connects you to a community where you can learn and share OCD at the same time.
Talkspace is an app that gives you online mental help as if you are physically in a clinic. Talkspace will help you get an assessment, choose the right plan with a budget that works for you, find a therapist and begin a therapy all in one mobile health app. You need to keep in mind though that however beneficial mental health apps are for maintaining the psychological and physical well-being, they are not to be regarded as the substitute for the medical service or an alternative to therapy.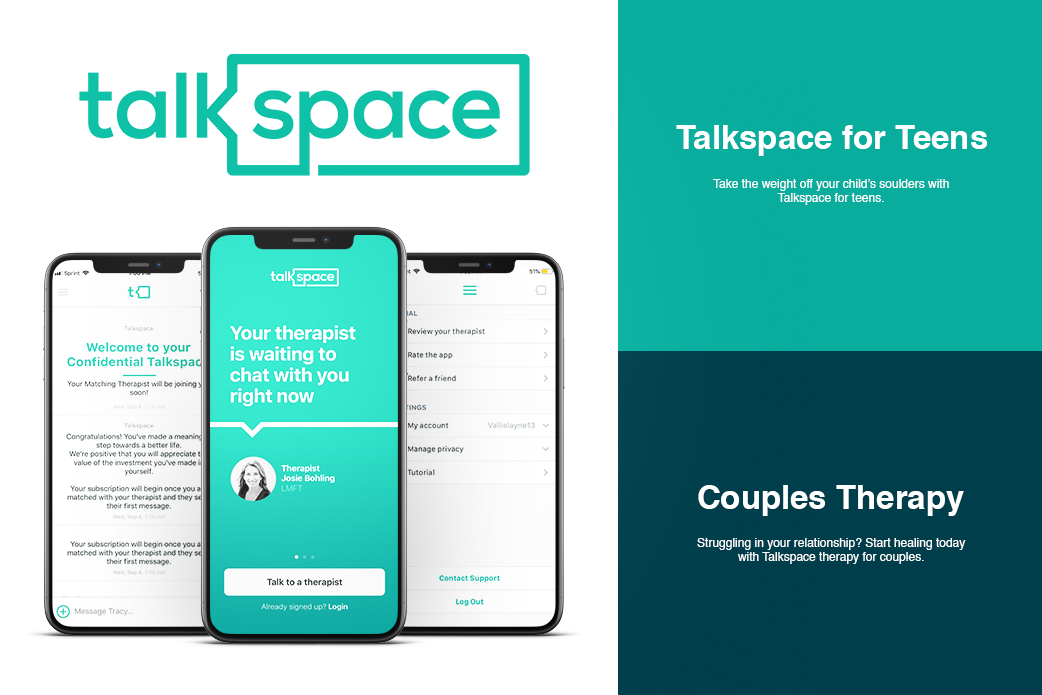 Mental Self-Improvement Apps – these types of apps help not only those who suffer from mental health disorders but those who experience symptoms of mental illness. Mental Self-Improvement apps aid in such a way that users can easily understand themselves and their mental health. These apps offer mood tracking, which helps track and understand mood patterns that can be associated with a mental illness. A mood tracker is like a digital mood diary that collects the data and forms various graphs that can help the user and therapist to understand certain moods and even triggers for a particular mood. Another one that can help improve the mental state of a mind is meditation apps. These apps offer effective stress-management and relaxation for users providing breathing techniques, audio relaxation, and meditation which are useful for those who experience anxiety, insomnia, and OCD.
Stop, Breathe & Think - this app provides guided and unguided meditation that caters to different moods user experiences. It offers meditation for those who are sad, in despair, frustrated or are in need of breathing and relaxing exercises. This app helps keep you in-check with your mental state and your well-being.
Check our guide on
General Mental Health Apps – these apps help ensure and enhance the users' awareness when it comes to their mental and emotional health by incorporating features such as mood control, good habits maintenance and breakage of bad habits.
What's Up? is a free mental health app that utilizes Cognitive Behavioral Therapy (CBT) and Acceptance Commitment Therapy (ACT) that helps relieve symptoms of Anxiety, Depression, Anger, and Stress. Some features of this app include overcoming negative thinking patterns, a mood tracker, positive and negative habit tracker, 100 fun questions to keep you grounded when stress surfaces, breathing exercises for relaxation, forums and positive quotations for motivation. Last but not least, it keeps your personal data protected.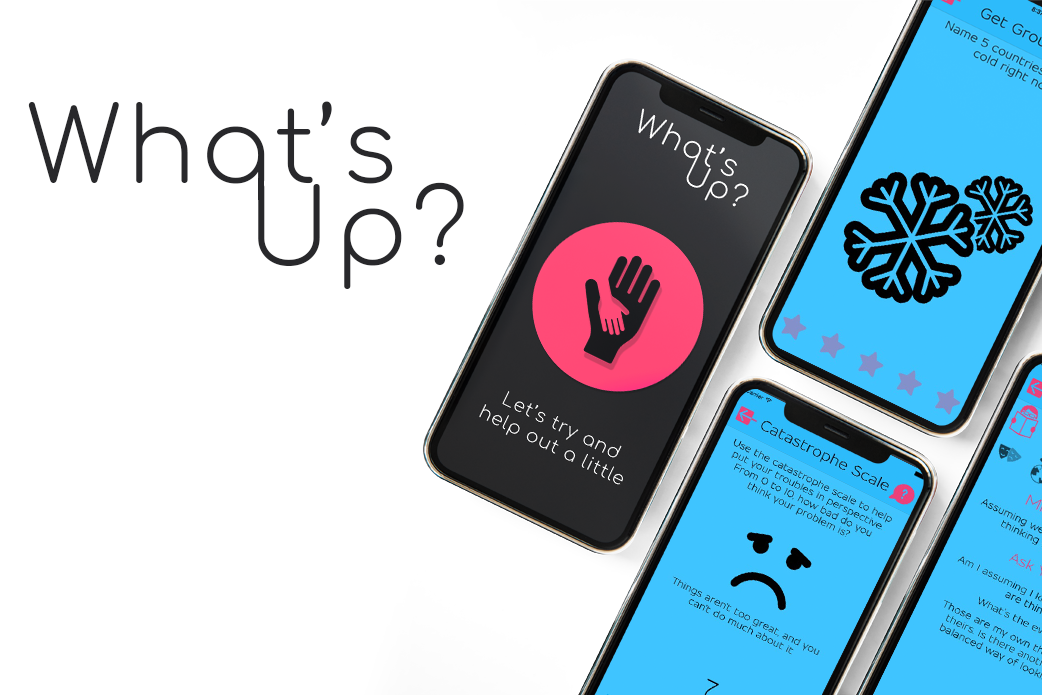 Mental Health App Key Features
Mental health apps offer a lot of different features that aid in mental health solutions designed perfectly for those in need such as CBT or Cognitive Behavioral Therapy, ACT or Acceptance Commitment Therapy, mood training programs. In addition, there is a customizable setting and a forum for discussion. Although these are helpful, it is best to sift through the functions to avoid redundancy and inefficiency through the apps.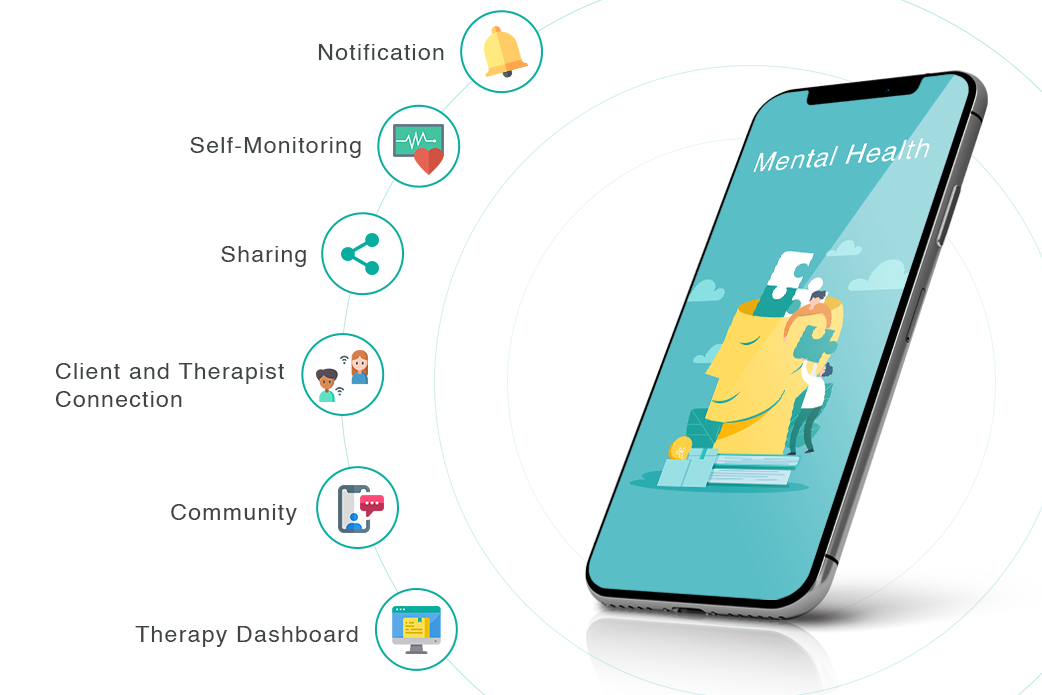 Here are some key features one must consider in developing mental illness apps:

Notification – whether it is for inputting their mood, activities and current emotions or for remembering their mental exercise, this feature is important for consistency and efficiency of the app.
Self-Monitoring – monitoring stress level, mood patterns and understanding their triggers help users get a better hold of their mental and emotional health as they would know what makes them feel better and what needs to be addressed immediately to avoid further mental issues.
Sharing – with this feature, the user can easily notify others of their current condition. Aside from that, awareness can also be spread through this feature.
Client and Therapist Connection – matching users with in-app doctors based on their requirements and information makes it easier for users.
Community – having an in-app support group or community helps users develop a sense of understanding when it comes to other people who are suffering from mental health disorders different from theirs. It also gives the users a sense of belonging that aids in their emotional health.
Therapy Dashboard – this feature is helpful for therapists for an easier way to manage cases and keep track of users' progress.
Want to discuss your feature set? Drop us a line
What makes mental health solutions work: Characteristics of High Efficacy Apps
Though several studies have shown how mental health apps help people with mental disorders, it is important to understand the challenges it entails.
HIPAA compliance may be a tricky part of mental solutions development. Mental health app developers must keep in mind that when personal information is used that can be traced back to an individual, HIPAA compliance is required. Aside from that, challenges with these apps pertain to poor regulation of quality and privacy, which shows inconsistencies in engagement and may be limited to one disorder per app, which leads us to how these apps can be more beneficial and efficient.
High Patient Engagement – to keep users from continually maximizing the app, it should have real-time engagement, usage reminders, and gamified interaction.
UI/UX – apps should be designed in a simple and easy to use way for the patients to decrease cognitive load especially for users with depressive tendencies. Simple and engaging images, reduced or concise sentences and non-clinical terminologies will make it successful.
Self-monitoring features – the choice of this option enables the reduction of mental illness symptoms while assisting in the improvement of coping skills. When users can easily input their emotional data, they can understand and track their behaviors.
More Important Points to Consider in Mental Health App Development
Accurate and updated information – verified and updated information must always be the priority especially in mobile health. Inaccuracies may harm users or, in the worst-case scenario, ruin the reputation of the app itself.
Usability testing – testing involving the participation of users are important to make sure the app works and delivers to the promise of aiding in mental health.
Expertise – collaboration with experts, and information backed with studies and evidence are important to make sure that proper understanding and knowledge is key to making the mobile app beneficial and consistent.
In-app human support – support of doctors and professionals in the field of mental health is crucial when emergencies surface.
Need consultation? We'd love to discuss your app idea
Mental health app development is definitely challenging due to the fact that mental disorder is an extremely sensitive topic. However, exploring this subject will be helpful in case you make therapy apps targeted to address the other mental health issues associated with depression. Hopefully, mental health solutions will soon make a positive impact on people's awareness and expand their knowledge.