Our task
CodeIT was hired to create an iOS mobile application. Also, our team was requested to create a reliable solution to deliver all the system's functionality on portable Apple devices. It needed us to enable continuous two-way communication between tools that use different technologies. 
As per the client's request, the mobile application should have been available to download for free using demo data. Once a user purchases a license, they can adjust the app's functionality and upload custom data sets to extract insights their businesses need. 

The existing web solution
The charting tool is an HTML5 library. It can run in a web browser. It enables users to analyze datasets, forecast price changes, draw, compare multiple charts, etc.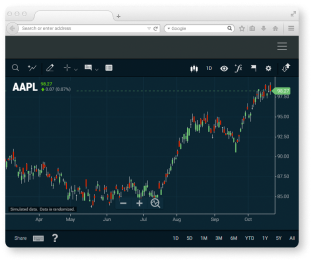 Project goal
The client wanted to spread its charting solution to different platforms. Meanwhile, they wanted to eliminate the need to create new financial charting libraries for every targeted platform from scratch.
CodeIT was hired to design and implement a solution that foresees the opportunity to use one codebase to deliver the functionality of the charting tool to many platforms.

Challenges
The challenges CodeIT developers had to overcome to complete the project imply the following.
Demo and full functionality
The iOS application had to deliver access to all the core functionality using sample data only. The ability to upload custom data sets and adjust the functionality of the app is enabled when clients purchase a license.
Charting solution integration
Clients who purchase the license need to be capable of integrating the charting solution into their applications and enhancing their functionality with ease.
Insufficiency of the existing solution
The existing technological solution was poorly designed. It couldn't properly handle requests and deliver data from the JavaScrip library to the existing mobile app.
Live-time connectivity
The data analysis is performed on the server side by the JavaScript library. Therefore, developing continuous two-way communication between an iOS app and the JS library was vital. The data had to be exchanged in live time to deliver the data analysis functionality from the JS library to end users' smartphones without delay.
App Store publication
The existing iOS app didn't match top-quality software standards. Moreover, it didn't match Apple's human interface guidelines. Hence, it wasn't approved for publication in the Apple App Store.