Healthcare in the urban area comes off as very different compared to rural area healthcare. Many would say that with the technology we have today, healthcare in city areas and rural areas should not differ that much. However, you'd be surprised that rural area healthcare still faces challenges that it did even in the early days.
According to a study made, there are lots of reasons behind this situation. In particular, they show that healthcare has not enjoyed the considerable improvements in rural areas due to lack of education within community members, prevailing socio-economic problems, cultural differences, and isolation from neighboring towns.
Problems in Rural Area Healthcare
There's an imbalanced amount of professionals in the healthcare field.
Research suggests that medical practitioners are more often than not located in densely populated areas with a ratio of 53.3 physicians per 100,000 people rather than in rural areas with the ratio of 39.8 physicians per 100,000 people. This makes it tough for physicians and medical practitioners to attend to concerns in rural areas mainly because there's only a few of them in service.
There's a great difference when it comes to socio-economic factors between urban and rural areas. Those in the rural areas have lower income hence healthcare is not in their top priority. Studies also suggest that people in rural areas have very limited access to healthcare mainly because of their unemployment status and uninsured residents.
Health services in rural areas are a great concern for its residents since accessibility is quite challenging. The availability of health service facilities is rather scarce, and, for local people, reaching them might be a problem. Unlike in non-rural places, medical facilities are everywhere and fully available for the community.
How does Telemedicine Help Healthcare in Rural Areas?
Statistics show that compared to other nations, the United States spends on health care more than other nations.
When doing further research, health experts and professionals suggested that various kinds of investments into educating citizens about a healthy lifestyle would be of a great benefit in terms of disease prevention and healthcare cost reduction.
Among the proposed healthcare solutions, one of the most promising areas for addressing the issue of healthcare expenditures would be the deployment of telemedicine technologies worldwide and in rural communities, in particular.
According to the American Telemedicine Association, also known as ATA, telemedicine is "the remote delivery of healthcare services and clinical information using telecommunications technology". Aside from that, telemedicine is said to include a wide variety of clinical services using the internet, wireless satellite and telephone media.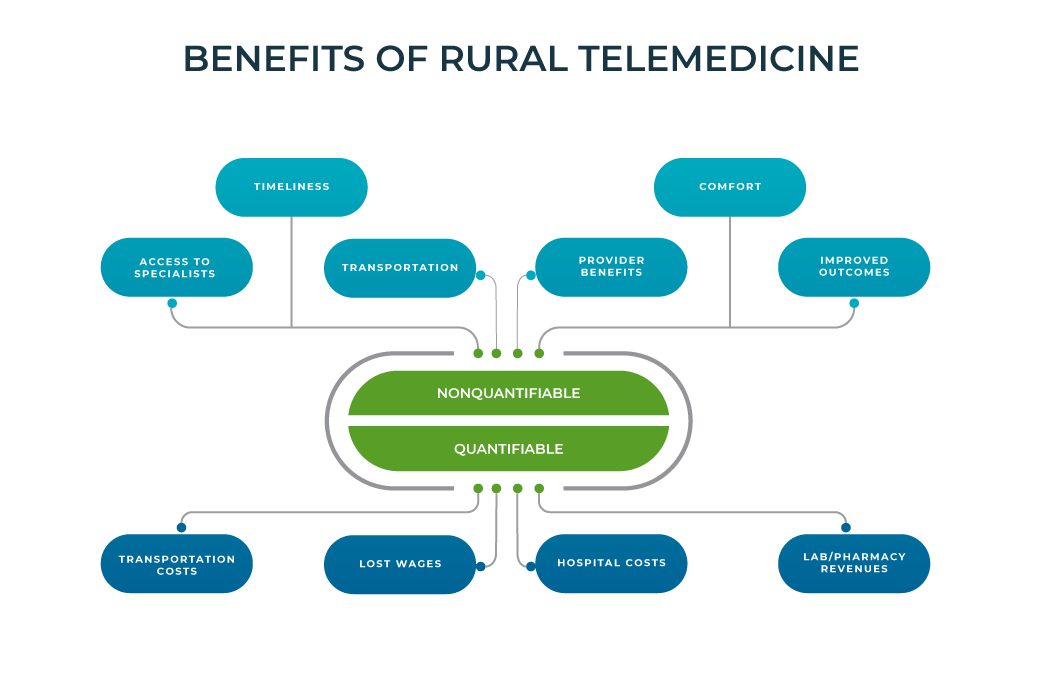 Benefits of Telemedicine in Rural Areas
Remote Consultations

– this allows patients to communicate with a specialist or physician in real-time even if they are both miles apart in order to seek help, examination, and diagnosis. For rural area residents, it removes the pressure of time consumption on commuting to healthcare facilities.

Remote Specialist Consultations

– specialists or physicians who specialize in different medical fields may not be easily accessible in rural communities. With telemedicine, rural areas residents can have easy access to consulting specialists in a cost-effective way. In addition, the availability of remote healthcare consultants loads off the city hospitals that otherwise would have to keep them on staff.

In-Home Monitoring

– both patients and physicians can easily monitor medical records and progress in the comfort of their homes. Virtual visits greatly improve patients' convenience. For example, follow-up appointments are much easier to arrange remotely. This way, consistently sticking to the schedule, patients have a greater probability of improving health and avoiding diseases.

Outsourced Diagnostic Analysis

– X-ray or even specialty lab work are easily accessible. Patients are able to access these medical needs without having to travel far away just for the availability of these medical facilities.
Rural Health Barriers with the Use of Telemedicine
Though very helpful, ideal and more convenient than the usual healthcare norm, telemedicine comes with challenges and barriers as well. A few things to consider are the following:
It can be challenging if the internet connection is problematic in rural areas. Patients and physicians would find it hard to communicate since it is their only way of attending to medical concerns with the use of telemedicine.

Problematic internet connections can cause videos and images for telehealth to be blurry hence appropriate conduction of medical support will be hard to do. It may also be inaccurate if not impossible.

According to Medicare guidelines, reimbursement while delivering the telemedicine service can be a tricky question since there is no officially approved standard system. Rural area residents who have Medicare may find this challenging as there are certain metrics to meet in order for them to be reimbursed. Aside from certain restrictions pertaining to procedures, the whole process of reimbursement can be very confusing.
Conclusion
Health is the number one thing everyone should care about may you be in the urban or rural area. It's saddening that residents from the rural community are not able to access better healthcare because of their location and social status. In line with this, telemedicine app developments, especially in rural areas are extremely helpful.
Rural communities certainly deserve full-scale healthcare services with full access to the opportunities of modern medicine including both the physical hospitals and telemedicine apps that make a positive impact on patients and medical providers alike.
Designing a telemedicine app that works for both desktop and mobile interface can immeasurably help people in rural communities to have healthcare accessible within the comforts of their homes. It also helps keep healthcare more cost-effective and for everyone.
Telemedicine apps can potentially change the healthcare industry by making it easier for all people, especially those in rural communities to facilitate the process of getting healthcare service without compromising their time and money.
The continuous progress of healthcare and technology looks promising. Despite challenges, benefits still outweigh the existing barriers.
You may also like: