The eCommerce industry is growing at a high pace. According to the report prepared by Insider Intelligence, eCommerce sales are about to hit the $1 trillion milestone in 2022.

These days, a lot of websites and apps offer the opportunity to purchase products and make payments online. Amazon, eBay, and BestBuy are the most popular eCommerce sites. The integration of a payment gateway is a crucial part of the online marketplace development process. It helps website owners receive payments online.
In the post below, you will discover the most popular payment gateways, how to choose the best one, and how to integrate a payment gateway into a website.
WHAT IS A PAYMENT GATEWAY
A payment gateway is a service that helps bridge the gap between a merchant and customers. End-users need to click on the purchase button, share their debit card credentials or other types of payment data, and pay for a product or service. The payment process is fast and hassle-free for buyers.
How Does a Payment Gateway Work?
Let's check how payment gateways work in more detail.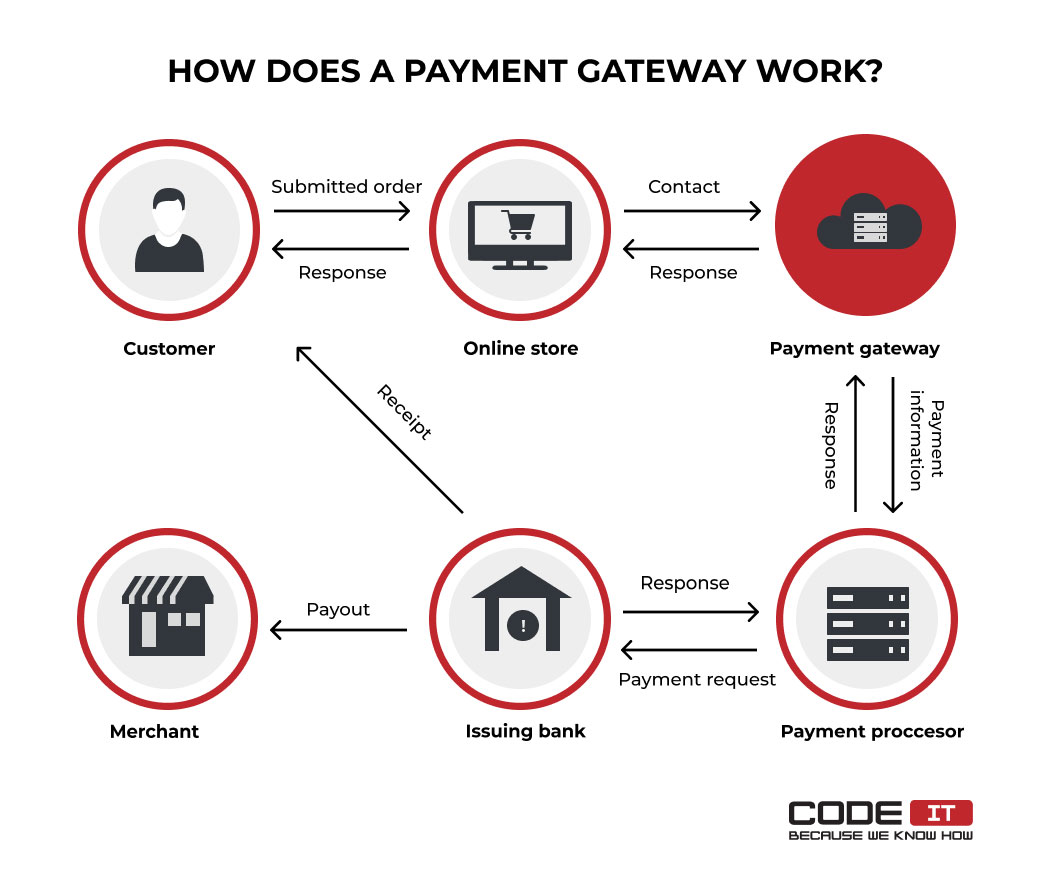 A gateway collects payment information, encrypts it, checks if a payment method is valid, and transfers data to a payment processor. The processor transfers all the data to an issuing bank to process a payment. Consequently, money gets drafted from a customer's account and forwarded to a merchant's account. Usually, a payment processing commission is applied.
It is worth noting that payment gateway providers usually have in-built payment processors. Therefore, payment gateways are considered complete fintech software that collects customers' payment data and charges them.
Types of Payment Gateways
The two major types of payment gateway integrations are: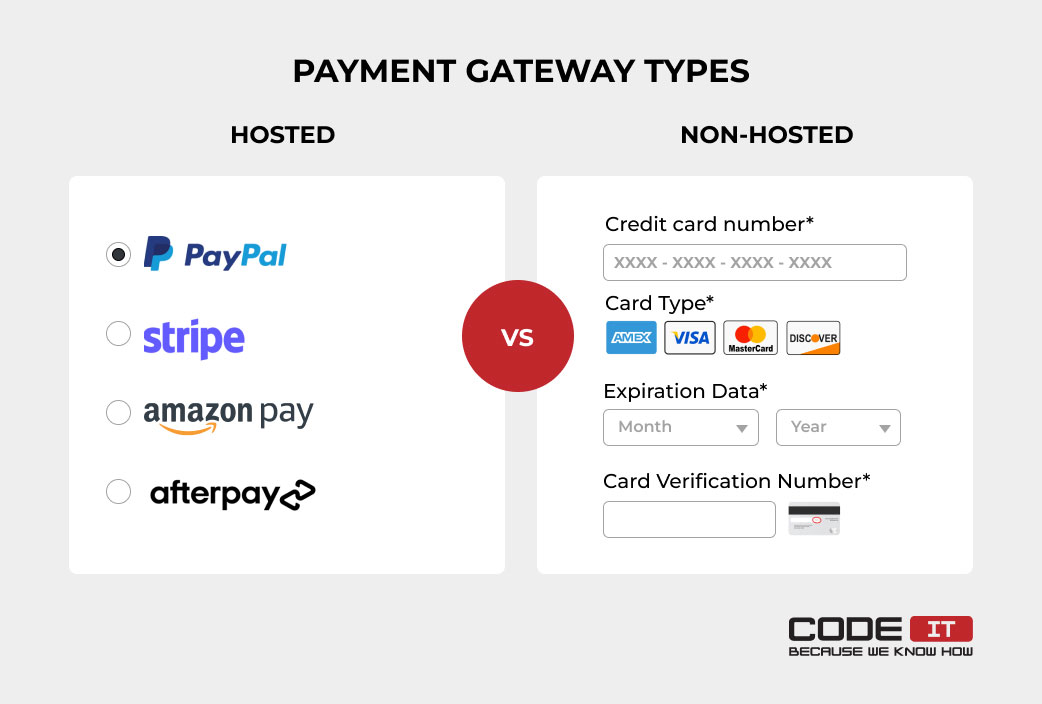 Each of the payment gateway types has distinctive peculiarities, pros, and cons that should be considered to integrate the best solution.
Hosted payment gateway
It is the most popular type of payment gateway. Hosted solutions are provided by third-party payment companies.
In order to complete a payment, a user gets redirected to an external website after sharing debit card credentials or other payment details.
Let's check the benefits and drawbacks of this payment gateway type.
| | |
| --- | --- |
| Pros | Cons |
| Stress-free integration of a payment gateway | Complete dependence on a third party |
| Payment is processed by a third party | Limited UI customization options |
| Data security is ensured by a vendor | Users get redirected to a vendor's site to complete a payment |
Non-hosted payment gateway
This type of payment gateway needs website owners to implement a payment gateway on a server. Consequently, users can share their debit card credentials directly on a website. The non-hosted payment gateway erases the need to redirect users to external websites. The Payment Card Industry Data Security Standard (PCI DSS) compliance is obligatory for implementing a non-hosted payment gateway.
Let's explore the advantages and downsides of non-hosted solutions.
| | |
| --- | --- |
| Pros | Cons |
| Users don't get redirected to a vendor's site to complete a payment | A website should be Payment Card Industry (PCI DSS) compliant |
| The design of a checkout form is fully customizable | A website owner is responsible for maintaining a high level of data security |
Non-hosted payment gateways are usually used by large enterprises that process a significant number of transactions.
Need help choosing the best payment solution for your site?
TOP-FIVE PAYMENT GATEWAYS
These days, there is a large assortment of payment gateways available on the market. However, several niche-leading solutions take the most market share.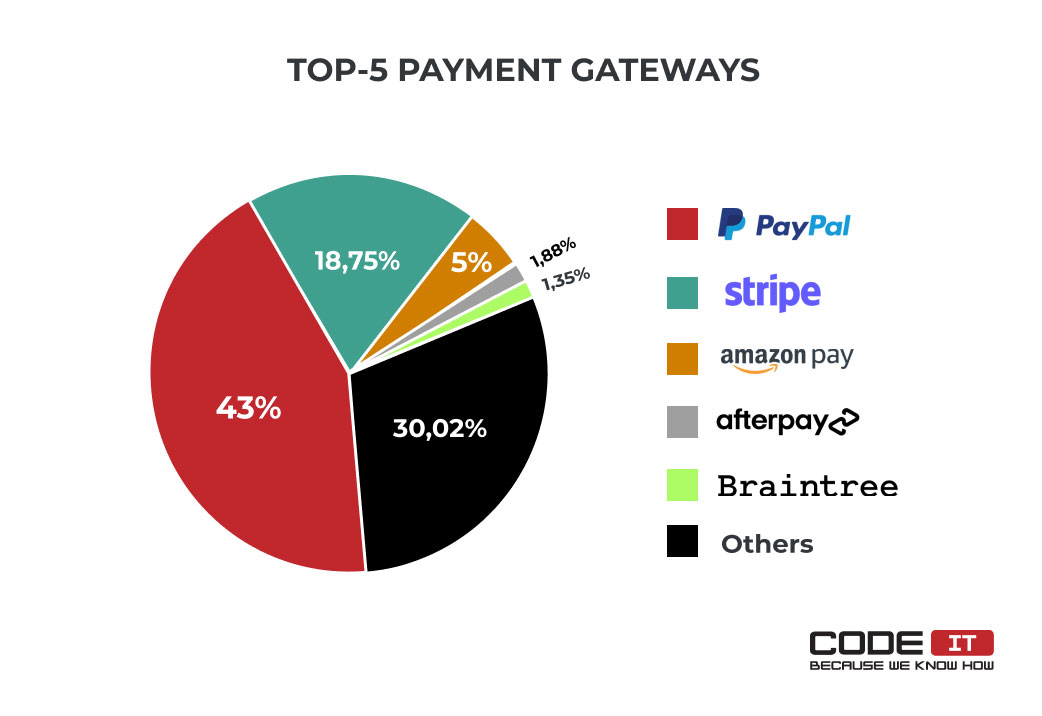 According to Datanyze, the top five payment gateways are:
Hosted payment gateways are the most popular solution because of hassle-free integration and maintenance.
HOW TO CHOOSE A PAYMENT GATEWAY
Feel free to research the Internet and shortlist payment gateways that meet your needs. Follow the instructions below to assess them and pick the one to integrate into your site.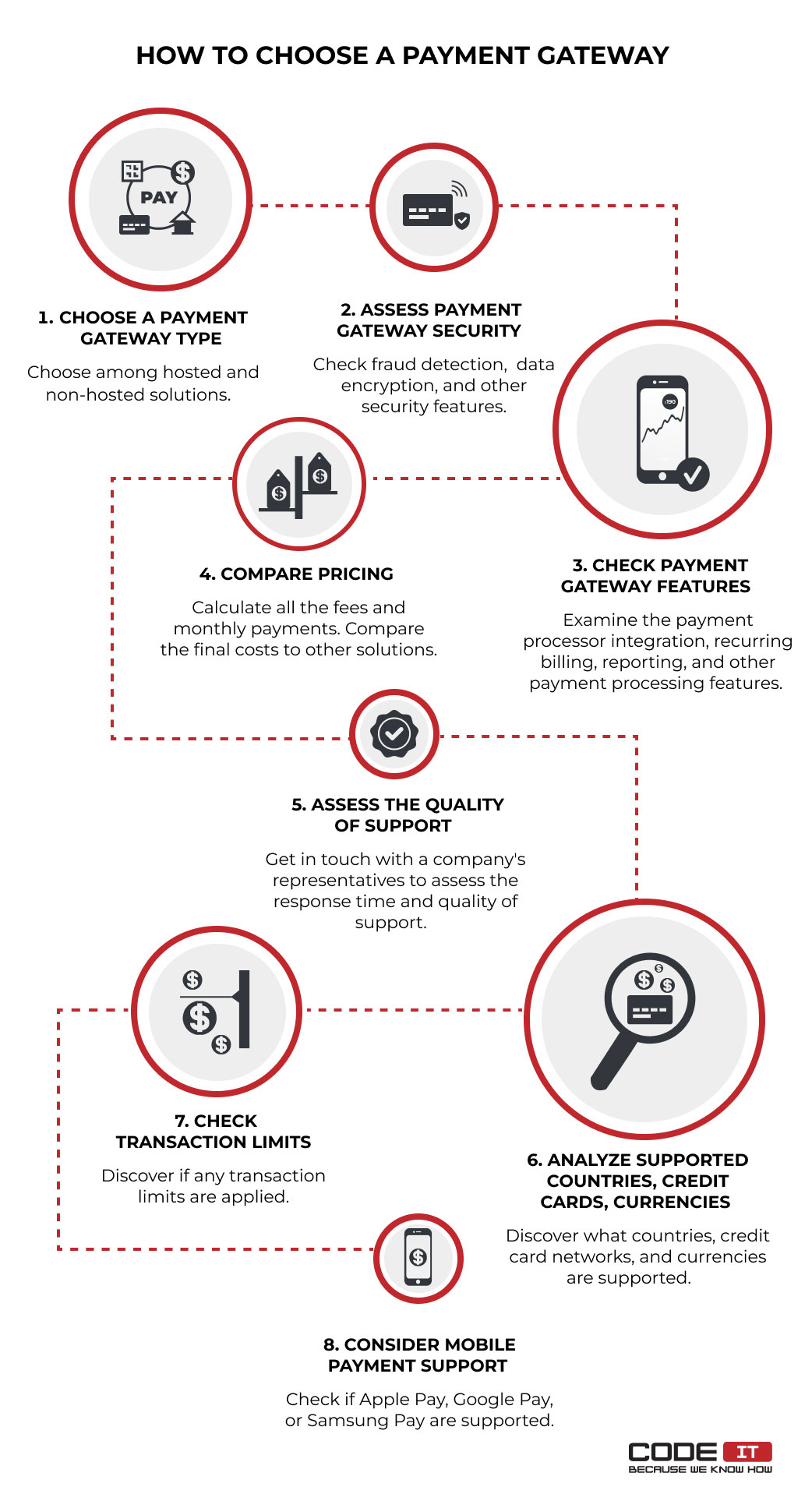 1. Choose a Payment Gateway Type
Analyze your needs and define the type of payment gateway that fits your requirements. Analyze the pros and cons of the hosted and non-hosted payment system integration types to make the right decision. Also, you can check the use scenarios below.
| | |
| --- | --- |
| Use Scenario | Best Solution |
| A small business needs an affordable solution to accept payments | Hosted payment gateway |
| A large enterprise needs an adjustable and completely-controlled payment solution | Non-hosted payment gateway |
| You're unable to maintain a high level of data security or make your website PCI DSS-compliant | Hosted payment gateway |
| You want customers to complete payments without leaving a site to decrease the cart abandonment rate | Non-hosted payment gateway |
| You want to integrate a new payment gateway as fast as possible | Hosted payment gateway |
2. Assess Gateway Security
It's vital to select a security solution that will keep the payment data of your customers safe. The most popular security features to check are:
Data encryption — Sensitive data is transformed into another form that can be interpreted by users with a secret key.
PCI DSS compliance — A set of security standards that help companies create a secure environment for payment processing and sensitive data storage.
Fraud detection — Activities that help verify a debit card or e-wallet owners to prevent unauthorized money transfers.
Multi-factor authentication (MFA) — Enhanced way of authentication that needs users to provide two or more pieces of information to verify their identity (email confirmation, biometrical data, password, etc.)
Secure electronic transaction (SET) — A protocol that is used by major eCommerce and payment processing companies. It helps keep sensitive payment information blocked and safe from unauthorized access.
Tokenization — A process of replacing sensitive data with undecipherable pieces of information called tokens. Original pieces of data have no correlation nor other types of mathematical relation with tokens.
3D Secure — An additional security layer. An issuing bank needs users to pass an extra verification step to process a payment.
Secure Sockets Layer (SSL) certification — A networking protocol that helps establish a secure connection between a user and a server by encrypting transferred data.
Read also:
3. Check Payment Gateway Features
A lot of payment gateways offer a large number of distinctive features that bring helpful functionality.
The top features needed to check are:
Payment processor integration — The most popular payment gateways have in-built payment processors so that they can charge clients and process payments. In case a gateway does not have an in-built payment processor, it needs to be integrated separately.
Recurring billing — Automated billing features that help businesses create subscriptions and charge customers automatically, following a defined payment schedule.
Reporting — A dashboard or detailed reports to track the number of payments made by customers. The reporting feature can also help get helpful insights into customers' behavior.
Customized UI elements — The ability to create custom buttons and hosted payment forms that match a website's user interface.
4. Compare Pricing
Explore the pricing policies of payment gateway providers to understand how much you will need to pay for services offered by different vendors. Usually, hosted payment gateway providers charge monthly fees and commissions for every payment.
Feel free to check out the pricing comparison of the top-five payment gateways below.



Monthly fee

Per-transaction fee

PayPal

$0
2.9% + $0.30

Stripe

$0
2.9% + $0.30

Amazon Pay

$0
2.9% + $0.30

Afterpay

$0
$0 for on-time payments
25% for late payments

Braintree

$0
2.59% + $0.49
Different fees may apply for payments made to verified charity organizations. Also, payment gateway providers may charge separate fees to process chargebacks.
5. Assess the Quality of Support
Sometimes, unforeseen issues may occur, so a payment gateway may stop working. Technical problems can block the ability to accept payment from clients.
It's recommended to choose a payment gateway vendor that provides comprehensive support to resolve unexpected technical issues fast. Examine the availability hours and get in touch with a company's representatives to gauge the response time and their ability to solve problems fast.
6. Check Transaction Limits
Payment gateway providers set transaction limits that need to be checked before selecting a solution for your business to ensure that your account will not be suspended or transactions blocked.
Transaction limits of the most popular solutions are:
PayPal — $4,000 for unauthorized users; from $10,000 to $60,000 for authorized users
Stripe — minimum payment: $0.50; maximum payment: $999,999.99
Amazon Pay — $500 per month for recurring payments; in case the transaction volume exceeds $100,000 per year an additional agreement should be signed
Afterpay — $1,500 per transaction
Braintree — $80K per month for small businesses; large enterprises should opt for a custom Braintree solution
7. Check Supported Countries, Payment Processing Networks, Currencies
Research to discover accepted currencies and supported countries of shortlisted payment gateways.
You can check out crucial information about the top payment system integrations below.
| | | | |
| --- | --- | --- | --- |
| | Countries | Currencies | Payment Processing Networks |
| PayPal | 200 countries and regions | 25 currencies | Visa, Mastercard, American Express, and Discover |
| Stripe | 47 countries | 135+ currencies | American Express, Discover, Diners, Mastercard, Visa, and others |
| Amazon Pay | 18 countries | 12 currencies | Visa, Mastercard, Discover, American Express, Diners Club, and JCB |
| AfterPay | 7 countries | 4 currencies | Mastercard, Visa, and American Express |
| Braintree | 8 countries | 130 currencies | Visa, Mastercard, Amex, Discover, JCB, Diners, Maestro, UnionPay |
8. Consider Mobile Payment Support
In case you want customers to be able to complete payments in a few taps on their smartphones, choose a gateway that supports mobile payments. The most widespread solutions are:
Need to develop a custom payment gateway?
HOW TO INTEGRATE A WEBSITE WITH A PAYMENT GATEWAY
The payment gateway integration roadmap implies three crucial stages:
Preparation
Solution configuration
Testing


Let's explore all the stages in more detail.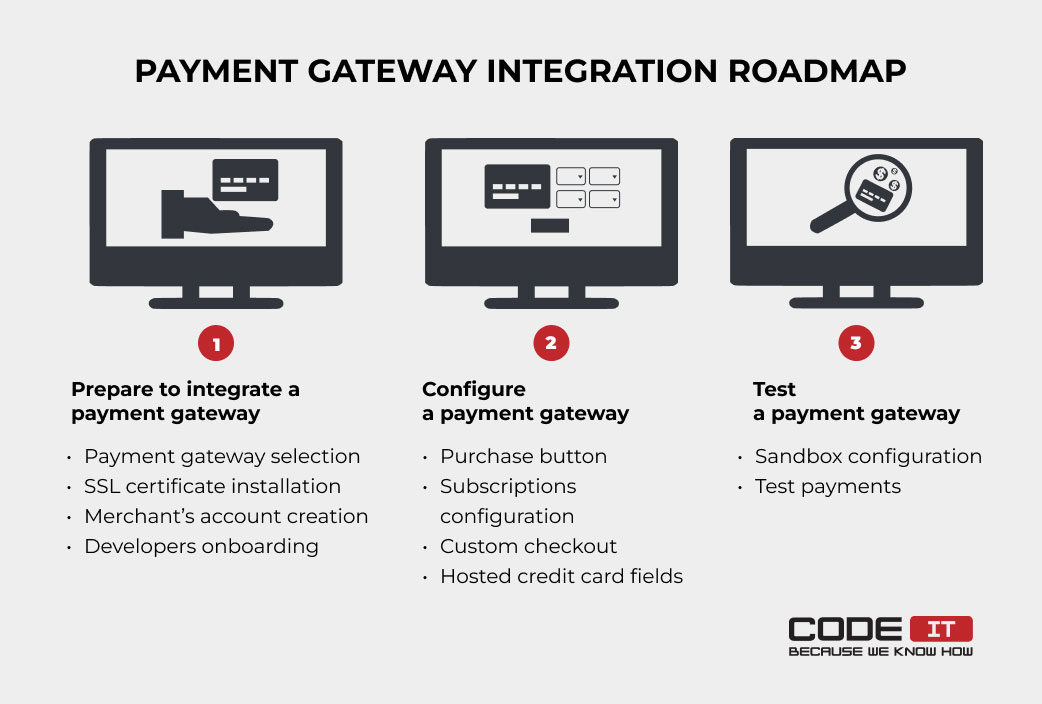 1. Prepare To Integrate a Payment Gateway
For starters, it's required to get prepared for smooth payment gateway integration. You need to take the following steps.
Select a gateway
Thoroughly analyze shortlisted payment gateways using the instruction, and select one that fits your requirements for payment gateway integration.
Install an SSL certificate
All websites that collect and transfer payment and other sensitive information should use the Secure Sockets Layer (SSL). It encrypts all the data transferred, so black hats won't be able to decode and use it in case of a data leak.
You need to ensure that an SSL certificate is installed on your site. Also, you need to ensure that your website can be accessed via HTTPS protocol only. Otherwise, it's required to configure 301 redirects so that all users get redirected to a secure version of your site.
Get a merchant
'

s account

Reach your bank and request to open a merchant's account. It may be required to provide evidence that your business is legitimate to open a business bank account.
Onboard developers
Depending on a chosen payment gateway, you may be required to update the codebase of your site, configure an API integration, or build a complete non-hosted solution.
Explore the documentation of a selected payment gateway and onboard software engineers with the required technical expertise.
Need to hire a team of software engineers? Check out:
2. Configure a Payment Gateway
Having a chosen payment gateway, you should find detailed instructions not to fail when configuring new functionality.
Here are the instructions on implementing the three most popular payment gateways:
Let's check how to integrate the most popular payment gateways on the website in more detail below.
1. PayPal
It is the most popular payment gateway that offers helpful solutions for businesses to accept payments.
For starters, you need to create a PayPal business account.
After configuring it, you select and set up one of the options offered by the company. There are two ways how to integrate the PayPal payment gateway into a website:
Standard PayPal button
It is a quick and hassle-free way to perform the integration of a payment gateway in a website. It is suitable for users who have poor technical skills.
In order to add a PayPal button, you should do the following:
Open the PayPal integration builder
Configure a button's design and functionality
Copy the generated HTML code
Paste the code on your site
Add the JavaScript SDK code to the checkout page and modify it


Advanced checkout
This solution needs to configure the PayPal API integration. Customers don't get redirected to another website to complete payment when using the advanced checkout.
The advanced PayPal checkout integration steps are:
Enable card payments under your PayPal account
Generate a client token
Add the PayPal JavaScript SDK and PayPal button to your site
Create API endpoints on your server
Add a checkout form and connect it with the created API endpoints


2. Stripe
It is a second-popular payment gateway with rich documentation and a low-code environment to integrate the solution. Also, Stripe foresees the opportunity to add both Apple Pay and Google pay integrations to a website.
The Stripe payment form configuration stages are:
Server setup
Checkout page building
The payment form completion and errors handling
Post-payments events handling


Each of the stages to integrate the payment gateway into a website implies a lot of additional milestones.
3. Amazon Pay
Amazon is the largest online store that has developed its payment gateway to help merchants accept payments.
There are two widespread ways of Amazon Pay configuration.
Pre-built plugins
There are a lot of Amazon Pay eCommerce plugins available for content management systems (CMSs). In case your site is built using a CMS, find out if there is a plugin available and discover the appropriate instruction on the integration of the payment gateway. Follow it to enable the payment gateway on your site in a few clicks.

One-time checkout and recurring payments
In case you have a custom-built website or there is no plugin available, you can follow the payment gateway integration instruction that implies the following steps:
Setup the required software solutions
Add the Amazon Pay button
Display shipping and payment information
Configure payment information
Complete the checkout and add shipment tracking information
Manage recurring payments (an additional step to set up subscriptions)
Manage refunds
Test the payment system integration
Make your integration live


3. Test a Payment Gateway
A sandbox is also known as a testing server. It is an environment that isolates tested code to ensure that everything works as designed before going live. Using a sandbox, developers can simulate payments to check how an integrated gateway works under different circumstances. Also, a payment gateway may be tested by using sample credit card credentials.
Feel free to learn more:
After taking all the required payment gateway testing steps, you can add your solution to the live environment. Nevertheless, it's also recommended to make test payments using a real debit card to ensure that clients won't experience any issues.
In the case of integrating a feature-rich payment solution, it's advisable to involve quality assurance (QA) engineers. They will help ensure that the integrated payment gateway solution works correctly.
HOW TO INTEGRATE MULTIPLE PAYMENT GATEWAYS
A lot of website owners consider adding multiple payment gateways on their sites to provide a variety of payment options for their customers. Also, an alternative solution can help charge clients in case of a gateway's downtime.
The integration of multiple payment gateways can be fast and hassle-free when using eCommerce plugins for content management systems. Most CMSs offer the opportunity to set up several plugins to add multiple payment gateways to the checkout.
If you have a custom-built website, you can integrate multiple payment gateways as distinctive solutions. Follow the payment gateway integration tutorials provided by vendors to add different solutions to your website.
Multiple payment gateway integrations in eCommerce cannot be interconnected. They need users to choose a preferred payment method only and complete a transaction.
Create an eCommerce website with multiple payment gateways! Check out:
HOW TO INTEGRATE PAYMENT GATEWAY IN A MOBILE APPLICATION
The integration of a payment gateway in a mobile app is a complicated process that needs you to involve skilled software engineers. They need to integrate a software development kit (SDK) provided by a vendor and set up the checkout functionality.
Since the payment gateway integration instructions vary, feel free to check guides on integrating the most popular solutions in mobile apps.
Let's check how to integrate a payment gateway in a mobile application by exploring the PayPal SDK integration instruction for iOS devices.
Get prepared to integrate an SDK
Enable the iOS PayPal SDK
Add the iOS PayPal SDK to your app
Configure the iOS PayPal SDK
Integrate the iOS PayPal SDK (client-side or server-side integration type)
Create and capture orders
Complete test purchases using sandbox accounts


Read also:
CODEIT EXPERTISE IN PAYMENT GATEWAYS INTEGRATION
Our software engineers have outstanding expertise in integrating custom gateways. We have helped many clients build eCommerce solutions that can accept payments online in a few clicks.
Check out the projects completed by the CodeIT team.
Brewed
Brewed is a subscription-based portal that foresees the opportunity for bars and beer lovers to connect. Our team has developed web-, iOS-, and Android-based applications that help users explore beer types and find bars, breweries, and events.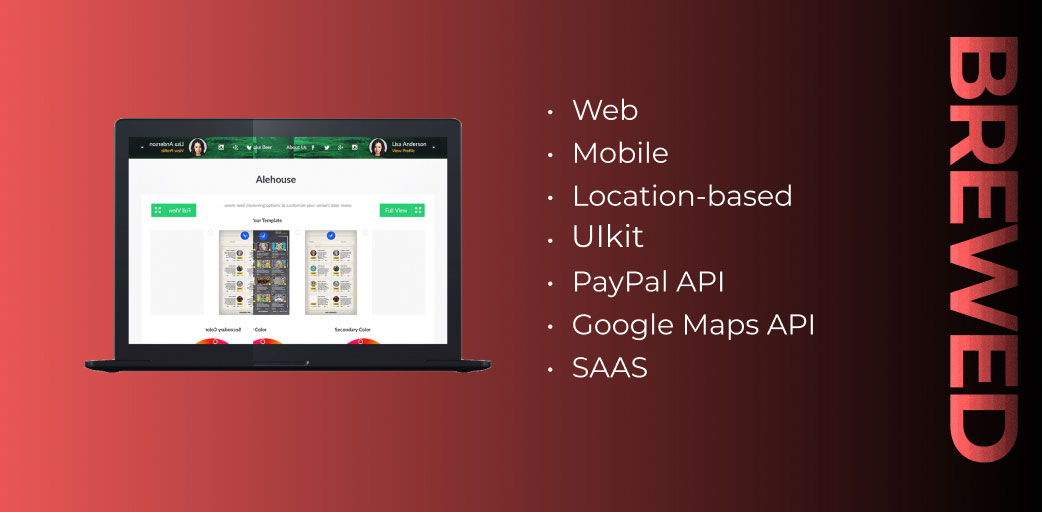 The monetization model of the service needs bars and breweries to pay recurring fees to list their businesses in the app. Our software engineers have integrated the PayPal payment gateway and configured it to charge recurring payments.
GIObikes
GIObikes is a fully-functional eCommerce website for selling bikes and recreational equipment. Using the website, customers can find the required items and purchase them in a few clicks. The key features of this e-store are online auctioning, an inventory management system, integrated shipping services, and multiple payment options.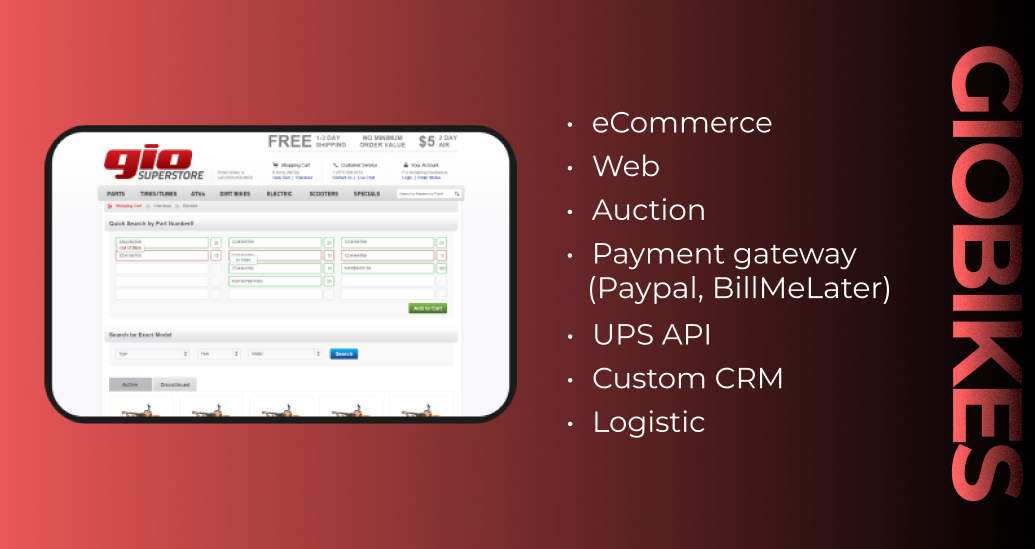 Our experts have implemented the following payment methods:
Debit/Credit card — Users can enter their credit card credentials on a website to make a payment.
PayPal checkout — Customers can pay for products using their PayPal accounts. The integrated PayPal button redirects users to the vendor's site to complete a transaction.
PayPal Credit (formerly BillMeLater) — Clients can opt for new products using their PayPal credit lines by clicking the PayPal Credit button on the checkout. The service offers up to six monthly interest-free installments.
Money order or bank wire — Money orders and wire transfers can be accepted as payments for goods.
Read also:
FINAL WORDS
The integration of a payment gateway depends on your business needs and a chosen solution. Therefore, it's vital to research wisely to select the right payment gateways for your business.
The easiest way to integrate a payment solution is to configure pre-built plugins in CMSs or add a PayPay payment button. The PayPal button adding process involves the following stages:
A button's design and functionality configuration in the PayPal builder
Copying and pasting of the generated HTML code
JavaScript SDK code integration


In most cases, it's required to involve software engineers to integrate a payment gateway. They have to explore instructions, integrate SDKs, and configure API integrations to add comprehensive payment solutions to websites and mobile applications.
What is a payment system integration?
The integration of a payment gateway is a solution that offers the ability to accept payments online. There are a lot of solutions for merchants available. The most popular payment gateways are:
PayPal
Stripe
Amazon Pay
Afterpay
Braintree
Why is payment gateway integration important?
The global compound annual growth rate (CAGR) of the eCommerce market is valued at 14.7% and is expected to take a quarter of all the retail sales by 2025.
Businesses need to launch e-stores and integrate payment gateways to charge clients online to keep up with competitors.
How do payment integrations work?
A payment gateway is a part of a system that drafts money from customers' accounts and sends them to merchants in the form of payments for products or services.
A payment made on a website has the following flow:
An order is submitted on a website, and information is sent to a payment gateway
Data about an order is transmitted to a payment processor
A payment request is sent to an issuing bank
An issuing bank sends a payment to a merchant's account and provides a transaction receipt to a user
Are payment gateway integration services free?
Various vendors may apply payment gateway integration fees. The most popular payment solutions need merchants to pay zero setup and monthly fees. However, businesses have to pay per-transaction fees that are the following:
PayPal: 2.9% + $0.30 per transaction
Stripe: 2.9% + $0.30 per transaction
Amazon Pay: 2.9% + $0.30 per transaction
Afterpay: $0 for on-time payments; 25% for late payments
Braintree: 2.59% + $0.49 per transaction
In case you hire software engineers to conduct the integration of the payment gateway, you will be required to cover extra labor force expenses.
How do I integrate a payment system on my website?
Since the integration of a payment gateway differs, explore the guides on implementing the most popular payment gateways:
In order to integrate PayPal checkout, the most popular payment solution, you should do the following:
Enable your PayPal account to accept payments
Generate a client token
Integrate the JavaScript SDK and PayPal buttons
Call the Orders API
Add the card form elements
How do you integrate a payment gateway into an application?
There is no universal instruction on payment gateway integration for mobile devices. However, in most cases, developers need to integrate a software development kit (SDK) and configure a checkout.
For instance, the process of integrating the Stripe checkout form into an iOS app implies the following steps:
Stripe integration setup
Payment methods enabling
An endpoint adding
Payment details collection
A return URL setup
Post-payments events handling
The integration testing