What is "usdz" file. And how it will change retail business
At the WWDC 2018 conference, Apple presented the ARKit 2.0, a new version of their AR framework. It will offer several new functions, such as improved face tracking, detection of 3D objects, more realistic rendering and multi-user mode.
ARKit 2 improves tracking and detection of real objects and adds the ability to apply real-world reflections to augmented reality automatically. This will positively affect the realism of the combination of digital objects and the physical environment.
Deep integration of the new iOS 12 with augmented reality is provided by two new functions announced at the conference. The first one is "Measure" app. It allows you to measure two-dimensional and three-dimensional objects. The function is available with a help of the computer vision. This software easily measures objects, for example, a frame from a picture or a photo card. It also allows you to take pictures with the exact size of the object and send them to friends using iPhone or iPad.
A file format for augmented reality
The second feature is the new file format - usdz. It is an encrypted ZIP archive with zero compression and is designed specifically for the 3D content. This is a collaboration of Apple with the Pixar studio. The format allows you to share data with other users of iOS and macOS using Messages, Safari, Mail, Files, and News.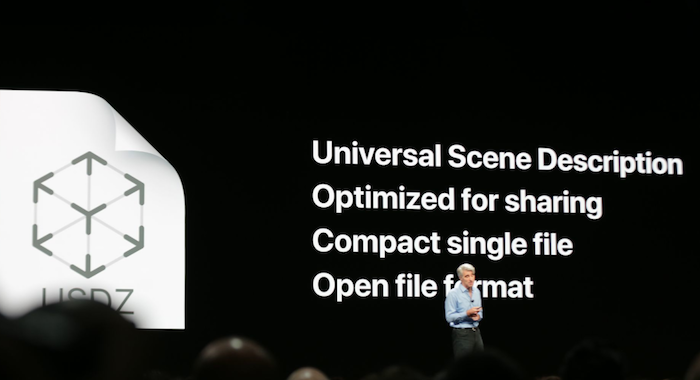 Adobe CTO Abhay Parasnis said at the conference that applications and services of the Creative Cloud will support the new file format. Previously, this company introduced its own product to interact with augmented reality. It's called Project Aero. This tool allows you to create simple scenes on ARKit and save them in the usdz format, which will allow viewing them on Apple devices.
What is the practical use of usdz?
Soon, users will be able to create content for AR with the help of familiar tools, such as Photoshop CC and Dimension CC. The format of the usdz file will allow you to see how the object will look in real space. At the conference, Apple's senior vice president of Software Engineering Craig Federighi presented several examples of the possible use of such files. So we witnessed an entertaining 3D animation, placed in an article in Apple News.
Federighi also showed how, with the help of several touches, the item from the online store, posted on the website in the usdz format, can be seen in real space in the original size.
As was mentioned, ARKit 2 and usdz will be available in the new iOS 12, which will be released in the fall of 2018. At the moment, the preliminary version of the new operating system is already available for participants of the Apple Developer Program. And early adopters have already begun actively designing future applications with augmented reality functionality.
How does AR interact with business?
Do you remember the boom of the Pokemon Go app in 2016? The game conquered a huge number of users around the world and became one of the first applications with AR. However, the possibilities of using the augmented reality functionality for marketing purposes are quite wide. And representatives of large retail companies quickly began to apply it.
For example, IKEA released a mobile app that allows you to see how certain furniture pieces might look like in your own home. Following them, other furniture companies such as Houzz and Wayfair launched solutions with similar functionality.
Before that, Amazon added an AR function for viewing 3D models of items to their iOS app. Solutions with augmented reality are also popular among fashion brands. Lacoste released an application that allows you to try on different types of shoes with AR and your smartphone. Thus, the brand received coverage of 30,000 users who used the application.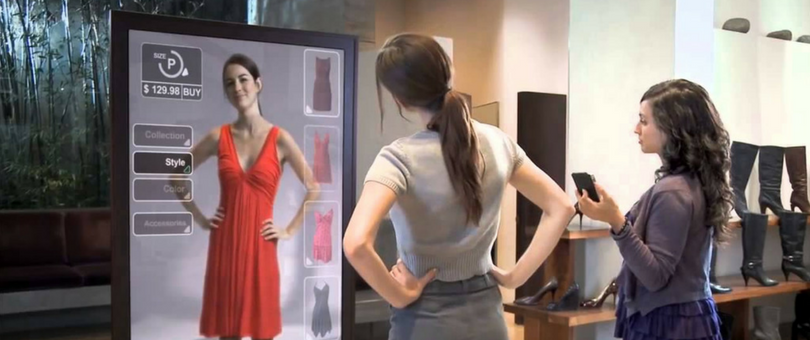 At the moment, Gap is also testing a virtual fitting room, thanks to which users can see how they might look in a specific outfit of the brand. Such an innovative approach not only provides engagement with a younger audience but increases brand awareness due to the function of sharing with social media followers.
And this is not a complete list of business areas in which the technologies of augmented reality are applicable. Analysts at International Data Corporation predicted that the volume of the market of augmented reality will reach $ 133 billion by 2021. And looking at features of ARKit 2 and usdz this number is beyond doubt.
NEED CONSULTATION? WE'D LOVE TO DISCUSS YOUR IDEA
The impact of augmented reality on retail
None of the marketing channels give the user a full understanding of the product before making a purchase. Only after unpacking your customers can become sure how certain items will realistically fit into their daily lives.
In particular, this applies to items with a high check average or large dimensions. The decision period before the purchase can range from a few months to a year. Therefore, an effective solution will be to provide the client with the opportunity of additional digital contact with the product. This will add value to the retailers, especially if they use augmented reality.
For most users, online shopping has become an essential part of everyday life. But many of them still lack the sensory appeal of traditional shopping. AR retail easily solves this problem.
Augmented reality opens a large number of opportunities for buyers. They have the chance to see how products will look at home, get rich information and the real properties of the future purchase.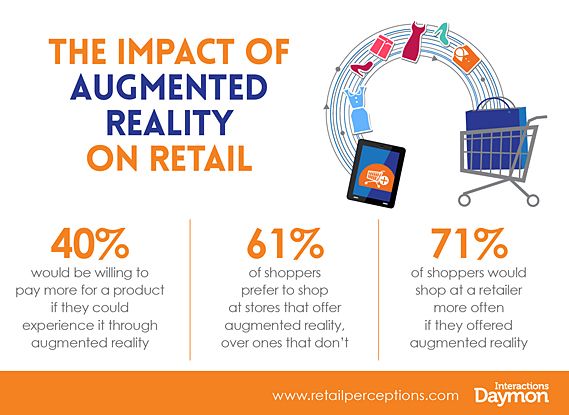 The release of ARKit 2.0 has proved that the use of AR in the near future will become an integral part of retail. Its value for business includes several factors:
Improving customers loyalty

Increasing brand awareness

Bringing the In-Store Experience to Users' Homes

Incorporating Augmented Reality Into Your Product

Increasing conversion rates by increasing the engagement level
ARKit 2.0 is a new way to get your customers into AR by just letting them download and open .usdz files. The great technological gap is now overtaken and the businesses that will start to adopt this advantage at the early days will benefit.
Augmented reality is no longer a fantasy, it is already here and it changes the world of the retail we knew before. Our team now actively adopts and test this new functionality to be ready to help early adopters get the most of it in shortest time frames. Because we know how.
Further Reading: