Over the past few years, the word "outsourcing" has become increasingly popular. This concept means a set of measures aimed at transferring certain processes and functions by a company for another organization that professionally specializes in the field of assigned tasks. Also, the outsourcing is characterized by a longer interaction than the one-time services that are requested more situationally.
By making a strategic decision about outsourcing, business gets access to the existing business process, separate systems, and infrastructure of external companies. This allows you to concentrate on maintaining the core business in your company, to increase capacity and enlarge your presence in the market.
Why does IT outsourcing become so popular?
The popularity of IT outsourcing is confirmed by the latest research in Computer Economics. It says that the history of IT outsourcing has long roots. World-famous companies choose this form of cooperation because of the opportunity to expand their capabilities with minimal investment, reduce costs and increase functionality.
The resource also provides the following data for 2017 (based on the annual survey of IT organizations in the U.S. and Canada):
41% of organizations outsourced their data center operations;

43% of companies use outsourcing for their IT security needs;

53% of organizations outsourced the application development (and in 2018 this number grew to 56%).
IT security outsourcing is increasing at the fastest rate of all outsourced functions in terms of the percentage of work outsourced, with 48% of respondents reporting that they will increase the amount of security work that they outsource. Definitely, one of the most widespread areas of outsourcing is application development. The frequency rose slightly after a noticeable dip in 2016. Thanks to the low cost and service success of outsourcing application development.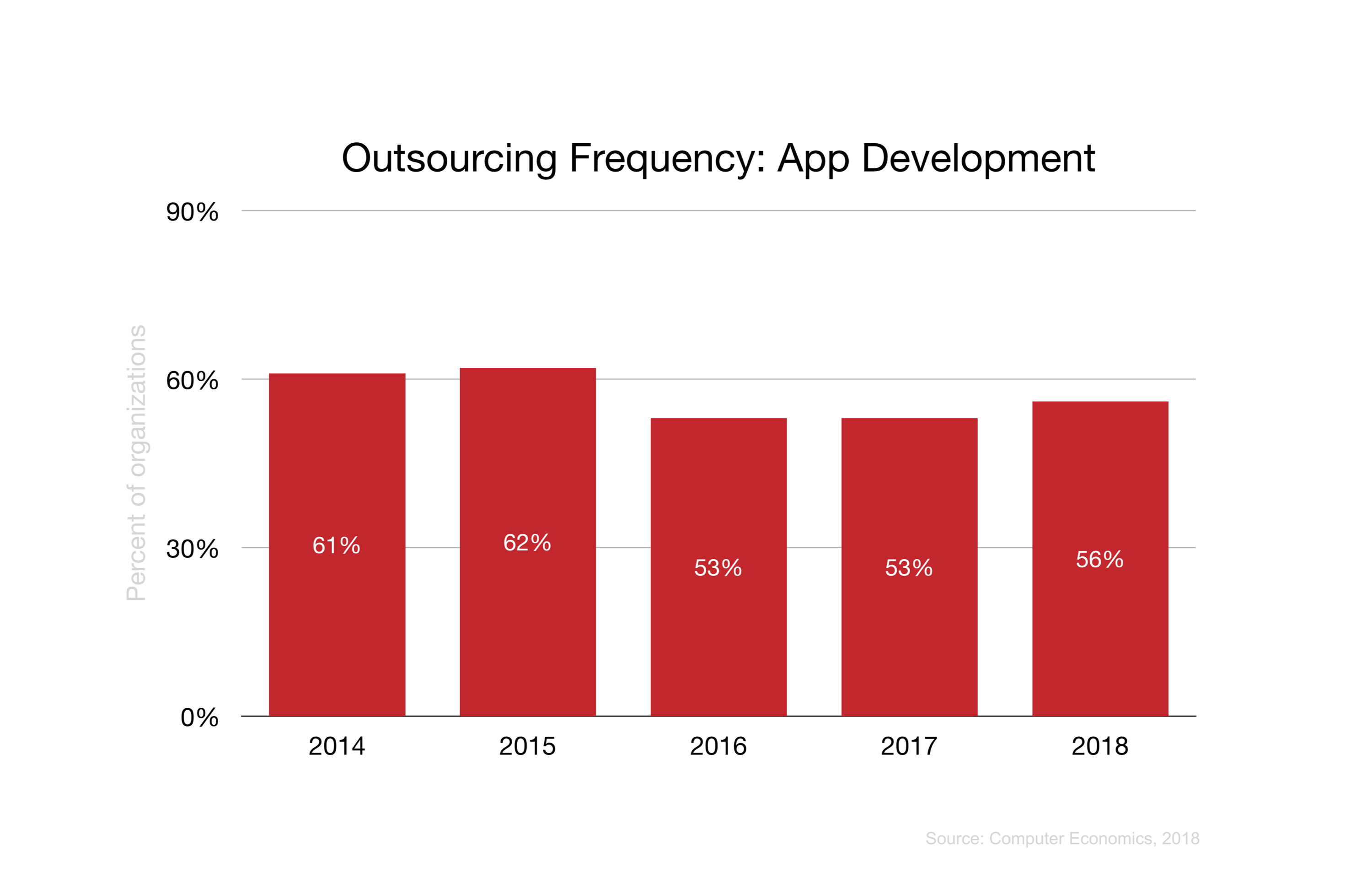 According to polls, the outsourcing level is 30% on average among organizations that outsource this function. About half of the organizations outsource more of their total application development workload than the median level, and the other half outsource less. The level ranges from 20% at the 25th percentile to 70% at the 75th percentile.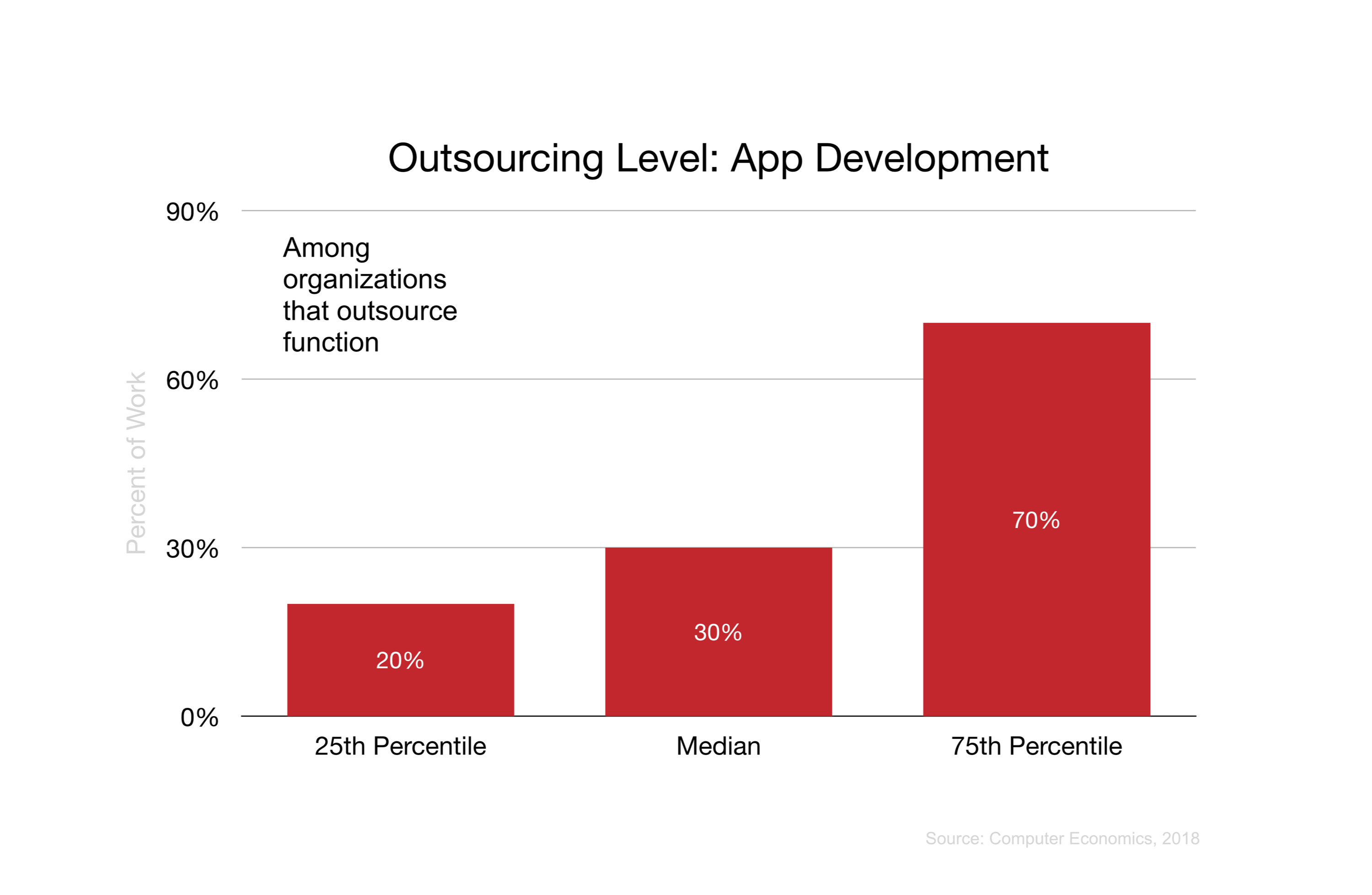 In 2019, 43% of surveyed organizations are going to increase the portion of outsourcing. 47% will leave the amount of work of app development at the same level.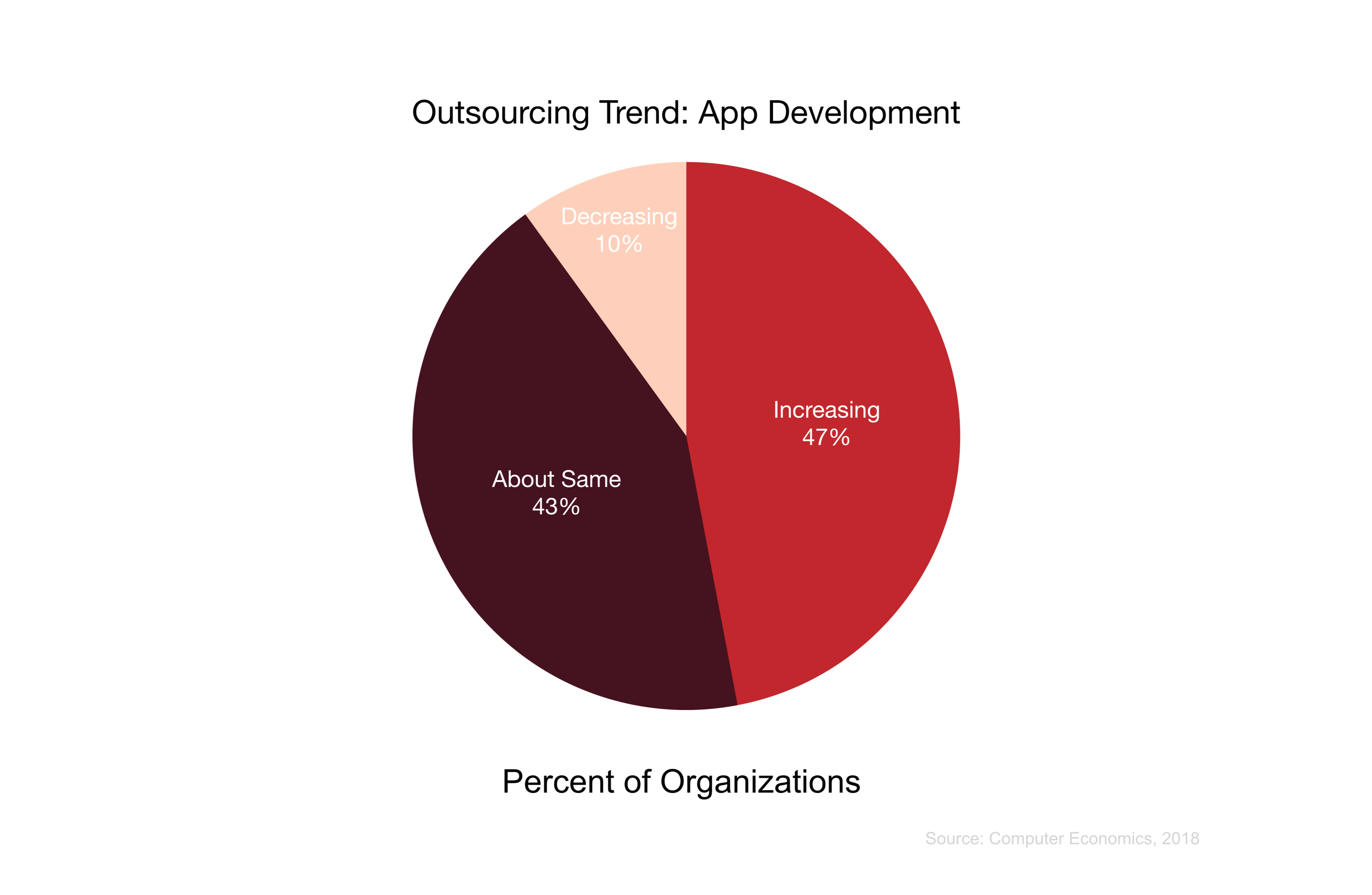 Statistics also show that companies of any size prefer outsourcing services. According to Computer Economics, 57% of small/midsize organizations and 53% of large organizations outsource their application development work.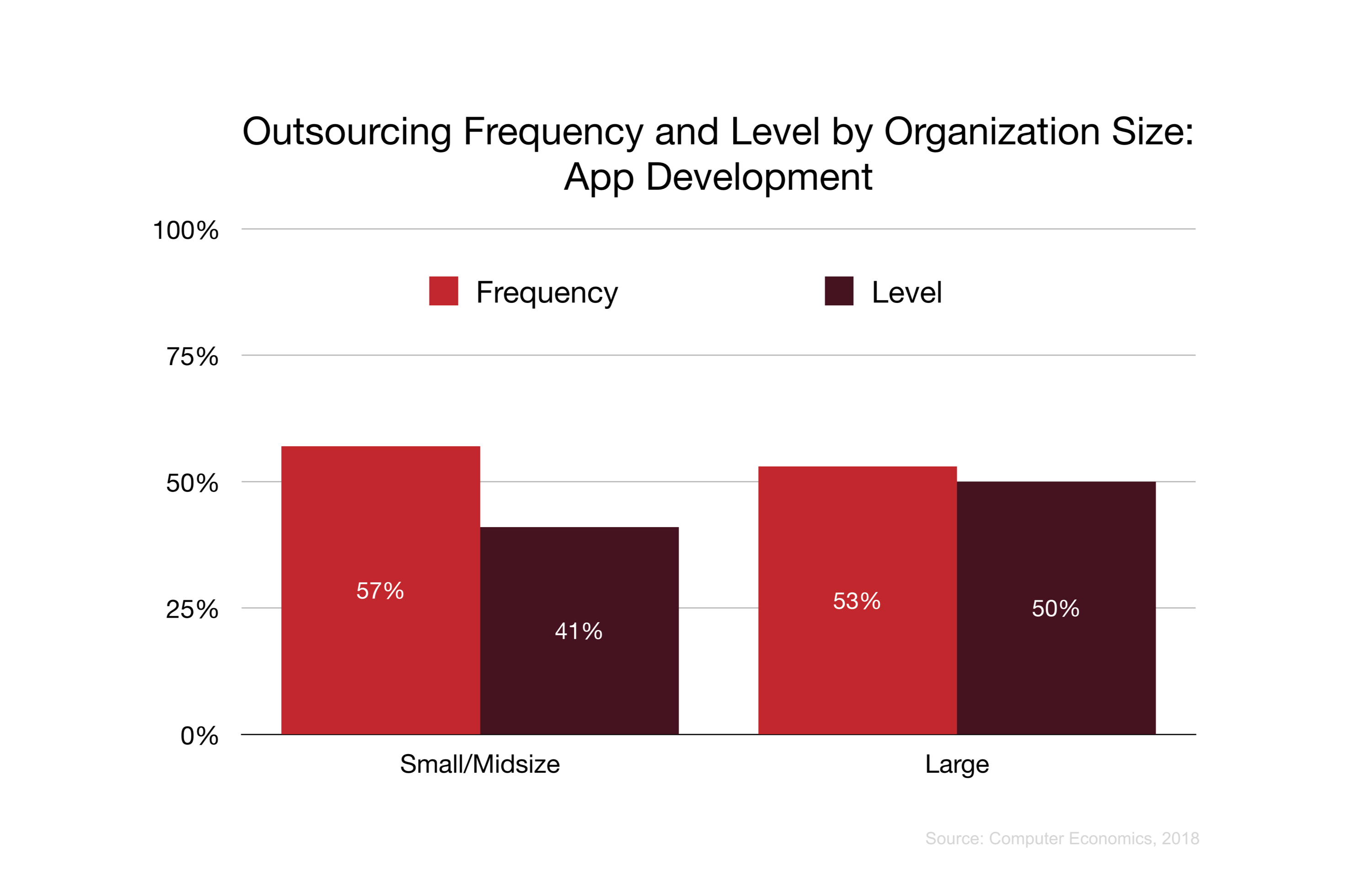 In addition, the significant fact is that companies from different business domains chose outsourcing services. Manufacturing companies outsource application development at a higher-than-average rate, with 63% outsourcing some application development work. Financial services companies outsource at a 60% rate. Healthcare services companies at 10% are the least likely to outsource application development work.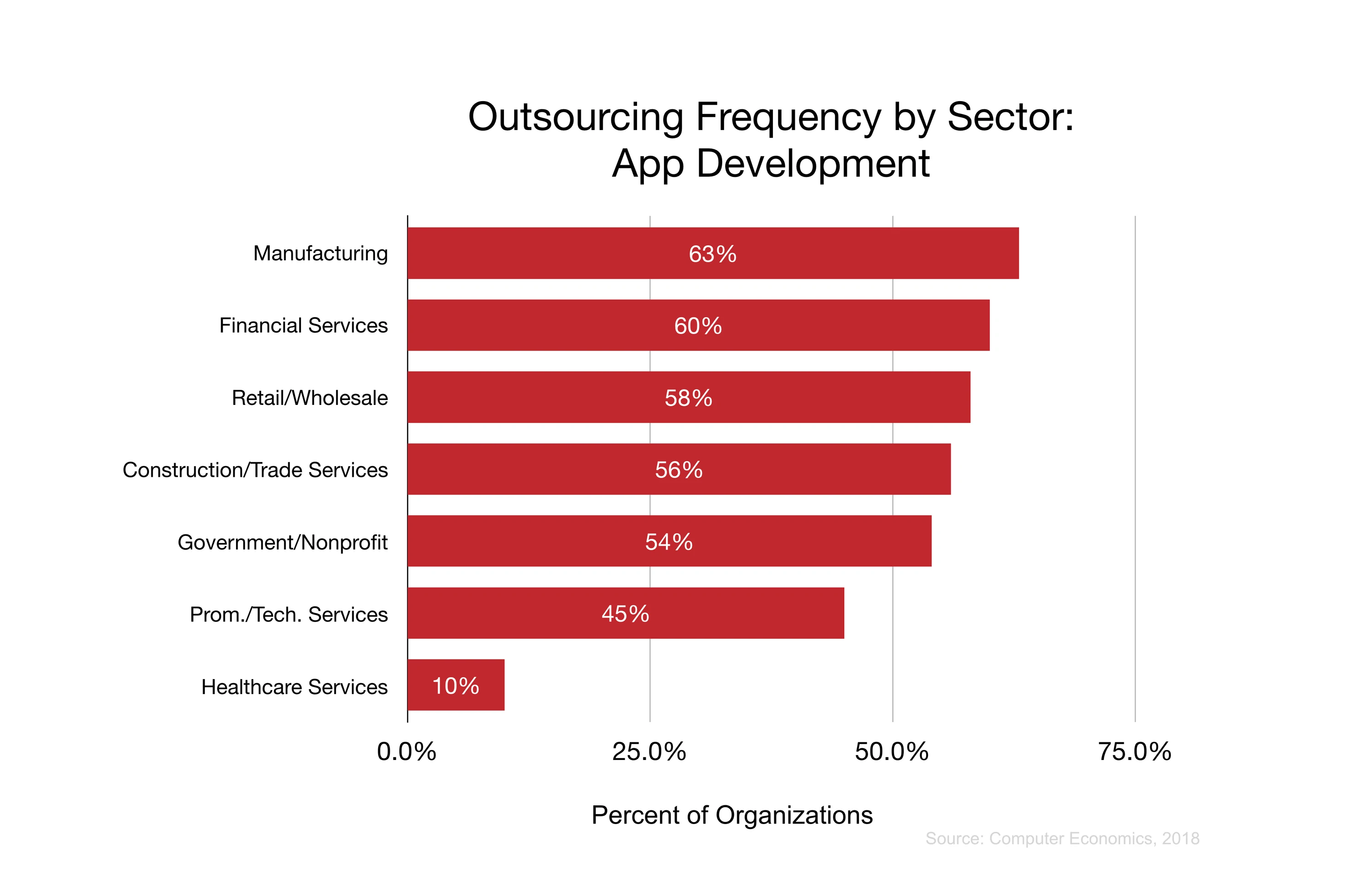 The above-mentioned data confirms the fact that outsourcing is a global trend in business, which allows increasing the profitability of the enterprise.
Companies that have successfully used IT outsourcing include such huge start-ups as Basecamp, GitHub, Alibaba, Slack, and Skype. And this is not surprising, because according to the latest research, outsourcing can reduce overhead costs by up to 60%. With limited budgets, typical for many fledgling startups, these numbers can play a significant role.
How to choose IT outsourcing service?
When we talk about IT outsourcing, we mean transferring the customer's information systems to service (for example, developing software, creating websites or applications). Around the world, IT tasks are most often outsourced. Some countries managed to become the largest providers of such services. For example, Asia and India have earned a reputation as a cheap but low-quality resource.
If you want to give preference to IT outsourcing in India, according to Christophe Delsol, you may have to face a number of problems. The most significant of them are the time zone difference (about a 12-hour difference with MST), low motivation of employees, cultural differences, poor quality of education.
Another notable problem is the slight experience of most developers. According to Stack Overflow Developer Survey 2018, 78% of developers from India have coding experience of 0-5 years. While in the US there are only 48% of specialists with similar experience, and in the whole world - up to 57%. Accordingly, most of the developers from India have a junior level.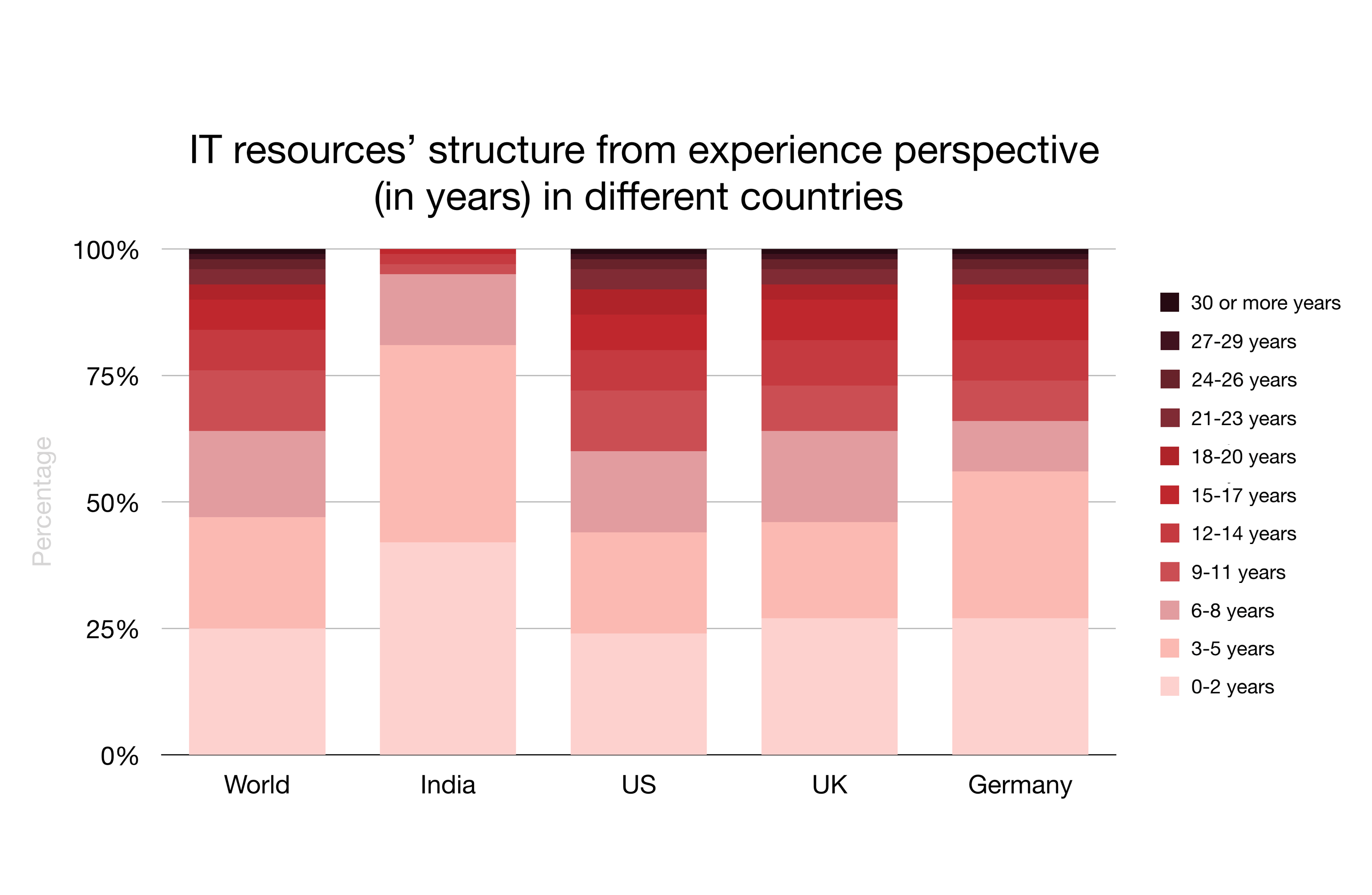 Another significant fact is: a majority of Indian developers are ready to write code that they themselves consider unethical.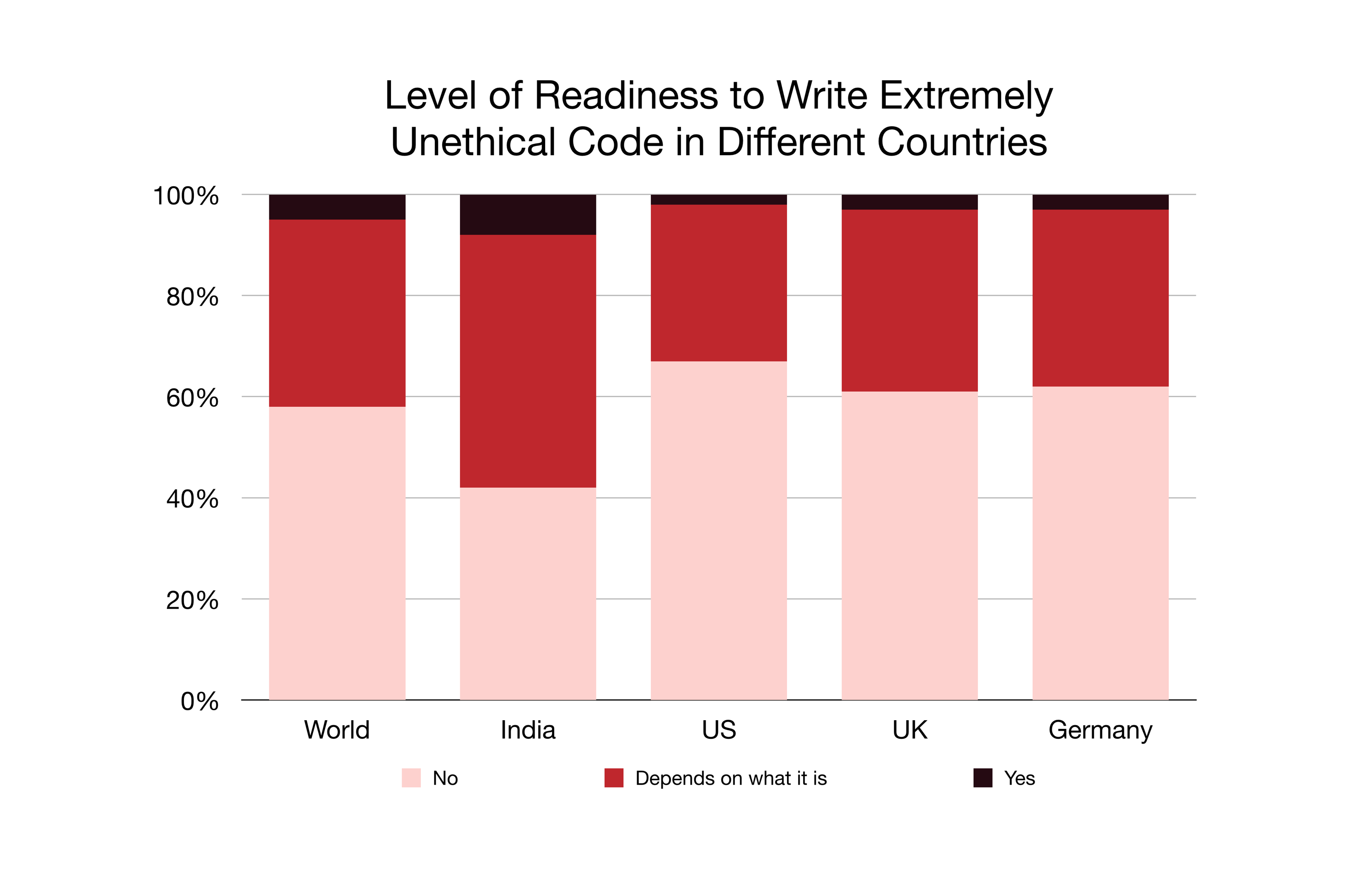 As you can see, India's IT Outsourcing services have a lot of downsides. Another perspective region for outsourcing is Eastern Europe. At the moment it is rapidly gaining popularity.
In Eastern Europe, the largest outsourcing countries are Poland, the Czech Republic, Belarus and, of course, Ukraine. The last one is a leader in this region, and IT outsourcing brings to the country more than 2.5 billion dollars annually. More than 100 research and development (R&D) centers of such global high-tech companies as Cisco, Oracle, Rakuten, Samsung work in Ukraine.
According to the calculations of the "IT Ukraine" association, which unites outsourcing companies, the export volume of Ukrainian software grew from approximately $3 billion to $3.6 billion in 2017. And for the current year, the forecast is $4.5 billion. By 2025, the industry predicts almost doubled growth.
Don't know where to start? Our specialists will help you!
Ukraine IT outsourcing: worth consideration?
In conditions of intense competition among other countries, Ukraine compares favorably due to a number of factors. Below we give the most compelling list of them.
Strong fundamental European education
In total, Ukraine contains 402 universities and colleges. They graduate 36,000+ technical specialists annually. Three-quarters of representatives of the Ukrainian IT infrastructure have a university-level degree.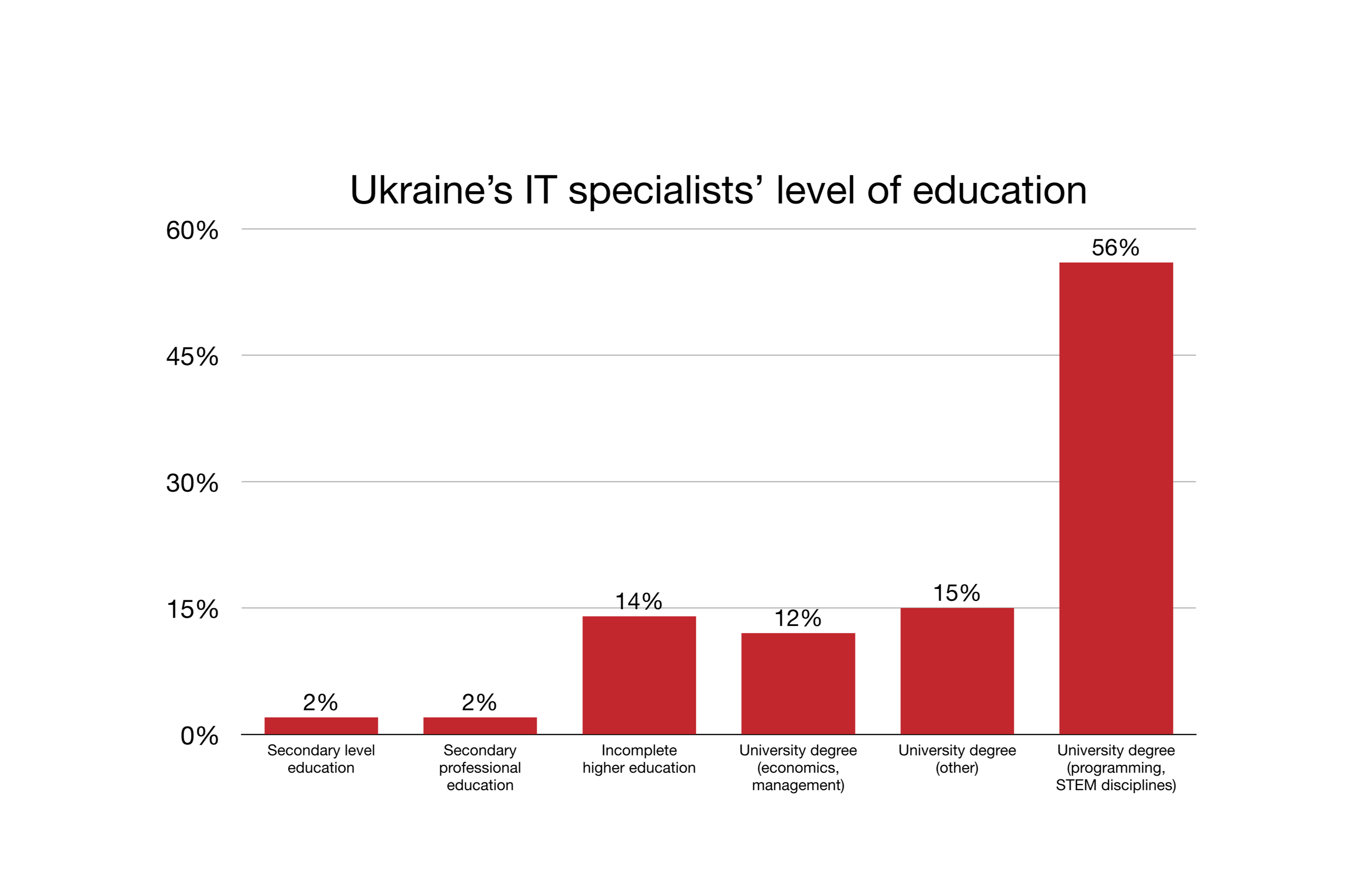 European culture with NO language barrier
Ukraine is a multicultural democratic country that actively follows the path of European integration. Therefore, learning English is compulsory in most schools and universities in the country. According to the 2018 research, 34% of IT specialists in Ukraine speak English at the Intermediate level, 33% - Upper-Intermediate, 12% of respondents have an Advanced level.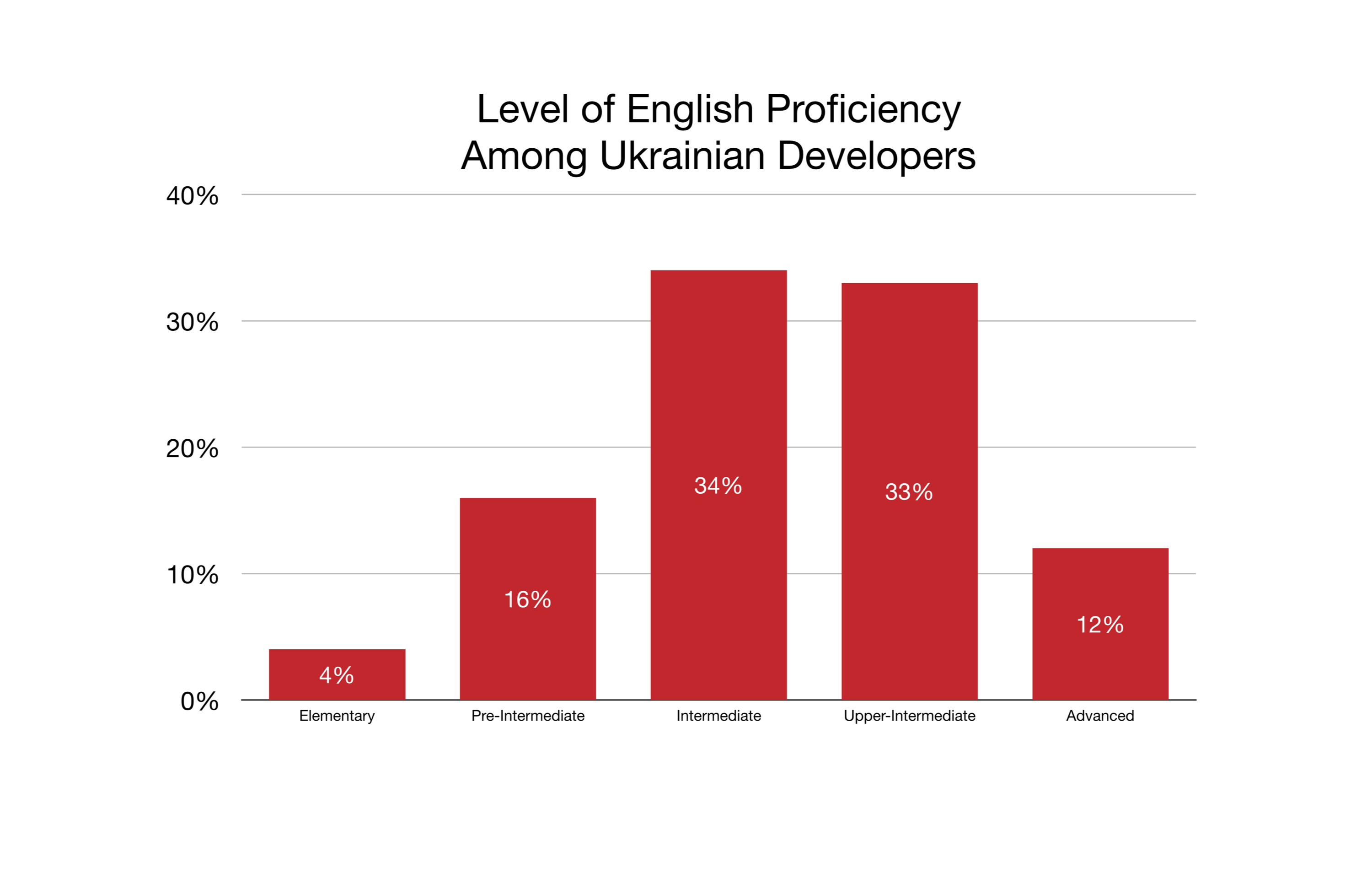 R&D focus
According to our data, there are 1,000+ IT Companies & 2,000+ Startups in Ukraine. Many world-famous software campaigns originated in Ukraine: Jooble, DepositPhotos, TemplateMonster, GitLab, PetCube, Mobalytics, Preply, Attendify, CleanMyMac, Grammarly, InvisibleCRM, Looksery (acquired by Snapchat in 2015), and Readdle.
Best quality to price ratio
Excellent quality of education results in high-quality code, satisfactory performance of development teams and a high percentage of successfully completed projects.
The popularity of Ukrainian outsourcing was due to the ratio of low prices and high-grade work. Hourly developer cost in NY averages $95, in San Francisco - up to $109. The hour of work of the Ukrainian developer varies from $25 to $49, depending on the technology required by the customer and experience of the programmer. This is several times lower than the rates of any European country.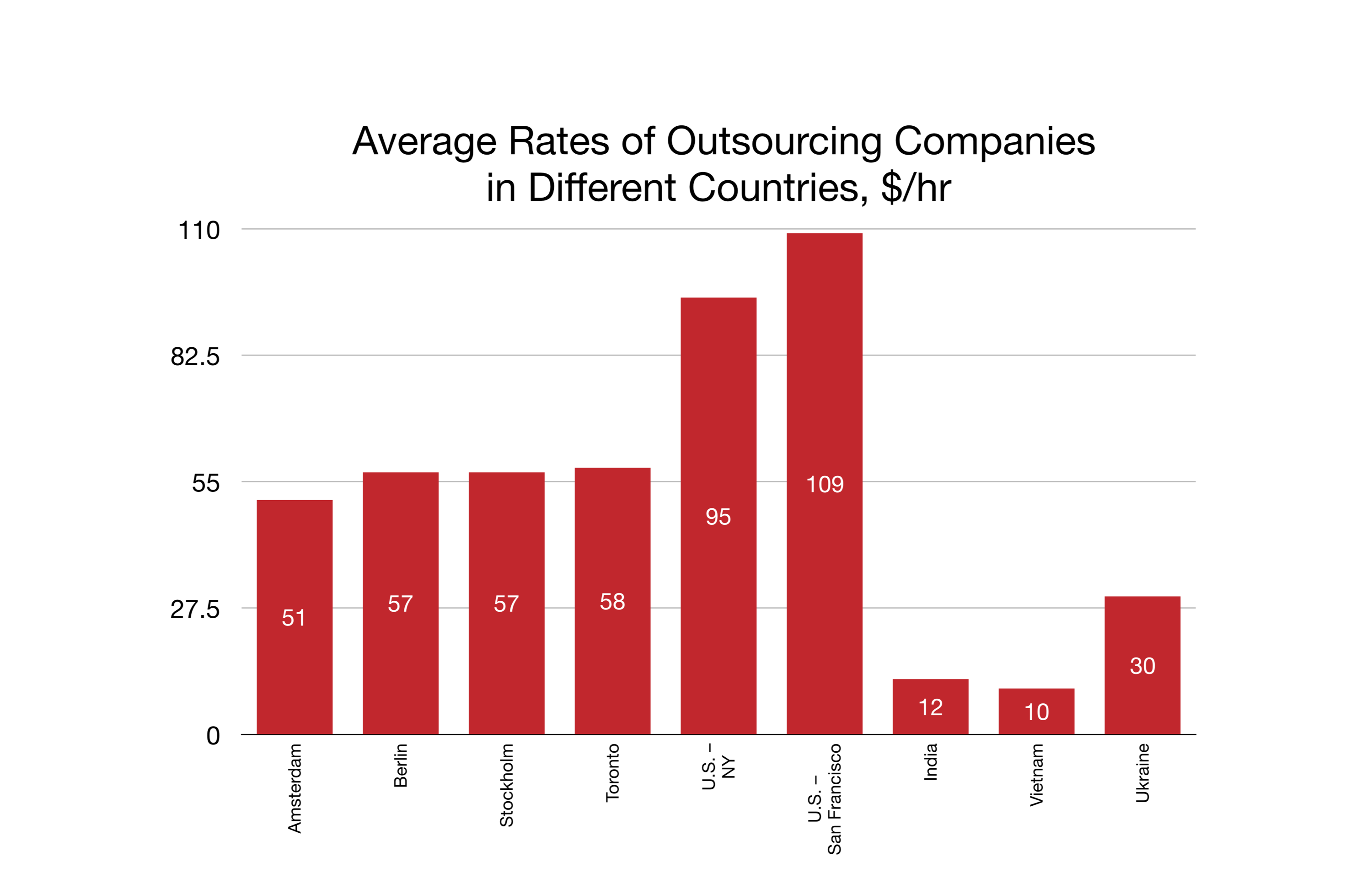 It is also worth paying attention to the fact that if the key indicator in choosing a contractor for you is the price, there are regions with a very low hourly rate (up to $10). Unfortunately, this price is guaranteed to mean extremely low-quality code. The low cost of outsourcing can mean low development speed and lead to additional costs in the form of bugs correction.
Safe Transactions
Every year, the number of transactions in Ukraine is growing. Compliance with the GDPR norms and information security has become the main trend in the direction of development for the overwhelming majority of Ukrainian IT companies. This is confirmed by the dynamic growth of Ukrainian IT outsourcing sales.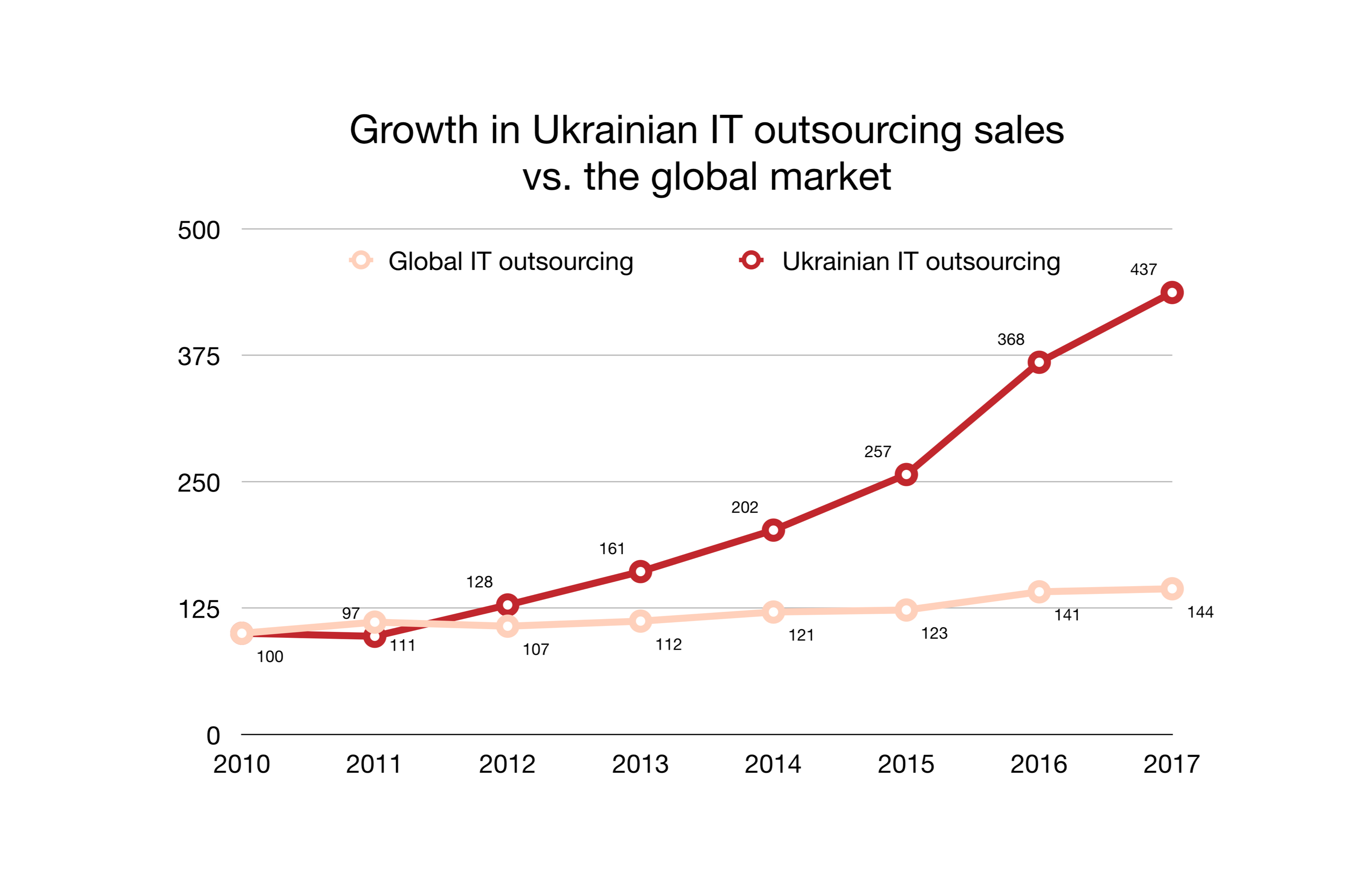 Domination of service-oriented businesses
44% of Ukrainian IT companies are outsourcing one. 10% is specialized in outstaffing. This characterizes the country as a service-oriented region. The important fact is that most of the outsourcing companies are now positioning themselves as the client's product-oriented. Thus, they make every effort not only in the development but also do everything to help the client earn money.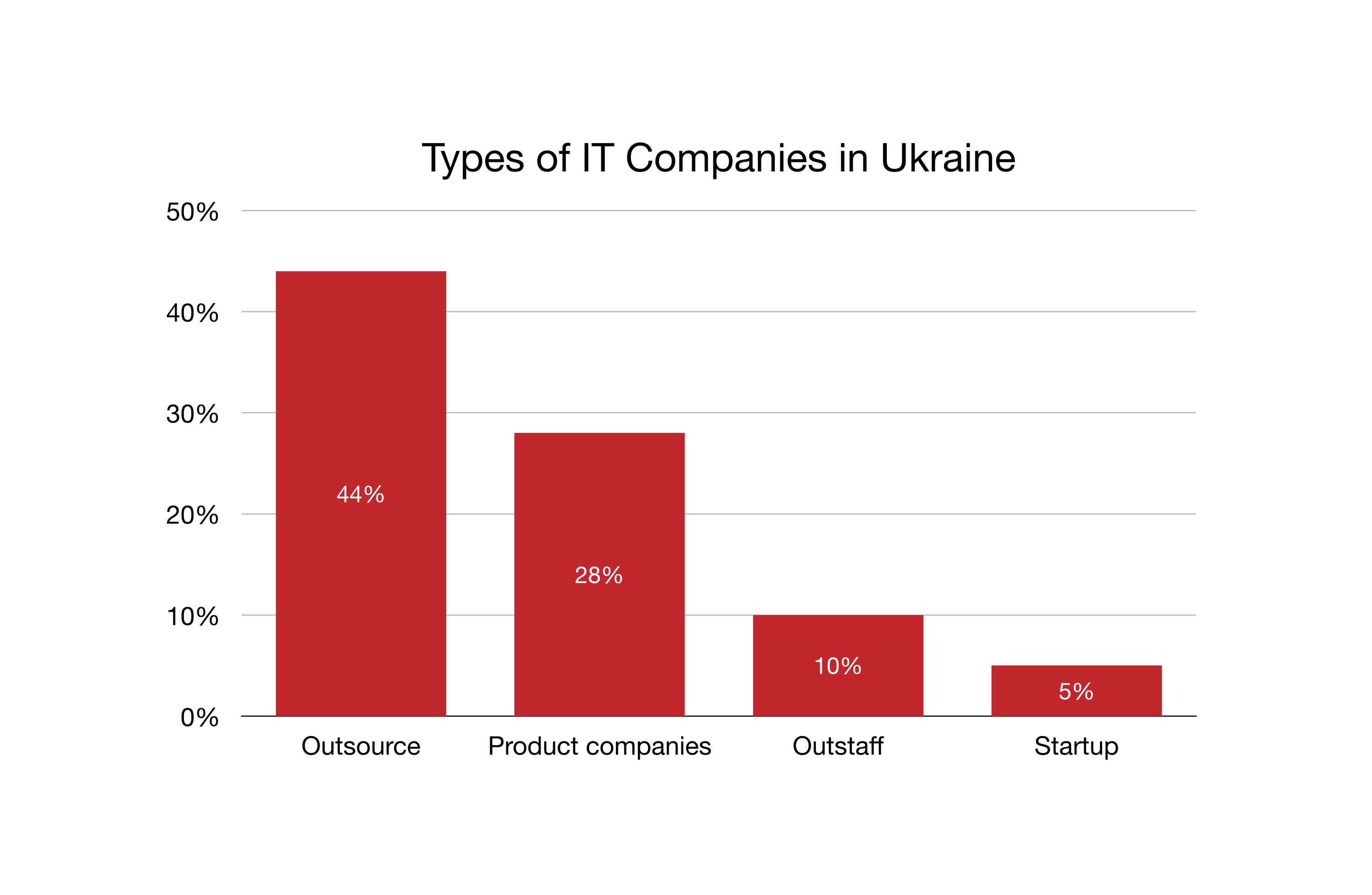 Job satisfaction
As you know, the most productive employee is the one involved in the project and completely satisfied with his work. According to a survey at DOU, one of the most popular portals for Ukrainian programmers, the vast majority of developers like their job.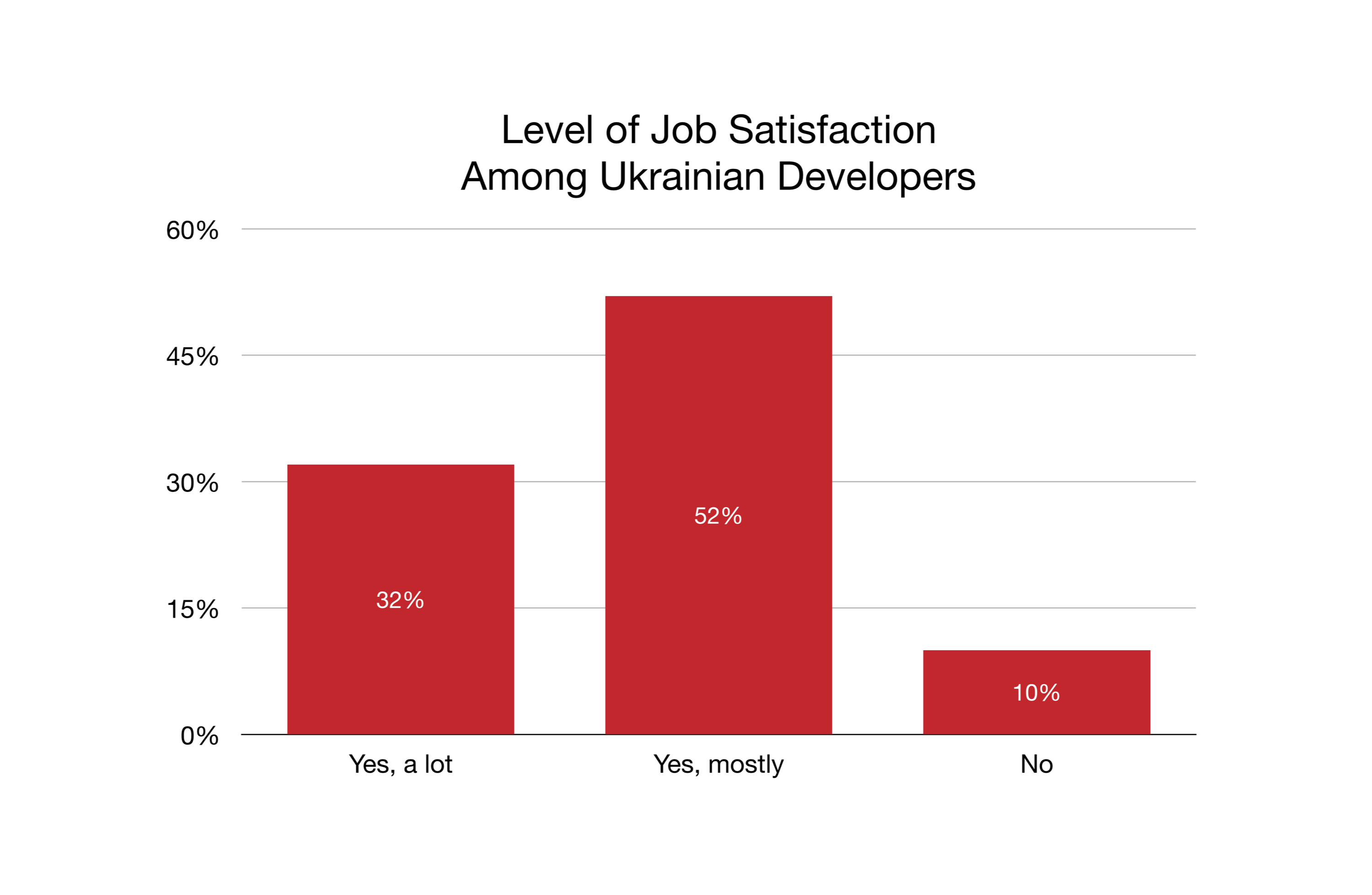 Technical excellence
The most part of Ukrainian programmers chooses stacks and technologies most popular in the global IT infrastructure. So, according to the latest surveys, the majority of developers choose Java as their main language, followed by JavaScript, C #, PHP, Python.
At the same time, almost 30% of the surveyed developers and testers have work experience from 3 to 5 years.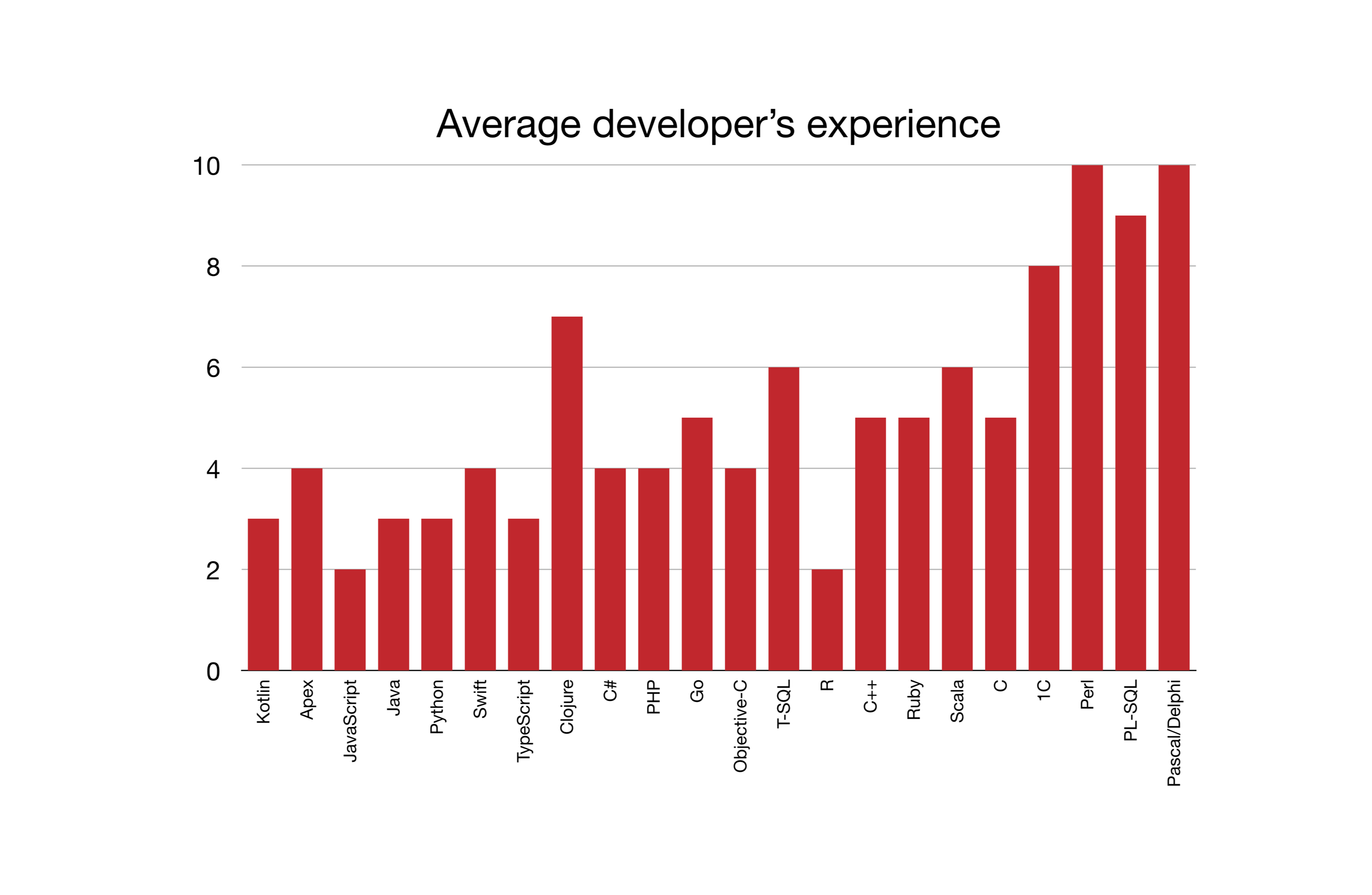 Professionals with such a job experience belong to the middle level. Those who have experience from 6-10 years are senior-level specialists.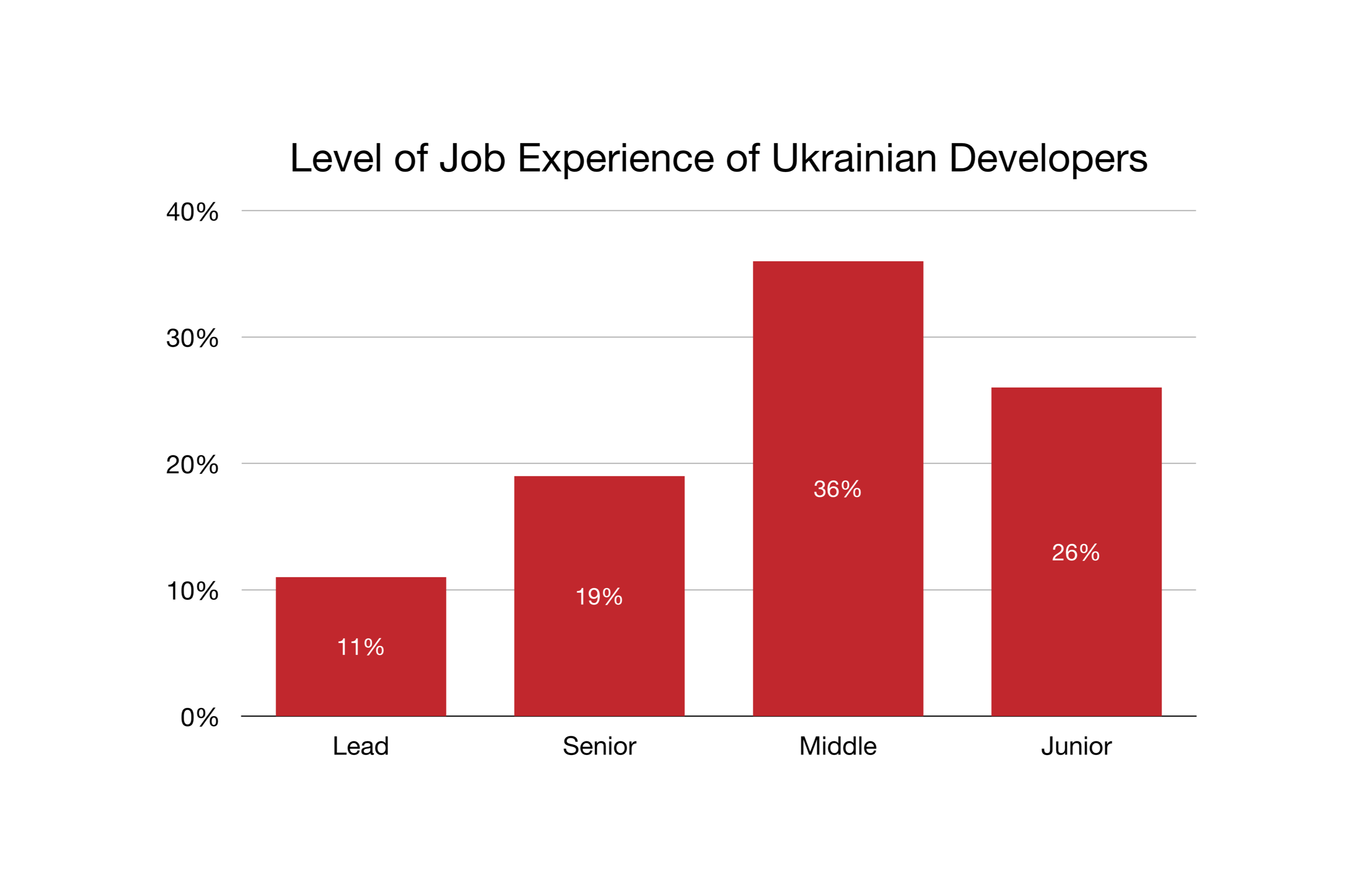 Summary
Unlike India or China, outsourcing in Ukraine is a not-so-obvious variant. Since the country's population is relatively small, Ukraine is hardly noticeable on the world technological map. Nevertheless, many large technological startups are actively choosing developers from this country. The reason is the high level of education and good training of personnel. Due to low competition, the cost of rates for Ukrainian developers is still very cheap, despite the high quality of the services provided. Companies that have conducted detailed research and comparison of the pros and cons of outsourcing in different countries have already made their choice in favor of Ukraine.