According to estimates, the global Laboratory Information Management System (LIMS) market size is projected to grow by 9.1% during the forecasting period of 2018-2025.
When addressing the question of what LIMS software is, first and foremost, we need to focus on its powerful capabilities in automating lab workflows regardless of the level of their complexity.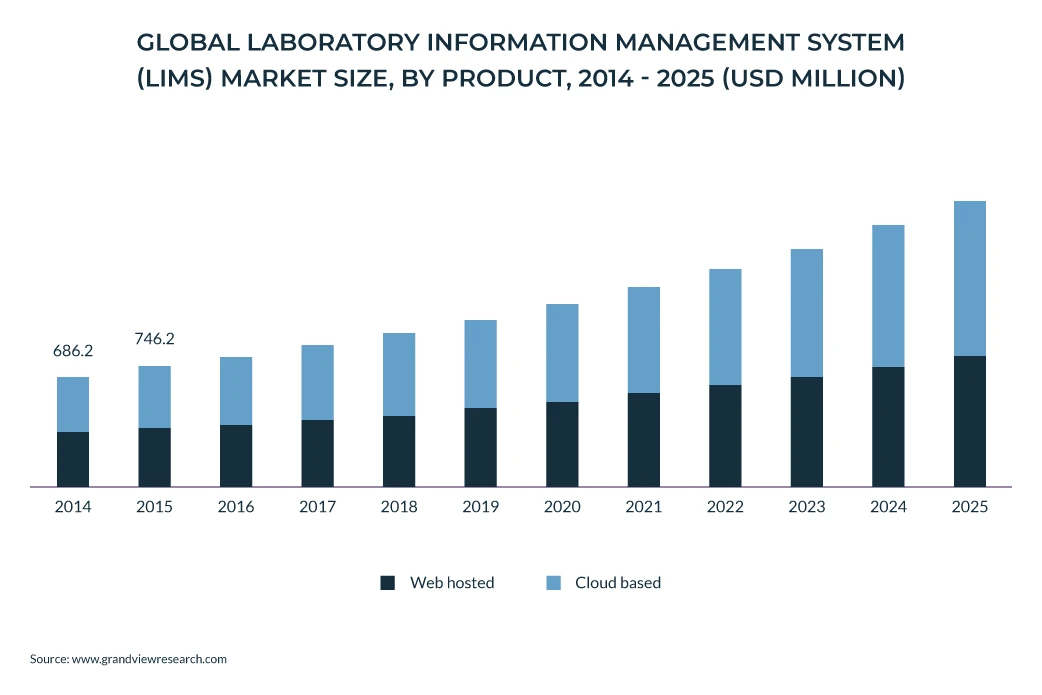 Alongside its positive impact on the optimization of lab data management, we also have to regard the changes brought by the pandemic of COVID-19 to the market landscape, which translated into the acceleration of LIMS solutions implementation across lots of industries in general and the medical industry in particular.
LIMS: What it stands for
LIMS stands for a type of software created and developed for the increase of lab efficiency through tracking and management of:
sampling

results of experiments

Quality Assurance/Quality Control tests

laboratory workflows

lab instruments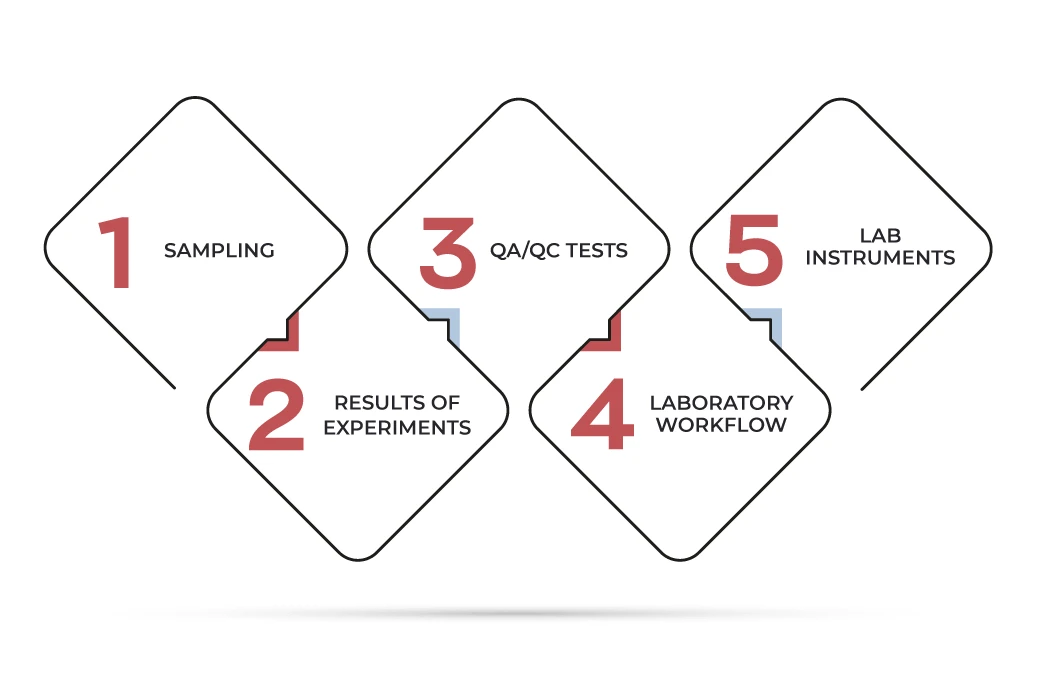 Extending on laboratory information management system definition, we should add that LIMS not only performs data tracking but considerably reduces the probability of human error and increases labs' business productivity.
LIM system: What it is used for
Breaking down usage of laboratory information management system by application, we find LIMS programs in the following industry fields:
Pharmaceutical and Medical

Food and Beverage

Oil and Gas

Life Sciences

Academic Research Institutes

Chemical Industry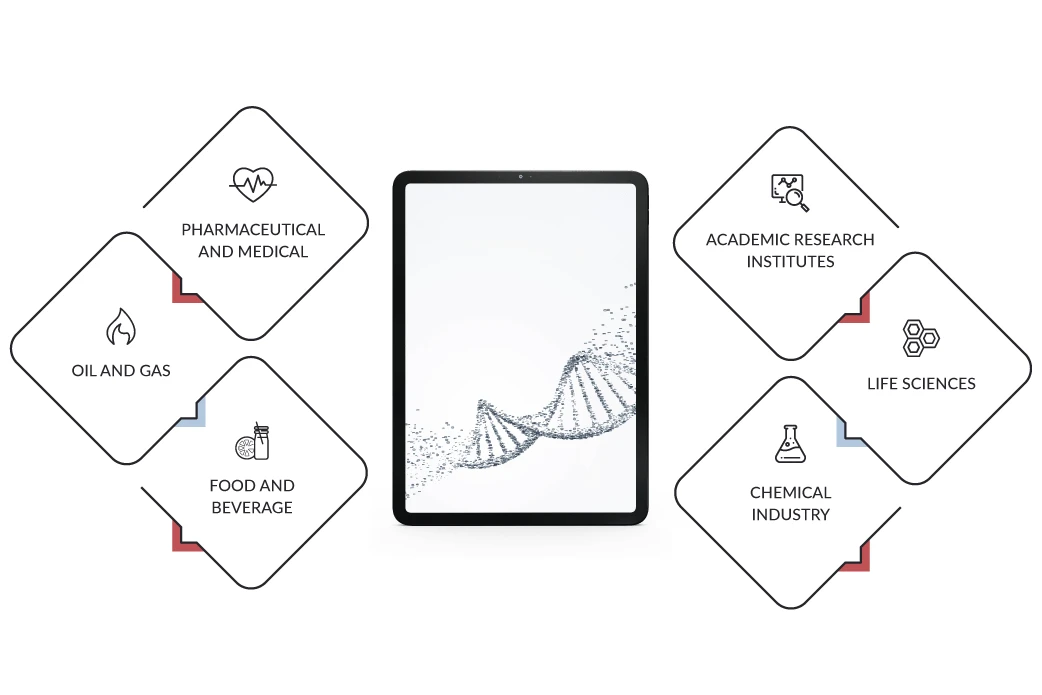 In this list, the medical laboratory management software stands out due to the advanced features it displays when it comes to customization options and integration into med lab complex workflows.
LIMS in healthcare is built around the needs of the patient and, thus, aimed at automating data tracking and monitoring by applying the technique of standardization to ease any complexities of data integration with data processing management systems.
Got an idea for your own LIMS software? Contact us to get your first consultation
Laboratory information management system: How and for whom it works
LIMS provides systematic high-end data analysis, which makes it an irreplaceable assistant in tracking and organizing lab workflow. How does LIMS work? Its main feature implies sample management. In actuality, it includes:
Sample registering

Sample tracking
To put it simply, on the arrival of a sample container and registering it according to lab procedures, the LIMS tracks its location as well as all the stored information.
It keeps track of data associated with sequencing, processing samples, or any other genomic applications, which makes the tasks of storing and analyzing complex data samples easy to perform.
As a result, it enables technicians to input and track the essential details including:
registration number

batch material

year, month, day, time of registration

information about the test conductor
Laboratory information management software allows you to organize your order workflows hassle-free and keep monitoring of all your lab documents under control.
LIMS is a universally suitable solution for the following LIMS key users:
Scientists and Analysts
LIMS functionality assists scientists in documenting the tests and initial assessing samples. They can widen the scope of analysis by embarking on the practicalities of automated laboratory sample handling in terms of optimizing an average turnaround time of a sample and increasing the number of tests run.
Quality Manager
Using LIMS, QA can skip cross-referencing by applying the automated audit for meeting the quality standards stated in the Certificate of Analysis. Since LIMS ensures transparency of any sample handling, it leads to the facilitation of addressing compliance issues and the efficient release of batches.
Laboratory Manager
The laboratory manager supports a variety of modern laboratory operations including the monitoring of KPIs and data reporting. LIMS raises the lab manager's work to a new level by unlocking insights into understanding workflow on all the tiers from individual workloads to the observance of compliance procedures.
Additional Capabilities of Laboratory Information Management Systems
As you can imagine, custom healthcare solutions like LIMS have a lot of useful tools for healthcare professionals. Another important component of LIMS is e-reporting which provides a description and gives validation to the results of data processing. Furthermore, reporting options supply information on inventory and maintenance recording, which greatly facilitates the process of inventory and equipment maintenance or upgrade, and mitigates risks of equipment malfunction.
Overall, LIMS reporting capabilities range from delivering general reports on structural operations to generating zoomed-in reports on allocating and consuming certain resources. It usually includes:
sample management reports (for example, for instant check of expiring dates for samples)

operational lab reports (for example, for getting a quick overview of current tasks assigned to a specific lab unit)

resource utilization reports (for example, for comparing allocation and actual usage of lab consumables)
What you gain with LIMS: Benefits and Advantages
Using older systems means that you are exposing your lab to the disadvantages of manual systems associated with using most of the lab's manpower time for addressing the admin part of work. Automating the process by applying LIMS will reduce the amount of time on the admin routine and allow labs to re-allocate time and resources in favor of research.
The implementation of LIMS makes manual recording of data unnecessary, considerably reduces the time spent on admin routine, and minimizes the probability of inaccuracy in sample tracking.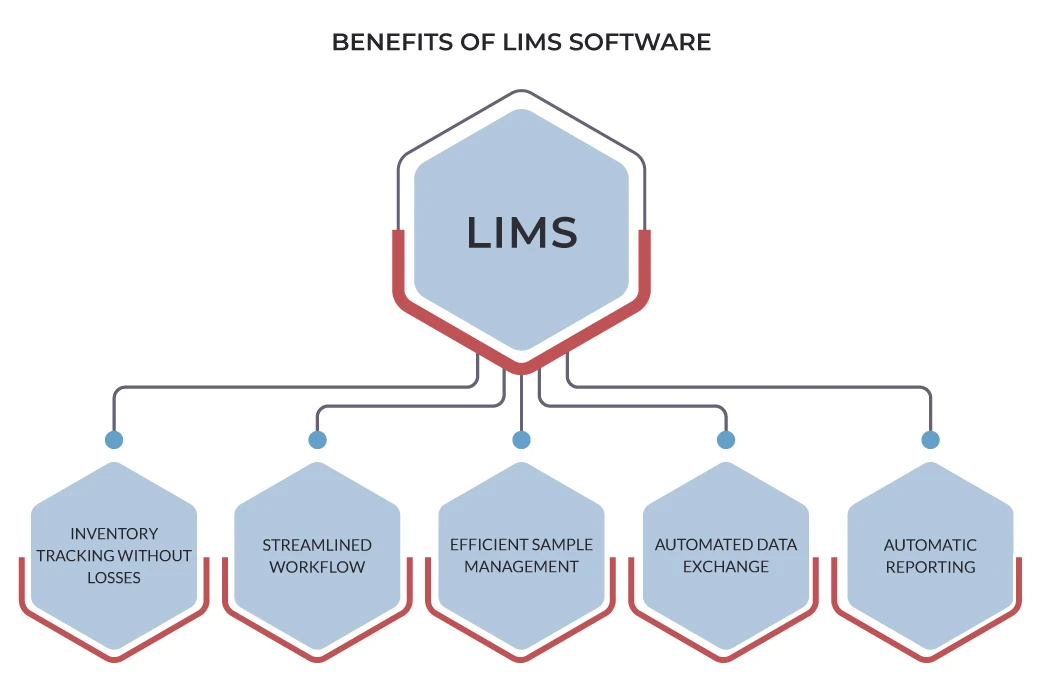 In particular, LIMS easily meets the needs of any small laboratory for the purpose of customer order management. Individual laboratories get full control over the administration of daily system services in regard to sample tracking and lab workflow management, with the additional options for a managed system in case of choosing a bespoke software.
The advantages of LIMS software come from their highly configurable functionality and swift deployment, which explains why we find LIMS across a variety of industries.
How is LIMS secure?
As a rule, the data in LIMS is characterized by a high level of sensitivity, which highlights the importance of protecting it both from unauthorized external and internal access.
It means that while a sample is undergoing a testing process, it is crucial that the information is secure and kept in an easy-to-access location.
Security is achieved through data encryption: once a user logs in, the database decrypts and becomes available. LIM systems also generate a barcode upon entering the initial sample data so that each user can scan a unique code to keep updated on tests and schedules in the tracking process.
LIM system cost
Since the emergence of laboratory information management systems, the shift from lower to higher-priced units was driving prices and determining the LIMS cost.
Overall, the factors attributing the LIMS cost include:
The choice of licensing model. LIMS license fee is attributed to the high cost of the implementation process
Database. Database is a core component since it enables labs to store and secure all the information
The choice of operational modules. Instrument Interfacing and calibration costs can vary as they relate to hosts of modules for improving the laboratory workflows and the prices will depend on the required scope of automation
The actual Implementation including work itself and costs of team employment
Adopting the software and training the lab employees of the lab
Maintenance at the post-implementation stage
Best LIMS solutions
LIMS software solutions differ depending on the functionality offered by vendors and specific industry requirements.
Below, we list examples of advanced Laboratory Information Management Systems solutions that meet the needs of labs across a variety of industries.
It is an industry-neutral LIMS by Thermo Fisher Scientific that works as a solution for the increased productivity and improvement of lab responsiveness across both regulated and non-regulated industries including pharma and medical.
The advantages of Sample Manager LIMS include the optimized time (counting on seconds) on pulling up any test, sample, or lab result. Alongside sample management, it provides detailed information on auditing the sample recordings.
Another LIMS by Thermo Fisher Scientific for bioanalytical labs. It facilitates data transfer and streamlines assay validation, bioanalysis, instrument interfacing, sample tracking, results reporting and helps to address regulatory compliance issues.
Among the advanced functionality it demonstrates, Watson solutions imply conducting instant calculations on incurred sample analysis results, exporting non-clinical and clinical datasets according to implementation guides for PP, PC, LB, and IS domains, and evaluating performance against predefined criteria for out of specification results.
LabWare is recognized as a global leader in LIMS for enterprise needs. Aside from powerful workflow capabilities, it provides SOP compliance, diverse dashboards, data visualization, and instrument management options. With an open architecture and high level of interoperability, it removes silos from the daily agenda and enables direct database communications.
This LIMS platform is available by subscription: it delivers data tracking, resource management and provides operational support. It enables lab teams to test a variety of samples on a bigger scale, reduce time on recording and reviewing samples and, due to time-saving merits, embrace alternative testing strategies.
The implementation of this software will help to eliminate upfront investment, which makes it an ideal solution for startups striving for retention of security and scalability of their business.
The optimal sample management software for simplifying biobanking and biorepositories operations, workflows in research organizations, loading data deployed by clinical labs, pharmaceuticals, and hospitals. It manages, tracks, and efficiently organizes samples and freezer locations. Aside from customization options, the pluses of using the services of this platform relate to affordable pricing and high quality of support.
What you must know when choosing a LIMS
Since LIMS performs a major role in the acceleration of decision-making within the heavily-scheduled and busy labs, the system you consider implementing must correspond to characteristics of a fully automated system that lab workers find comprehensive, configurable, straightforward, and easy-to-use.
When considering the implementation of LIMS for your business, it is important to regard multiple factors related to functionality assessments.
The basic checklist for LIMS functionality assessment:
Can it automate the assignment of work to other team members?

Can it give suggestions on instruments to be used?

Can it specify the rules of the system for users focused on research?

Can it specify the sample route that will be easy for the staff to follow?
Can it show the content of the backlog?

Can it provide time estimates on processing a sample?

Can it identify the most frequently used instruments/equipment in the lab

Can it give information on sample recording?

Can it give information on sample storage?

Can it address the project management issues (for example, highlight the name of researchers engaged in the project, identify the current status of the task in the workflow, give relevant dates regarding sample management, etc.)

Does the LIMS encrypt data?

What data transfer protocols does the LIMS support?
The major criteria determining the choice should be based on the following:
The type of the system: regarding what you prefer, a cloud-based system or an on-premise system, define its feature set and outline what customization options including the reporting of data and visualization you will need. Decide on what is additionally required for catering to lab management needs: consider sample management as the key aspect of LIMS functionality.
Pricing model: LIMS providers offer to choose between models implying license fees versus a subscription-based fee.
Support: upon the launch of LIMS as a solution, you will need support for adequate maintenance of your software.
Vendor Reputation: to assure that sample and associated data, workflows, test results, and lab instruments are effectively managed, consider a reliable vendor with a corresponding portfolio of LIMS-related projects.
Our experience in LIMS Validation App development
From a development perspective, there is a plenitude of opportunities for creating customized clinical laboratory information management systems that can help address pain points in lab personnel's daily work.
For instance, one of them pertains to applying the mechanism of test method validation that ensures suitability of the pharma test method for the predefined use and implies performance of a series of experiments materials for the purpose of validation.
We have experience in developing such a web application: it helps mid-size laboratories manage through the process of verifying their medical lab equipment and streamline the paperwork.
The app we developed not only works as a facilitator that optimizes daily routine operations of laboratories but effectively helps medical labs validate or verify their instruments through the process of Method Validation/Verification.
Looking for a tech partner? We're here to help!
Bottom Line
Labs favoring the manual input while using older systems might jeopardize their work by an undue increase of costs and slowing down their workflows. Rather, they could harness technology and optimize busy lab workflows with LIMS.
Above, we discuss what is LIMS software, its features, and what benefits its implementation can bring to labs across various industries. We also show how utilizing the wide functionality of lab management system software enables lab teams to streamline work processes and track data automatically for meeting the increased demand for biobanking among other key factors driving the growth of the SaaS-based LIMS market.