The popularity of auctions has long roots and is widespread in the culture of trade in different markets and in different countries. Initially, the word "auction" implied a public sale of goods, securities, works of art, and other objects, which is carried out according to predetermined auction rules.
The principle common to all auctions is the competition between potential buyers. During a process of competition between buyers for the right to purchase goods, the auction winner is revealed. The winner of the auction is the person who won the auction in accordance with its rules. In this case, the object is acquired by the auction winner.
An auction website is used to automate the real-life auction procedures via an online platform where users can purchase or sell their items. Perhaps the most famous example of an auction website is eBay, which started back in 1995.
Presently, the eBay site has become one of the most profitable companies in the United States, its revenue is growing from one year to the next and in 2018 made 10,746 million U.S. dollars.
eBay's annual net revenue from 2013 to 2018 (in million U.S. dollars)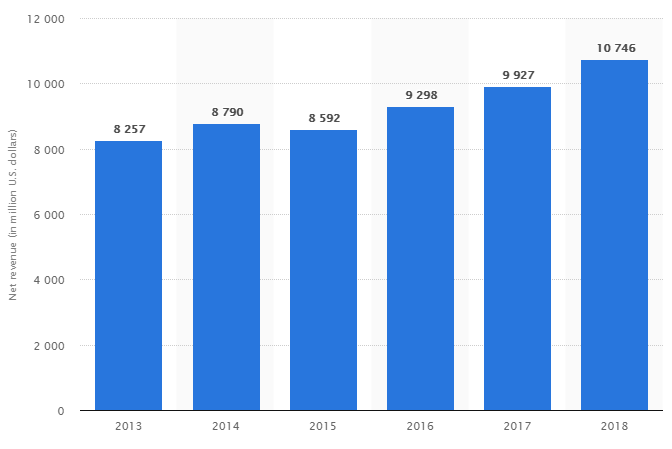 Amazon, created in 1994 by American entrepreneur Jeff Bezos, became another popular online auction website.
Reasons for the effectiveness of the business model of auctions like eBay
The absence of geographic barriers - sellers and buyers can bid on eBay from anywhere in the world, all you need is access to the Internet. This increases the number of sellers or lots put out and the number of buyers who made bids.
No time limits - you can bid on eBay products 24/7. Lots, in turn, can be exhibited for a period of up to 30 days - a sufficient period for searching, acquaintance and purchase.
Easy-to-use interface. The ease of use of eBay auction services is also attractive to sellers. Moreover, each member can become a seller.
The wide range of features such as listing options, payment options, delivery options, etc.
The absence of language barriers - participation in auction trading is possible in various languages. Many countries have their own, local branches of the eBay auction.
A large number of buyers - 2 million registered users are attracted by a huge assortment of various products that are exhibited at relatively low prices.
Thanks to the above-mentioned facts, Amazon and eBay online auctions have become the most popular retail websites in the United States.
Most popular retail websites in the United States as of December 2017, ranked by visitors (in millions)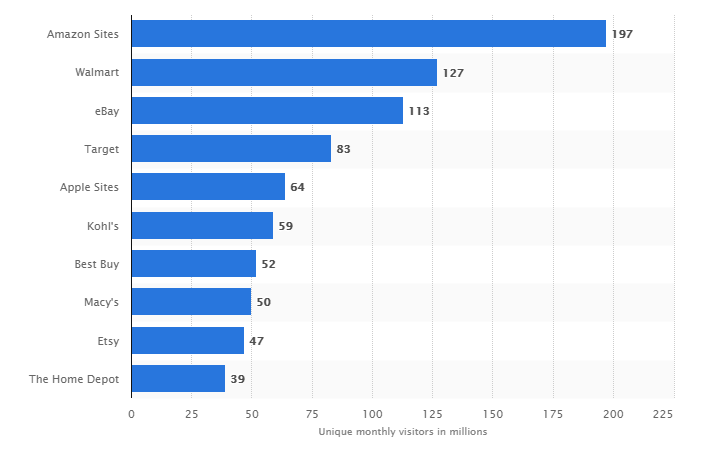 The most necessary features for the auction website
Auctions are popular among various retail areas. In general, the set of functions may depend on the needs and specifics of a particular business. For example, such kind of platforms are popular and successfully implemented for auto and motorcycle trading, the sale of collection objects, antiques and so on.
Check our case study: E-commerce solution with online auctioning functionality
Below we list the main functions, that are the most often used when building an auction website.
| | |
| --- | --- |
| Feature | Detailed description |
| Different user roles | In an online auction, there are at least two user roles: the buyer, who is in search of a product of interest, or the seller, whose goal is to sell his product. |
| Adding, deleting, changing listings | These functions are necessary for being able to sell goods successfully. Each listing should also have a number of features, such as detailed characteristics, description, photos, videos, users' reviews. |
| Newsletters | This may be sending an e-mail message after the end of the auction and daily informing customers about new listings of their interest. To implement this function, it is necessary to remember about integration with mail services and the implementation of RSS. |
| Security | This is one of the most important functions. It is impossible to implement any web platform without security functions today. You should think in advance about secure transactions between users, the storage of personal data, passwords, personal information, and so on. |
| Bidding function | There is a large number of auction types and bidding strategies for products. The most popular types of auctions are: English auctions, Dutch auctions, First-price sealed bid, Reverse auction. |
| Payment gateways | At the moment web platforms use a huge number of payment systems. The most popular solutions are PayPal or Stripe integration. |
| Messaging | The opportunity of communication between the seller and the buyer is as important as communication with the support. |
| Analytics | For sellers who can potentially begin to promote their business through your auction platform, it is important to receive the most comprehensive information about product views, purchases, conversion. |
When you will select the list of functions necessary for the implementation in your auction, choose the business model and create a monetization strategy of the project, you need to start the development process.
WANT TO DISCUSS YOUR FEATURE SET? DROP US A LINE!
Main steps in the auction web development
Below is a step-by-step plan for creating an online auction. Some of these points will seem to be very obvious to you, however, the full implementation of the project is impossible without them.
Planning for the Front-End and Back-End
Design plays an important role in the success of an auction website. Over the past few years, web designing has evolved a lot. The time of the static websites is long gone where the mere use of HTML (Hyper Text Mark Up) CSS (Cascading Style Sheets), and JavaScript was deemed good enough for the front-end website design. Today, you do not only have to master the HTML, CSS, and JavaScript but also make yourself familiar with several new technologies like BootStrap and especially the plethora of JavaScript frameworks like VueJS, ReactJS, AngularJS, and others. These front-end solutions have added a whole new level of functionality on the client-side.
Moreover, you have to choose a programming language for your back-end. To do this, you can use Java, C#, PHP, Python, and even JavaScript (MEAN Stack). Before deciding on any of these languages, you have to go over your requirement analysis documentation and think about which language can fulfill your requirements the best.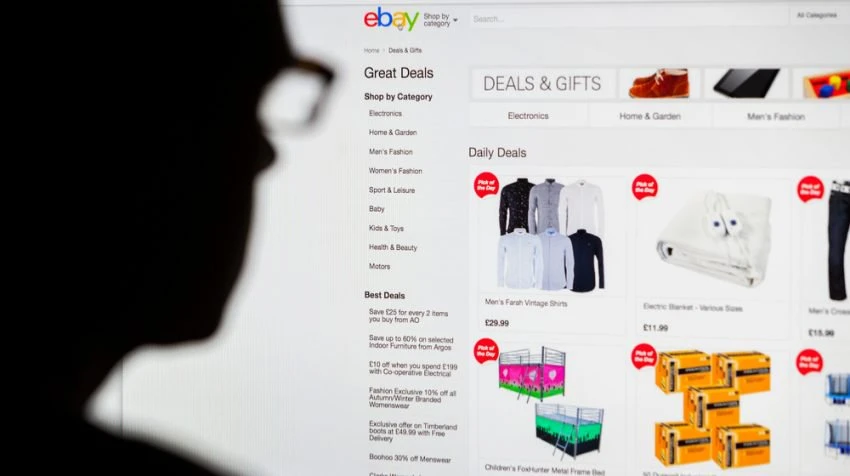 Initiate the Development
Website development is a never-ending process. The idea that you will just have to add code, update text, and change pictures cannot power an auction website in 2019.
Today, development can refer to many factors including security installations or client-side scripting. This can consume a great deal of time as you have to identify the networking issues and scripting problems while also find a way of resolving them.
In order to customize your website and add all your desired features and functionalities, you can hire an outsourced team of professional developers. This option is more affordable and it can also provide you with more freedom to create your website.
Tell us about your project idea and get consultation at no charge
Incorporate Content
Now, you have to incorporate web content on your website. This content can include pictures, videos, and text on your website. While uploading the content, follow these tips.
The font size of your text should be large enough so it is in a readable form. On a similar note, your choice of the font should be readable as well.

Always use high definition images for the websites. For an auction website, images are crucial.

Don't forget about security
Websites that process online payment require a specific certificate that can provide them with the relevant authorization Therefore, it is necessary to obtain a certificate that can allow you to receive online payments. Moreover, it is necessary to have an SSL certificate in order to boost the trust of your target audience.
Take a look at Auctioning web solution, created by CodeIT team from scratch:
Implementation of features
Above, we have already listed the main functions, which a successful online auction cannot do without. In case you initially launch the product at the MVP stage, we recommend to select the most necessary options and implement them primarily. Take care in advance of all the necessary APIs and select the most attractive technology stack.
Test Your Website
By now, you are well set to launch your website since all of the development stages have been completed. However, there is another crucial part of the puzzle remaining: testing.
Testing helps to show how good a website is running along with the verification that all the added features are working. Testing can help you to highlight serious bugs and security issues that could have been observed by the clients in the future.
HOW MUCH WOULD An auction website COST?
Summary
Statistics show that the building of an online auction is a potentially profitable type of business in 2019. This is evidenced by the success stories of market leaders. To build a prosperous business, creating such a platform, you need to follow a few simple rules:
Think over the business model and way to monetize the project.

Choose the must-have functions of your platform.

Pay special attention to the development. Your auction should be quick and convenient. It is best to hire a team of professionals.
If you want to get advice on creating such a platform, please contact us. Our specialists will be able to answer any of your questions!