Regardless of the size and specifics, modern business is in a rush to optimize all processes, achieving more efficiency. In such conditions, the company's time to market has been reduced, and therefore any delay on the side of an already operating business can attract a newer and optimized product to take its place. Of course, the very value and features of a product or business are still important. But the terms of how quickly and efficiently the company can deliver its value to users come to the fore. Given that, the ability of a business to scale, expand, streamline and automate its processes step forward. This is where Enterprise Resource Planning (ERP) solutions come in handy.
At its core, the Enterprise Resource Planning solution is a system that is the main and common source of information about a product and processes for all stakeholders. So, giving the answer to the what is ERP software question, we can say that it is a powerful business management tool that is used to manage all facets of a company and provide the fastest access to information. Thanks to the ERP implementation, product and business owners can achieve greater productivity from their employees, streamline the company's processes, automate routine operations and provide quick and trouble-free access to the necessary data, while keeping it secure. All of the mentioned above are the key factors for success and competitiveness in today's market. In this article, we will tell you everything about what specific advantages the ERP gives, how to implement it correctly in an organization, and whether your business needs it at all.
ERP's main advantage
Before revealing all the benefits that the software ERP brings, we want to talk about the primary goal of the ERP, which is its main advantage.

As we have already said, the ERP system combines a set of tools that are used within the company in order to provide faster communication and streamline flow. The main advantage of the ERP is that people from all departments can use these tools. Data from all departments are saved in real-time inside the ERP, be it finance, sales, development, HR, recruiting, marketing, estimation, and so on. That is, quite literally, ERP software meaning.
What are the benefits of ERP solutions?
At first glance, one might get the impression that ERP solutions are suitable only for large companies. This is not entirely true, the details are important here. More and more medium and small companies are starting to look towards ERP. Statistics confirm this: according to some data, the global ERP business software market size is set to reach USD 71.63 billion by 2026, exhibiting a CAGR of 8.5%, which cannot but speak about the prospects of this direction.

The reason for this is the undeniable benefits that a business can acquire by correctly implementing the ERP system, namely:
Cost-cutting. The implementation of the ERP system allows for faster contact between management and technical specialists, be they developers, QA engineers, or designers. Also, a single source of information regarding processes and data ensures the elimination of duplication and misprocessing. All this ultimately leads to a decrease in the number of errors and associated risks, which allows reducing the cost of development cycles.

Enhanced resource planning. As the name implies, the ERP system serves to improve and automate resource planning and allocation processes. A single database with all processes, projects, estimates, and employees allows management to better plan and distribute tasks among employees.

Better client service. Due to the fact that all customer information is in one place, it is possible to achieve a faster response time and delivery speed.

Improved automation. The ERP systems toolkit allows managers to automate manual tasks and unload employees' time as much as possible to perform more sophisticated tasks.

Regulatory compliance. Some ERP systems also include algorithms that ensure that the data stored in the system is preserved in accordance with all regulatory standards and that existing processes do not violate any regulations.

Better security. Both Cloud and On-premise ERP systems include all the necessary tools to ensure the security of your data and processes. Thus, there is no need to install malicious third-party software. Cloud ERP solutions distribute data between several servers, which also increases security. We will talk about the difference between Cloud and On-premise ERP in more detail below.

Improved inventory management. The functionality of ERP systems allows you to optimally dispose of inventory management. This helps to avoid common mistakes such as making inventory too large (higher costs with no reason) or too small (longer delivery and customer fulfillment times).

Enhanced reporting and forecasting. One of the main advantages of implementing ERP systems is that it has powerful reporting and forecasting tools. This allows management to make more informed data-driven decisions and predict trends for the near future while minimizing risks.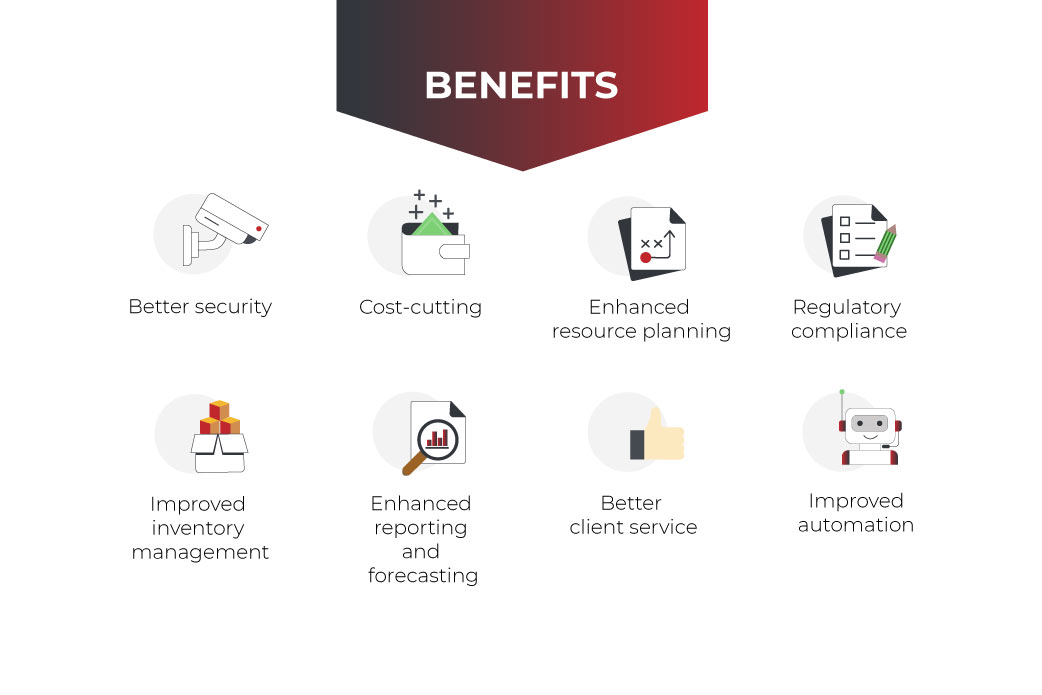 The advantages of the ERP are obvious. But not every business is ready to implement such a system in their processes. This is because the implementation process is fraught with several difficulties.
First of all, it is a matter of cost. Regardless of whether you choose a ready-made solution or will develop the ERP system yourself, the process of implementing the system will be time-consuming and will require the maximum involvement of all employees. Such serious changes within the company will require ultimate control and attention from managers and, in one way or another, will entail additional costs.
Learn more about:
This is why you need to make sure that your business needs an ERP right now before starting this process.
How to understand whether the company needs an ERP system now?
Due to the fact that the ERP implementation process is associated with costs, both financial and administrative, it is worthwhile to properly weigh this decision. Each business is different and in some cases, the ERP can result in losses. Below, we offer you a list of conditions. Seeing at least half of these in your company, it is worth applying ERP system software.

There is stagnation in teams and too much time is being spent on tasks which haven't caused such problems before.

It is difficult for managers to find the information they need to make data-driven decisions, forecasts, and reports.
Business processes within the company are tied with various third-party tools. At the same time, the situation is aggravated by the fact that all these tools are poorly connected to each other.

Collaboration between teams is difficult due to a large number of databases and sources of truth. Reporting also takes too long.

The company employees experience problems with remote data access and off-site operation.

The customer success rate is low due to the fact that managers do not have time to transfer data on time and customer requests go through longstanding cycles.
Management should seriously think about how to implement the ERP system if at least half of the above conditions are observed.
In case the implementation of the ERP is unavoidable, there are several options.
ERP software: to build or not to build, that is the question
The development of custom solutions for the needs of a particular business is always preferable to opt for a ready-made solution. However, development can be costly, which not every business can handle. As we said above, the ERP software market is growing, and therefore there are many ready-made solutions that are worth paying attention to. There are two main types of ERP software.
On-Premises vs Cloud ERP software
Obviously, the main difference between Cloud and On-premise ERP systems is that the former are deployed on local servers, while the latter - on remote servers hosted by the ERP vendor. However, it's not all of the differences.

So, On-premise ERP solutions are considered more expensive in terms of the initial budget, since they are distributed through a one-time license purchase. After that, the server is installed locally on the company's hardware. The cost of a license may vary depending on the size of the company, the number of processes, and other parameters. Cloud solutions are often distributed by monthly subscription and the ERP vendor takes care of all the hosting. There are also hybrid solutions, but these are details and we will not dwell on them.

Thus, On-premise ERP requires a solid investment at the initial stage, while cloud solutions distribute the cost for the duration of the entire cooperation agreement. We did not manage to find specific statistics regarding the ERP, but in general, digital business increasingly gives its preference to cloud solutions, preferring to concentrate only on operational activities.

In addition to cost, there are concerns such as accessibility from mobile devices, security, and customization. For convenience, we have collected them all in the table below.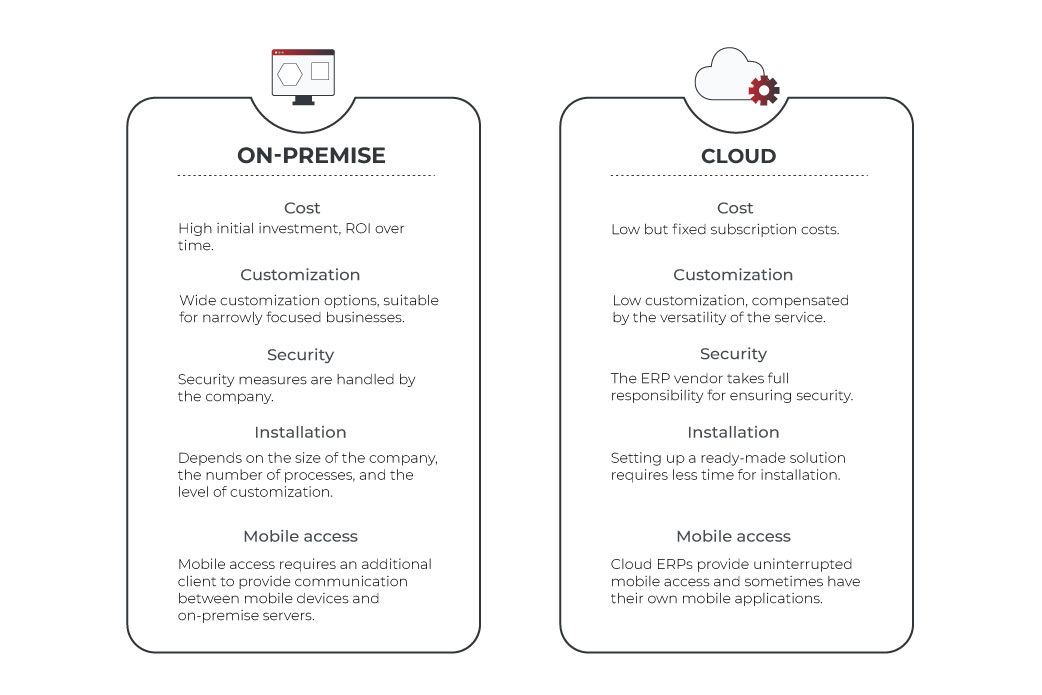 A few examples of good off-the-shelf ERP software
The decision in favor of which hosting to make choice always remains with the business owner. For our part, we want to offer you a small list of ERP software examples available on the market that are worthy from our point of view.
Oracle's NetSuite
As one of the best ERP software solutions on the market, NetSuite holds the best features that can be found on such platforms. Here, you can find all the necessary tools for automating processes, increasing the level of scalability, the number of customer success stories and ensuring real-time visibility of all operations within the product. All this makes NetSuite one of the best ERP system examples in the segment.
SAP ERP
One of the best solutions to manage your company from one place. SAP ERP is the same time-tested segment representative as NetSuite. Inside the product, you can find AI-powered digital assistants and a full set of tools needed to streamline processes and reduce costs. Constant updates and simple installation make this cloud solution one of the best ERP tools on the market.
Acumatica
Acumatica is a great solution for mid-sized and small businesses. This ERP proves that process automation and high-quality resource planning are in demand not only among big sharks. Acumatica relies on accessibility, allowing you to manage your business from any device. The company has gone even further in its intentions having developed a list of 10 Acumatica customer rules, which the company follows without excuses.
SYSPRO
As one of the oldest ERP software companies (since 1978), SYSPRO ERP focuses on Manufacturing and Distribution segments. The functionality of the system covers all tasks that employees of manufacturing & distribution companies may face, including tools for financial, warehouse, and inventory management.
ePROMIS ERP
Despite its formal cloud status, ePROMIS ERP offers one of the deepest customization options on the market, including on-premise deployment. Inside the platform, in addition to the standard set of features, you can also find Business Intelligence tools for extra analysis of all incoming data and streamlining of processes.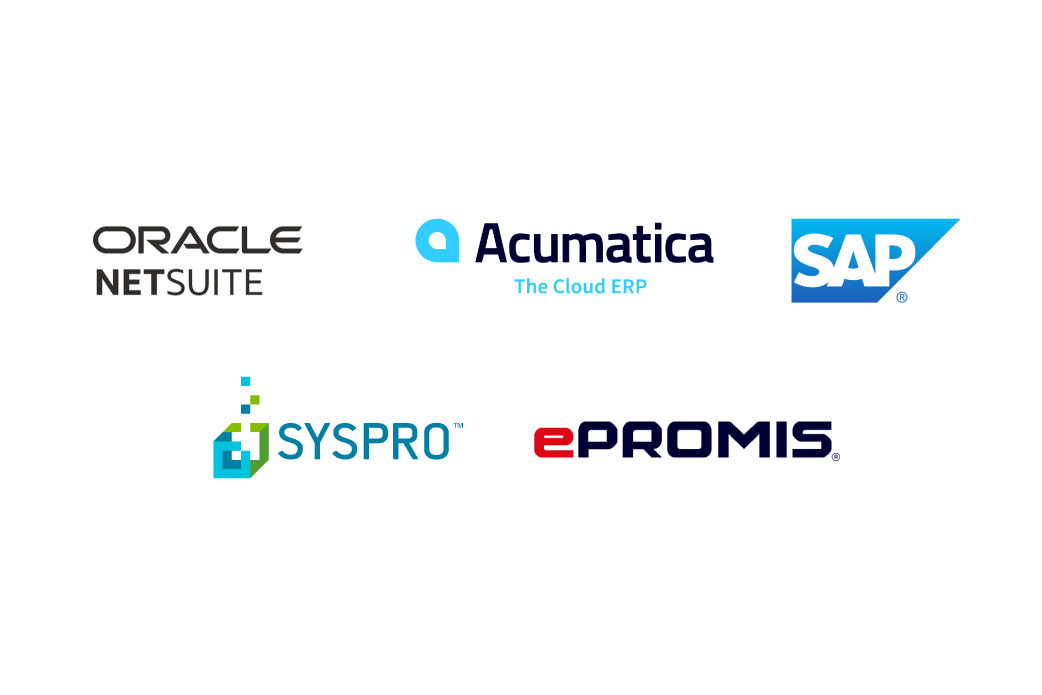 How to approach the ERP selection process?
The above ERP solutions are just a small part of what you can find on the market. Indeed, having such a large selection, it can sometimes be difficult to settle for one option. Here are some tips on what factors to pay attention to when choosing a ready-made ERP solution.
Tip 1: Reach for transparency. Make sure that all stakeholders within your company understand what gaps exist in current processes and why the implementation of the ERP is a necessary solution.

Tip 2: Set clear criteria. You need to approach the choice of something only with clear and understandable criteria on hand. Let it be the cost, the type of hosting, the depth of customization, features, and everything else that you see fit.

Tip 3: Collect first impressions. Make a few calls, ask your questions, maybe even try some demos in order to get an understanding of whether an ERP corresponds to your criteria.

Tip 4: Narrow your candidates list down to a few vendors. Having only 2-3 candidates left, you can proceed to more close contact, follow-up calls, and in-person meetings in order to understand how exactly this ERP solution can help your company.

Tip 5: Be honest. Address your concerns sincerely, since only then the vendor's side can truly understand your pains and bring you real value.

Tip 6: Check for reviews. Ideally, you need to find a company that already uses or previously used the ERP from this vendor and talk to them. This kind of insight will be the most sincere and useful for you. Don't look for positive reviews only, as most often this does not happen. However, be aware of the downsides and evaluate whether they will affect your business processes.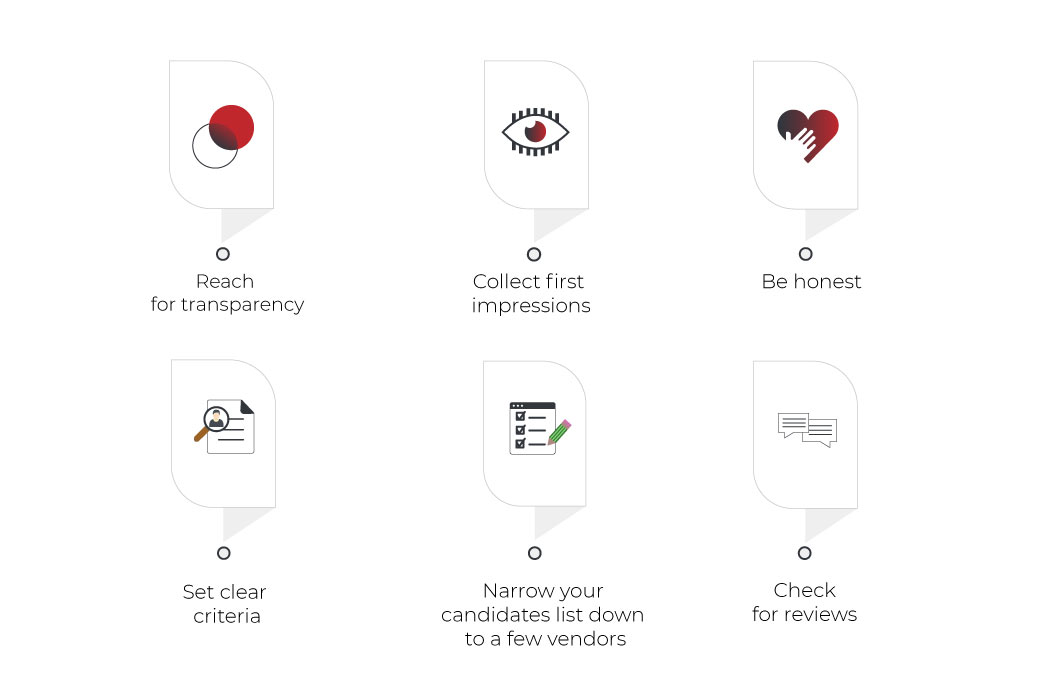 Building custom ERP for your business needs
If ready-made software is not your way, then the best solution would be to develop a custom system tailored to the specific pains and needs of your business. In such a situation, you can develop the ERP system yourself (if you have the resource for this), or refer to the outstaffing and outsourcing models. In any case, the ERP software development cycle will look something like this.
ERP development cycle
In general, the process of developing the ERP platform does not fundamentally differ from the development of CRM systems and includes four main stages.

Set clear objectives. Even in a situation where a completely custom product is being developed for specific business needs, most likely, it will not be possible to create an ideal system with all the necessary features. The point is that no matter how custom the system is, you will have to sacrifice something for the sake of more crucial features. Therefore, at the first stage, it is extremely important to clarify the tasks and goals with which the future ERP system will cope. Compare the expectations of all stakeholders and clearly describe the ways in which the set goals will be achieved. Identify the key features without which the development itself does not make sense and focus on them.

Prototyping. Another common stage in the development cycles of any software product or CRM system. During the prototyping stage, you need to create a bare prototype to which the necessary modules will be added in the future. These modules will address the specific tasks of your teams. After that, you can think about how your ERP system will look and create the first UI models. The result will be a wireframe that can be shown to future users of the system to receive feedback.

Development. The stage at which the ERP system takes on its final form. Here you can think about which type of hosting to choose for your ERP solution - cloud or on-premise. As we said above, on-premise will require high costs at the initial stage, while cloud hosting is a modern solution that is distributed by subscription. In general, there are no special features here. The choice of a database is also an important moment and there is an opinion that for ERP systems it is better to choose NoSQL non-relational databases.
ERP and current apps integration. Having come to the point of the custom ERP system development, the company most likely went through years of working with third-party applications. All these tools should be integrated into the new ERP system and this process should be started immediately after the development is completed.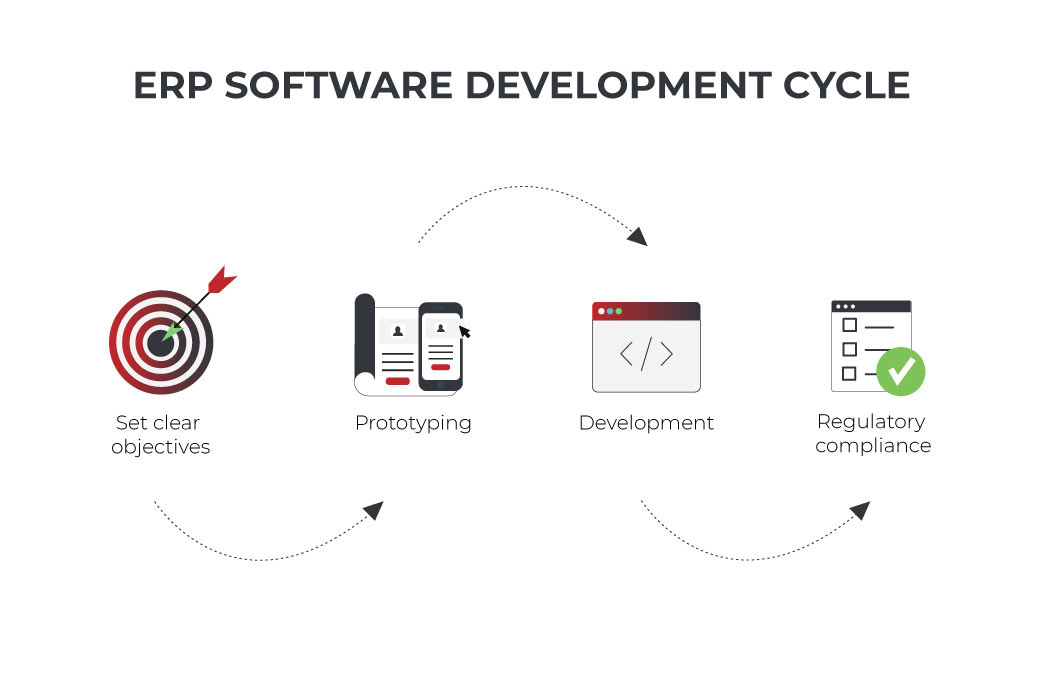 At the end of the development and integration of third-party applications' modules into the new ERP system, the testing and maintenance stages begin, which is also not something special.
How long does the ERP software development process take?
The main thing that shouldn't be forgotten is that there is no need to rush in the ERP system development process. One of the most important factors in the success of the future system is testing its modules in real-world conditions with real users. For example, companies often add new modules to the system and test them within their teams. Of course, this process can be lengthy and time-consuming. It all depends on the complexity of the system and the number of tested modules. That's why a small business can cope with the development in 3-4 months, while the development of an ERP solution for large enterprises can take 9-14 months or even longer.
ERP Development cost
The development price depends entirely on the complexity of the system, the size of the company, and the number of modules. Cloud providers like NetSuite provide their users with different pricing plans, depending on the size of the business. Oracle understands that a small company cannot afford to pay for a large-scale ERP system with a bunch of features, and besides, this isn't necessary.

As for the development of a custom solution, it all depends on the geographic location of the technical specialists. For example, in North America and Western & Central Europe, developers' hourly rates can reach $100 per hour. It all depends on the chosen technology and the experience of the specialist. At the same time, the outsourcing model in Eastern Europe and Asia is a chance to significantly reduce the required budget and find developers for 35-45 dollars per hour, without sacrificing the quality of the final product.

Thus, approximate figures can be assumed. The development of ERP software for small businesses will cost about $30,000, while for large companies, the estimate can grow up to $600,000 and further.
Summing up
The ERP system development is one of the main steps towards expanding your business and optimizing processes. Yes, the initial investment and development cost may seem overwhelming. Nevertheless, a successful ERP will demonstrate a high ROI and show its value in the long run. By integrating all your third-party applications into the ERP system and automating your processes, you can significantly improve the quality of your services, delivery speed, and customer success rate.
LOOKING FOR ERP SOFTWARE VENDOR? CONTACT US
What is ERP software development?
ERP software development is a process aimed at creating Enterprise Resource Planning solutions. ERP software integrates all facets of the company, allowing management from a single center. Inside the ERP system, data is collected from all directions, be it finance, HR, development, estimation, reporting, and so on.
Who are the major ERP vendors?
Major ERP solutions vendors include Oracle's NetSuite, Microsoft, SAP ERP, Acumatica, SYSPRO, and ePROMIS.
What is ERP software used for?
In fact, ERP software combines information from all the processes that take place in the company. Thanks to the ERP platform, managers and product owners can automate routine manual tasks, optimize business flow, increase sales and customer success rates.
How much does it cost to develop ERP software?
The cost of developing ERP software depends entirely on the size of the company, the number of processes, the number of required modules in the system, and the selected ERP type. So, a small company, turning to the ERP vendor can create a custom platform for $30,000 - $40,000. At the same time, the price of ERP software for large enterprises can reach $600,000 and more.
Companies from which industries most often come to use ERP software?
The list of industries where the ERP can be applied is extremely long. This includes Aerospace and Defense, Construction, Home Improvement and Furnishings, Pharmaceutical Manufacturing, Food, and Beverage Manufacturing, Metalworking, Paper and Packaging, Plastics and Petrochemical, Electronics and Technology, Automotive Manufacturing, as well as Healthcare, Education, and Hospitality.