A business analyst (BA) plays an important role in the overall success of an organization. The expectations from a BA vary from one company to another and from one project to another.
This article will explain how business analysts drive the revenue of a company.
WHAT IS BUSINESS ANALYSIS?
What is BA in a nutshell, and why is business analysis important for enterprises?
Business analysis is the process of business need identification and solutions development. Involved specialists should have a strategic vision, outstanding planning skills, and business development expertise.
Solutions developed by business analysts can have the form of:
software products
improved processes
organizational suggestions
analysis reports
development plans
Business Analysis is the practice of enabling change in an organizational context by defining needs and recommending solutions that deliver value to stakeholders.
ROLE OF A BUSINESS ANALYST
A business analyst (BA) must be someone who can become an intermediary in an organization.
The job of a BA is to ensure business processes are executed smoothly for a given project.
The key role of a business analyst in a project is to create ideas for new processes, improve them, and implement them to ensure the successful progression of projects.
Simply put, a business analyst helps turn business ideas and assumptions into solutions that have the form of research-baked plans and technical tasks.
Need to extend your team by hiring a skilled business analyst?
WHY IS BUSINESS ANALYSIS IMPORTANT?
Business analysts analyze processes to identify problems and points of growth. Also, they conduct research to discover how to fix problems and improve existing processes.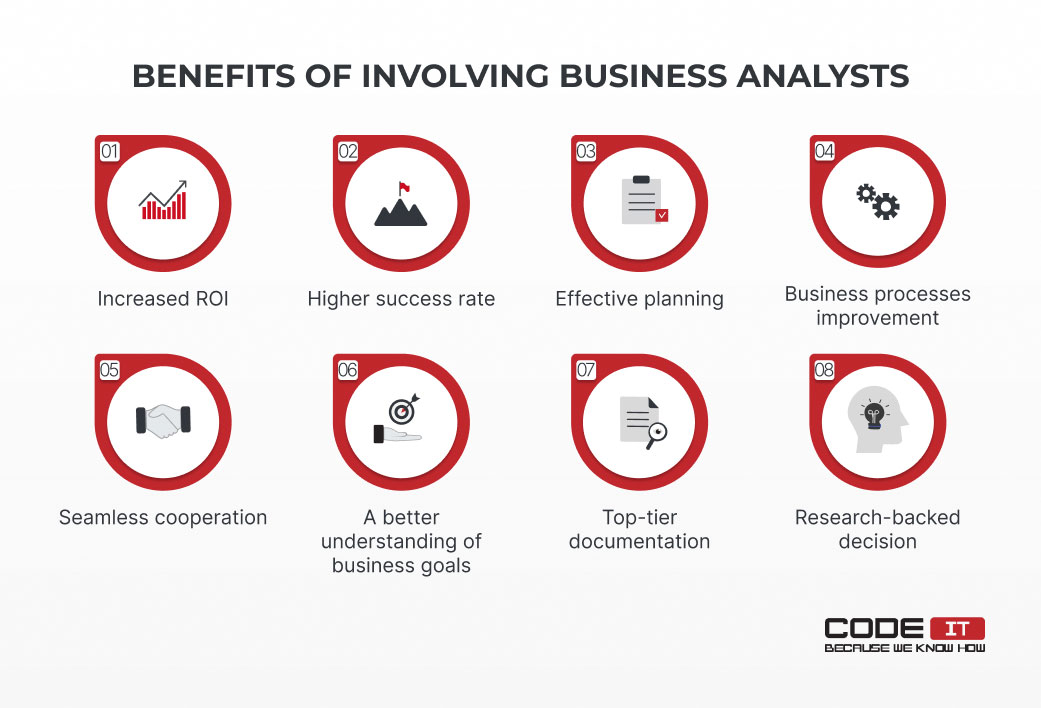 Let's check the reasons why to involve business analysis experts in more detail.
Increased ROI. The optimization of business processes, mitigated risks, and well-defined tasks help develop solutions that solve real business problems, helping achieve increased return on investment (ROI).

Higher success rate. The identification of problems helps stakeholders understand how to decrease the failure rate.

Effective planning. Business analysts can define user roles and develop detailed tasks for all the involved specialists, so they can achieve business goals by following a thorough plan.

Business processes improvement. BA experts can thoroughly analyze the existing processes to discover how they can be enhanced to achieve better performance or cut costs.

Seamless cooperation and team management. BA specialists can translate goals and tasks shared by stakeholders into doable and easy-to-understand tasks for team members.

A better understanding of business goals. Business analysts can elicit business objectives to identify unfeasible or overvalued goals that should be achieved. Also, they help point out the main goals that will help a business to grow.

Top-tier documentation. BA specialists can create and review technical documentation to ensure that a product is well-supported.

Research-baked decisions. Business analysts conduct various research types to pick the best solutions.
REASONS WHY COMPANIES HIRE BUSINESS ANALYSTS
The job responsibilities of BA experts can vary, depending on a project's needs. This is why business analysis experts are usually hired to tackle different tasks.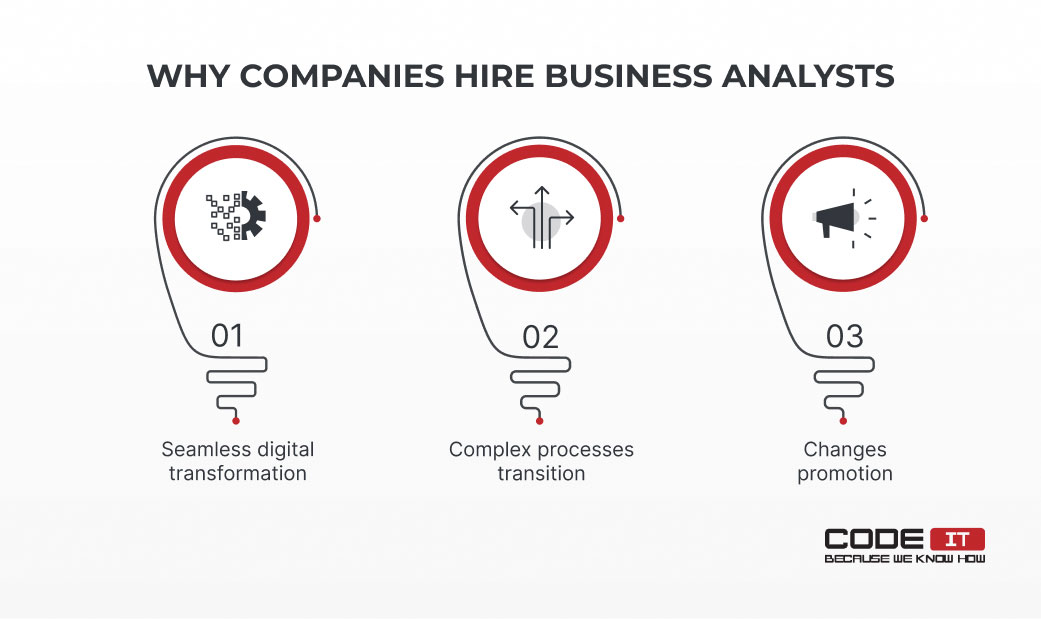 The International Institute of Business Analysis defines three major reasons why businesses employ BA specialists.
1. Seamless Digital Transformation
Most companies are confident that fact-paced innovation adoption is the only option to keep leading positions in the ever-changing market.
BA experts help make the process of digital transformation easier. They can define the right development strategies and help implement them.
2. Complex Processes Translation
A skilled business analyst can gather ideas and strategic goals from stakeholders and turn them into small, understandable, and achievable tasks for every team member.
3. Changes Promotion
BA specialists help promote changes by ensuring that staff adapts well to changes. It helps adopt innovative solutions fast without compromising on a team's performance.
WHAT BUSINESS ANALYSTS DO
BAs are usually involved in a large number of processes in an organization.
Business analysts work across all levels of an organization and may be involved in everything.

The top five activities of a business analysis expert and their outputs listed down below can help answer the question, "Why is business analysis important for organizations?".
1. Elicitation
Requirements are gathered and elicited to understand the real needs of a business.
Key activities are:
interviews
competitors analysis
documentation analysis
reverse engineering
Primarily outputs are:
meeting recordings
internal documentation
current processes description
list of objectives and requirements
2. Analysis
BAs work with elicited requirements to define solid, consistent, and clear project scopes. Also, they define priorities and implementation stages.
The main analysis outputs the following.
Work Breakdown Structure (WBS) — a list of requirements

User story map — an organized backlog of tasks

Wireframes and diagrams — a visual representation of work scope in the form of UI wireframes, various diagrams
3. Documentation
Analyzed requirements are documented to get a system implemented.
The foremost documentation artifacts are the following.
User stories — detailed tasks with specified acceptance criteria

Scenarios — a detailed description of the process of achieving specific goals

Updated wireframes — additional tasks description for team members thanks to visual representation
4. Validation
Business analysts get feedback from the team to make sure documented requirements can be implemented.
Besides, they get confirmation from the client to ensure that they are going to develop what's expected.
The following documents should be signed off:
user stories
scenarios
wireframes
5. Requirements management
BAs capture, analyze, and process change requests to develop solutions that match all the requirements.
The primary requirements management activities are the following.
Change requests capturing. What should be changed and why?

Required change analysis. What parts of the system are affected and how?

Change validation. Will changes deliver real value to the business?

Documentation update. Tasks and guides for the entire team are adjusted.
RESPONSIBILITIES OF A BUSINESS ANALYST
The responsibilities of a BA expert can vary, depending on the organization. BAs can be involved to help achieve various business goals in different niches.
| | |
| --- | --- |
| Responsibility | Description |
| Requirements Analysis and Elicitation | BAs should thoroughly analyze stakeholders' shared requirements and elicit them. They must help define real business needs, problems, new solutions, etc. |
| Vision Forming | Business analysts have to convert the project goal into a strategy with viable outputs. The need to conduct analysis to pick the best project development path. |
| Presentation and Reports Creation | One of the responsibilities of a business analyst is to increase the confidence of stakeholders through a presentation, which can have a positive impact on the project as well as the overall business growth. |
| Tasks Translation | Business analysts are responsible for communicating with all major stakeholders of a project and translating their needs and expectations into a series of strategies and milestones for the project. They have to take from the developers and get it back to the stakeholders for further discussions on the project. It requires strong negotiation and political maneuvering skills. |
| Project Implementation Assistance | The BAs assigned to the implementation stage must support it in its entire life cycle. BAs are required to address unforeseen challenges and change requests. |
| Requirements Definition | Business analysts use the term functional requirement for what the project should do, while they use the term non-functional for how it should work. Both of these requirements types help to outline the capabilities of the finished product or service. |
| Tasks Decomposition | BA experts need to thoroughly analyze major tasks and decompose them into small and well-described user stories with defined acceptance criteria. |
| Documents Creation | Business analysts are involved in technical documentation creation. They can compose internal guides for employees and technical documentation that support developed products. |
REAL-LIFE BENEFITS OF BUSINESS ANALYSIS
BAs help many companies adopt innovations, manage business processes, and achieve their goals. Let's check some real-world examples of business analysis in action.
Microsoft Case: Collaboration and Productivity Improvement
The company was concerned about the productivity of their teams to keep developing new products at a high pace. Hence, the company involved a BA specialist in analyzing current processes and improving them if possible.
After conducting research, the involved specialist offered the solution — to adjust office spaces and working environments for employees.
The solution has helped achieve the following.
Meeting travel time decreased by 46%
100 man-hours per week saved
$520,000 per year saved
The average number of meetings per employee increased from 14 to 18
The average duration of a meeting decreased from 51 to 46 minutes
Blue Apron Case: Improved Forecasting
The meal delivery company utilized a basic forecasting algorithm that analyzed three values only. Hence, it involved BA experts in discovering how to make accurate predictions on meals users will want to order.
By conducting the regression analysis, the involved specialists measured the accuracy of their predictive model and discovered how it could be improved. Hence, the engineering team has implemented all the requested changes, significantly adjusting the accuracy of their forecasting model.
Read also:
WRAPPING UP
The main goal of a business analyst is to define the real needs of businesses and offer solutions that deliver value to stakeholders.
The foremost responsibilities are:
requirements analysis and elicitation
vision forming
presentation and reports creation
tasks translation
project implementation assistance
requirements definition
tasks decomposition
documents creation
A business analyst must have a clear understanding of how the different processes operate in the company along with their limitations, so they can detect problems and recommend solutions to fix them.
As the BA oversees the primary business processes in the organization, they must have strong communication skills and the ability to collaborate with various departments while working on projects of varied nature.
Hire experienced business analysts to optimize processes and force changes!
What is business analysis?
Business analysis is the discipline that aims to identify problems or growth opportunities and discover the best solutions. Also, they help facilitate changes in organizations by tackling a large assortment of tasks.
Who is a business analyst?
A business analyst is a person who drives and manages changes in organizations. They identify and define solutions that will deliver the maximum value to stakeholders.
Why do companies hire business analysts?
The top three reasons why organizations hire business analysts, defined by the International Institute of Business Analysis, are the following.
Seamless digital transformation
Complex processes translation
Changes promotion
Why is business analysis important in an organization?
The key advantages of hiring a business analyst are:
increased ROI
higher success rate
effective planning
business processes improvement
seamless cooperation and team management
a better understanding of business goals
top-tier documentation
What are the job responsibilities of a business analyst?
The key job responsibilities of a business analyst are:
requirements analysis and elicitation
vision forming
presentation and reports creation
tasks translation
project implementation assistance
requirements definition
tasks decomposition
documents creation