Any sales specialist will agree that there is nothing more difficult in business than selling a product. This process is always associated with a number of problems, starting from fierce competition and ending with the issue of pricing, customer purchasing power, and more. Nowadays, manufacturers are faced with another challenge - customized sales. Only a customized approach and product are in demand among customers. It's hard to sell a single product that hasn't been developed taking into account the customer needs.

Another issue that doesn't immediately come to mind is the issue of correct quoting. Whatever one may say, price is often a key factor for the customers. That is why it is so important to create correct and adequate quotes that will allow the manufacturer to earn money and sell their goods at a fair price. Of course, all these problems aren't so relevant when it comes to the sale of a single monolithic product. However, if you're a large manufacturer and sell many different products, then the process of configuration and quoting can be time-consuming for your sales team. Fortunately, there is versatile software to solve this problem. So, in case you're wondering what is CPQ software, we're here to explain.
What does CPQ stand for?
In the conditions indicated above, when a manufacturer has a wide variety of products, and buyers require customized solutions, the sales team on the manufacturer's side faces a serious problem. Product customization and further assessment of its value can be done manually, but it takes a lot of time. Depending on the specifics of the product, this can take days. All this time, your client will be on his own and, of course, will evaluate the proposals of your competitors. What are the chances that while your sales team is customizing the product for the client's request and assessing its cost, it will go to your competitors? We think the answer is obvious.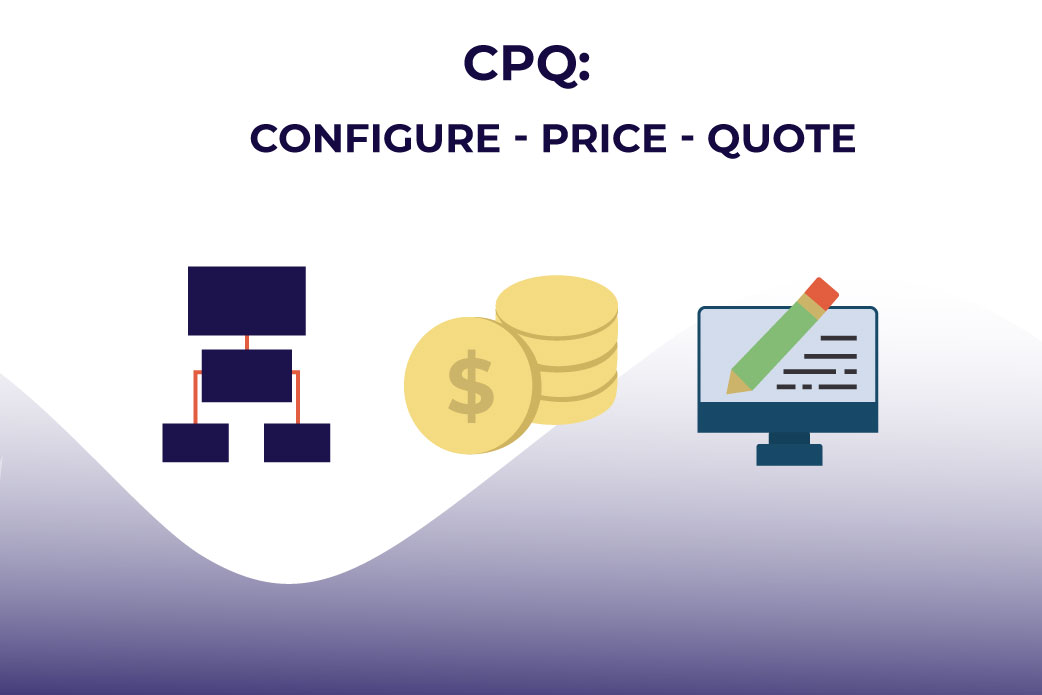 This is where CPQ meaning comes in. Such programs help automate the above processes and reduce the time spent to a minimum, thereby providing the client with a custom solution in the shortest possible time and with the most honest quote. For a better understanding of CPQ software meaning, you should consider each of its components separately.
Configure. Previously, manufacturers provided buyers with only a few options to choose from, and it was the client who had to adjust to the existing offers. In the 21st century and in the context of globalization, when any person can purchase goods from anywhere in the world in a matter of seconds, and the competition is high as never before, this situation has changed radically. Today, buyers want a custom product that is tailored to their needs and they want it immediately. An example is music streaming apps that allow each user to personally customize playlists and receive selections based on their interests. The configuration stage in the CPQ software is responsible for this process. Thanks to this software, buyers can customize and choose the most custom variations of your products, getting the maximum value.


Price. Without providing your customers with the extensive customization we wrote about above, you might think that the pricing question isn't that difficult. However, we have already come to the conclusion that customization is necessary, and therefore the price for such a custom product should be formed accordingly. Here comes the Price stage from the CPQ software. It takes into account all the custom wishes of the client and estimates the cost of your product in such a custom build. Moreover, this happens regardless of whether such a build has already been ordered earlier or is absolutely unique. At this stage, CPQ software takes into account many factors, including the issue of geography, production cost, specific features, and custom requests of the client. At the same time, this calculation occurs automatically and quickly. All this is needed in order to ultimately provide your client with a fair quote for his custom request.


Quote. The last part of the CPQ software definition. Both of the above processes serve to ultimately provide the client with a specific quote that takes into account all his custom requests and all costs. CPQ software is responsible not only for the formation of the quote but for its format - an official legal document. This is necessary in order for the customer to understand this document, which will help to avoid confusion, repeated requests, and additional waste of time.
These three processes are the essence of the configure price quote software and the answer to the question of why it is so necessary for various manufacturers.
CPQ software market volume
CPQ software has already become an indispensable tool for small and big businesses, and therefore the market growth is understandable. At the moment, it is not yet possible to estimate the volume of the segment, but various studies show that the CPQ software market will grow by $1.49 billion over the 2021-2025 period. It is explained by the fact that more and more companies want to automate their CPQ processes.

With regard to the location of manufacturers using CPQ software solutions, more than 35% of them are located in North America. If you work in the same region, you should turn your attention to the software, as most likely your competitors are already starting to implement it.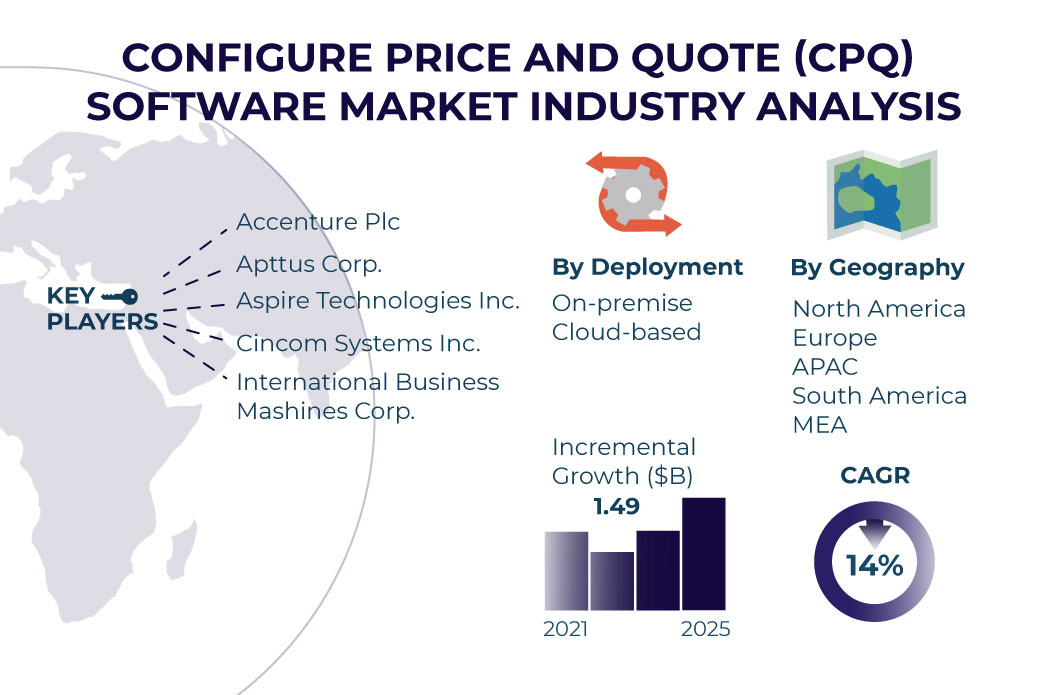 A large share of the CPQ software market is occupied by companies that have to work with a large number of supply chains. All these chains complicate the CPQ process, and therefore software becomes a necessity. In general, this segment is attractive for investment and we will closely monitor its development in the near future.
Why do manufacturers value CPQ software so much?
CPQ software provides a number of advantages, not only for manufacturers but also for customers.
Manufacturers
Sales team faster immersion in the company's processes

Increased number of quotes sent

Higher lead conversion rate

Increased average sale rate

Shortened average sales cycle

Faster instruction of new employees

Minimizing the risk of human factor

Consolidation of information about all products in a single source of knowledge
Customers
Receiving a more enjoyable experience

Getting a quote faster

Receiving a more customized service and product

Receipting goods faster due to faster quotation

Fewer product returns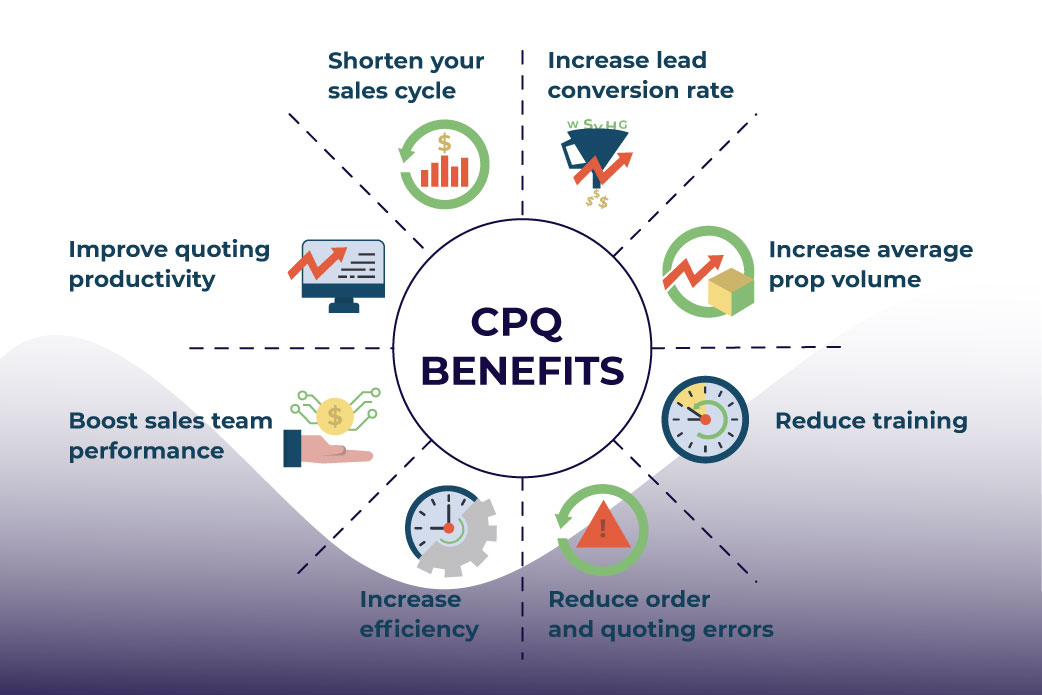 Implementing CPQ software
CPQ software implementation is essentially a part of the digital transformation process. Therefore, implementation will take time and you need to carefully prepare for it. We have broken down the process into several main stages.
Stage 1: Preparation
In order to prepare for the CPQ software implementation, you should first define the goals of your business. Create a development strategy for the near future and see how exactly CPQ software will help you in this destination.
Next, break all your sales processes down to their minimum steps. Evaluate which sales strategy is being applied at the moment, what channels it consists of, and how it is applied. Document all of this and compare it to how these processes meet the business goals and business logic of your company.


Finally, try to simulate the effect of implementing the CPQ software and determine which processes will be affected and how. Predict how your team will accept digital changes, what role changes will follow, and so on.
Stage 2: Getting in the right mindset
The implementation of the CPQ software will affect the sales and business processes of your company, therefore, it will affect the people who are engaged in this. It is critical to prepare your specialists for this process.
First of all, together with the team, determine what problems, gaps, and processes the best CPQ software can improve and close and include them in the implementation plan. Next, ensure the involvement of sales specialists from the earliest stages of implementation, right up to the selection of the required CPQ vendor. It is necessary to make sure that the team is a part of the process from the start.

Finally, identify a team of sales specialists who will be directly involved in the implementation process and who will oversee it.
Stage 3: Implementation
At this stage, depending on the type of CPQ software and the selected vendor, you will be provided with full support at all stages of connecting your business environment to the external software via API.
After this, the configuration team will set up your business flow and products in such a way that an external configurator can navigate through all your business and sales processes. This is an important technical work, after which you can take on the design and UI elements part. It is necessary to decide what the customer will see and where he will click when configuring his custom request.
Finally, it is worth dealing with quotes, their appearance, method of sending, security issues, and so on.
Stage 4: Measure and maintain
As elsewhere, after implementation, a long stage of evaluating and maintaining the process begins. A good piece of advice at this stage would be constant training of your sales specialists to work with the new CPQ software. This is especially important for new team members.
Finally, the main task is to constantly evaluate the effectiveness of the CPQ software. If you see that your sales processes can be improved and thereby bring even more value to customers, then collect feedback and optimize the CPQ software for your needs.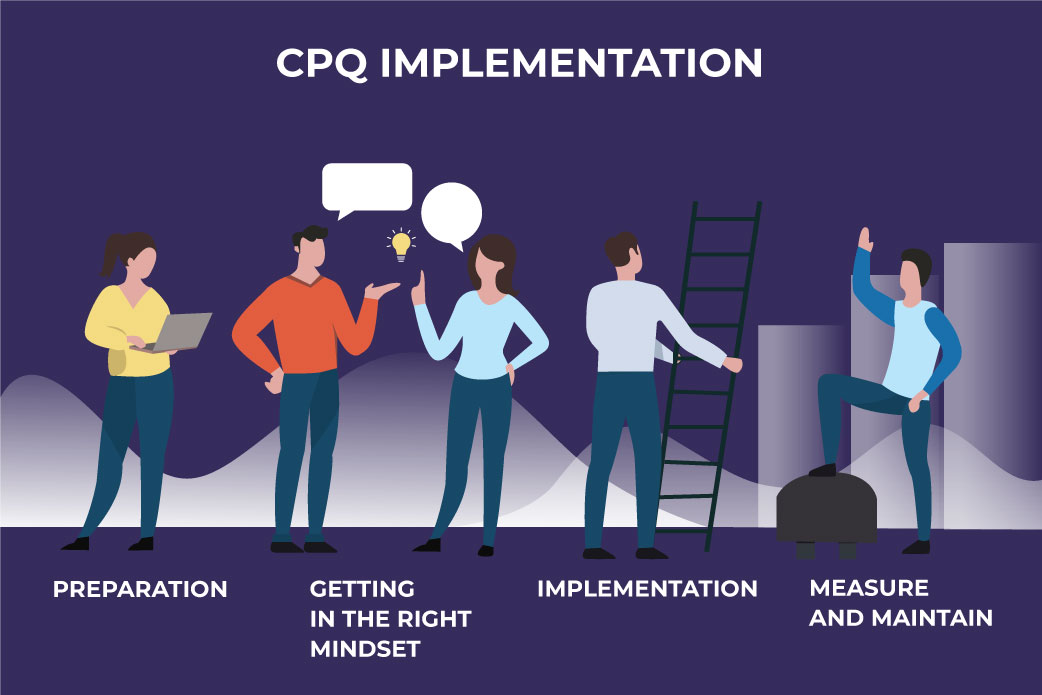 Our Expertise
Our company has already had CPQ software development projects, and we want to show one particular case.
The Client and Business Goals
The client is a US-based entrepreneur who wanted to create versatile CPQ software for the B2B segment. The client wanted the software to be up-installed to the customer's CRM. In addition, 2D and 3D visualization at the configuration stage was crucial for the client. This way, customers could see what kind of product they were customizing and what they would receive in the end. Finally, the customer had to receive an official quote that would be understandable, trustworthy, and secure.
The Result
A team of specialists was assembled, which included a full-stack developer, QA engineer, marketing specialist, customer care specialist, and Project Manager. Within 9 months, we managed to create a versatile software that allows managing the quoting process in "one-click, together with the client's specialists, set up in the most accurate way in order to optimize and speed up the client's sales processes. In general, process is clear for all participants. The software is easy configurable and users can setup templates that are reusable in configurable for each specific case. This product is aimed at different level companies who manage people's resources. With the help of this product, it's possible to forecast the revenue in a flash-based on the data input. It consists of 3 main services:
- Quote configurator.
- Resource demand forecasting.
- Real-time Revenue forecasting.
How to choose CPQ software vendors?
As you might guess, there are enough CPQ software companies on the market. In order to make the right choice, you need to be guided by the following parameters:

Assess your goals. It is impossible to choose the right software if you do not fully understand what tasks you are pursuing. Here you can also decide on the budget and implementation deadline.

Check testimonials. Online comments may not be very trusting, so look for reviews on popular platforms such as Capterra. Check reviews for words about goals that align with yours, it will help you get in the right direction.

Focus on features. First of all, on that CPQ functionality that is specifically needed by your company. In addition, we advise you to evaluate the software that has the ability to visualize the configuration process for the customer.

Don't be afraid to elaborate. Having reduced your choice to a few vendors, you should choose the winner in direct contact with vendor's representatives, even if these are the best vendors, like CPQ software from Salesforce. Ask questions about whether it is possible to customize their software for your products and quotes. Is there an analytical module for data collection? How supporting process will be carried out on the vendor's side? Etc.
What does CPQ stand for?
CPQ Software consists of three main values - configure, price and quote. All three values are responsible for automating sales and quoting processes for sales teams and providing customers with a better and more customized service.
Why Use CPQ Software?
CPQ software brings a lot of benefits and automates sales and quoting for sales teams. Ultimately, the customer gets the opportunity to customize the product the way he wants and get a fair and honest quote at the same time.
Who Uses CPQ Software?
CPQ software is an ideal companion for large manufacturers and for companies that have a large number of products and allowing their precise customization.