Business Intelligence and Analytics Trend
Data and analytics have been continuously realized as key players in companies for enhancing business efficiency over the years. According to Gartner Analyst and VP Rita Sallam, one of the latest trends in data analytics is its demand in customer service, recruitment, optimization of supply chains, finance optimization, and other functions in different organizations.
In particular, she stated: "Data and Analytics leaders should actively monitor, experiment with or deploy emerging technologies".
It goes without saying that refraining from trends that became mainstream is a wise decision. Instead, it is a smart move to pick up on evolving trends that would assist in modernizing and growing your business.
So, if you're wondering what's new in data analytics, there's a list of the top data analytics trends you should consider in 2022.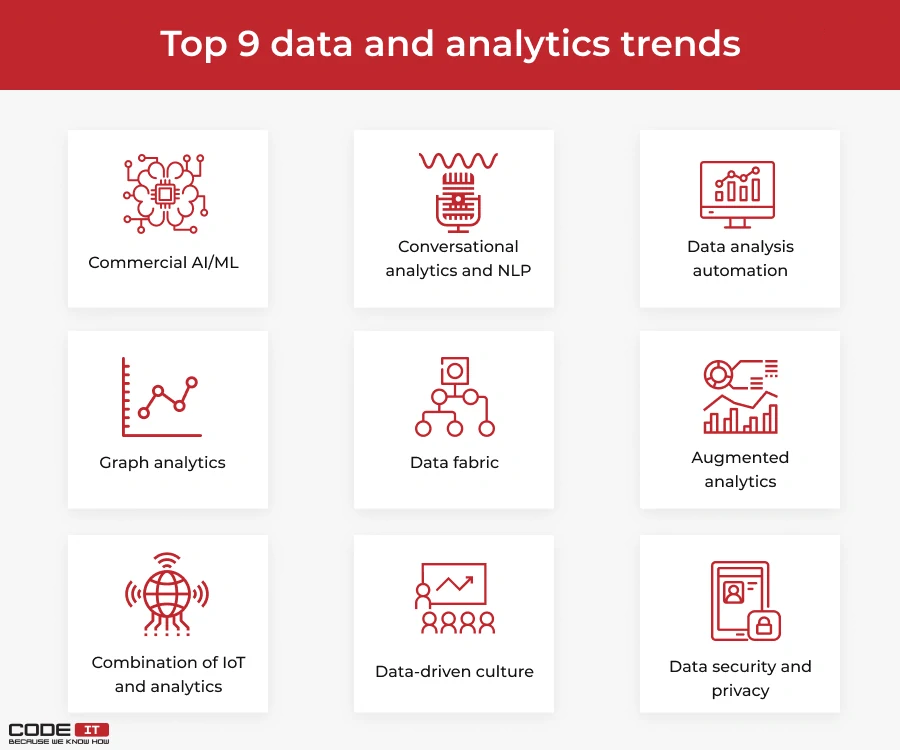 Commercial AI/ML
If you find yourself thinking about what are trends in data, then the first thing you recall is high technologies. Technologies of artificial intelligence and machine learning have continuously played an essential role in the growth of different businesses across various industries. In 2021, AI and ML have become more commercial and that trend will prevail in 2022.
How to use Machine Learning in business? Read in our guide:
According to Gartner, the increased usage of commercial AI and ML will help in the accelerated deployment of models in production driving more value to business and investments.
Though open source has dominated AI and ML technology, having it in commercial will surely open doors to more scalable solutions for project management, model management, data reuse, transparency, and lineage.
In 2022, 75% of new end-user solutions incorporating AI and ML techniques are expected to be built commercially rather than presented in the open-source platform.
Conversational Analytics and Natural Language Processing
According to Gartner, it was predicted that by 2022, about 50% of analytical queries will be generated through search, voice, and natural language processing incorporated into different tools for easy use and access. Voice-enabled devices have become popular in different companies and businesses due to ease of use in the interaction of clients and businesses.
This technology will continue to rise as one of the main data analytics industry trends as it provides integrated voice tools, and companies realize that conversational analytics brings considerable benefits:
sentiment analysis
enhanced social listening
personalization.
Obviously, it helps meet any user's standards.
Related:
These factors are a huge assistance in the usage of chatbots and other conversational-based interfaces. Aside from that, insights are better delivered through conversational analytics simply by conversing with data through AI-driven combinations of NLP and NLG.
Data Analysis Automation
Over the years, big data is being collected, stored, and ready to process continuously grow, which prompted business organizations and different companies to incorporate automation to handle massive data information.
Business Intelligence has always provided solutions for the consolidation of all the data and providing different methods to discover, analyze, measure, monitor, and evaluate data. In 2022, software business analysis will continue being one of the top trends in data analytics and bringing automation possibilities for easier data collection, analysis, monitoring, and reporting.
With automation around, business intelligence technology applications and trends will be able to focus on simplifying data science products while allowing easier use for citizen data scientists. It is supposed to improve speed in developing advanced analytics.
Graph
One of the new trends in data analytics. Graph analytics is a set of analytic techniques providing important information with regards to the connection of people, places, things, and their relationship towards each other. Graph technology is deemed helpful in various industries and concerns such as fraud detection, traffic route optimization, social network analysis, and genome research.
Graph empowers the connection and knowledge of different technologies through data. One of the examples of merging data is fitness applications connected to health news feeds.
Today, Gartner predicts that graph processing and graph database applications will grow at 100% over the next few years to speed up data preparation while enabling more complex and adaptive data science.
Data Fabric
Gartner's Sallam noted that data fabric is tied to augmented data management as it supports agile data at scale. With companies expanding, having more data can become challenging in terms of processing, management, analysis, and storage. Hence, data fabric is exceptionally important as it enables applications and different tools to access data. With data fabric, businesses can simplify their integrating data management process across on-premises and cloud environments thus making the transition to digital transformation easier.
In 2022, data fabric is a top trend due to its capabilities in enabling data sharing in a distributed data environment seamlessly. Gartner forecasts that custom-made data fabric will be set up for a more dynamic approach.
Augmented Analytics
Using machine learning and artificial intelligence techniques, augmented analytics amplifies data processing and sharing with an ability to automate various important analytics tasks like preparation, analysis, and creation of accurate models.
The augmented analytics market was valued at 4,094 million US dollars in 2017 and is projected to reach 29,856 million US dollars with a CAGR of 28.4% from 2018 to 2025.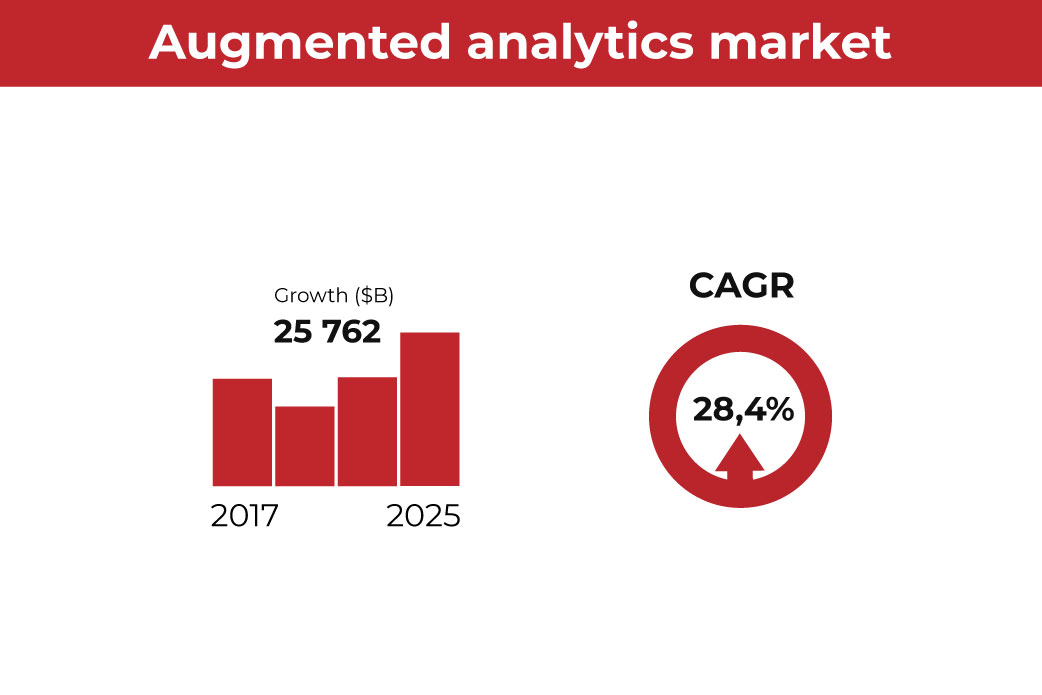 Augmented analytics isn't new data analytics technology and it plays an important part in empowering more individuals in an organization to pick up insights from data without the need to use complex mathematics or computer science. With the help of custom software solutions, it will be easier for business owners to create a simplified and more approachable way of building analytics models.
Combination of IoT and Analytics
Many IT companies recognize the Internet of Things (IoT) as one of the most impactful in a lot of areas and industries, and one of the emerging technologies in data analytics in particular. IoT and Data Analytics bring business value while exploring implications and providing possible solutions.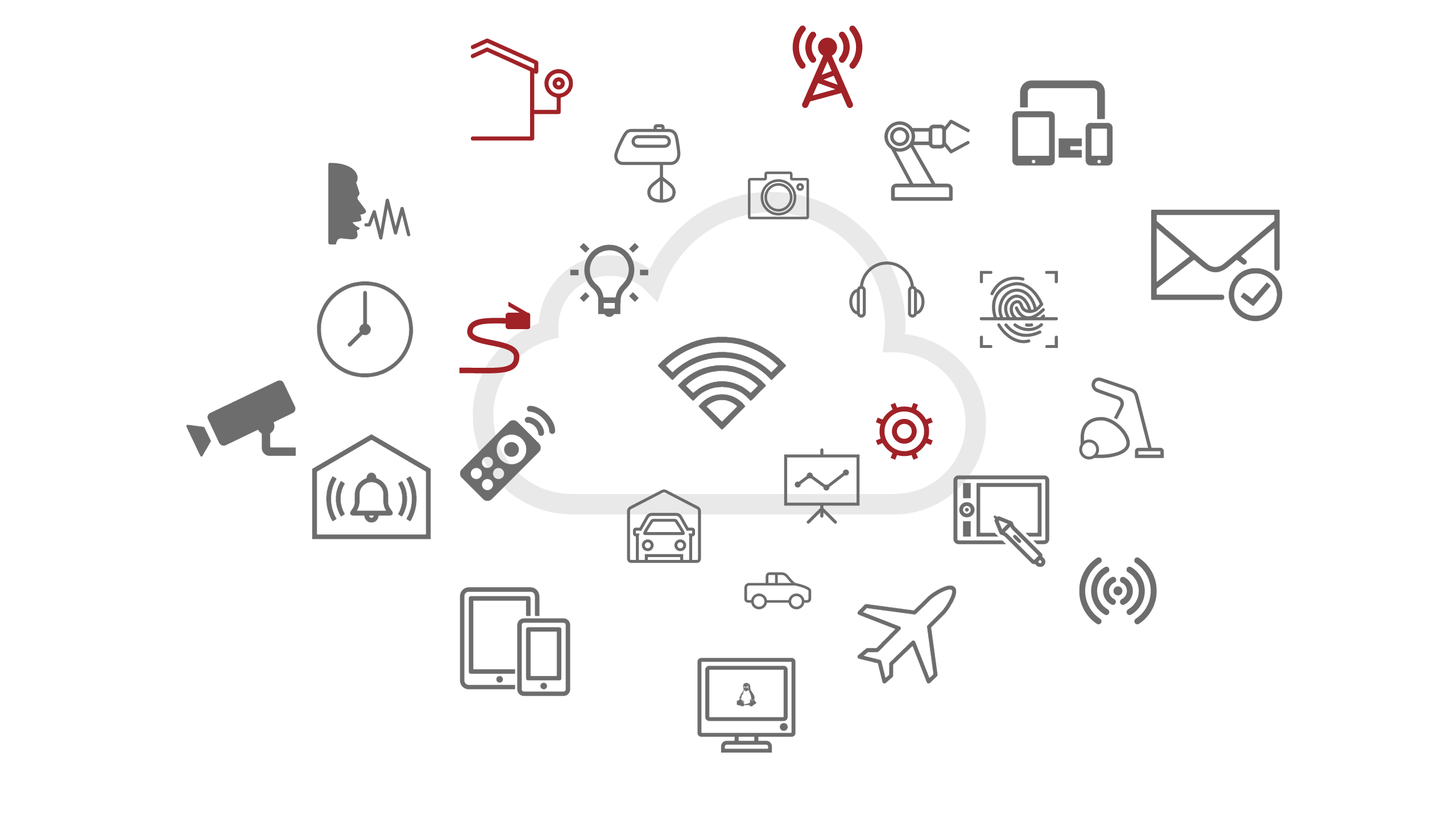 Data gathered from the internet of things can easily be analyzed regardless of volume and structure when partnered up with data analytics software. It serves as a powerful tool for business owners to acquire customer insight resulting in improved advancements positively reflecting on revenue.
However, it is important to note that 75% of organizations may face inhibitions in achieving the full potential of IoT given the fact that IoT has gained popularity and different organizations need data analytics, resulting in a greater demand for data scientists. Hence, it is important to find alternatives for human involvement when it comes to data analysis.
Data-driven culture
Incorporating data-driven culture into the whole organization in 2022 will be one of the priorities of BI professionals and business managers. Data is very important when it comes to making decisions in the business. Thus, data culture implementation can be beneficial as employees are more empowered, they need data to be more accessible within market segmentations.
According to Gartner, decision-making processes will be sped up because of how data-driven culture's ability to easily examine and organize data. That's why Data-driven culture is an obvious trend that will influence analytics over the next 5 years.
Data Security and Privacy
Data breaches, poor authentication practices, and sensitive data being compromised are something businesses and clients do not want after the cases of identity thefts. In 2015, 10% of global market players have been using backups and snapshots. Now, it is expected that in 2022, 30% of corporations will make use of data backups, and snapshots for safety, privacy, and reliability.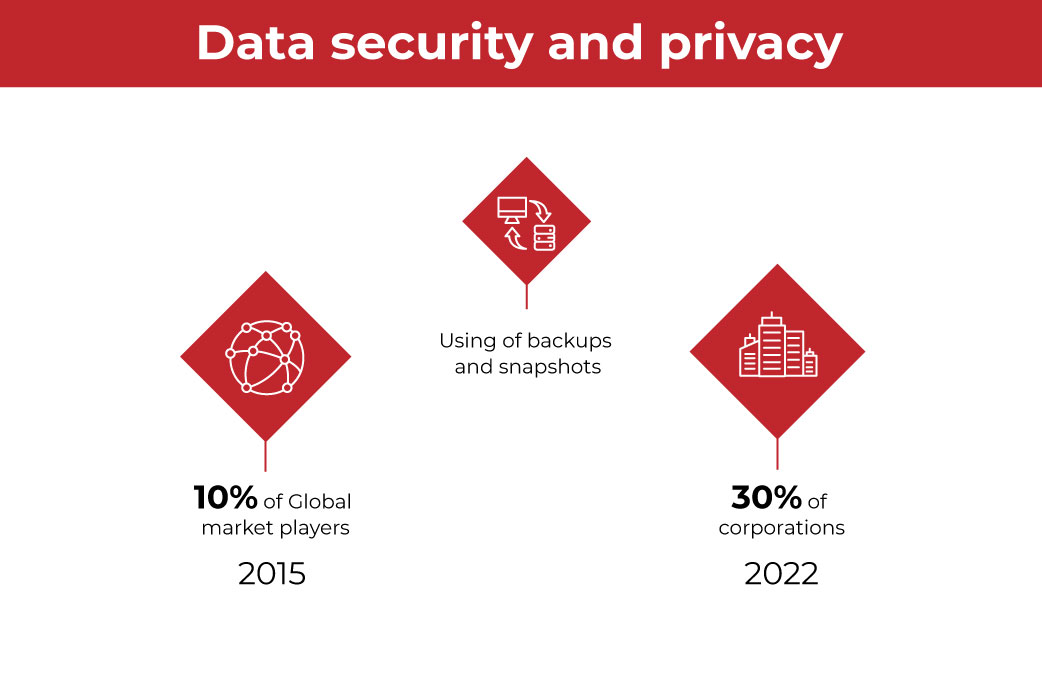 In Conclusion
In 2022, data and analytics will be a part of the rapid growth and development in business intelligence. Big corporations and various industries have observed data analytics as an important source for making more informed decisions in recruitment, marketing, and branding. It can also be expected in 2022 that inventory, supply chains, fraud, and risk detection will utilize complex data for a more sophisticated and accurate prediction.
With fast-paced technological advancement, it's a smart choice to stake at top data analytics trends 2022 to keep your business ahead of the game towards a more competitive future.
If you are thinking of incorporating these trends in your app development, you will need expert opinions and consultations from specialists from a reliable software development company with a strong project background and portfolio.
Need tech consultation? We are here to help
The experts in our company will be happy to assist in requests you may have and is readily available for consultations regarding the details of your project, pricing options, and time of the project implementation.