Do you know that at least three startups establish every second? This might sound crazy but stats don't lie. Even if you do some correct calculations, you will see that there are almost 11000 new startups launched per hour. Amazingly, only 10% of these actually make it.
As per estimations, merely 10% of startups actually survive and succeed. This astonishing percentage can be the result of multiple factors. However, speculation says that the most contributing factor in the low survival rate of startups is insufficient market research.
As per one of the recent surveys: 42% of new startups owners believe that there is no need for the service or product they offer. Unfortunately, they realize this when it's already too late and when they have already made an investment in the startup. They jump right into it without getting their ducks in a row and without even doing the necessary research.
Insufficient Market research is, indeed, one of the many factors that endanger the survival of your startup. However, there are many new startups that are the results of better decisions and thorough assessment of the existing market and we will discuss the best of them, later in this post.
In the year 2017, almost 48% of the equity funding that was raised for Artificial Intelligence startups actually went to China whereas 38% went to the US. No doubt, this is a massive increase in comparison to 2016 statistics when China represented just 11% of the global AI funding.
When we speak of new startups, there is a general perception that it should be in some developed country so that accessibility to all the resources is easy. In reality, this completely misses the point as startups may begin anywhere. In fact, countries that have greater needs are the ones that present the best and biggest opportunities.
The Role of startups in the Economic Growth
Regardless if the startup is small or big, it plays a crucial role in the overall economic growth. They improve the employment rate by giving out job opportunities. This means more employment and an improved economy. In addition to that, a startup also contributes to entire economic dynamism by injecting competition and spurring innovation.
New entrepreneurs generate competition and stir innovation by bringing much needed new ideas to the table!
Startups create a direct impact on the cities in which they are located. Remember how Infosys has contributed to Bangalore, Microsoft changed Redmond, Alibaba transformed Hangzhou and Google impacted Mountain View, California.
These well-recognized names are the big corporations that started small. But they continued to grow and eventually transformed the cities they operated in. All these startups are now known for improving employment patterns and for providing great job opportunities to both young and experienced professionals. This resulted in the relocation of expert professionals from multiple cities and inflow of graduates.
So which startups in 2018 are likely to boost the economy through revolutionary technology and expected to create new industries with time?
Well, let us look at some best startups to watch out for in 2018. These are soon expected to become money-making engines, not only for owners but also for stakeholders and employees. In the past decade, we have seen many startups in the e-commerce industry but now you can see a lot of innovative companies in many other industries as well.
The startups discussed below are chosen on the basis of their strong vision as well as focus on what is more important for the society in terms of increasing expectations. All of them are expected to become a dynamic enterprise with ideas and innovation pushing the boundaries, creating a real promise for the following years.
BlockMedx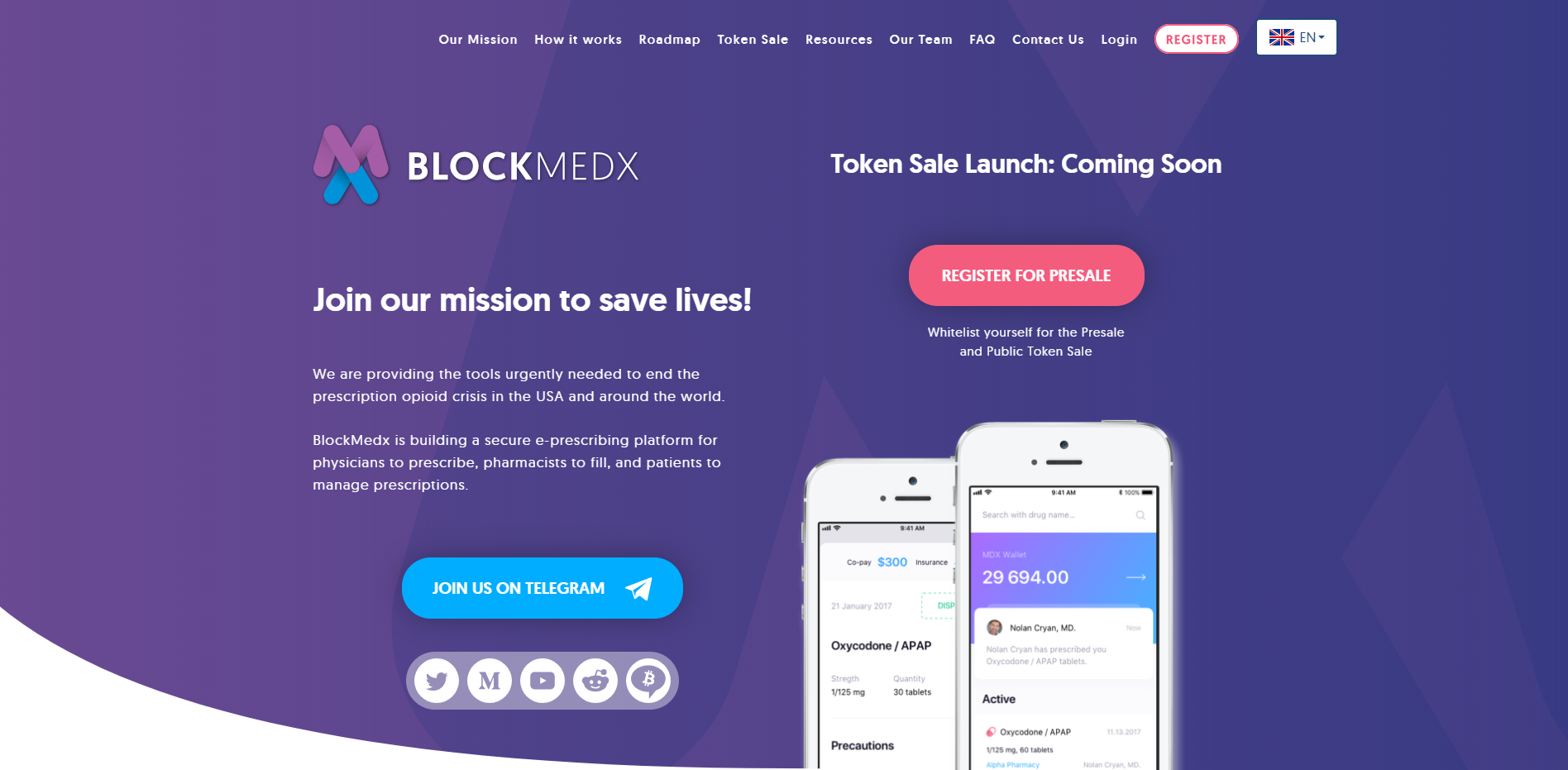 This startup is a new prescription management solution. It is dedicated to break the opioid abuse cycle through blockchain technology. The platform of BlockMedx is the world's first completely secured, end to end, HIPAA compliant solution to transmit DEA Controlled Drug prescriptions like opioid pain relievers from pharmacies to physicians with the use of Ethereum blockchain.
As we know the opioid crisis affects millions of people each day, there has been no solution to fully combat the written prescriptions overuse and the resulting proliferation medicines getting into the wrong hands.
With the help of an immutable ledger of the latest blockchain technology, this startup aims to help and collect the necessary data to establish long-term solutions to such a crisis. Their team has deep knowledge of big data, blockchain, and medicine (including two healthcare professionals on board) and is on the brink to make a huge splash in applied blockchain in 2018.
Citrine Informatics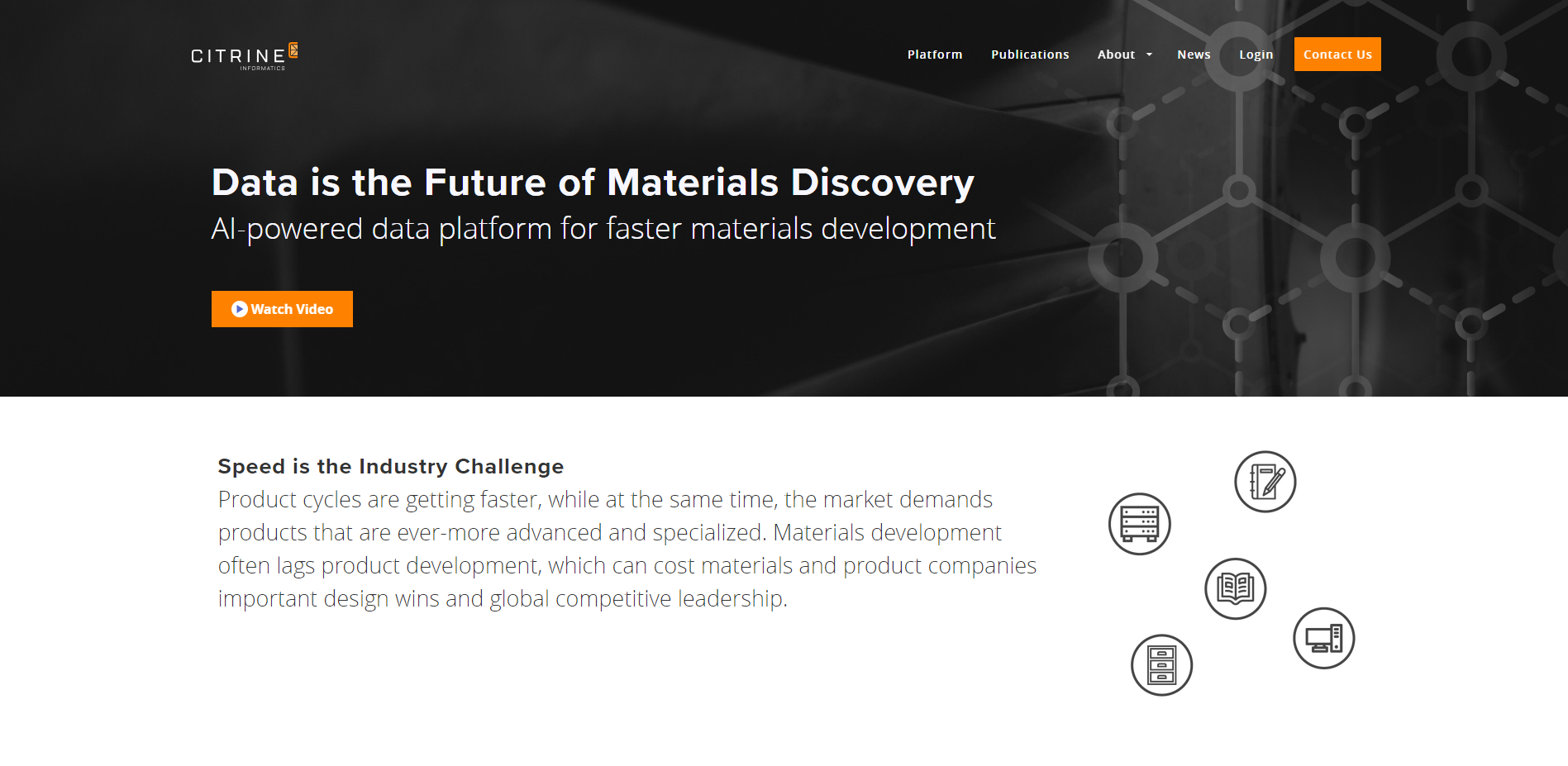 The platform of Citrine informatics analyzes and ingests large-scale technical data sets on chemical, materials, and devices so that it can streamline manufacturing, R&D, and supply chain operations for an organization that creates a physical product.
Typical system users are the engineers and scientists at large material and manufacturing companies, along with researchers at government labs and universities. Citrine has already received the Best AI-based solution for Manufacturing award.
It was presented by AI Breakthrough that is an independent enterprise and recognizes the best companies, products, and technologies in the global AI market today. So far Citrine Informatics has raised a total sum of $15.6M in funding in three rounds. The recent funding came from a round of Convertible Note on Apr 19, 2018 from B&C and Tencent Holdings.
Citizen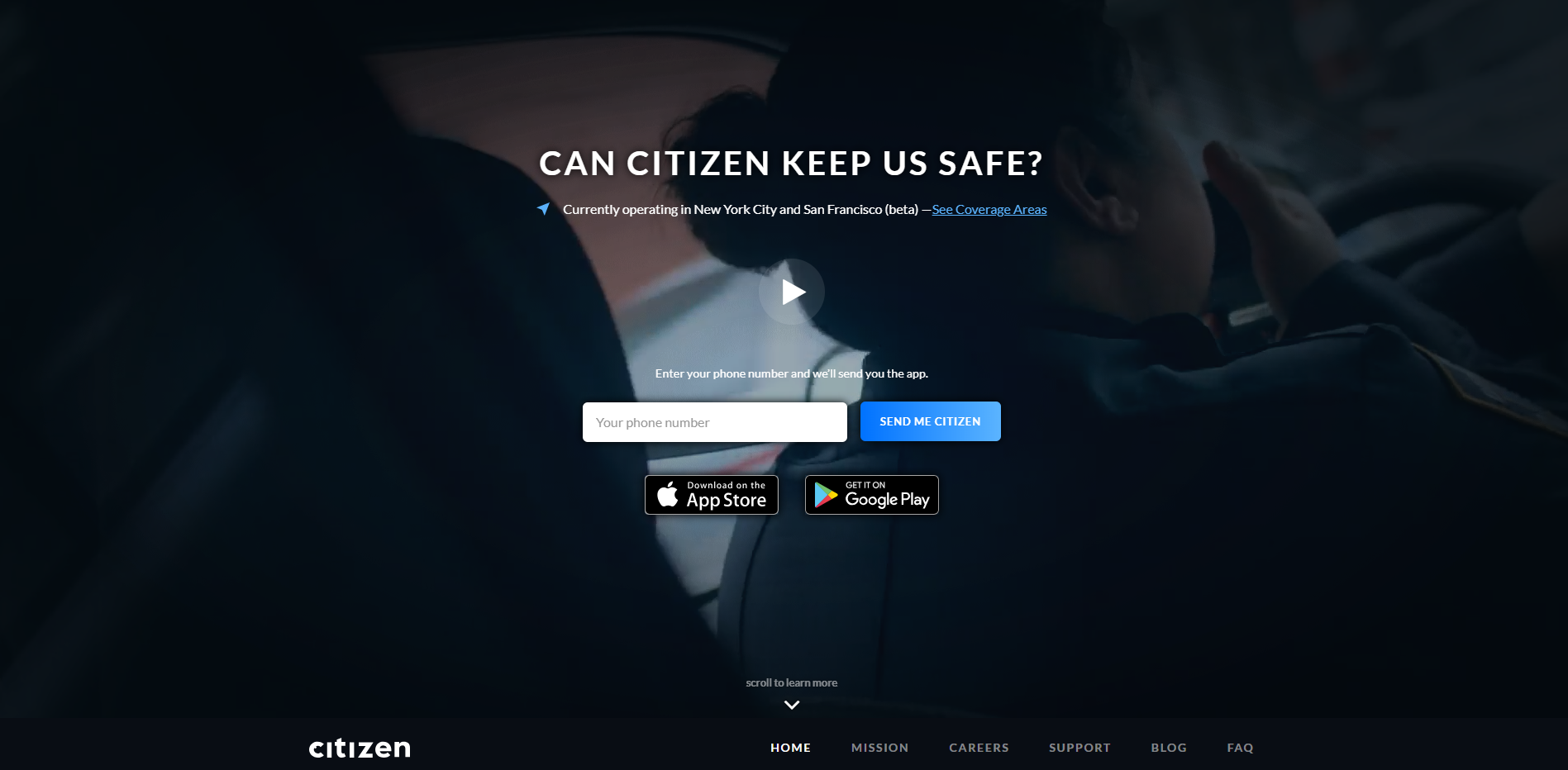 Ever imagined how to avoid or stop crimes in the neighborhood? Now you've got the answer and that is Citizen. It is an application whose main objective is to the safety of the people. It aims to keep everyone safe and secured and inform them of all the crimes perpetrated in the particular area they live in.
Even when things are bit serious and you are close to an emergency, the app sends you a simple push notification. The notifications are based on 911 alerts. It sounds like some action movie, as you get real-time updates regarding ongoing crimes. Also, you can upload the incident videos as well as chat with other users of Citizen App.
Right from its launch, Citizen has successfully raised the total sum of $13m from various sources including Sequoia Capital. This crime tracker app is currently being used in San Francisco and New York and we are more likely to see it expanding to various other cities in this year.
Roobo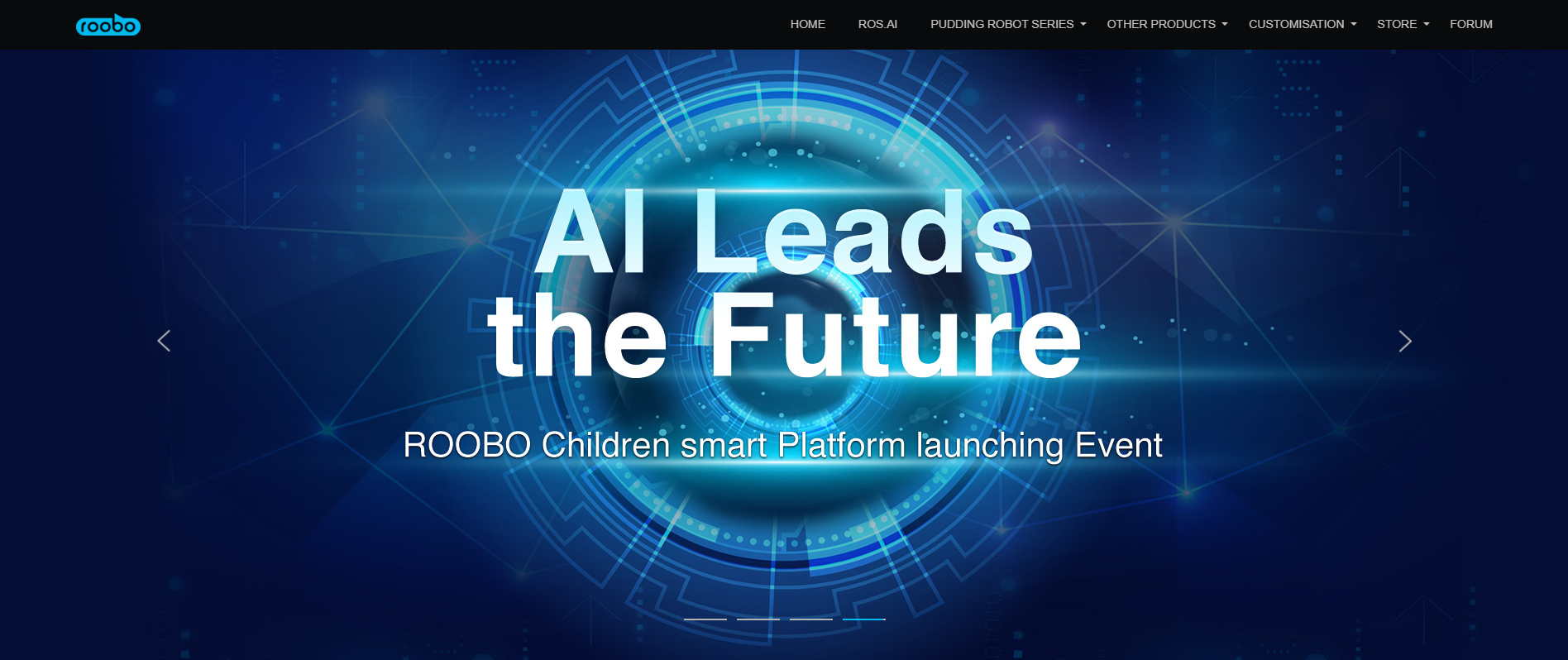 Roobo is an AI and hardware company. It is involved in the development of next-generation service robots. The company created a BeanQ early education consumer robot that won the Best of Red Dot title in 2017.
Roobo has got its name for innovation and artificial intelligence. It continues to innovate with their promising line of robots. Their line of robots extends up into the large Farnese that can carry on a conversation, recognize phrases, banks, navigate through airports, conference halls, and shopping malls.
In 2017, the innovative company raised around $53M Series B and added it to the $100M Series, a round that was raised in 2016.
The reason why we've selected it as the best startup to look out for in 2018 is that Roobo is likely to have an opportunity to become the market leader in terms of AI robotics if they continue to keep up the pace. Moreover, the company's educational series of programming kits and robots will make sure that the next generation continues to take this technology forward.
TerraBlue XT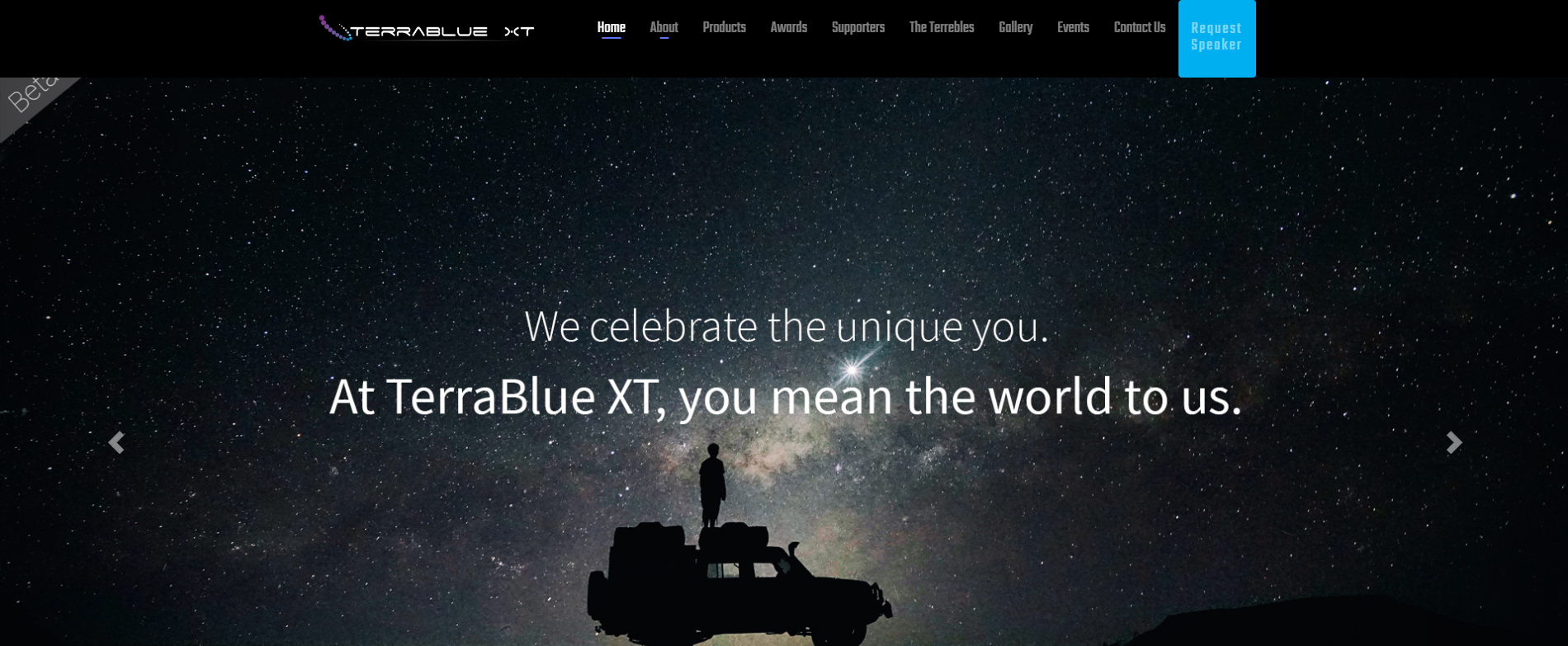 TerraBlue XT is the startup that belongs to the healthcare/IoT industry. It is an Indian company that received appreciation from an advisor to the President of the United States Ivanka Trump.
She felicitated Rajlakshmi Borthakur (founder of the company) during the Global Entrepreneurship Summit in 2017 for accomplishing a remarkable breakthrough.
The flagship product/invention of TerraBlue is known as TJay. It is a biomedical wearable that comes with embedded sensors capable of detecting an oncoming epileptic seizure. The device is capable of tracking the patient's vitals like heart rate, blood pressure, and pulse and helps predict epilepsy attacks.
The solution is based on two key parts. First the TJay hardware, the specialized glove, that is capable of acquiring signals from human palm and ensure real-time transmission to a cloud environment. Second is the software solution that comes with AI and machine learning and evolves as the decision support system for healthcare professionals.
TerraBlue has remarkably grown from a three member's team into a strong team of around 20 people. TJay is in progress for a late 2018 launch and the startup is already creating another great wearable called Xaant. This connected wearable will help to measure both mental and physical health to help identify the level of a person's calmness in moving, meditative, sleeping and resting states.
TerraBlue continues to expand exponentially. In need of manpower, capital, and infrastructure, the new startup is aiming to raise $15M in the coming two years.
Transfix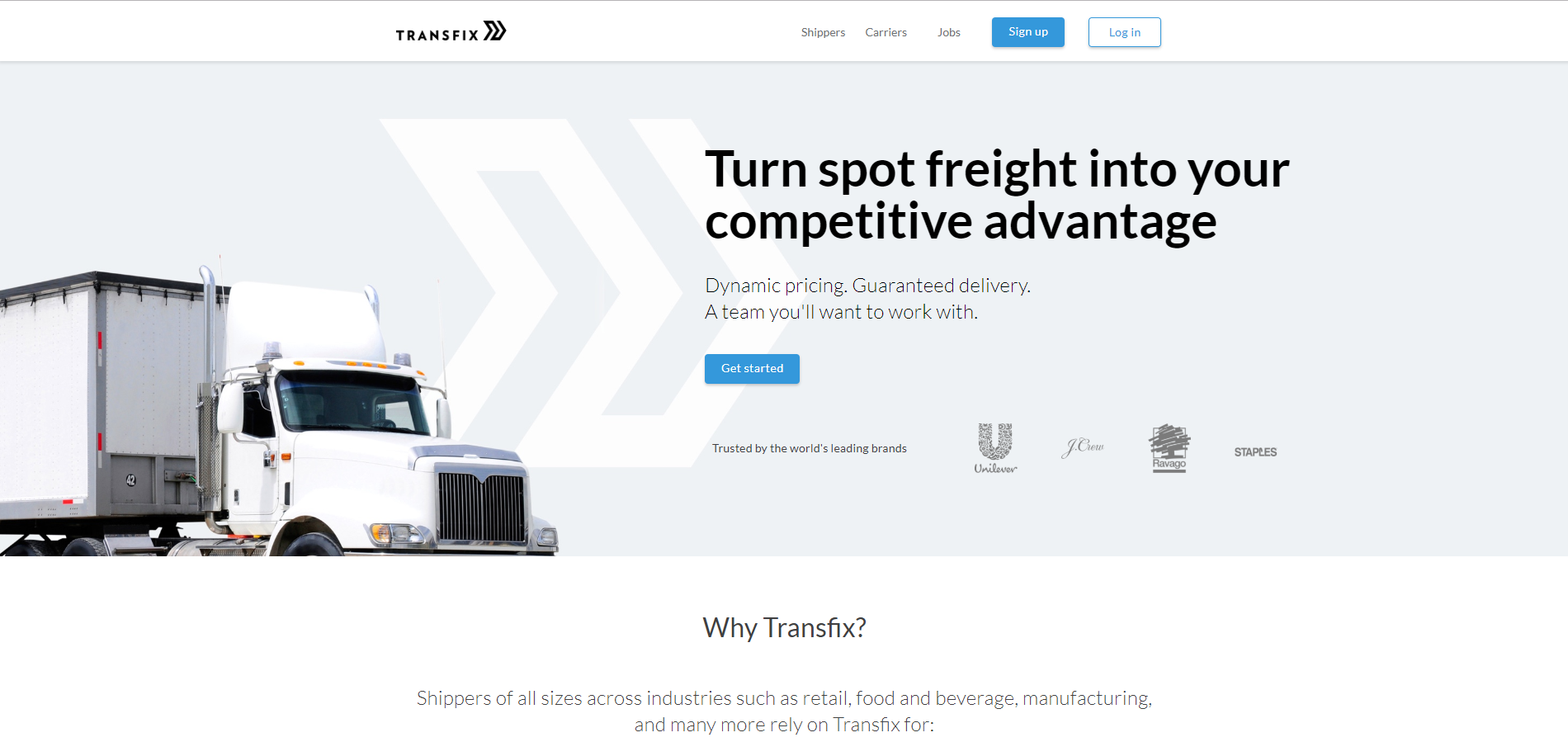 At first glance, this startup is nothing like those fancy business ideas that aim to save this world. But if we look at the smooth progression of this startup and the fact that it has successfully raised $78.5m from investors, we must take a closer look at its product.
As we know the simplest ideas are actually the best ones! Thus, Drew McElroy and Jonathan Salama took a chance to simplify shipping. All they did was to match loads with truckers which are heading in a similar direction. Yes, simple as that!
The company is known as 'Uber for trucking' and it allows users to track their shipments while receiving alerts in case of a delay in their shipment or contact drivers. This system gives clients complete control over who transport their shipments and help them save some money.
Even though there is still a lot of room to expand and streamline the on-demand load matching technology. We hope that the company will make moves to expand this shipping solution in various countries.
DataCamp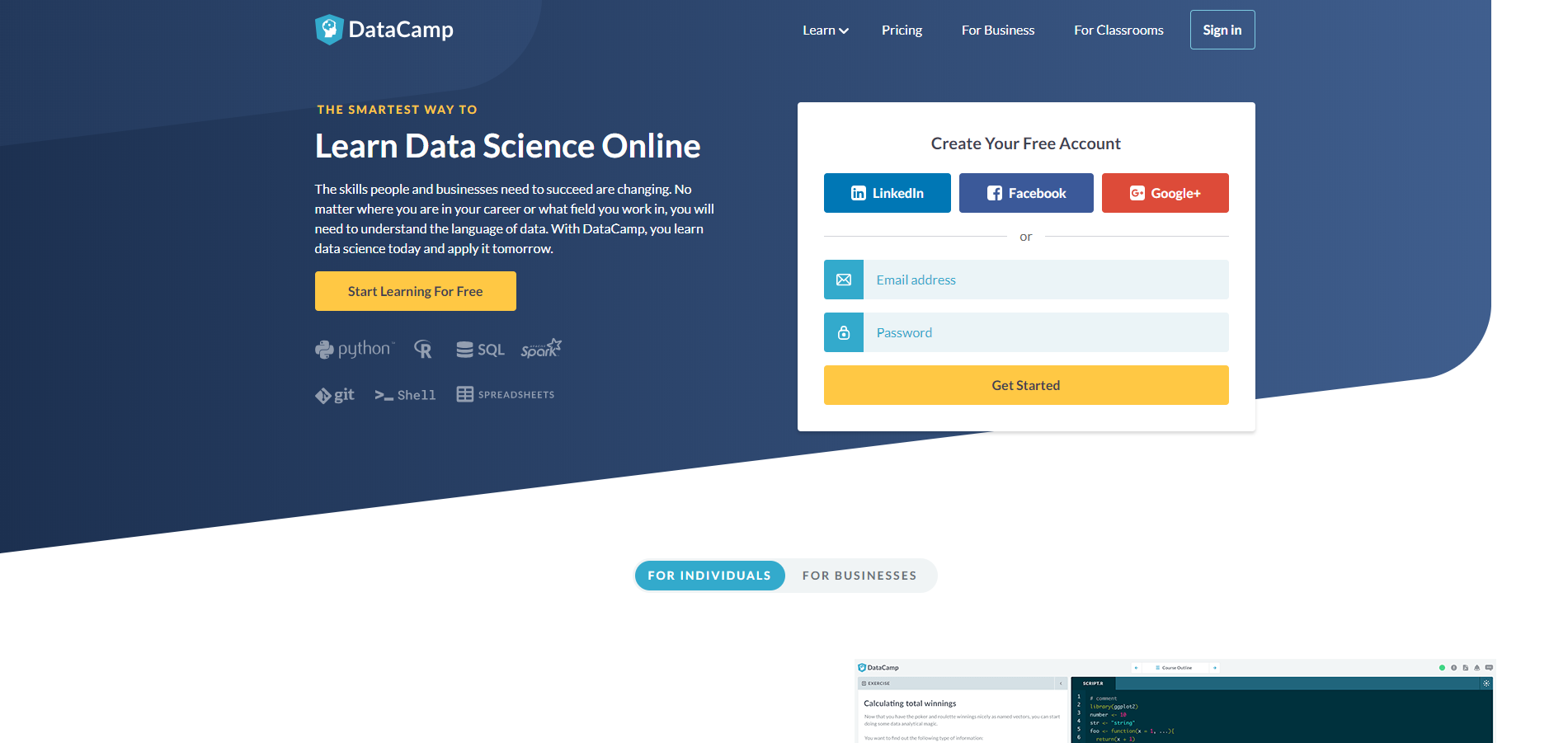 This is one of the most interactive learning platforms, especially for data science. It offers more than 100 courses featuring interesting and high-quality video, gamification and in-browser coding. All these courses are usually presented and authored by big data, analytics, AI experts and machine learning.
DataCamp has been quite successful in getting companies to subscribe to its training programs in order to get new hires up to speed. Some of its clients include BCI, eBay, GfK, and Harvard. The startup has already raised a total sum of $6.1M in funding over 6 rounds.
Skuid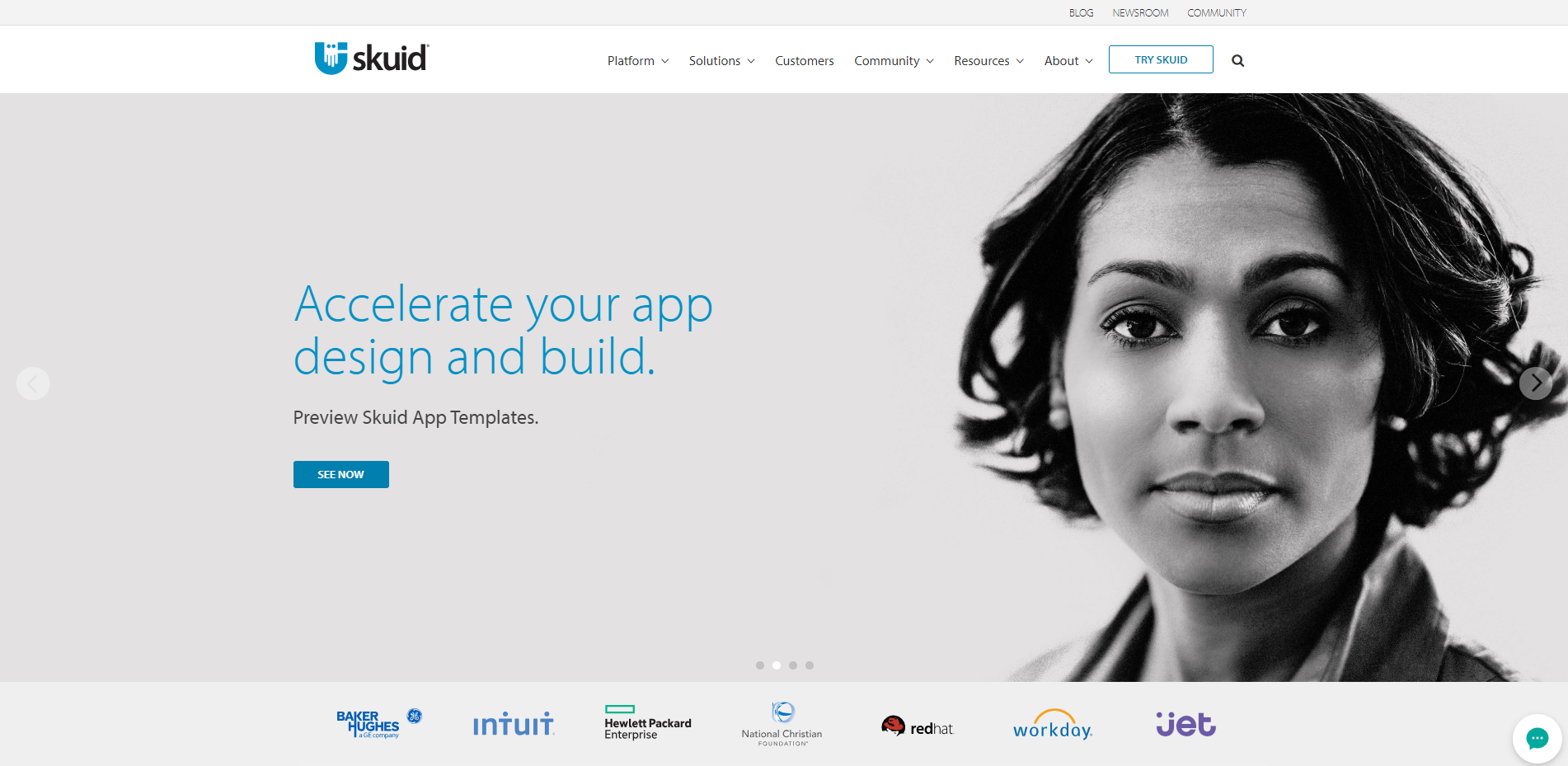 Skuid is an acronym for 'Scalable Kit for User interface Design' that succinctly defines the company's goal i.e. the process of building organizations apps quicker and easier. The secret success formula of Skuid is a 'codeless' interface that lets users to easily drag and drop elements from various sources including Salesforce, Oracle, Microsoft, and SAP, to create apps. Some of the Skuid clients are Jet, Intuit, Hewlett-Packard Enterprise.
In 2017, the company raised $25M from different investors including Jack Dorsey, Iconiq, Sheryl Sandberg, and other executives. As for the future plans, the company plans to bring in the capability to create a voice-enabled application.
In the bottom line
Considering the emergence of the vibrant entrepreneurial ecosystem, it is important to understand the role of new startups and create a support system for them to survive and succeed. As we can see some of the startup founders are taking investors to help to encourage new ideas and innovation, we are more likely to see the ripple effect of these efforts in 2018.
There is a need for governments to establish a healthy culture of startups. Globally, efforts should be made to help startups with incubation, tax clarity, licensing and affordability. The support could also extend up to providing resources, capital, inspiration and more meeting space for the tomorrow's business leaders and newest innovators.
Nonetheless, 2018 seems to be a year in which we will see the world of startups to go through a massive transformation with a fresh perspective.